Death of a new mother forces government to rethink its rescue programme for critical pregnant women
A woman in Nuwakot died last week from postpartum haemorrhage after she was denied an airlift to Kathmandu for treatment.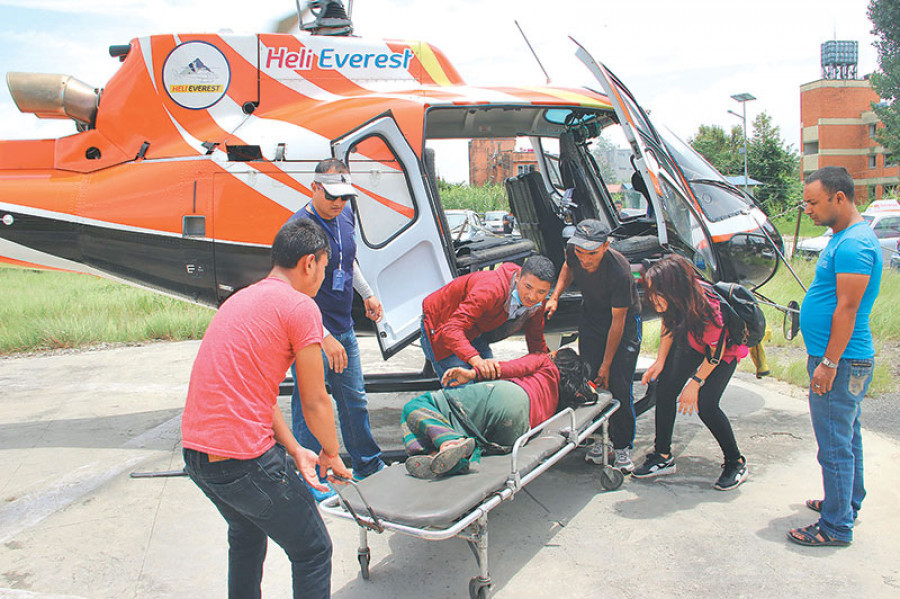 bookmark
Published at : July 27, 2019
Updated at : July 28, 2019 06:54
Kathmandu
Days after Goma Osti, a new mother in Nuwakot, died following a delay in her treatment, the Ministry of Women, Children and Senior Citizens on Friday said it is adding more districts to the government's helicopter rescue programme for pregnant or new mothers with complications from remote parts of the country.
Last week, the ministry refused to rescue two women suffering from birth-related complications in Nuwakot and Ramechhap districts, leading to the death of the mother in the first case and the infant in the other. Officials had said both districts were not included on the working procedure list for the President's Women Uplift Programme, prepared by the ministry, as the districts were close to the Capital.
"The news about the deaths in Nuwakot and Ramechhap made us really sad," Anju Dhungana, chief of the President's Women Uplift Programme, told the Post in a phone interview on Saturday. "We were incredibly thrilled about saving 39 lives but these two incidents have made us regret—and rethink—our decision-making process."
[Read: How government bureaucracy killed a new mother]
Since the programme was launched six months ago, 36 pregnant women have been airlifted from remote districts in Humla, Dolpa, Mugu, Rukum East, Gorkha, Rubi Valley of Dhading, Bhojpur and Dolakha, saving lives of both the mother and the newborn. In the last two weeks alone, three women with pregnancy complications were rescued under the programme.
Osti had died on Thursday after suffering from a uterine atony, a condition where the uterus fails to contract after childbirth, leading to a haemorrhage.
As protests broke out in Nuwakot following Osti's death, officials at the ministry huddled in Kathmandu to discuss the two incidents. On Friday, the ministry asked the Ministry of Federal Affairs and General Administration to provide a list of regions without road access, and the Health Ministry to provide information about health facilities that do not have adequate infrastructure to save women with critical labour cases.
The Ministry of Health and Population had started the helicopter rescue programme to prevent such incidents five years ago but stopped allocating funds after the launch of the President's Women Uplift Programme, which does the same thing.
Preventing maternal and neonatal deaths in the postpartum period has been a major challenge for agencies in the Ministry of Health and Population, as the number has remained stagnant for the last several years. According to the Family Welfare Division, for every 100,000 live births, 229 women still die during or after birth.
---
---