What ails Nepal's health care sector
Health minister says there are too many issues and he alone can't do anything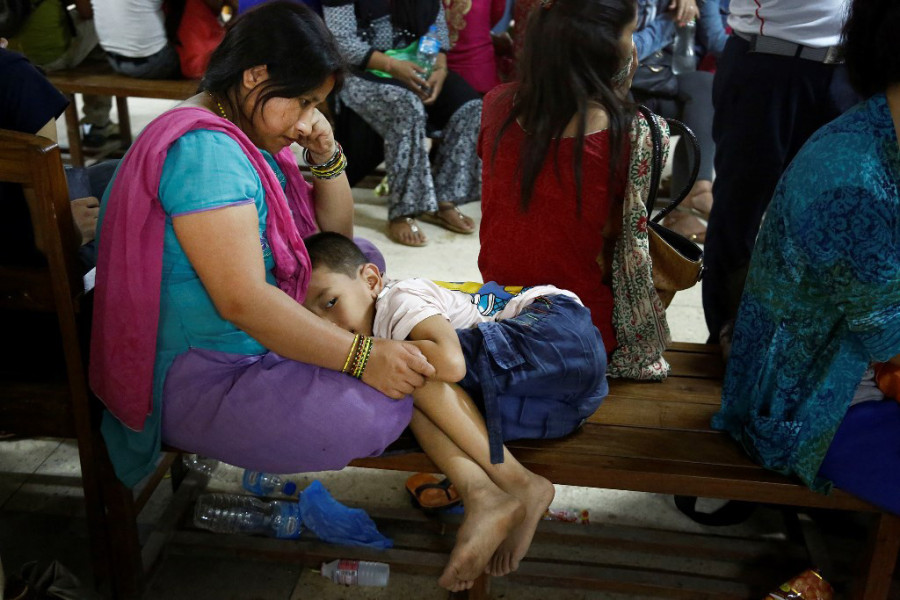 A mother comforts her sick son as they wait for their turn to see the doctor at Kanti Children's Hospital in Kathmandu. Post file photo.
bookmark
Published at : July 3, 2019
Updated at : July 3, 2019 15:31
Kathmandu
State-run health facilities throughout the country lack essential drugs which the government is supposed to be providing for free to patients. Pregnant women seeking institutional delivery service at government health facilities have also been deprived of government-announced allowances.
Pregnant women, lactating mothers, and children under two years of age in Karnali Province and Solukhumbu district of Province 1 have not received nutritious flour for months. In Kathmandu, Kanti Children's Hospital is in dire need of finance.
Bir Hospital, the oldest hospital in the country, is also in a bad shape.
The list of problems plaguing Nepal's health sector is too long, and Health Minister Upendra Yadav agrees.
"No matter who the [health] minister is, he can do nothing except deliver speeches," Yadav said at a programme organised on Monday to make the country's health policy public.
"A minister is not going to perform surgeries; we need doctors for that and we don't have doctors in sufficient numbers," said Yadav.
Patients who come to the central hospital in Kathmandu from across the country for treatment are forced to wait for months for an operation.
Some critically ill people are sent to private hospitals from the emergency ward of government hospitals due to lack of beds. Those who are lucky enough to get admitted to government hospitals are forced to go to private centres for laboratory and radiology services.
Even patients, suffering from serious injuries are being sent to private centres from the National Trauma Centre and Bir Hospital for CT-Scan and MRI services.
"Such patients may suffer permanent paralysis; they may even die in some cases if they don't receive timely treatment," Dr Dipendra Pandey of the National Trauma Center told the Post.
Likewise, Kanti Children's Hospital, which is the primary children's hospital in the country, shut down several ICU beds a couple of months back due to a shortage of doctors and nurses.
The administration at Bir Hospital says that it has been unable to bring the newly constructed building into operation which was constructed by Japan International Cooperation Agency.
The hospital has demanded additional budget and human resources—nursing staff, medical doctors, ward attendants and sweepers—to bring its newly constructed building into operation.
Yadav conceded that health facilities throughout the country lack infrastructure, human resources—doctors, nurses, technical manpower, essential drugs, among others.
"We are quite aware of the plight of the patients but we can only do so much with the budget allocated to the Health Ministry," said Yadav. "It is difficult for us to organise even a press meet from this budget."
The government has allocated 4.48 percent of national GDP for the Health sector in the upcoming fiscal year, and a huge chunk of it will be spent on the salaries of staff and on carrying out day-to-day tasks at the government hospitals.
The government has not created additional posts of doctors, nurses and other staff in the last 26 years.
Yadav said that his ministry will be carrying out an "organisation and management survey" soon and start the process to appoint additional human resources.
"Otherwise, we won't be able to provide basic health care services, ensure quality care, keep the health achievement intact and meet Sustainable Development Goals targets," said Yadav.
---
---