District administrations in Gandaki Province adopt measures to crack down on those defying lockdown
People in various districts of the province are defying the lockdown using proxy measures.

Post Photo
bookmark
Published at : March 30, 2020
Updated at : April 1, 2020 10:19
Pokhara
For the past week, local units across the province have been scrambling to tackle the spread of the novel coronavirus disease—setting up makeshift quarantine facilities and isolation centres, raising awareness among the public, and monitoring the lockdown, which has been extended by one more week.

But not everything has gone according to plan. The district administrations haven't succeeded to get people who recently returned from foreign countries—and are suspected to have carried the virus that has engulfed much of the globe—to register to quarantine facilities.
Meanwhile, people in various districts are defying the lockdown using proxy measures. In Myagdi, for instance, the police on Sunday evening arrested a local businessman Sunil Kumar Sah on charges of transporting liquors in his vehicle defying the lockdown. Police have launched a case against Sah, who is currently in custody, according to the Infectious Disease Act 1964. Announcing the lockdown, the government had ordered that people can move to fetch only those goods that are "essential".
"The man was found to have repeatedly defied the lockdown and the local administration's order to self-isolate," DSP Kiran Jung Kunwar, chief of Myagdi District Police, told the Post. "Also we were tipped off that the man was engaged in black-marketing, which was confirmed after our investigation."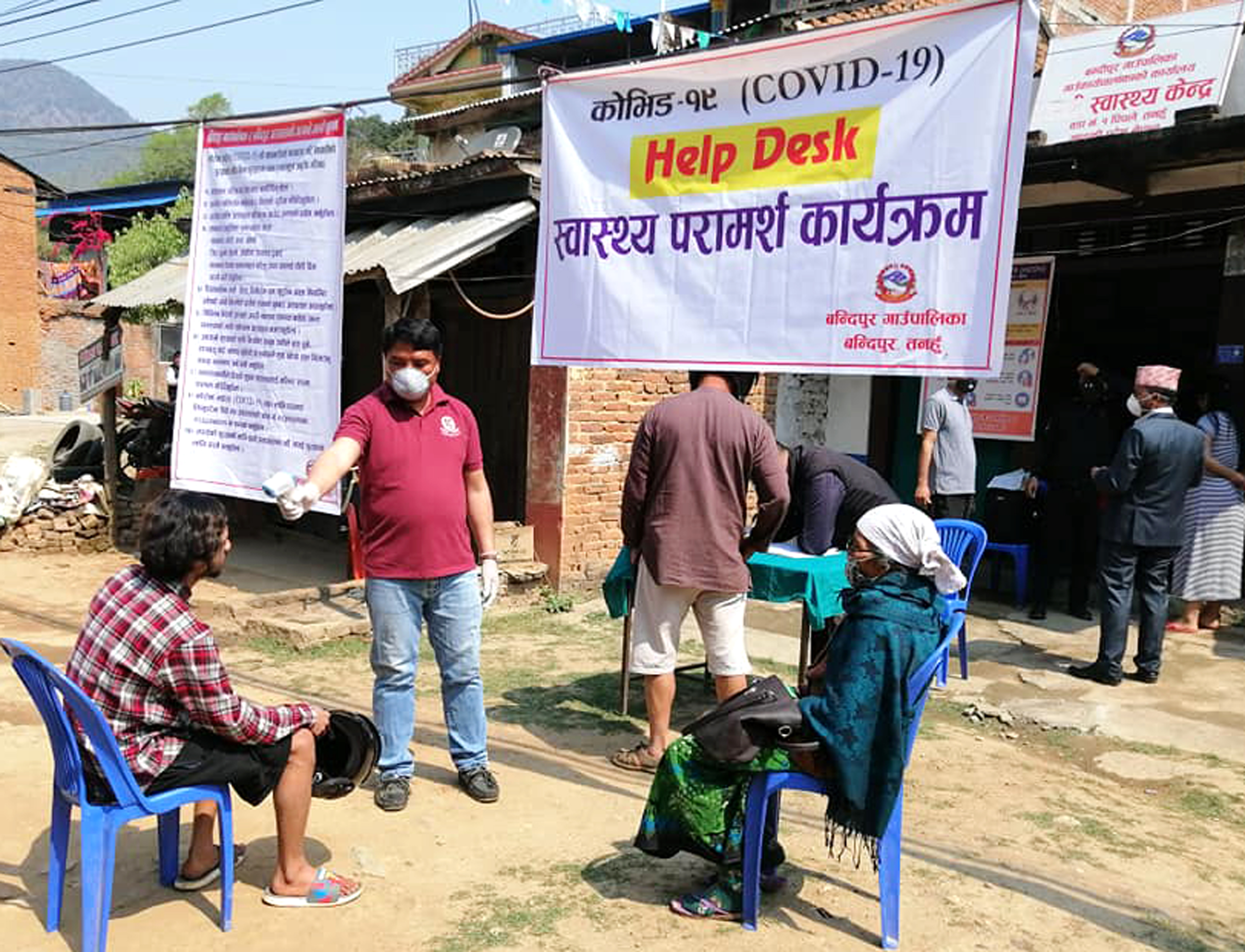 Post Photo
Meanwhile in Nawalparasi (East), the district administration office has been crowded with people seeking 'traffic pass' that allows them to move during the lockdown. According to Ananda Bhusal, information officer at the office, 416 passes have been distributed by Monday afternoon. While people in the inner sections of Mahendra Highway have defied the lockdown.
Following widespread defying of the lockdown, Bandipur Rural Municipality in Tanahun has decided to impose fines to control the movement of people. According to the local unit's order, anyone found to engage in gambling will be charged Rs10,000 in fine, Rs5,000 for those who play outdoor sports, and Rs1,000 to people who roam freely. The local unit has formed a Covid-19 Command Post committee to act upon those defying the order.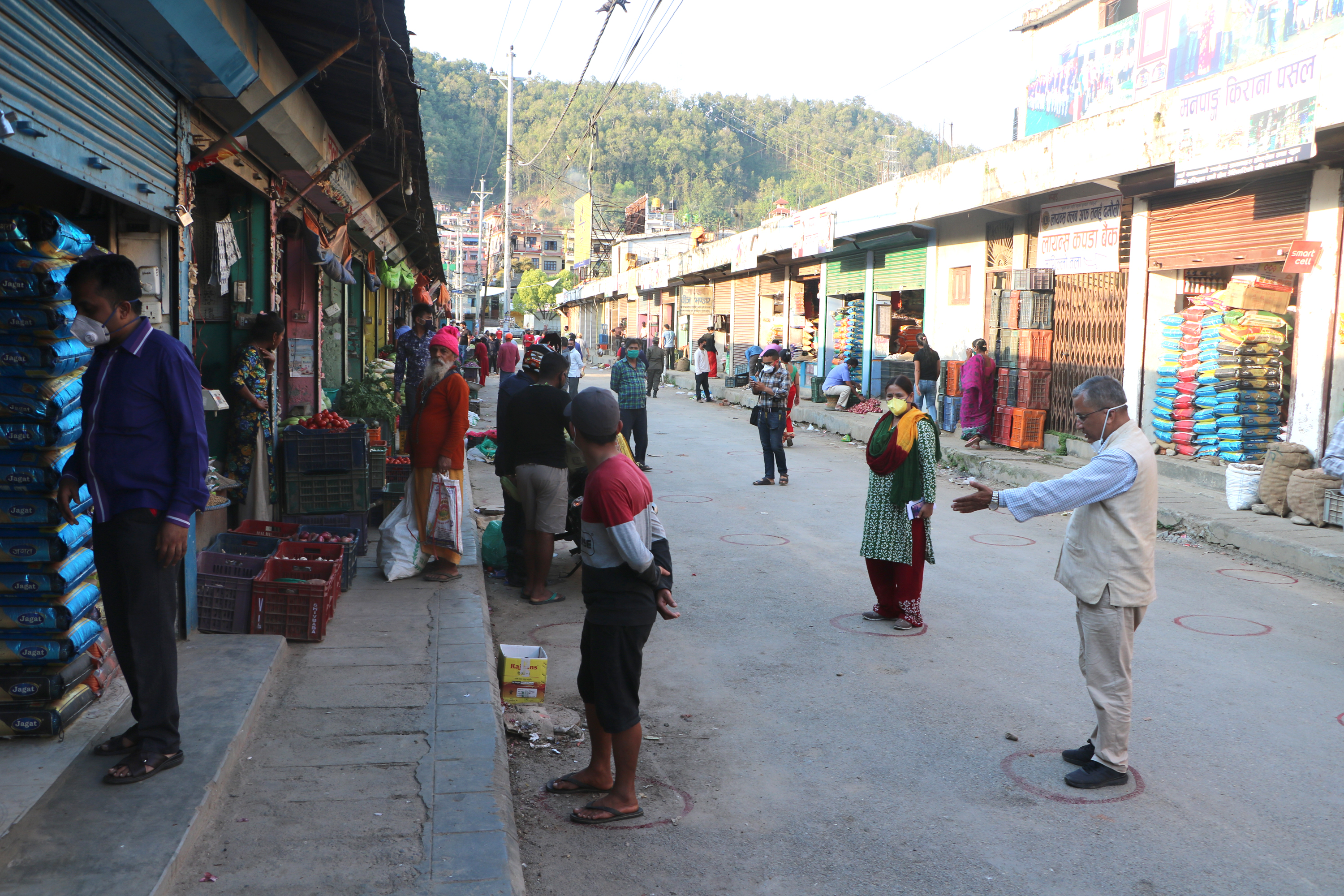 Post Photo
In Lamjung, Besisahar Municipality has sprinkled chemicals in the major chowks of the town using fire engines, while sceptics question the efficacy of such measures to kill the coronavirus. According to Krishna Lal Pradhan, chair of Besisahar Drinking Water and Cleanliness Consumers' Committee, the liquid includes chlorine which they aim will kill the virus.
Pokhara Metropolis, meanwhile, has announced a relief package worth Rs20 million focusing on impoverished families who earn daily wages to make a living, according to Mayor Manbahadur GC. GC said the metropolis would provide relief material worth Rs2,000 by identifying daily wage earners. The package includes 25kg rice, 2kg lentils, and one kg of salt, edible oil and beans. "We aim to distribute material that will suffice the families for at least ten days," GC said. "This, we hope, will help them get through the lockdown."
(Reporting by Ghanashyam Khadka in Myagdi, Deepak Pariyar in Kaski, Narayan Sharma in Nawalparasi (East), Samjhana Rasaili in Tanahu, and Aash Gurung in Lamjung)
Frequently asked questions about the coronavirus outbreak
UPDATED as of September 22, 2020
What is Covid-19?
Covid-19, short for coronavirus disease, is an illness caused by the coronavirus SARS-CoV-2, short for severe acute respiratory syndrome coronavirus 2. Common symptoms of the disease include fever, dry cough, fatigue, shortness of breath and breathing difficulties. In severe cases, the infection can cause pneumonia, severe acute respiratory syndrome, kidney failure and even death.
How contagious is Covid-19?
Covid-19 can spread easily from person to person, especially in enclosed spaces. The virus can travel through the air in respiratory droplets produced when a sick person breathes, talks, coughs or sneezes. As the virus can also survive on plastic and steel surfaces for up to 72 hours and on cardboard for up to 24 hours, any contact with such surfaces can also spread the virus. Symptoms take between two to 14 days to appear, during which time the carrier is believed to be contagious.
Where did the virus come from?
The virus was first identified in Wuhan, China in late December. The coronavirus is a large family of viruses that is responsible for everything from the common cold to Middle East Respiratory Syndrome (MERS) and Severe Acute Respiratory Syndrome (SARS). After an initial outbreak in Wuhan that spread across Hubei province, eventually infecting over 80,000 and killing more than 3,000, new infection rates in mainland China have dropped. However, the disease has since spread across the world at an alarming rate.
What is the current status of Covid-19?
The World Health Organisation has called the ongoing outbreak a "pandemic" and urged countries across the world to take precautionary measures. Covid-19 has spread to 213 countries and territories around the world and infected more than 31,405,983 people with 967,505 deaths and 22,990,260 recoveries. In South Asia, India has reported the highest number of infections at 5,557,573 with 88,943 deaths. While Pakistan has reported 306,304 confirmed cases with 6,420 deaths. Nepal has so far reported 65,276 cases with 427 deaths.
How dangerous is the disease?
The mortality rate for Covid-19 is estimated to be 3.6 percent, but new studies have put the rate slightly higher at 5.7 percent. Although Covid-19 is not too dangerous to young healthy people, older individuals and those with immune-compromised systems are at greater risk of death. People with chronic medical conditions like heart disease, diabetes and lung disease, or those who've recently undergone serious medical procedures, are also at risk.
How do I keep myself safe?
The WHO advises that the most important thing you can do is wash your hands frequently with soap and water for at least 20 seconds or use hand sanitizers with at least 60 percent alcohol content. Avoid touching your eyes, nose and mouth with unclean hands. Clean and disinfect frequently used surfaces like your computers and phones. Avoid large crowds of people. Seek medical attention if symptoms persist for longer than a few days.
Is it time to panic?
No. The government has imposed a lockdown to limit the spread of the virus. There is no need to begin stockpiling food, cooking gas or hand sanitizers. However, it is always prudent to take sensible precautions like the ones identified above.
---
---