Steamer service resumes in Kaligandaki river
The steamer service, which has been in operation for the past 17 years, was temporarily closed this year in June with the onset of monsoon.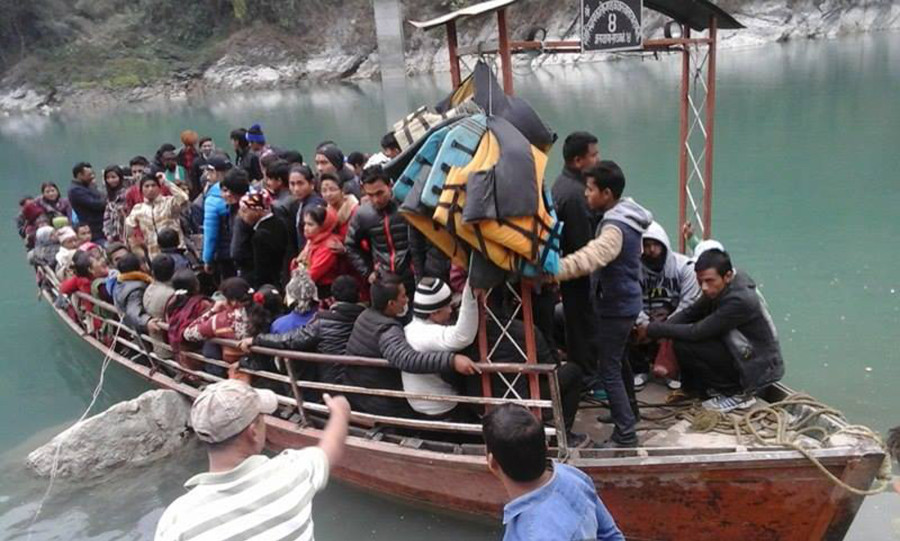 Ten steamers, each with a capacity to carry 100 passengers, are in service. Pratikshya Kafle/TKP
bookmark
Published at : October 24, 2019
Updated at : October 24, 2019 08:43
Syangja
Steamer service has resumed in the Kaligandaki River with the end of this year's monsoon. The steamers chart a total distance of 7km distance from Mirmi in Syangja to Setibeni, which borders Parbat and Gulmi.

As the doors of the Kaligandaki A Hydropower Project are closed, the water in the river gets collected in a lake, which helps water transport, according to Chandra Bahadur Rana, secretary of Shila Shaligram Kaligandaki Water Transport, the company that operates the service.
Tilak Bote, a resident of Mirmi, said steamers make travelling and ferrying goods across the river to neighbouring villages of Pidikhola, Niuwakharka, Shaligram and Ranipani easy. "We are excited about the steamer's comeback," Bote said. "Over a thousand people will benefit from the service daily." The steamer fare is fixed at Rs60 per trip.
Currently, a total of ten steamers are in service—each machine with a capacity to carry 100 passengers. Likewise, two micro steamers with a capacity to carry 15 passengers each are also in operation.
Bishnu Chhetri, ward chair of Galyang Municipality Ward No. 5, said the interruption of the service during the monsoon had affected the locals.
"The roads get worse during monsoon, and with no steamer service in operation, locals from some villages had to walk for hours," Chhetri said. "The service is also likely to attract a significant number of tourists as it has in previous years."
With the resumption of the steamer service, the time to cross the river has significantly shortened, said Rana, secretary of the operating company.
"A jeep ride of four hours will come down to a 30-minute ride on a steamer," he said.
The steamer service was temporarily closed this year in June with the onset of monsoon.
---
---