Manang sees unseasonal snowfall
The episode underscores the effects climate change is inflicting on the people living in the mountains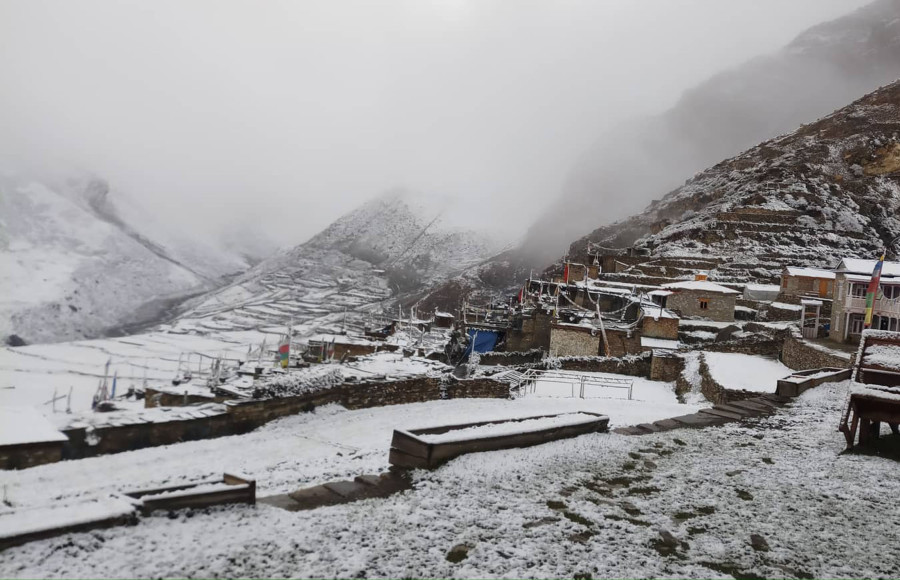 bookmark
Published at : May 21, 2019
Updated at : May 21, 2019 08:06
Lamjung
The month of May is usually marked by warmer weather conditions, even in the high-altitude regions of the country. But this past week, Manang, one of the mountainous districts in the Gandaki Province, experienced snowfall continuously for three days on Thursday, Friday and Saturday.
This unusual phenomenon has left locals and climate change experts at unease, particularly when the southern belt of the country is experiencing unusually hot weather, with temperatures touching around 40 degrees Celsius is some Tarai districts.
Phurpa Thele Lama, a native of Nargaun, said that the last time the weather took the locals by surprise was four to five years back when it had snowed in mid-April. He said, "This is an unusual time for snowfall."
Ritar Chhipel Lama, ward chairman of Narapabhumi Rural Municipality-1, said that the region received more snowfall than expected this past winter too. He said, "Massive snowfall during the winter season caused a lot of damage but looks like we are not done yet. This unseasonal snowfall is worrying."
According to Lama, the adverse effects of rapid climate change are now becoming a reality.
Janardan Adhikari, District Election Officer, said that the weather conditions in the mountainous regions appear to be oscillating between cool and cold all year round but snowfall is mid-May is a cause for concern. Adhikari, who had planned to travel to Manang from Naar through the Kangla pass, had to drop his plans because of the erratic weather. He said, "Before we could start our journey, the weather turned stormy and it started to rain heavily. This was soon followed by heavy snowfall. We had to stay put."
This sudden snowfall has wreaked havoc on the fields of the villagers, who had only just begun planting crops for the next harvesting season. Lama said, "The farmers had planted potatoes, barley and mustard only a week back. The snowfall has damaged the crops; we cannot expect a good yield now."
Madhukar Upadhya, a climate change expert, said that the effects of climate change in Nepal in the last few years is worrisome. He said, "Climate change is a serious problem. There's drought in some parts of the country whereas some other parts have been witnessing floods and landslides."
Upadhya added, "Concerned stakeholders should take this episode of unseasonal snowfall in Manang seriously. They should make effective plans to find solutions to this growing problem."
---
---