We have nothing to lose at Qualifiers: coach Kalin
Kalin says, 'Nepal to take on Jordan with a positive mindset, content with how the points table has shaped up'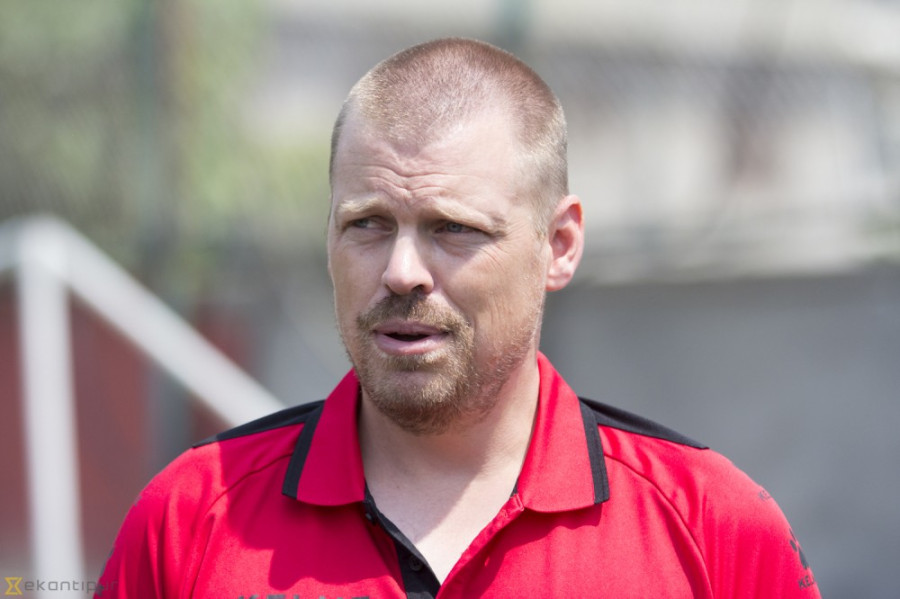 Nepal head coach Johan Kalin
bookmark
Published at : October 14, 2019
Updated at : October 14, 2019 21:12
Nepal are set to play their fourth away match of the FIFA World Cup and Asia Cup Joint Qualifiers against Jordan on Tuesday, eight years after a 9-0 drubbing in their backyard. Nepal have suffered large margin defeats against Kuwait and Australia while securing a 2-0 win against Taiwan in their last three matches. The Post's Binod Pandey caught up with Nepal's head coach Johan Kalin in Amman ahead of their clash against Jordan. The edited excerpts.

What has the preparation been like after the Australia match?
It was a long travel from Australia after the match. We did an easy session upon arrival with some easy jogging and stretching. The next day, we did a normal training. The team is going through a longer training session a day before the match. We are trying to to get the bodies in order and repeating some small bits and pieces from our basic play.
This is our last away match in this stage of the tournament, how do you see it?
In all our games, we had nothing to lose. All the opponents in the group are better ranked than us. We play away yet again and we know that Jordan is a very strong team. Some of their players are really very good. However, we trust our ideas. Hopefully, we can do something good but it will require our best game.
Nepal recovered in the second half against Australia, what did it take?
We can see progress in our performance game by game. It is natural to have setbacks at times, that's normal. The performance graph doesn't always a straight line, heading upwards. The early part of the match against Australia was a nightmare, to be honest, something we did not want. However, the boys came back strong, they did not concede a lot of space in the central area as the game progressed. We indeed had troubles in set-pieces and crosses. Australians had the physical advantage as they were taller and stronger boasting experience in top leagues around the world. They are far ahead of us as the FIFA ranking makes it evident. Their passing game and technical aspects were strong. But at that level, it is the basic thing. It was a good performance despite the fact that we lost the game by five goals. If we are to compare our performances in recent time, it is easy to see the progress.
Any changes in the team for the match against Jordan?
Bishal Rai is injured and out of the squad. He had some problems high up in the calf even before heading to Australia. However, he got better and was okay before the game, but the pain started coming back. We will check him up when we get back (to Kathmandu). We can't be sure about his return yet, but I don't think it's a big deal, he will probably remain out for a week. I am not sure about his replacement yet but will consider the balance in the team as we do have alternatives.
Nepal is halfway in the qualifiers, what is your opinion about the current state of the points table?
I think it's pretty much as expected. We knew it would be really hard. All the teams are playing quality football and therefore it is a great opportunity for us to be playing at this level and the tournament. Nepal is not used to playing against such high standard teams, both in terms of playing style and quality, except for the South Asian nations, therefore, it is a big difference. Taiwan was a good game but Australia was just okay. Pointwise, three points from three difficult away matches are satisfactory. Of course, we want to snatch points against Jordan, taking away all three points would even be better. We can be pretty pleased with the performance so far as we are taking small steps in becoming a better team.
Last time Nepal played Jordan, it was a 9-0 drubbing. Is it going to affect the performance now?
I think everybody in Nepali football knew about the special circumstances of the game in 2011. Not everybody knows, but the match was surrounded by suspicions. It was a long time ago and such collapses happen even with top teams of the world, we all saw Brazil collapsing against Germany. It's hard for me to say, but the standard was different back then. Jordan has a better league, they play quality football. Looking at them today, their players play at top leagues in Europe. However, I don't think the players think about the game which was played eight years ago.
---
---