Immerse in the delights of Indo-Chinese cuisine
Nanglo's 'The Chinese Room' at Durbarmarg offers a sophisticated twist to dishes that we already know and love, from dumplings, noodles to fried rice.

Elite Joshi/TKP
bookmark
Published at : July 13, 2023
Updated at : July 14, 2023 07:20
Kathmandu
Step into a world of delightful flavours and cultural ambience at Nanglo's The Chinese Room, a culinary gem founded by brothers Shyam and Gopal Kakshapati in 1978. With the aim of introducing Kathmandu to the warmth and richness of Indo-Chinese cuisine, the restaurant, located in Durbarmarg, has now expanded its menu to incorporate flavours influenced by Sichuan cookery.

Chinese cuisine is a tapestry of diverse tastes, each region offering its own unique palette. The northern dishes are known to delight with their savoury notes, while the southern ones tantalise with a touch of sourness. Sichuan cuisine, on the other hand, is renowned for its fiery spiciness.
Stepping through the doors of Nanglo's The Chinese Room is like entering a realm of Chinese charm. Lanterns hover gently overhead, paintings adorn the walls, and the clinks of plates and chopsticks resonate amidst the soft background music, creating an immersive dining experience. The restaurant's extensive menu offers an array of enticing options. During my visit, I tried out six of their most popular dishes.
Whole Steamed Fish with Soy Glaze
Price: Rs850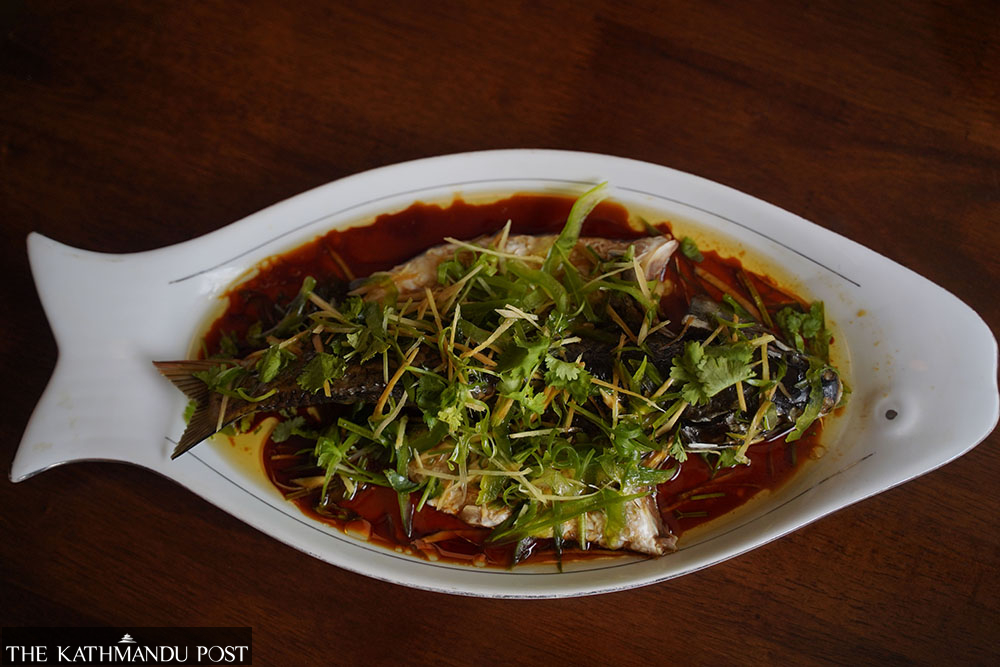 Elite Joshi/TKP
The fish was presented on a plate cleverly shaped to resemble its own form, creating an intriguing visual appeal. Its delicate and natural hues, accompanied by the glistening soy glaze, immediately caught my attention and beckoned me to indulge. However, I heeded the warning about the fish bones and cautiously approached my first bite.
With its lustrous sheen, the soy glaze struck a harmonious balance between sweetness and savoury, skillfully complementing the fish's delicate flavour without overpowering it. Infused with hints of ginger, garlic, and a subtle touch of sweetness, the glaze added depth and complexity to the overall taste.
It's worth noting that this dish won't overwhelm your taste buds with an explosion of flavours as its true beauty lies in savouring its authentic taste. The portion size of the fish was notably generous, making it an ideal choice for sharing.
Sliced Buff Salad
Price: Rs650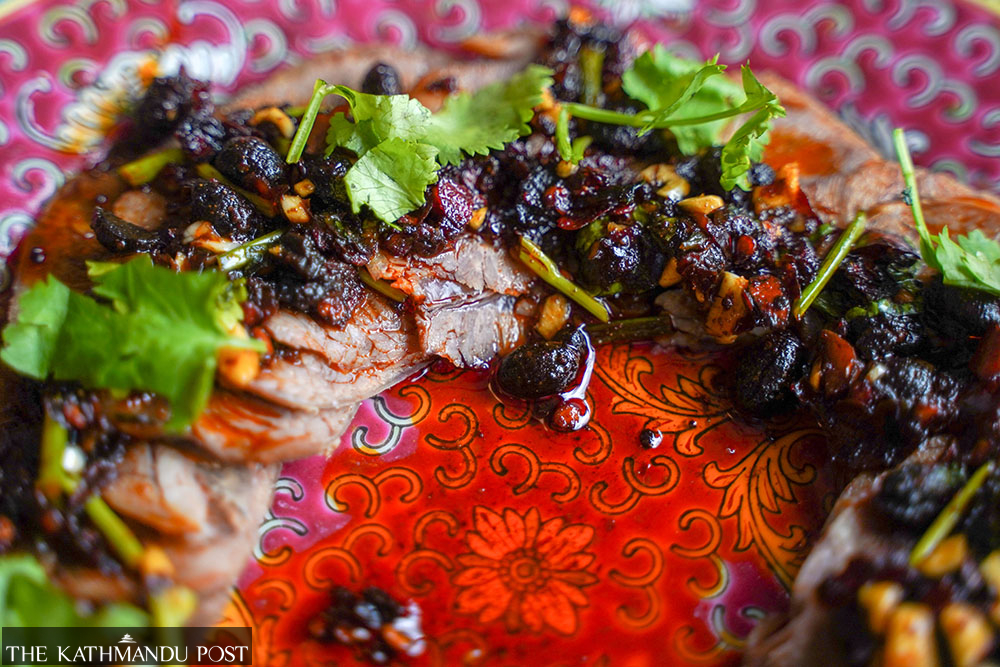 Elite Joshi/TKP
The plate of the sliced buff was thoughtfully arranged, complemented by a colourful assortment of greens, reds, and yellows from the accompanying vegetables. This appealing presentation immediately sparked my curiosity.
Served cold and accompanied by fermented chilli oil, this dish provided a refreshing twist. The salad was satisfying with savoury, tangy, and mildly spicy flavours. The buff meat, thinly sliced, showcased its tender and juicy qualities.
The marinade worked wonders, rendering the buff meat tender beyond expectation. The portion size of this salad is suitable for a light meal or a shared appetiser among friends. It's important to note that if you are not a fan of chillies, the mild spiciness may be worth considering before placing your order.
Ma Po Tofu
Price: Rs450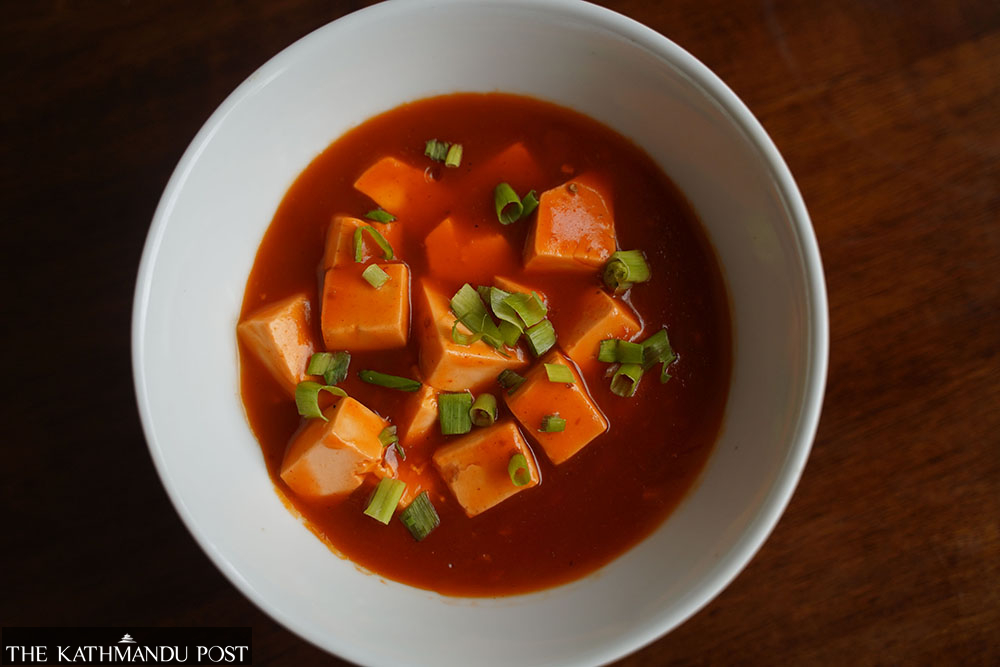 Elite Joshi/TKP
The dish showcased the true essence of Sichuan cuisine—rich with umami flavours. My taste buds were engaged with the unique numbing effect of Sichuan peppercorns. The sauce, a harmonious blend, had the savoury and sweet undertones of soy sauce. Each bite carried a strong taste of ginger and garlic, leaving behind a lingering aftertaste.
The spiciness level gradually built up with every bite. However, the spice never overwhelmed the palate, allowing the other flavours to shine through. Amidst the fiery ensemble, the tofu stood out with its delicate and creamy texture, melting in my mouth effortlessly.
The dish's presentation was appetising, too, with thick crimson-coloured sauce clinging enticingly to the tender tofu cubes.
Pan-fried Veg Dumplings
Price: Rs400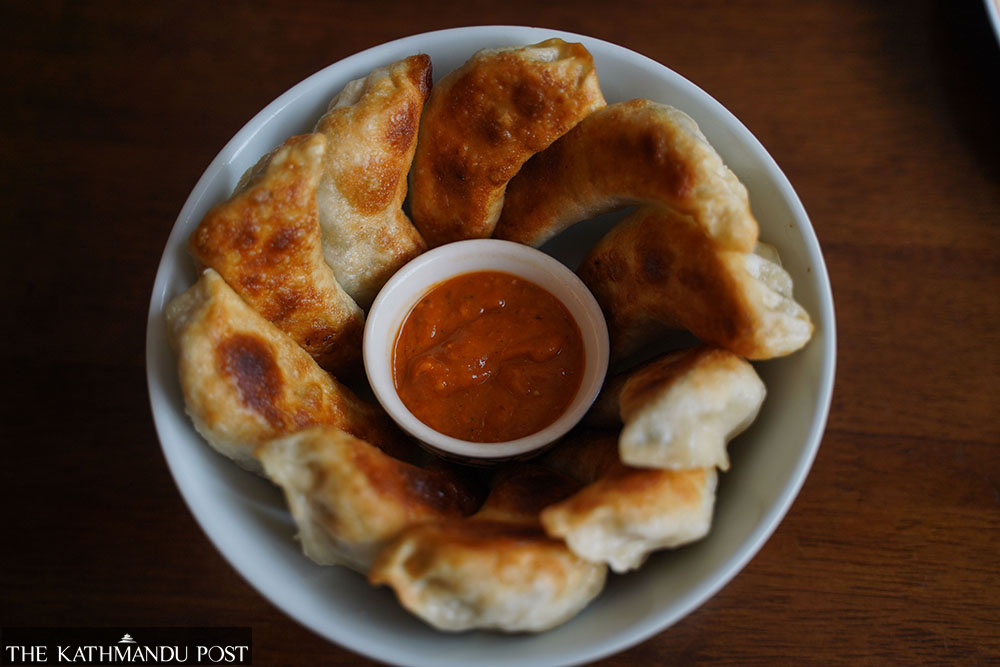 Elite Joshi/TKP
It is safe to say that the Nepali palate will be most excited by this dish. The neatly arranged golden-brown dumplings arrived in a large bowl. The thin and translucent dumpling skin had been skillfully pan-fried to achieve a delightful crispness. The bottom of the dumplings boasted a pleasing golden colour and a slight crunch, satisfyingly contrasting the tender filling encased within.
Speaking of the filling, the natural sweetness of the vegetables took centre stage, resulting in the dumplings achieving a harmonious flavour profile without being overly salty. Accompanying the dumplings was a dipping sauce that elevated the overall taste. The sauce also exhibited a perfect blend of saltiness, tang, and sweetness. It played a crucial role in enhancing the dumplings, as they might not be as enticing to the taste buds on their own.
Egg Noodles
Price: Rs350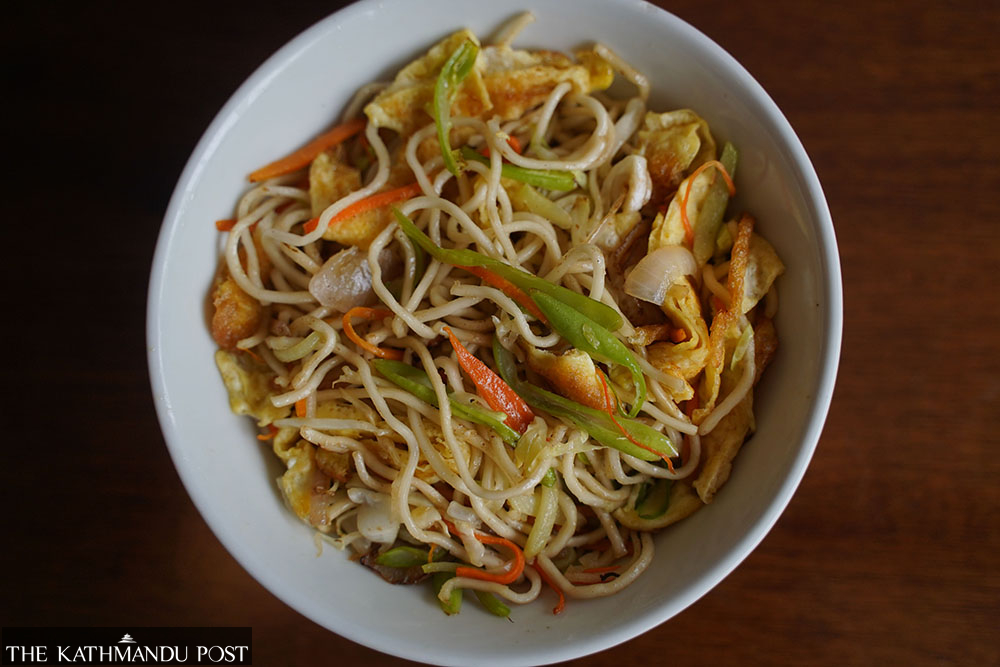 Elite Joshi/TKP
The egg noodles offer a delightful taste, balancing tenderness with firmness. Cooked to al dente, they retained a satisfying chewiness without being too soft. Each strand boasted a smooth texture and the noodles were accompanied by various vegetables and a delectable blend of flavour enhancers, including soy sauce, oyster sauce, garlic, and ginger.
The optional addition of hot chilli oil provides a smoky and spicy contrast to the noodles. While the appearance of the egg noodles may fall short of expectations, the overall taste experience is sure to satisfy.
Nanglo Special Fried Rice
Price: Rs485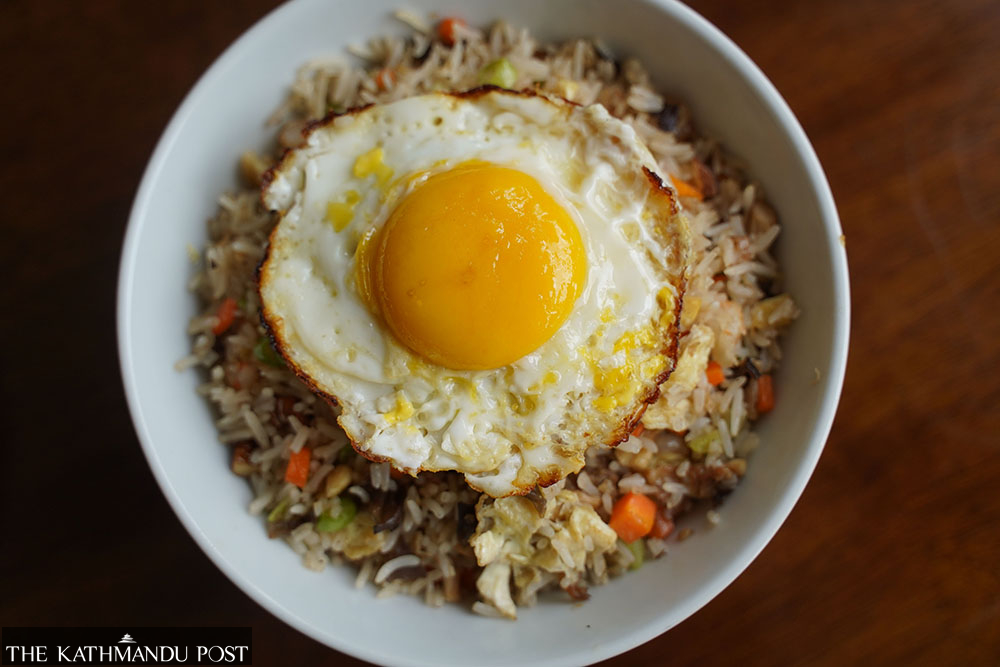 Elite Joshi/TKP
As the bowl of fried rice was set before me, topped with a sunny side up, I initially presumed it to be a typical rice dish. However, I was taken aback when I learned about its unique composition. Naglo's special fried rice featured an assortment of surprising ingredients: cashews, black mushrooms, nuts, walnuts, cabbage, prawns, chicken, beans, and carrots. Each element had been skillfully chopped into small pieces and seamlessly blended with the fried rice, creating a symphony of flavours and textures that was fun to chew.
Each grain of rice maintained its distinct separation, offering a satisfying bite without becoming sticky. The combination of vegetables and nuts contributed to a delightful crunch, adding another layer to the overall experience.
This unique blend of flavours and textures sets this dish apart, making it a standout choice.
—
The Chinese Room by Nanglo
Location: Durbarmarg, Kathmandu
Opening hours: 11:00 am to 10:00 pm everyday
Parking: Available inside Hotel Annapurna
Price: Inclusive of all taxes
Smoking: Not allowed
---
---