A delectable blend of earthy and fresh
The delicacies at Bao Xuan are examples of Chinese cuisine done right.

Deepak KC/TKP
bookmark
Published at : June 29, 2023
Updated at : June 30, 2023 07:41
Kathmandu
I recently dined at Bao Xuan in Soaltee Hotel, Kathmandu, and it was an incredibly memorable experience. As I stepped in, I was greeted with a warm and welcoming atmosphere. The restaurant was tastefully decorated with ornate Chinese lanterns, intricate artworks, and traditional wooden furniture—transporting me to a different world. In Chinese culture, alcohol is an important part of the dining experience, so there is a selection of drinks placed intricately at the bar.

Moreover, the restaurant's extensive menu featured a diverse selection of Chinese dishes to suit a variety of palates. I feasted on seven of their mouth-watering dishes.
Prawn dim sum
Price: Rs1,800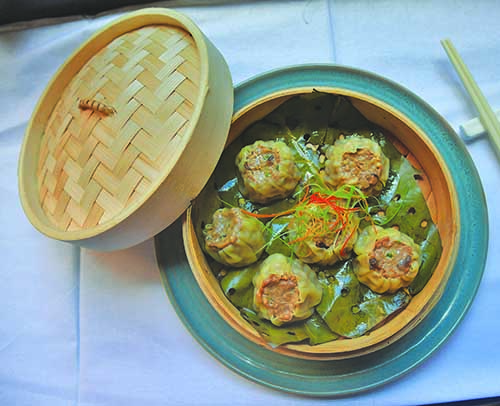 Deepak KC/TKP
The prawn dim sum—beautifully presented on a bamboo steamer—looked appetising from the first glance. The small, bite-sized dumplings were neatly arranged and had translucent wrappers. They were garnished with finely chopped spring onions, adding a vibrant touch to the overall presentation.
The dim sum filling had a perfect combination of savoury and subtle aromatic flavours thanks to its excellent seasoning. Ginger, garlic, and soy sauce complemented the prawn's delicate but distinct flavour. The outer layer of the dim sum was thin and delicate, providing a satisfying chewiness without it being overly doughy. Every bite lent a mouthwatering flavour, proving that it had been prepared with care.
Mushroom dim sum
Price: Rs1,500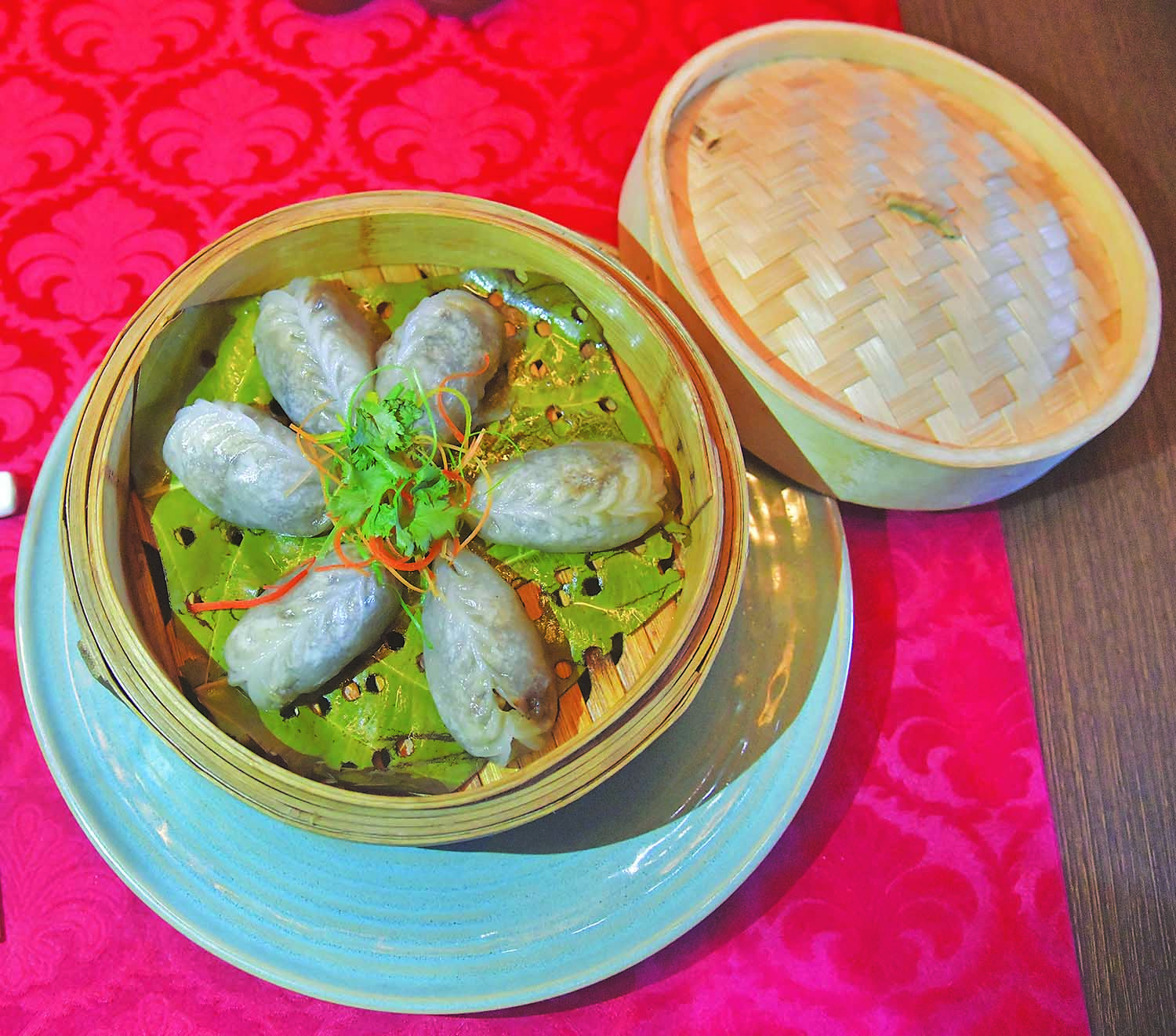 Deepak KC/TKP
The mushrooms gave off an earthy, rich, and well-balanced flavour. It was clear that good quality mushrooms had been utilised, as their natural texture radiated through the dough. The flavour was unobtrusive yet delightful, permitting the taste of the mushrooms to become the central focus.
Upon biting into the mushroom dim sum, I was pleased with the texture. The filling was finely chopped, allowing for an even distribution of spices.
Donggu king prawn
Price: Rs2,500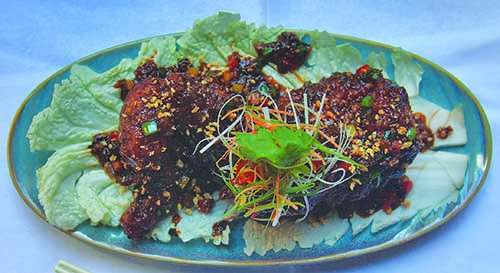 Deepak KC/TKP
The Donggu King Prawn arrived at the table as a true spectacle. It consisted of garlic oil and rice wine marinated prawns tossed with special Donggu soy sauce, chillies, and scallions. The prawns were sizable and beautifully displayed, showcasing their vibrant orange colour—with a slightly charred exterior that resulted in a tantalising visual appeal. They were decorated with long thin slices of carrots on top.
Cooked to perfection, each bite was quite tender. The exterior had a slight crispness to it, providing a delightful contrast to the succulent and juicy meat inside. This dish is something I will be re-ordering again.
Vegetable fried rice
Price: Rs1,250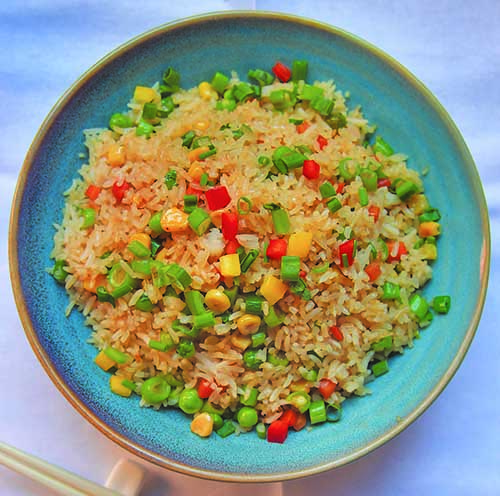 Deepak KC/TKP
The vegetable fried rice immediately captures the senses with its brilliant colours as it is placed on the table. The mix of finely chopped veggies is evenly dispersed in the fluffy rice. The rice harmoniously absorbed the flavours from the veggies and spices.
The tender rice provides a delightful contrast to the vegetables' slight crunch. Something I found unique about the dish was how fresh each bite tasted. It is not at all oily. The vegetables are cooked to perfection, maintaining their freshness and imparting a wholesome and healthy element to the overall composition.
Vegetable noodles
Price: Rs1,250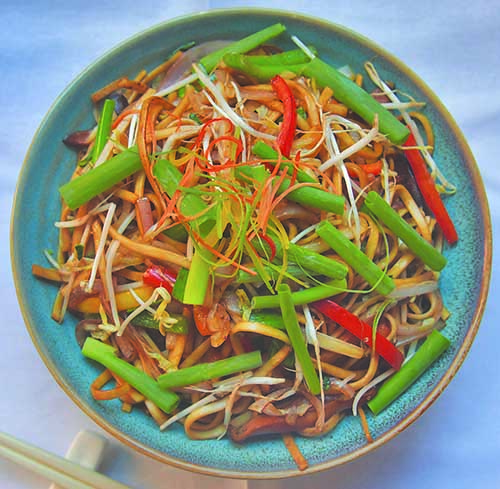 Deepak KC/TKP
Noodles hold a special place in Chinese cuisine as a symbol of longevity and good fortune. This plate offers a superb mix of chewy noodles, vegetables, and exquisite sauces. The noodle's fragrant aroma is irresistible—the enticing fragrance of garlic, ginger, and sesame oil hits your nostrils, making you salivate.
The noodles offer a delightful chewiness that complements the tender-crisp vegetables. Just like the fried rice, this one has freshness written all over it. This is a must-have dish at the vegetarian table.
Spicy mala-flavoured fish
Price: Rs2,300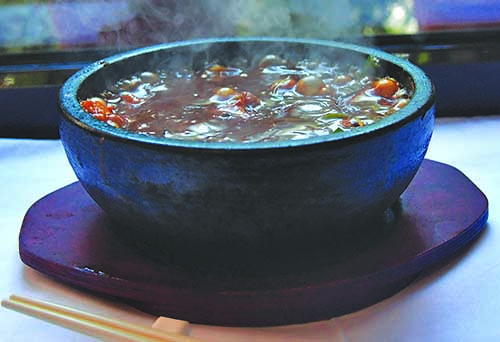 Deepak KC/TKP
The fish is a wok-fried delight with bell peppers and mala-flavoured spicy homemade sauce. The dish was brought in a stone bowl, and all the elements were hot and boiling.
As I took my first bite, the flavours burst forth with an intense experience. The dish had a complex profile, with layers of heat, garlic, and a touch of tanginess. The vegetables provided a refreshing crunch and served as a palate cleanser between the fiery mouthful bites. The fish itself was incredibly tender and flaky, perfectly cooked to retain its natural succulence. Spices penetrated its skin, infusing it with a tantalising heat that gradually built up with each bite.
This adventure is definitely not for the faint-hearted. If your taste buds don't enjoy spice, then proceed with caution.
Stir-fried shiitake pok choy
Price: Rs1,500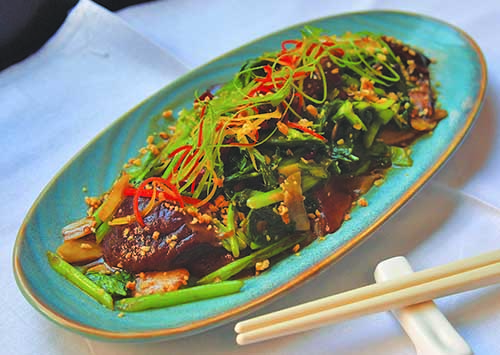 Deepak KC/TKP
The stir-fried shiitake pok choy arrived at my table with an inviting presentation. The mushrooms' shape and texture were perfectly preserved during the stir-frying process. Their natural earthy coloured tints stood out delightfully from the lively green bok choy leaves and stems, making for a visually appealing dish.
The shiitake mushrooms, with their meaty texture, were complemented by a savoury garlic undertone. The tender bok choy stems offered a satisfying crunch, while the leaves melted in my mouth, adding a refreshing element to each bite.
The overall flavour profile was well-balanced, allowing the inherent qualities of both the mushrooms and the bok choy to shine.
—
Bao Xuan
Location: Soaltee Hotel, Tahachal Marg, Kathmandu
Opening hours: 7:00 pm to 10:45 pm
Price: Inclusive of all taxes
Parking: Available
---
---