Hidden delights of Burmese cuisine
Experience culinary bliss at The Noodles Bar in Mid-Baneshwar, where many flavours of Myanmar await your taste buds.

Deepak KC/TKP
bookmark
Published at : May 19, 2023
Updated at : May 19, 2023 08:07
Kathmandu
We often find ourselves settling for the same things in our daily life. We park at the usual parking spot, sit at the usual desk, and dine at the same restaurant. There is a hint of weariness in putting ourselves and our palette through the same flavours every day. This is why, for a change of pace, a Burmese delight awaits in Mid-Baneshwor to provide your taste buds with a much-needed newness.

The Noodles Bar, situated at Basuki Marg, Mid-Baneshwar, is owned and run by Gita Sharma Khadka, who was born in Burma (modern-day Myanmar). Cashing in on her experiences there, she has brought the rich flavours of Burma to the heart of Kathmandu. Khadka, who was originally a teacher, now runs the food joint. She also has a rather sweet smile that greets any customer that enters the space.
As you enter the big area, you are humbled by the simple yet inviting ambience. The space is divided into sections, the dining area and the cooking area. Ms Khadka stands politely awaiting her customer's orders, and once the order is placed, that's when the magic begins. One can sit at the table and observe the delicacy being created in front of them. As I asked for her recommendation, she offered me four of her best-selling dishes.
Thopu Tau (Thopu Salad)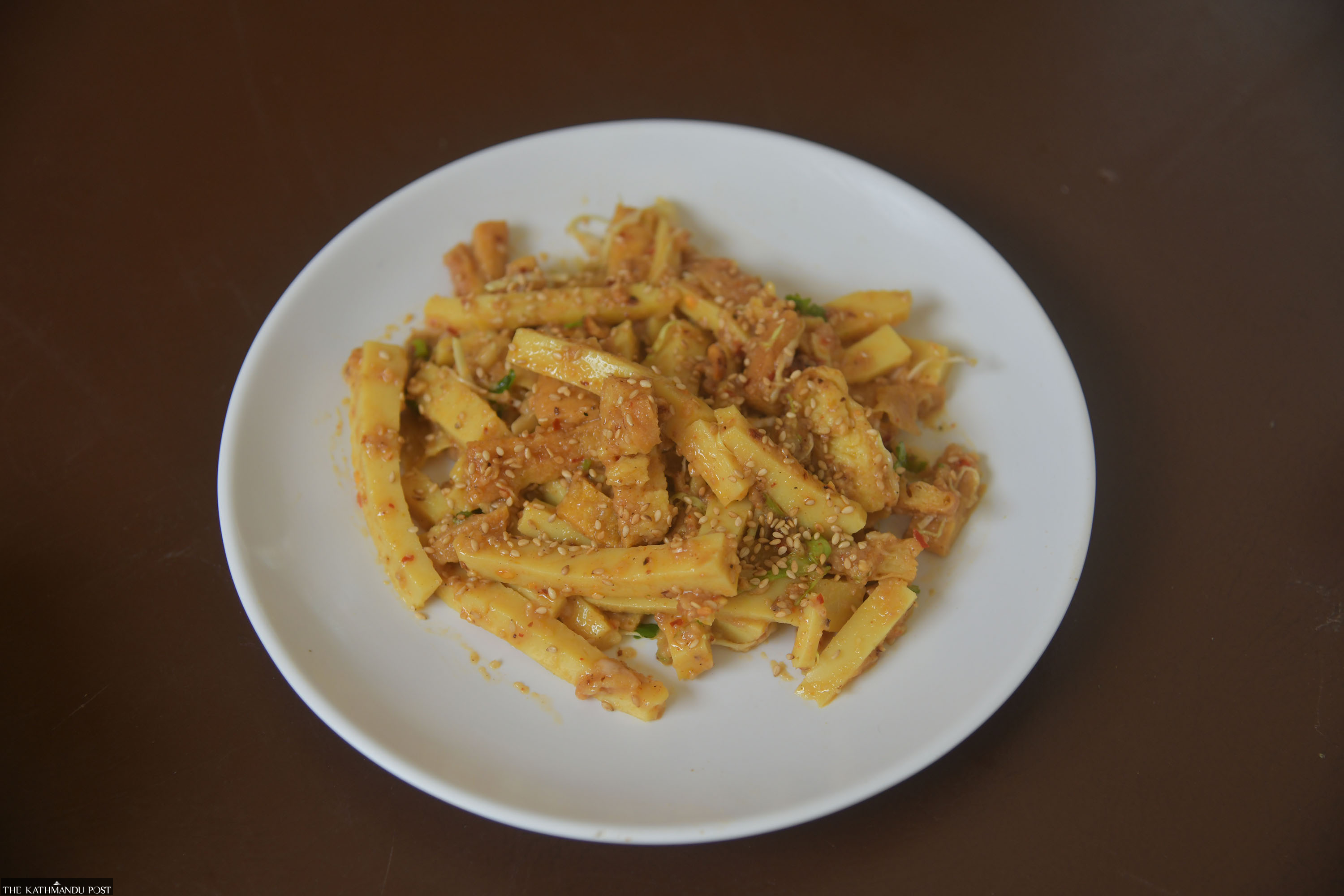 Deepak KC/TKP
Price: Rs170
Thopu Tau is a traditional Burmese dish that keeps you wanting more due to its tenderness. The Thopus are made in the restaurant with chickpeas and not refined wheat flour. As you begin to eat, you are in awe of how well-cooked and well-balanced all the elements are. The outburst of flavours instilled with cabbage, cilantro, and chilli oil hits the right spots. Thopu is served on a single plate, either fried or non-fried.
However, the dish does not have an abundance of spices and chilli, which may not be fitting for the adventurous Nepali mouth.
Khau Suey Tau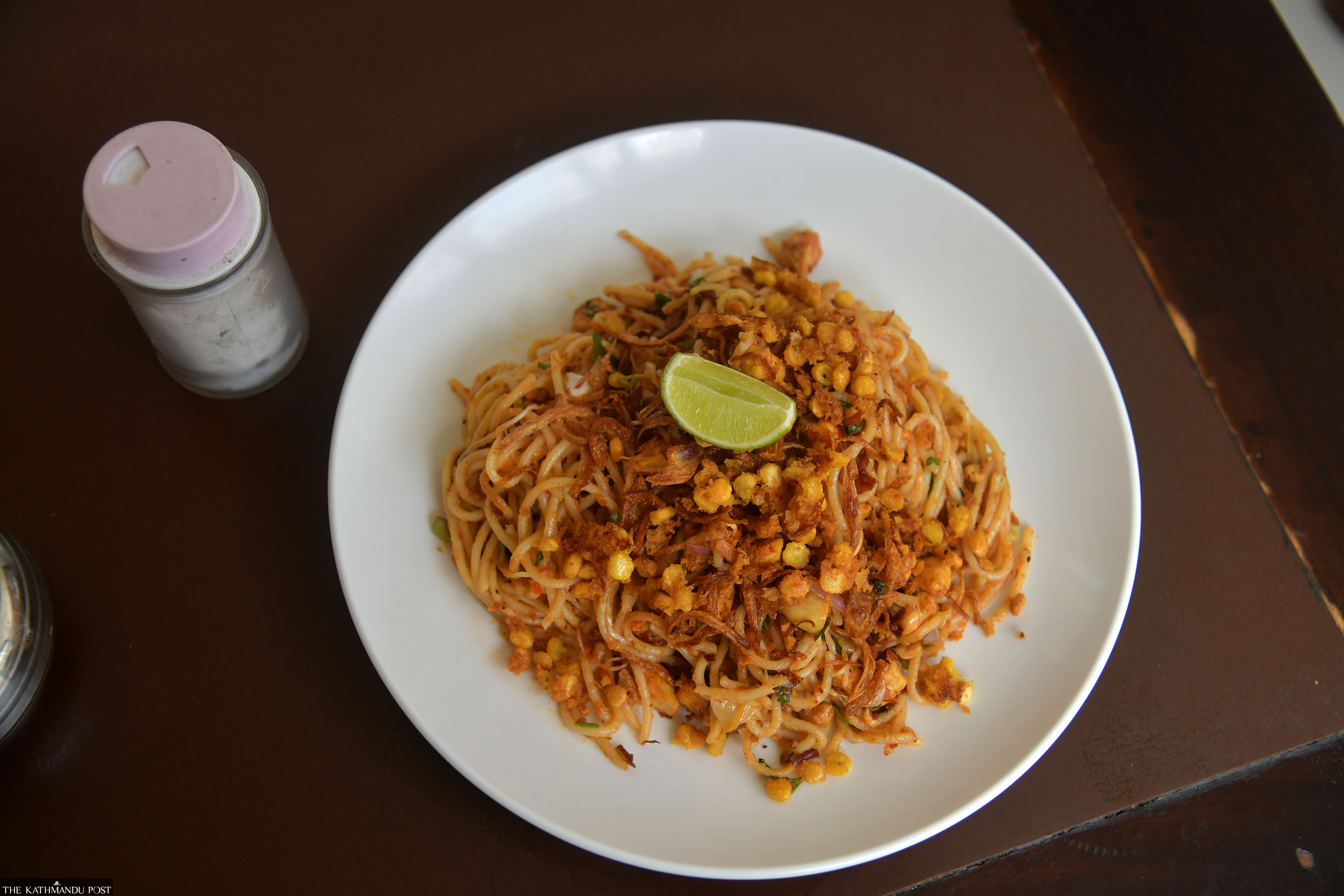 Deepak KC/TKP
Price: Rs180 (veg), 210 (non-veg)
Khau Suey Tau makes for a perfect Nepali lunch as it is much closer to chowmein. However, this is not your ordinary Chowmein. Spaghetti salad is combined with gram flour, grated peanuts, and fresh coriander. The al-dente Spaghetti is greeted by the occasional munching of the well-fried crunchy peanuts. The seasonings are evenly balanced, nothing is overdone, and it is simply a well-crafted dish. Your taste buds and tummy rejoice together as you lick off the fork. I would rate this dish the most exquisite out of the rest.
Thopu Nuey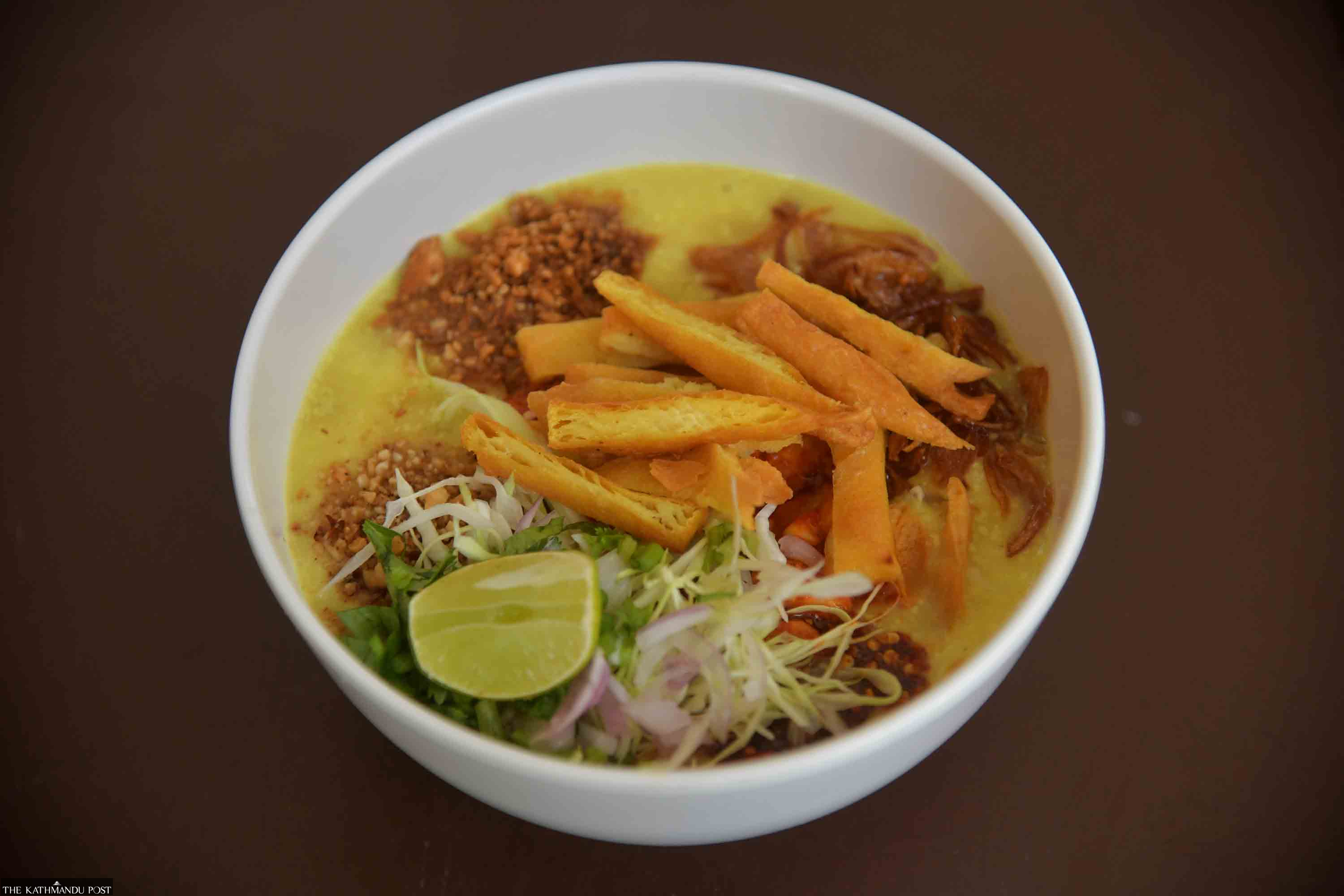 Deepak KC/TKP
Price: Rs170 (veg), 200 (non-veg)
Thopu Nuey's creamy uniqueness fills your mouth with joy. It is a thick creamy soup of chickpea flour and rice noodles topped with Thopu fritters. When the bowl is presented, you are given the opportunity to mix all the ingredients. The enticing aspect of this, considering the health factor, is that the noodles are made of rice. Who says you can't be adventurous while also playing it safe? The cream melts in your mouth, providing comfort to your taste buds as you savour each bite.
However, one bowl of thick creamy noodles could become monotonous for the palate and too filling for the stomach. I recommend you proceed with caution and perhaps share it with the table!
Falooda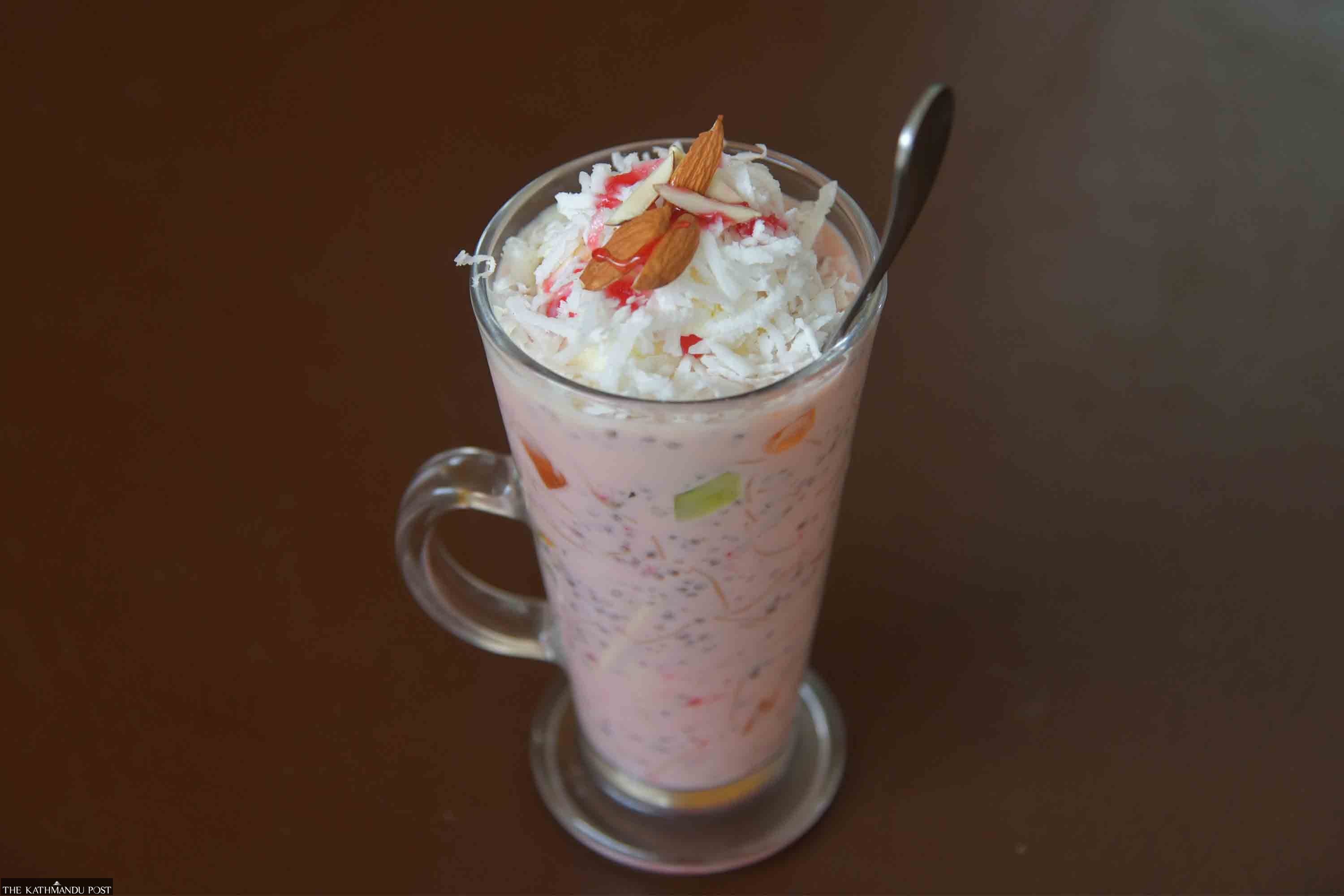 Deepak KC/TKP
Price: Rs220
After enjoying the flavoursome bite of Burmese delicacies, you can cool off with a chilled glass of Falooda. It is a cold dessert drink filled with milk, chia seeds, rose syrup, and, wait for it, topped with ice cream. Once served, you become the artist as you mix all the ingredients with a large spoon. After mixing, you can gulp down the cold drink and let out a big sigh of satisfaction. Once blended, the ingredients complement each other beautifully.
Falooda blurs the line between drink and dish as the milk and chia seeds land on your spoon at the same time. So, for any drink purists out there, this might be something new.
The Noodles Bar
Location: Basuki Marga, Mid-Baneshwar, Kathmandu
Service options: Dine-in and Curbside pickup
Opening hours: 10:00 am to 8:00 pm, Sunday to Friday
Price: Inclusive of all taxes
Parking: Not available
---
---