Lalitpur's three underrated kimbap joints
When it comes to serving proper kimbaps, these three small joints in Lalitpur have been earning rave reviews and amassing a loyal customer base.

Keshav Thapa/ TKP
bookmark
Published at : November 11, 2022
Updated at : November 11, 2022 08:43
Lalitpur
Lalitpur's Korean restaurant scene has grown immensely in the last few years. The district alone is home to over a dozen restaurants specialising in Korean cuisine. But unbeknownst to many, Lalitpur is also home to several small joints specialising in the much-loved Korean dish kimbap. A few days ago, we set out on a mission to find the best kimbap joints in the district, and here is our list of three places where the kimbaps are as good as they come.

Mr Gim Baab, Dhobighat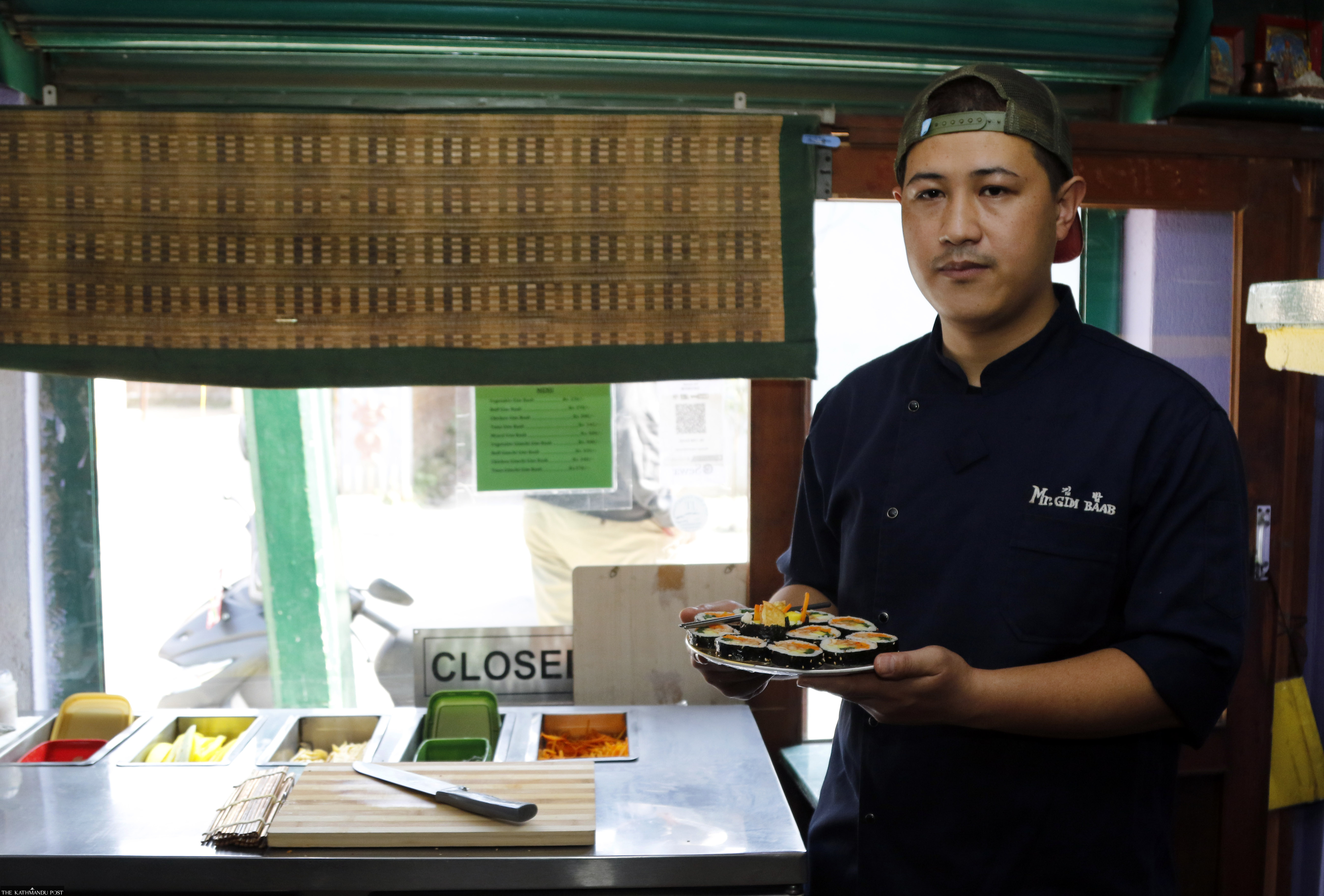 Keshav Thapa/ TKP
This no-frills kimbap joint is housed in a tiny roadside stall. But don't let this takeaway-only restaurant's not-so-attractive appearance fool you. Mr Gim Baab has been in operation for the last seven years and the joint's regular customers, who are mostly students and young professionals, swear by its kimbaps.
Pawan Tramu is the owner/chef of this humble establishment, and he first learnt the technique of making kimbap from his Korean language teacher in Nepal. In the seven years that Mr Gim Baap has been in operation, the outlet has earned a solid reputation for using fresh ingredients. Another factor that has worked in Mr Gim Baab's favour is its pricing. The joint serves some of the cheapest kimbaps in all of Kathmandu.
Contact: 9818281368
Opening hours: 11am to 6pm (Sundays to Fridays)
What we like: Tuna kimbap (Rs 340), chicken kimbap (Rs 300), and mixed kimbap (Rs 400).
————————————————————————————————-
2Bhai Kimbap, Bhaisepati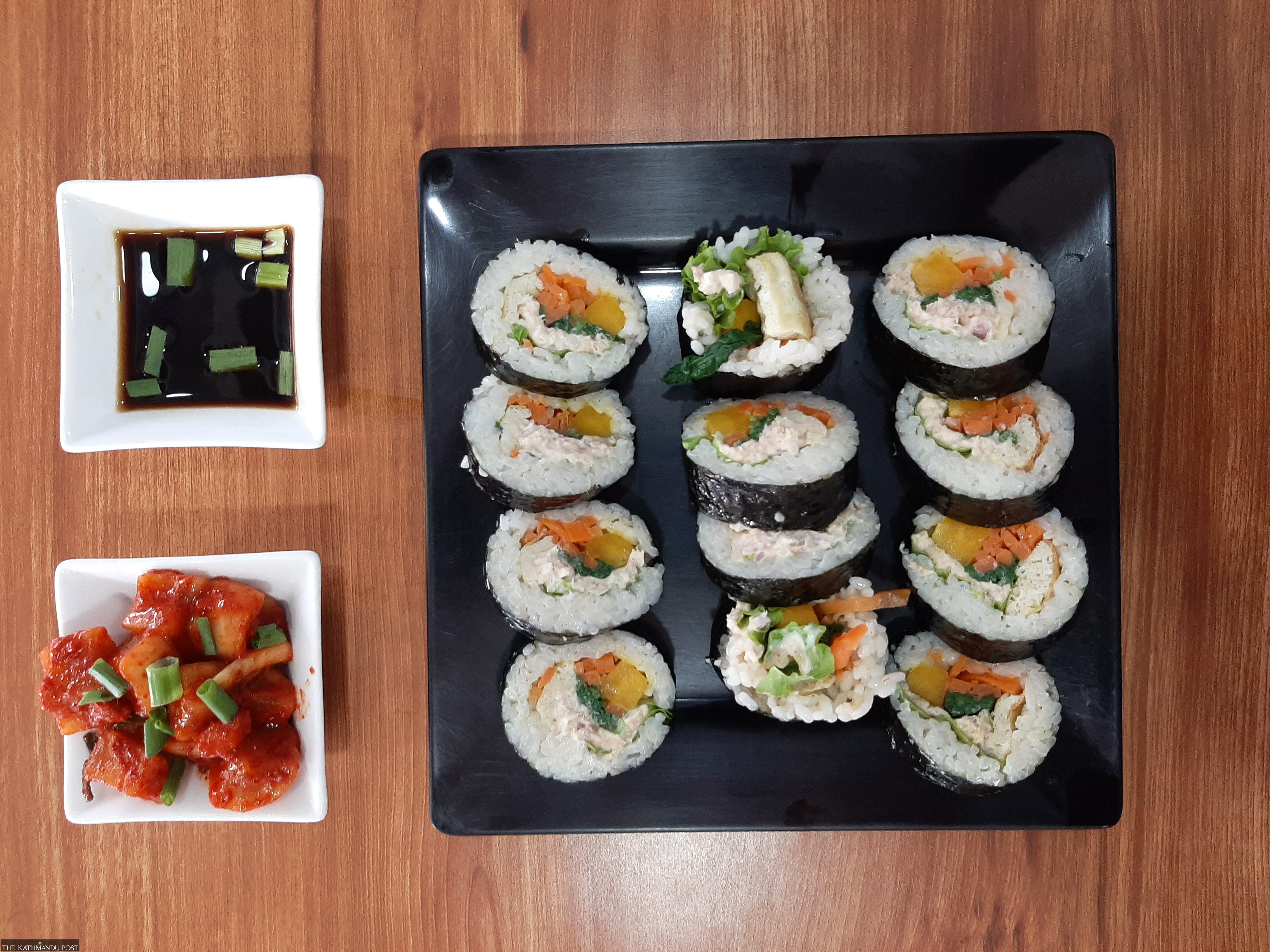 Photo Courtesy: Isha Das
If you like to go out and eat, chances are you know how Bhaisepati has become home to some excellent restaurants in the last few years. 2Bhai Kimbap is one of the relatively new restaurants in the area. Not long after it opened in early 2020, the pandemic hit, and the restaurant had to halt its operations for months. The owners had to incur heavy losses. But that's all history now.
2Bhai Kimbap is now fully operational, and within a short time, it has earned a loyal following because of its kimbaps and other Korean dishes. The meat used in kimbaps is well-marinated and packed with flavours. Apart from being surprisingly good, the kimbaps are also reasonably priced, which has made them quite a hit among college-going students.
Contact: 9848769671
Opening hours: 9am to 8pm (Sundays to Fridays)
What we like: Tuna kimbap (Rs 320), chicken kimbap (Rs 350), and crab kimbap (Rs 320)
——————————————————————————————————
GimbapGo, Jhamsikhel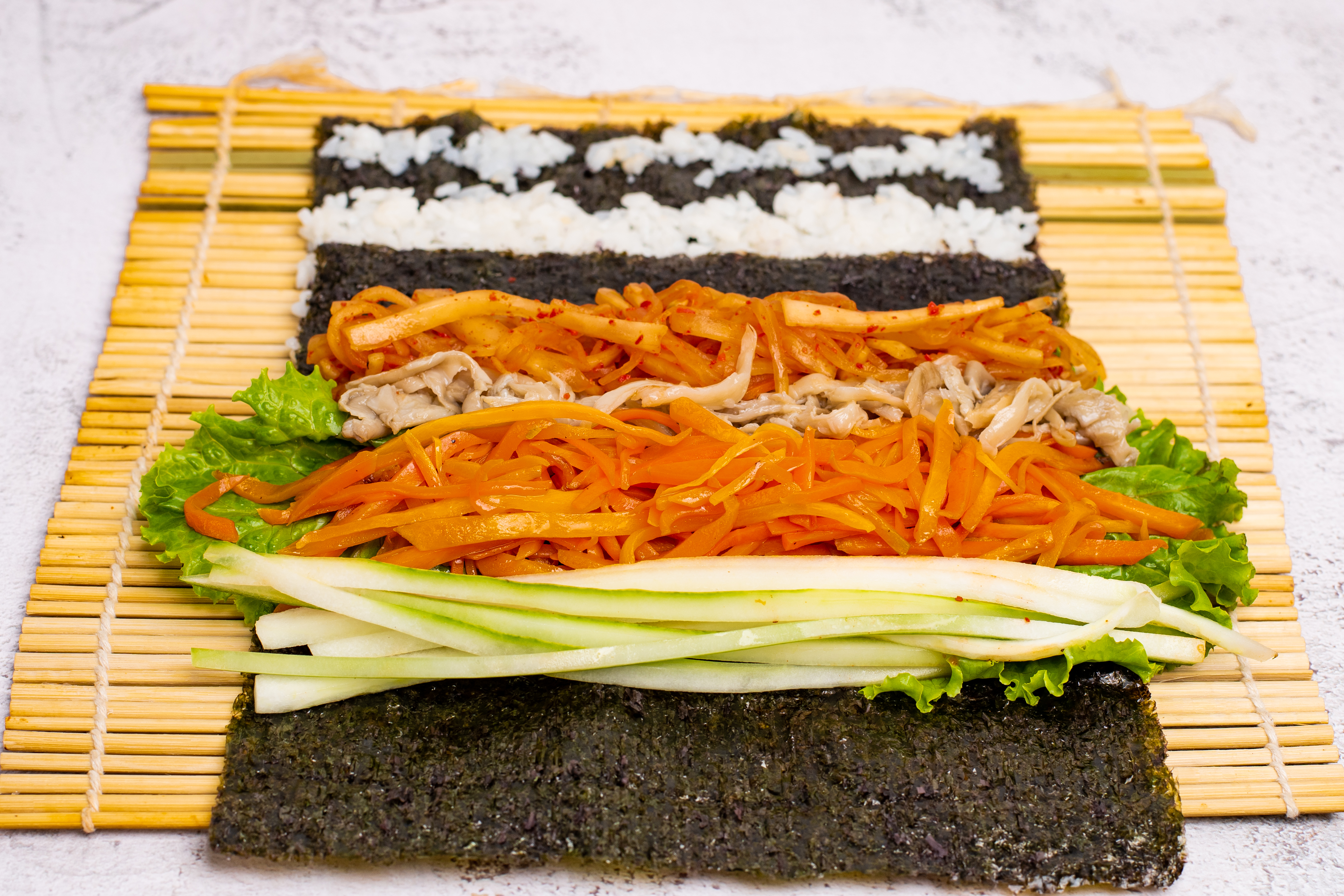 Photo Courtesy: GimbapGo
The newly opened GimbabGo is the most expensive kimbap joint on the list. The outlet also has the cutest interiors. As soon as you step in, you immediately realise that this place will create a cute photo background for Instagram. But it's not just aesthetics that GimbapGo aces in.
Thanks to Edward Leebonghu, GimbapGo's South Korean chef, the dishes that roll out of the kitchen stay true to their Korean cuisine heritage. Leebonghu is the chef and also the co-owner of the restaurant. Apart from kimbap, the restaurant's menu also features other Korean dishes like bibimbap, chicken feet, and Korean Ramen, among others. The restaurant also serves a wide range of desserts.
Contact: 9802079797
Opening hours: 10am to 9pm (Sundays to Saturdays)
What we like: Tuna kimbap (Rs 550), chicken kimbap (Rs 490), and egg and cheese kimbap (Rs 490)
---
---