In a quiet house, Japanese cuisine as it should be
The food at DanRan probably comes closest to what homely Japanese food looks and tastes like—deliciously filling but not overbearing.

bookmark
Published at : December 19, 2019
Updated at : December 20, 2019 08:10
Jhamsikhel
My arrival at DanRan was obviously a dose of disappointment for the server, who was just about to clock off. From somewhere in the back of my mind, my subconscious had been telling me not to trust Google, but I had disregarded it, and ventured into the Japanese restaurant despite the fact that I knew it would be closing soon.
Arriving scarily close to 3pm, the time when the restaurant sensibly decides to provide respite to its staff, the server sat us down and asked us to order quick. Out came a chorus of 'ums, 'ahs, a 'hmm' or two, with a few dishes verbalised somewhere in between. Eventually an order manifested and the server fleeted to the kitchen to give the chef his last orders.
Despite being a frigid time of year, there was a comforting allure to the home-based restaurant's outdoor area. Cobblestones, gravel, trees; bamboo tables, chairs; a portly pooch, a vehicle's occasional groan—the restaurant doesn't scream Japan, but it doesn't scream anything else either. It's not a perfectly preened spot, but it can be perfect if accepted the way it is—like the concept of wabi-sabi, the acceptance of the imperfect. DanRan really let its food do the talking.
It's obvious the restaurant was working overtime (literally, not figuratively) during the meal, as only three other tables were filled with lingering couples, lapping up roasted hojicha tea and nibbling on their meals' remnants. Some tables were covered in tempura shrapnel, others had just empty bowls and flecks of ginger and dabs of pale wasabi; all had a bill waiting to be returned.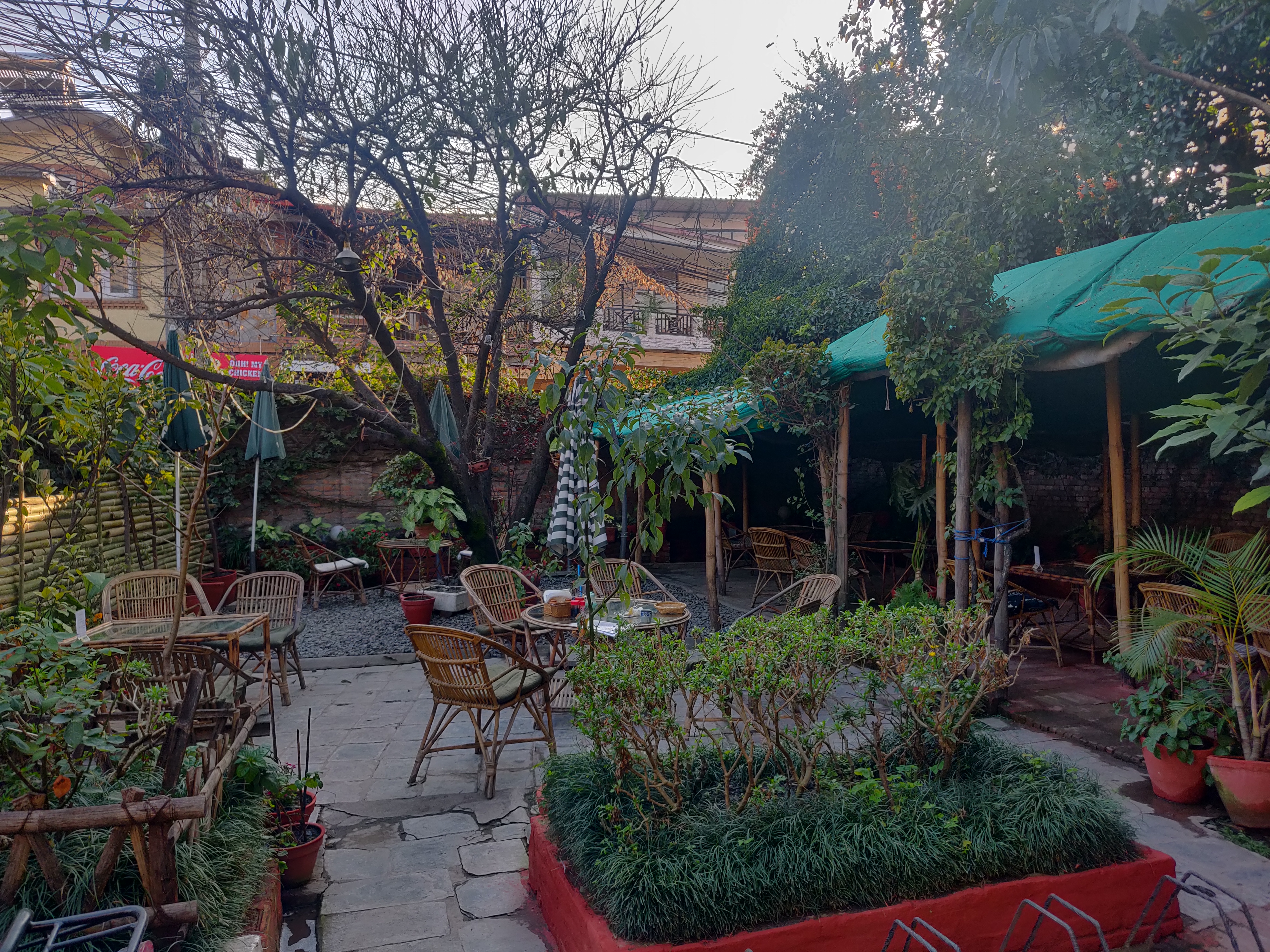 Just as those lingerers were about to leave, the food started arriving at the table. DanRan's lunch menu is a cross-section of various facets of Japanese cuisine—yes, there's sushi; yes, there's ramen—and it provides compartmentalised deals in the form of pseudo bento-style eating. There's also drinks, of which the plum soda is always a win. This time, the slightly effervescent ginger ale was a bountiful boon for this empty-bellied boffin. While ginger ale can be a bit of a stale choice, the fact that this place makes its own in-house is intriguing—the result is not just ginger ale. It's a cold, throat-warming mix with an added dose of clove and cinnamon that resembles a cola of sorts, except it's far better.
But the table needs its plum fix, given the soda omission, so ume sushi it is. While the menu describes it as sour plum, it's so much more: the purple goo is placed in rice and seaweed alongside lettuce and cucumber. It's not simply plum, however, it's umeboshi (Japanese pickled plum). While I cannot confirm or deny whether it's actually the real deal, I don't think I care—it's great. A righteous smack in the gullet by itself, the rice, properly seasoned and sticky; the lettuce and cucumber, refreshing and crunchy; provide balance to the ingredient. Dab wasabi, dip soy, done and happy.
The weather however calls for an elixir to both physically and symbolically warm the soul. While thukpa is the first port of call in these climes, ramen is just as appropriate. There aren't many places in the Valley that can honestly say they have a decent ramen, but DanRan certainly can. Suspended upon a bird's nest of noodles sits a bisected, brown soy egg, slices of tightly wound rounds of chashu pork, with two islands of slivered scallions and saggy spinach on either side. The noodles are fine, but on a day such as this, the broth is what counts. The ramen is of tonkotsu heritage, so it's deep and murky, akin to sucking an entire pig's marrow from its bones with each slurp.
The only real disappointment with this dish is the egg. While it's wonderfully marinated in soy, it would be a real next-level move to make it a jammy seven-minute embryo. The noodles are aptly chewy while the spinach adds a level of earthiness to the porcine broth.
While a bowl of jhol momo might be another warm choice for cold winter afternoon, the table opts for a plate of gyoza. These little white packets of pork, ginger and scallion arrive upturned, united under a crisp umbrella of coagulated cornflour. The dumplings are slightly blackened from the pan and their roof takes some breaking, but the textural addition of the skirt is a delight. Some might compare it to a parmesan crisp because it adds a crackly snare to the dumplings. The filling is rather delightful and the fresh mince of meat is one that eastern Nepalis might recognise.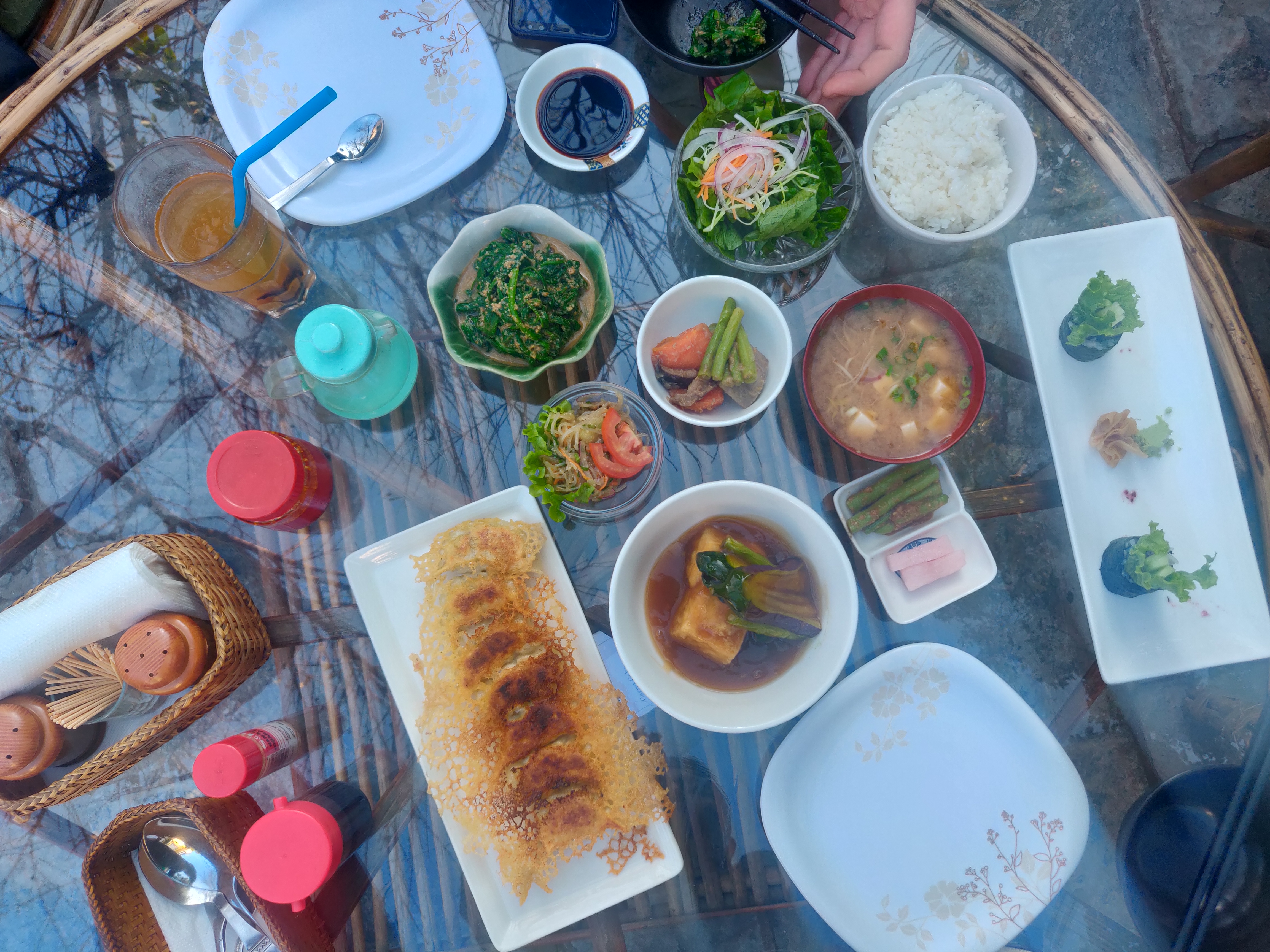 The server was quick and efficient with his plate dispatch. So, it wasn't long before the table was overwhelmed by dishes. Plucking pieces from bowls, savouring the sweet-savoury-salty flavours of Japanese cuisine, there are certainly some highlights.
One of which is the gomaae salad of spinach and sesame. Sitting in a leaf ramekin, the forest-green mound is camouflaged beige by its dulcet dressing. This dressing tasted overwhelmly of nutty sesame, and sweetness from who-knows-where, but there does seem to be an inkling of miso in there, perhaps. Rice plus gomaae equals a meal unto itself, but alas, the show must go on and there are other plates to be savoured. A green bean version of gomaae arrived alongside the agedashi tofu, which provided a different take on the dish. Imagine the same, but with gushing blanched beans in lieu of spinach.
The agedashi tofu is rather nice, coated in starch, fried and dropped into a broth. The tofu absorbs every possible iota of sauciness from its broth while also lending some of it's gluiness to the mixture. With a bit of marrow and some added eggplant, the dish is as warming as the ramen, when paired with rice. Agedashi tofu was the culprit for the number of plates on the table—which ordered five dishes and received a sum of somewhere around 10 plates.
Among them were morsels of pickled daikon, bracing and sweet; a salad, pretty bland and banal; a miso soup, permeated with seaweed and tofu; a bowl of rice, sticky and fine; some vegetables, coated in taro fallout and waxy; and finally a vermicelli salad flecked with more sesame and saline sweetness.
With the owner out, asking for us to take the bill, we contently agree and pay—it's almost an hour until the restaurant opens again.
The entire experience at DanRan is consistently good. It's what one imagines homely Japanese fare looks and tastes like. Despite the table eating its weight in food, and adding a few drinks to help it all go down, the eventual result isn't overbearing. The beauty of much of Japanese food is that it's not an overdose of anything, rather a balance of everything. Perhaps that is why the place is so beloved by so many in Kathmandu, and will be for a long time.
This is not food that will send you waddling out the door; it's food that will leave you contented, heralding you back for more.
DanRan: Rs500-1000 pp

Food: ★★★★
Ambience: ★★★★
Value: ★★
---
---