For Michelin-starred chef, cooking is all about passion and understanding
Manuel Berganza is in Nepal to hold workshops for students at the Global Academy of Tourism and Hospitality Education.

Chef Manuel Berganza Photo courtesy: Manoj Dongol
bookmark
Published at : November 11, 2019
Updated at : November 11, 2019 18:36
Kathmandu
Chef Manuel Berganza is a passionate man. Sitting in an office at the Global Academy of Tourism and Hospitality Education in Mandikhatar, the Michelin-lauded chef gets excited as he talks about Nepal's Sichuan pepper, the timmur, and the idea of visiting the Farmers' Market at Le Sherpa the following day. He's especially looking forward to the yak cheese.
Having just donned his black and white chef's jacket in time for the interview, Berganza's emblazoned short sleeves list the restaurants he oversees in Spain as executive chef. But a look at his CV reveals an even longer and illustrious list. Critically acclaimed restaurants, Michelin stars and the Netflix show The Final Table are some of his highlights. But perhaps one of the most impressive things is his own eatery, Andanada 141, in New York—the place that won Berganza his own Michelin star in 2012, making him the first Spaniard to win a star outside his country. So, why is he in Nepal?
Berganza is here for a week as part of the Sapta Project, a mentorship initiative started by Hong Kong- and Singapore-based social enterprise Sapta Collective. This being Sapta's maiden project—having teamed up with the Global Academy of Tourism & Hospitality Education and its sister school in Pokhara—Berganza held a workshop for students on Saturday and a charity dinner on Sunday night. He is set to do the same in Pokhara over coming days, alongside fellow mentor and celebrity florist Justin Koh and Sapta founder Choy Wan Teh. Berganza took some time out from his packed schedule to speak to the Post on Friday, where he stressed on something very simple.
"One thing I miss in a lot of kitchens is passion," Berganza told the Post. "It's a really beautiful thing when you can't distinguish between your job and a hobby. Right now, I don't know if I'm working or on vacation."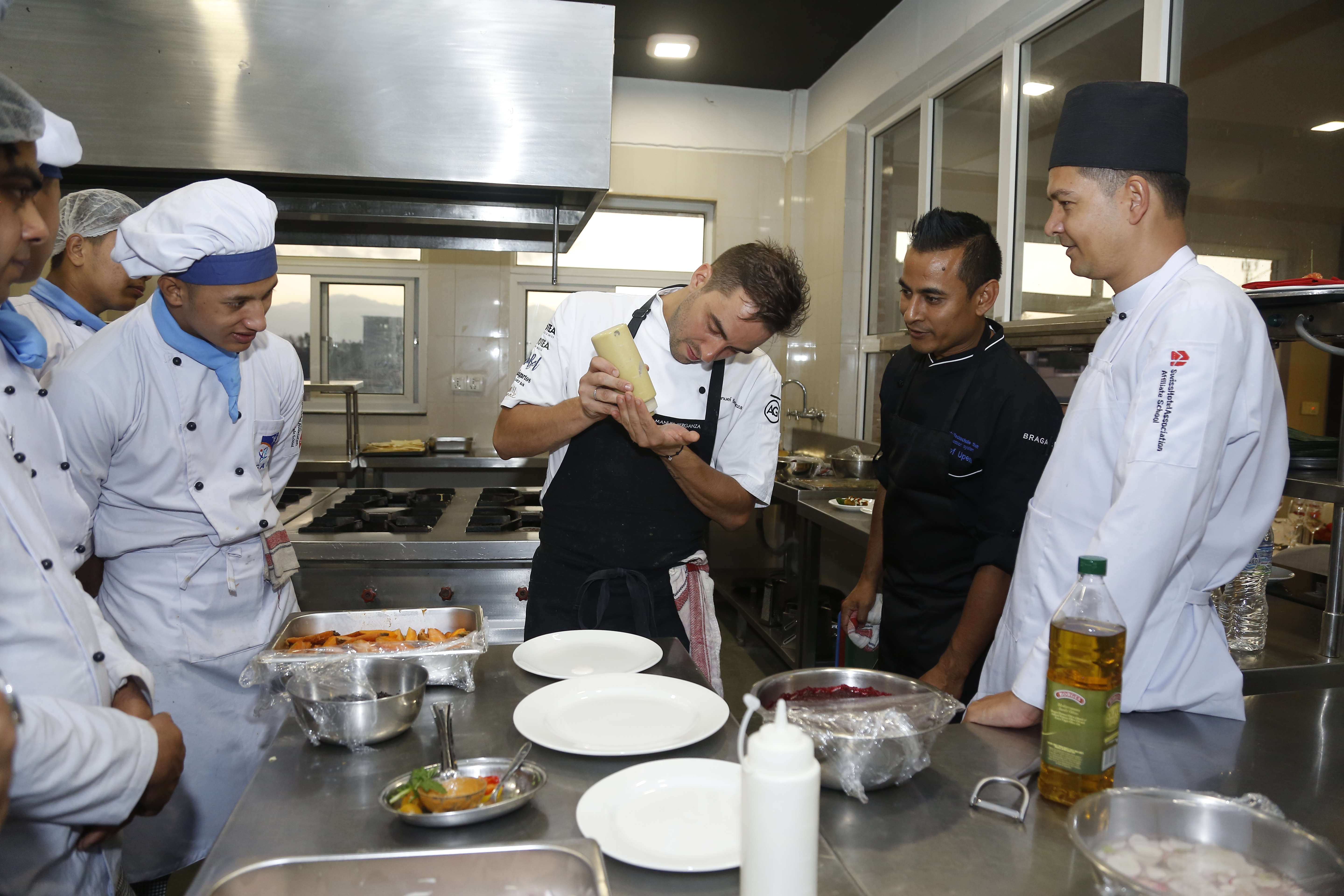 Photo courtesy: Manoj Dongol
His passion can be seen in his giddiness when talking about the few Nepali dishes he's tried in the 24 hours since his arrival. There's the aforementioned Sichuan pepper, a Nepali thali and, something he seems to have particularly liked: tomato achar. He doesn't claim to understand it completely, however, as South Asian cuisines are far from his specialty.
"I still don't understand what goes into it. I freak out every time I see a cook doing a curry. I don't know how they so easily throw spices into the pot. I still don't understand this melding of flavours," said Berganza. "I cannot even think about making a curry until I know why you toast the spices, when you use the oil, how much heat should be in it, what happens if you blend the spices first?"
But he does allude to the inclusion of a couple of different ingredients into his own charity dinner, which he cooked on Sunday night for close to 50 guests.
"When you understand the concept, then you can think about the changes you can make," he told the Post. "And that's where expectations come in."
This is something Berganza learnt all about when he was awarded a Michelin star, which was as much an accolade as a burden, he says.
"If tomorrow I make a 'gazpacho achar', and people expect something thick, buttery and spicy, then they might think 'this gazpacho is not good'. A lot of the time, it's about expectations," said Berganza.
Recent news of various chefs handing in their Michelin stars because of the pressures that recognition brings are entirely understandable, he said.
"The hardest time in my life was after the Michelin star, when I had to maintain the expectations of the people," said Berganza. "It puts you into a day-by-day thing where you have to focus on delivering on the expectations of the people, and not yours. "
Before then, it was simply about having fun and being creative, but as soon as the star came, the pressure mounted. Eventually Berganza left his New York restaurant, in 2017, and started working with restaurant franchise Tapas Club in Singapore, which now has several locations in South and Southeast Asia. Last year, he started working with Spanish restaurant group Azotea Grupo, which has several eateries in Madrid. Each and every facet of his career—franchises, restaurant groups, fine dining—has taught him something valuable, he says.
That's where the education and mentoring comes in, according to Berganza. The importance of mentorship is something he really places emphasis on. After finishing formal training at a culinary school—"The first time I was a good student"—he started his career at Restaurant Salero in Gijon, with chefs who were enthusiastic, verging on obsessive.
"What I was lucky to learn, when I started to cook in a restaurant with my first mentors, was that it was about passion. We'd finish working 12 hours, go to a bar and speak about different chefs," said Berganza. He had no idea of who Ferran Adria or Joel Roubochon—considered greats in haute cuisine—were when he started, but he knew he enjoyed cooking.
"These two [mentors] taught me about passion. This is the most important thing that we have to transmit and explain to the guys [here]," he said, referring to the workshops he would host. That passion extends further than nailing a recipe too, because people nowadays want an entire experience. They don't just want a nice meal, he says.
People want a narrative behind their cuisines, he says. It doesn't necessarily have to be a long-winded account of how potatoes or chilli came to Nepal. It could even be about the chef's experiences. It could be as simple as Berganza's love of pastrami in New York, which he combined with iconic Spanish cured ham, jamón ibérico, at his Michelin star restaurant.
"We have to explain, and have a story. We have to forget that people go to a restaurant just to eat. Not any more. It's about hospitality, it's about an experience, it's about telling a story," said Berganza.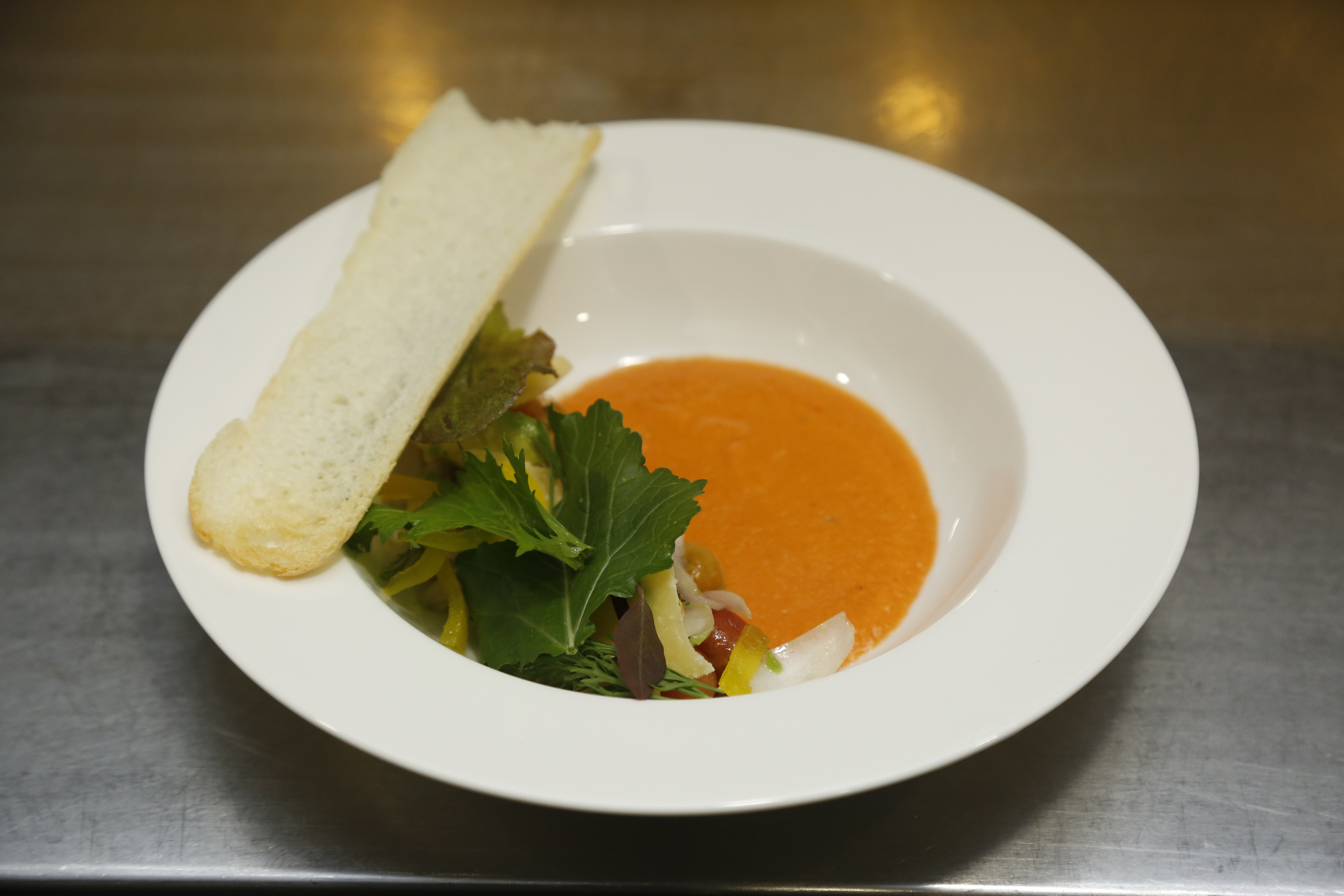 Manuel Berganza whipped up his gazpacho alongside GATE students on Sunday night, as part of a fund raising dinner. Photo courtesy: Manoj Dongol
He comes back to Himalayan French Cheese often, as an example, of how food can have a long story behind it—which makes things all the more interesting for diners.
Throughout the entire conversation, the theme always comes back to one thing: passion and understanding. He wants to instil that in GATE's students and see them succeed here in Nepal, or wherever they want to go.
On the Saturday following his interview with the Post, he held his workshop and showed students his gazpacho dish, a cold tomato-based soup prevalent in Spain.
"I always explain to my team that we have to understand. Gazpacho is an emulsion—the water of the tomato, with the oil," he told the Post.
It's apparently the same with tomato achar, which he tried hours before. "You take the tomato and you emulsify it with sesame seeds. Tomatoes are the water, and sesame is the oil," he said. "When you understand it, you can make your own version."
And during Sunday night's meal, Berganza, with the help of students from GATE, displayed that understanding. The second course of the evening was gazpacho, and what could one find? A hint of timmur and a sliver of yak cheese.
---
---