Lesser known eateries in Boudha that everyone should visit
Three under-the-radar restaurants in Boudha and what you should order there.

Kabin Adhikari/ TKP
bookmark
Published at : August 23, 2019
Updated at : August 23, 2019 15:41
Kathmandu
For decades, Boudha has been a trusted den for those who love food from the Himalayan region, and further north. Residents and visitors religiously gobble down momos and slurp up thukpas, which used to be almost every restaurant's mainstays. But over the last few years, Boudha has seen an influx of new restaurants serving cuisine from all over the world-Japanese, Vietnamese, Korean, Spanish, Italian and Chinese. From amid this mushrooming of cuisines and restaurants, here are some of the most underrated restaurants and their best dishes.
Rildok at Himalayan Sherpa Food House
One of the reasons rildok, a Sherpa dish, has gone largely unnoticed is because only a handful of restaurants serve it. "Making the dish requires a lot of work. You boil the potatoes, peel them and then pound the potato in a mortar by using a pestle. You have to keep pounding until the solid boiled potatoes acquire a creamy silky texture," says Ang Tsering Sherpa, owner of the Himalayan Sherpa Food House, one of the few restaurants in Boudha that serve this dish. The Himalayan Sherpa is located inside an easy-to-miss doorway right next to Namaste Bead Handicrafts, which itself is one house away from the conspicuous Himalayan Java. The only signage on the aforementioned doorway is a small, battered flex board that says Solu Sherpa Khaja Ghar, written in Nepali.
To make rildok, Ang Tsering pounds his potatoes using a giant wooden mortar and pestle. Once the potatoes are pounded, he forms table tennis ball-sized dumplings out of the gummy mash. While the pounded potato morsels are rather bland in their own right, the texture is what brings people back for more. The dumplings are doused in a broth of salt, red chilli paste, oil, chopped coriander, and green onion paste. The dish is further customised with daubs of red chilli paste and crushed Sichuan pepper, according to people's tastes.
"The dish is still largely consumed by Sherpas and other communities from the Himalayan region. I doubt many beyond these communities know such a dish even exists," says Ang Tsering.
A bowl of rildok costs Rs 100.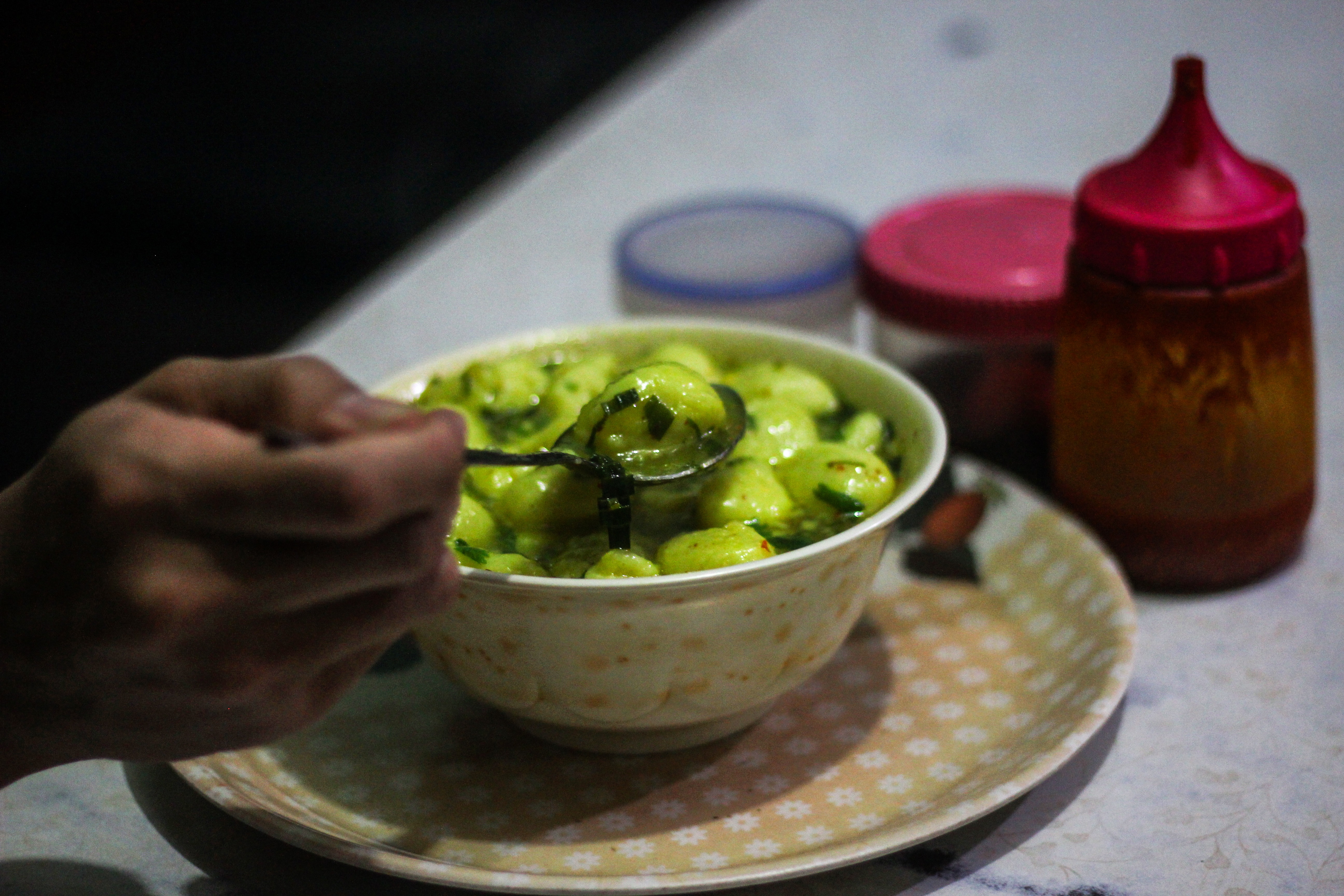 Kabin Adhikari/ TKP
Tibetan blood sausage at Dege Restaurant
In Parts Unknown's Season 11, Episode 5, the late Anthony Bourdain explains that every great culture has a blood sausage. Boudha, which has a sizable Tibetan population, is home to a few restaurants that serve gyuma, Tibetan blood sausage. Many locals say that one restaurant that serves the best version of gyuma is Dege, which is located in the building right next to the Manakamana Mini Mart, on the way to Seto Gumba.
Dege is by no means your regular restaurant. A woman in her mid-50s, who is also the cook and the owner, runs the restaurant out of her home, and the seating area, which is in her front yard, is made up of two joint tables, four chairs, and a bed. There are only three dishes on the menu-momos, shabalay, and gyuma, which is what the restaurant's regulars come here for.
"I have been selling gyumas for more than 12 years now. The secret lies in using the best quality buff, and staying as true as possible to the traditional gyuma-making process," she says. The woman only uses meat, fat, roasted barley, buffalo blood, intestines, and salt. She grinds the buff herself, mixes it with fat, blood, salt, and then fills the intestines with the mixture before boiling it for thirty to forty minutes.
The minimal seasoning in her gyuma means the overriding taste is that of meat and fat and salt, and the chewy blackish-grey intestine, while the roasted barley holds the sanguine mix together and lends a rather unique texture. Her gyuma is served with freshly-made red chilli paste and salted Tibetan black tea.
A plate (which probably weighs half a kilo) of Tibetan blood sausage costs Rs 400.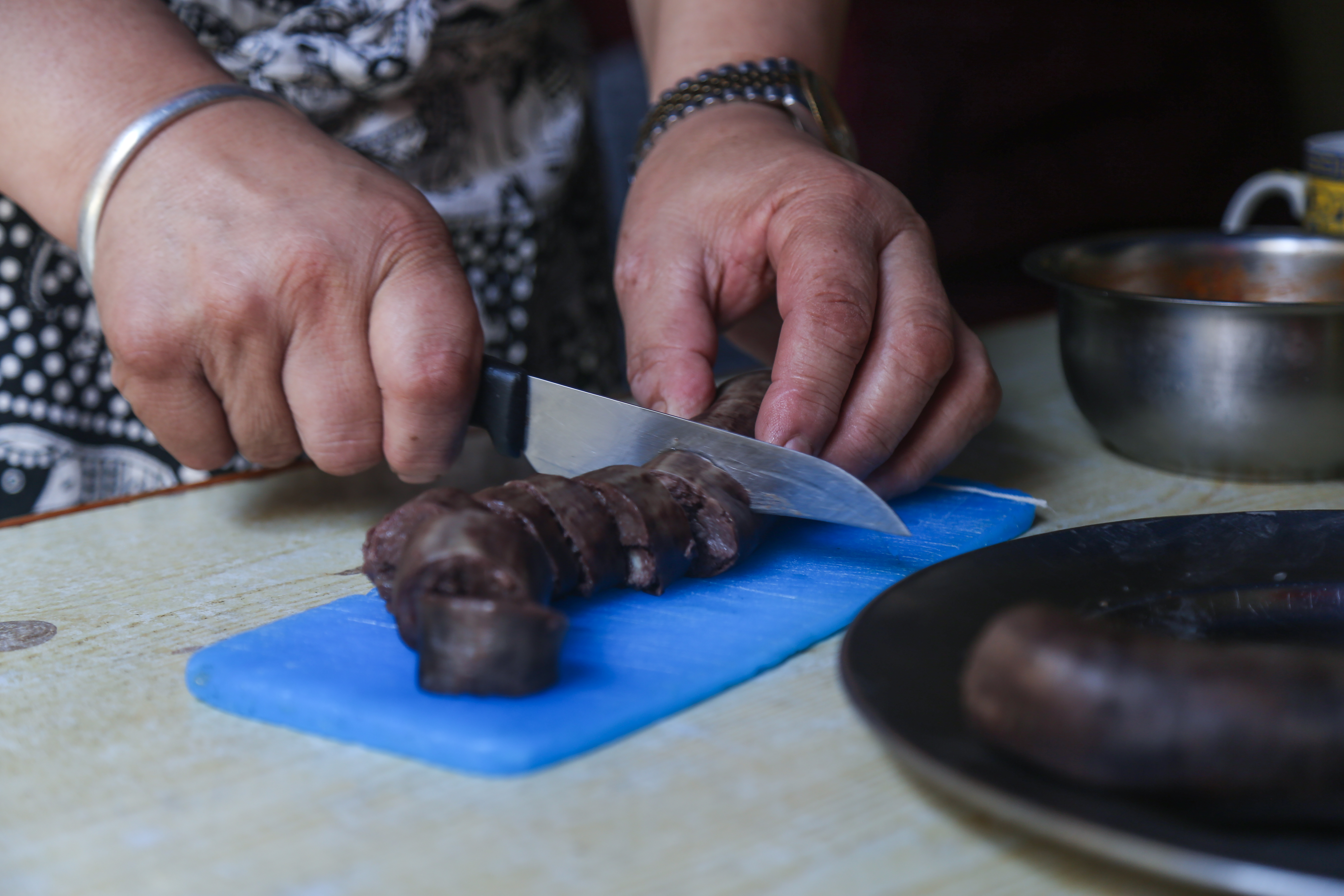 Kabin Adhikari/ TKP
Galette at Kukurika Restaurant
Until Kukurika opened its doors a few months ago in Boudha, there wasn't a single restaurant in the area that served good French galettes. The restaurant, says Tanguy Malibert, the owner, is his attempt to give residents of this part of the town the best of galettes and crêpes. Kukurika's menu offers several types of galettes and crêpes but also features the usual mid-range restaurant fare—spaghetti, chicken, buff chilly, and fries.
"Our specialties are crêpes and galettes. I learned how to make the two dishes from my mum, and she was taught by her mother. Having lived in Nepal for over five years, I have always wanted to start my own crêpe and galette restaurant," says Tanguy. While there are several restaurants already making crêpes in Kathmandu, Kukurika, Tanguy says, is one of very few restaurants in the city that serves galettes.
The preparation method of galettes is the same as crêpes, but unlike crêpes, galettes are savoury and are made using buckwheat. One of the most popular galettes at Kukurika, Tanguy says, is the Special Kukurika, which arrives topped with masala-rich chicken, egg, capsicum and onions. "In France, we mainly use ham instead of chicken, but since it's quite hard to get good quality ham in Kathmandu, we decided to use chicken instead."
While the gallettes are typically French, cooked in such a way that leaves their edges crisp and innards spongy-soft, the filling is nothing but local.
"The chicken is marinated and cooked in Nepali spices, giving the dish its very own unique Nepali twist," says Tanguy.
Special Kukurika Galette: Rs 500, Galette Momo: Rs 480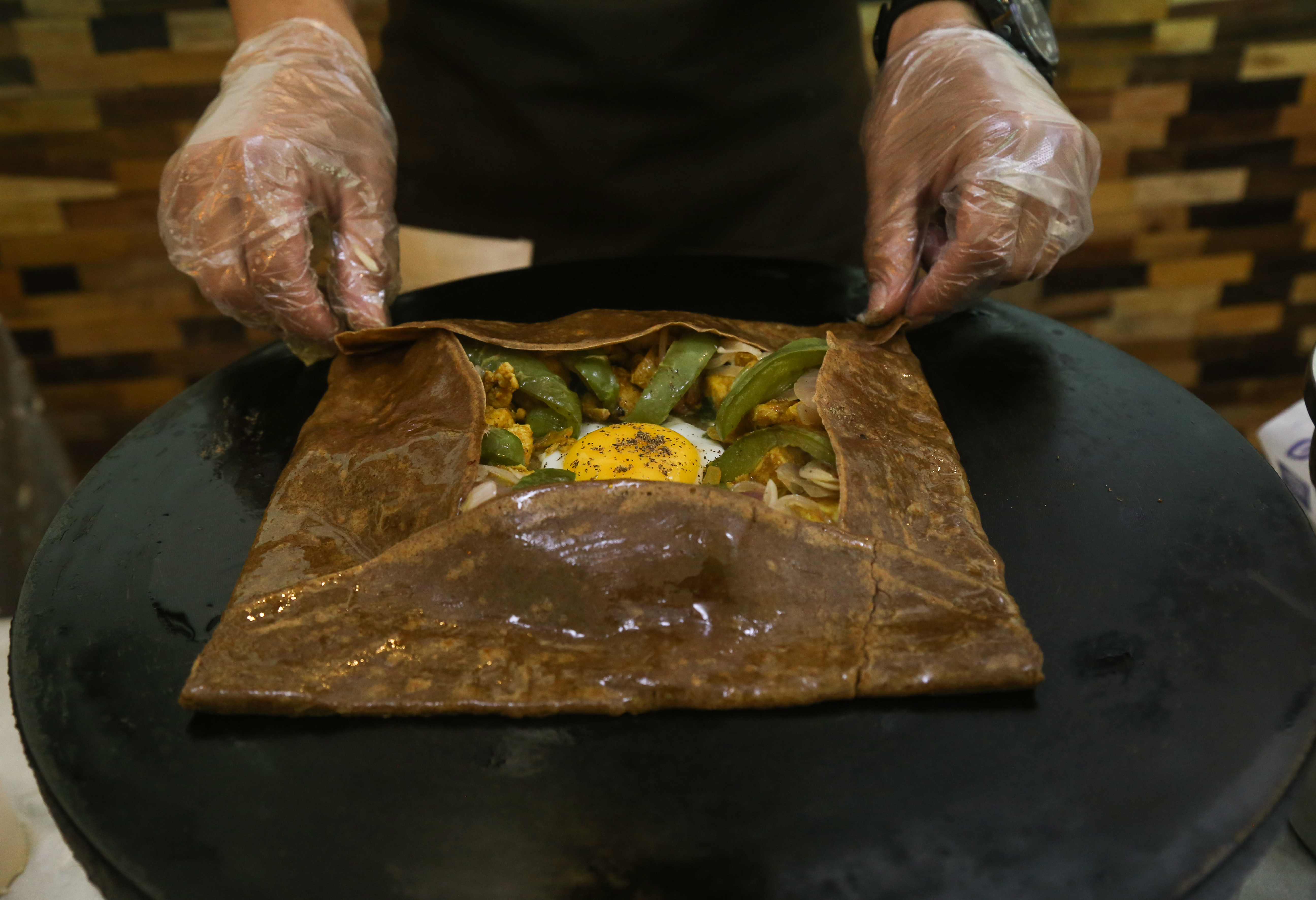 Kabin Adhikari/ TKP
***

What do you think?
Dear reader, we'd like to hear from you. We regularly publish letters to the editor on contemporary issues or direct responses to something the Post has recently published. Please send your letters to tkpoped@kmg.com.np with "Letter to the Editor" in the subject line. Please include your name, location, and a contact address so one of our editors can reach out to you.
---
---