El Mediterraneo attempts at a Spanish experience—la sencillez
Despite a largely pleasant meal that was relatively faultless, this Spanish restaurant is quietly working to perfect its craft.

Post Photo
bookmark
Published at : August 23, 2019
Updated at : August 23, 2019 13:59
Lalitpur
Despite El Mediterraneo looking like it had already shut up shop, its doors were open. The welcome from the restaurant's owner was friendly enough, and the dining room was rather nice. It didn't transport you to Spain, but perhaps that was just as well. Some places that try only end up providing a caricature. Various paintings adorn the walls of El Mediterraneo while the stained wooden tables are set with parallel runners of bleached black fabric. There is candlelight, but not because of a power outage; instead, it is an attempt to create ambience—an endeavour that is sadly foiled by the traffic outside.
That aside, the meal began well. First came the complimentary chips, crispy and imperfect trapezoids. Then came a couple of slices of bread massaged with macerated tomato and a rather flavourless yak cheese. The tomato did its job, offsetting some of the fattiness of the cheese with its underripeness. The bread, however, was lacking—sweet, vapid and softer than a sponge. That bread will be topped up, unadulterated, for the rest of the meal.
El Mediterraneo, true to its Spanish ambitions, offers tapas, which this table declined, to see what the bigger plates had to offer.
After placing a gigantic order, first came the salad. And what a salad it was, so glorious and restrained, so unpretentious. Spirals of carrot, sliced green and black olives, fresh frilly leaves of green, and wedges of properly boiled egg and perfectly ripe tomatoes. Dressed perfectly in the simplest of dressing—acid and oil—each ingredient was swarming with zest and fat. Once the salad was done, the bread was employed as a mop. The salad's simplicity showed guile and execution showed understanding—something many chefs either don't have or aren't willing to risk demonstrating. The restraint augured well for the coming meal, one that should be simple, given the Spanish heritage.
Then came a plate of croquetas, small crumbed sausages of bechamel and meagre amounts of flesh. While traditional croquetas are generally made with ham—or as the Spanish call it, Jamon—these were chicken-based. The chicken mince's flavour had leached into the white sauce, and they were surprisingly passable. With melted gluey bechamel sauce, the croquetas were offset by a palm of apple salad dressed with tangy balsamic and, of course, olive oil.
Next came the albondigas, another homemade dish of pork balls in a tomato sauce. While the tomate was certainly lacking, erring on the side of instant soup, the meat was sappy with fat—almost enough to forgive the lazy transgressions. The balls weren't overly minced; instead, they were laced with something herbaceous. The tension was mounting, however, because everything seemed to be served in a dish synonymous with crema Catalana, the better cinnamonised version of creme brulee. Was it on the menu? The table had yet to decide on dessert, or whether it would even find room following this grande banquet.
A general litmus test of any traditional Spanish restaurant would surely be its tortilla, which this restaurant proclaims clearly as tortilla de patatas. It's nothing like the Mexican tortilla, however. Rather, it's a simple mix of eggs, onions and potatoes. This version is nigh on perfect, with the potatoes seeped in oil, the onions perfectly soft and the eggs enveloping it all. The result is a staccato bite through layers of soft potato and egg—once again a triumph in simplicity.
Out came the main dishes. Beef or fish? Both thanks. While it was a rather odd style of serving, with three slices of circular steaks, the proof would be in the cook. Asking for medium-rare always seems to be a folly in Kathmandu, but it's a good litmus test for restaurants. El Mediterraneo gave itself three chances, and the only wish should be that they're consistent. But, it only got one right. Two were still mid-moo, but not bleeding. The third, however, was as close to perfect as one can get in Nepal. While it looked like they were cooked on a slatted Foreman grill, they were charred nonetheless. The third was melt-in-the-mouth—the perfect way to treat a backstrap. This meat, this restaurant seemed to have decided, was worth the cost. While it's far more expensive than sirloin, it's delicate use during life make it close to perfect after death. Throw in an incomplete Jenga stack of portly wedges—cooked in-house—and this dish was a solid hitter in the beefless land of Kathmandu.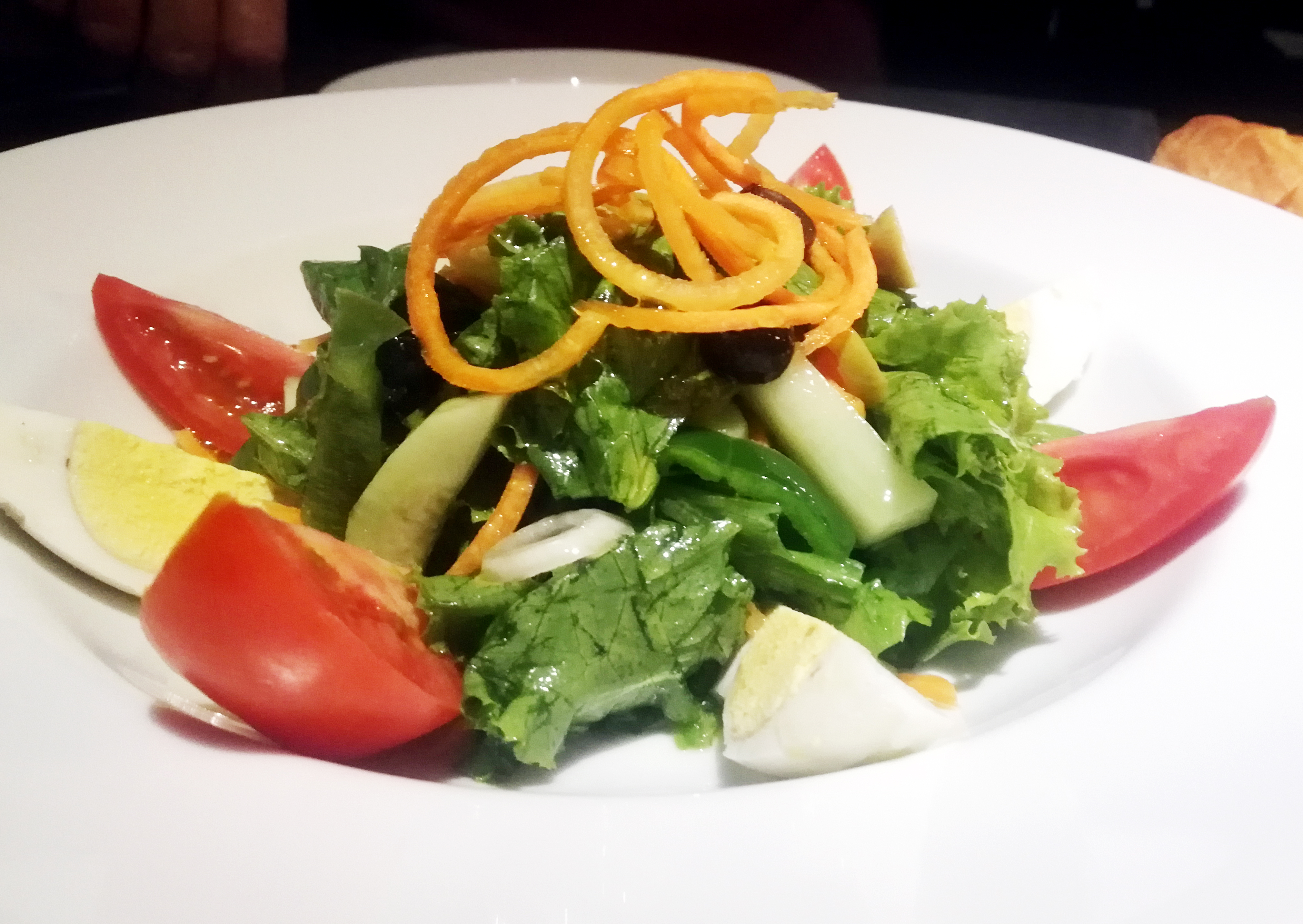 Post photo
Meat should have been the hero of this dish, but the vegetables won the day. The final facet of this dish was a ratatouille-like stew of tomatoes and marrow, which the menu simply called a saute. The marrow might've been past the point of saute—and perhaps draped in the tomato clag afterwards—but it was testament to how tomatoes, onions and garlic, cooked with olive oil, can become unctuous and soul-coddling.
Finally, what came out with the beef was frutos del mar— actually passable seafood if one is happy to forgive that it was frozen. But in this part of the world, one must forgive, for seafood can't exist any fresher. The mussels were tough but diminutive; the squid was sparse and equally tough; but the fish was rather lovely. In a consortium, the seafood was sweet and tasted solely of the ocean. A toss of peas added a fresh pop, and the entire mix tasted close to a chowder, without the cream. Served with an upturned bowl of rice, this was an unlikely dish in Kathmandu.
With stomachs full from ample portions, this table still chose flan and natillas to share. Flan, which is a tricky dish, was as much a choice as a test for the restaurant. Why people decide to put such a difficult dish on the menu when they've not perfected it is a question para dios. The conical pudding, which should be velvety to the point of melting, was unfortunately scrambled. When the curds develop during the cook and cool down, they acquire an alarming texture. The sweetness of the pudding and caramel, however, was right—not enough to hide behind, however.
The flan's flavour was right, but its texture disturbed an otherwise pleasant meal. It was a shame, given the pleasure of the preceding dishes. Everything was, relatively, faultless.
The natillas, however, has great beauty in simplicity. It was creamier white than custardy yellow, with a flick of cinnamon and a soggy butter biscuit thrown into the mix. It was an equally simple dish, but a little more failsafe, so it ended up being the dessert winner. Perhaps that was what El Mediterraneo offers that many restaurants in Kathmandu don't—simplicity.
Simplicity demands perfection, which the restaurant achieved in many respects, but it also failed in some. Anyone's noble pursuit of perfection is something that demands attention, especially when so many places around the Valley are fixated on providing Instagram-friendly mash-up monstrosities. El Mediterraneo is quietly working away to perfect its imperfect craft, and it seems to be a mainstay on the restaurant circuit. But, until it nails it's flan and cooks its steak a little better, it's a work en progreso.
El Mediterraneo Rs 500-1500
Food: ★★★
Ambience: ★★
Value: ★★
What we ate
Croquettas de pollo:300
Albondegas de cerdo con salsa de tomate:310
Tortilla de patatas:350
Ensalada de la huerta (Organic Garden salad) :290
Steak (solomillo de terena):710
Catalan style fish stew(suquet de pescado) :690
Creme caramel (flan):190
Natillas:180
***

What do you think?
Dear reader, we'd like to hear from you. We regularly publish letters to the editor on contemporary issues or direct responses to something the Post has recently published. Please send your letters to tkpoped@kmg.com.np with "Letter to the Editor" in the subject line. Please include your name, location, and a contact address so one of our editors can reach out to you.
---
---