Solid Japanese food for a steal, but with zero zen
Mount Sakura knows the cuisine well enough to get close to the real deal, but it falls short in the execution and the ingredients.

bookmark
Published at : July 18, 2019
Updated at : July 19, 2019 08:52
Kathmandu
It's eerily quiet in Mount Sakura Japanese Restaurant. There's no one around and there's no music. There's not much in the way of wall adornment either; this is a no-frills restaurant, all bare bones.
Mount Sakura, which lies near the Big Mart in Jhamsikhel, is an unassuming place. Hosted in an old renovated home, the decor is wooden and restrained, with sparse amounts of livery. Two rooms have one table each, another has two, and the main dining room has just a few more. One room is traditional, with a stooped table and cushions to sit cross-legged, but that's as imaginative as it gets. The walls are mottled white, with slats of wood haphazardly tacked to the wall leaving concrete scabs. It's too drab and underthought to be anywhere close to kindling any feeling of zen; rather, it stokes boredom.
And so, the 15-minute wait for a bowl of ramen, a plate of sushi, donburi and karaage chicken feels like an eternity, given the bland environment. Despite the ennui inspired by the restaurant, the Nepali paper menu is a promising mix of everything people look for in Japanese food. There's sushi, udon, donburi, ramen and bento boxes, with snacks in the form of karaage, kushiage or gyoza. There's even a small Chinese section for cretins who go to Japanese restaurants looking for other kinds of Asian cuisine. Everything on the menu is relatively affordable, and the most expensive items on the menu are obviously fish-based, namely the pucks of sushi.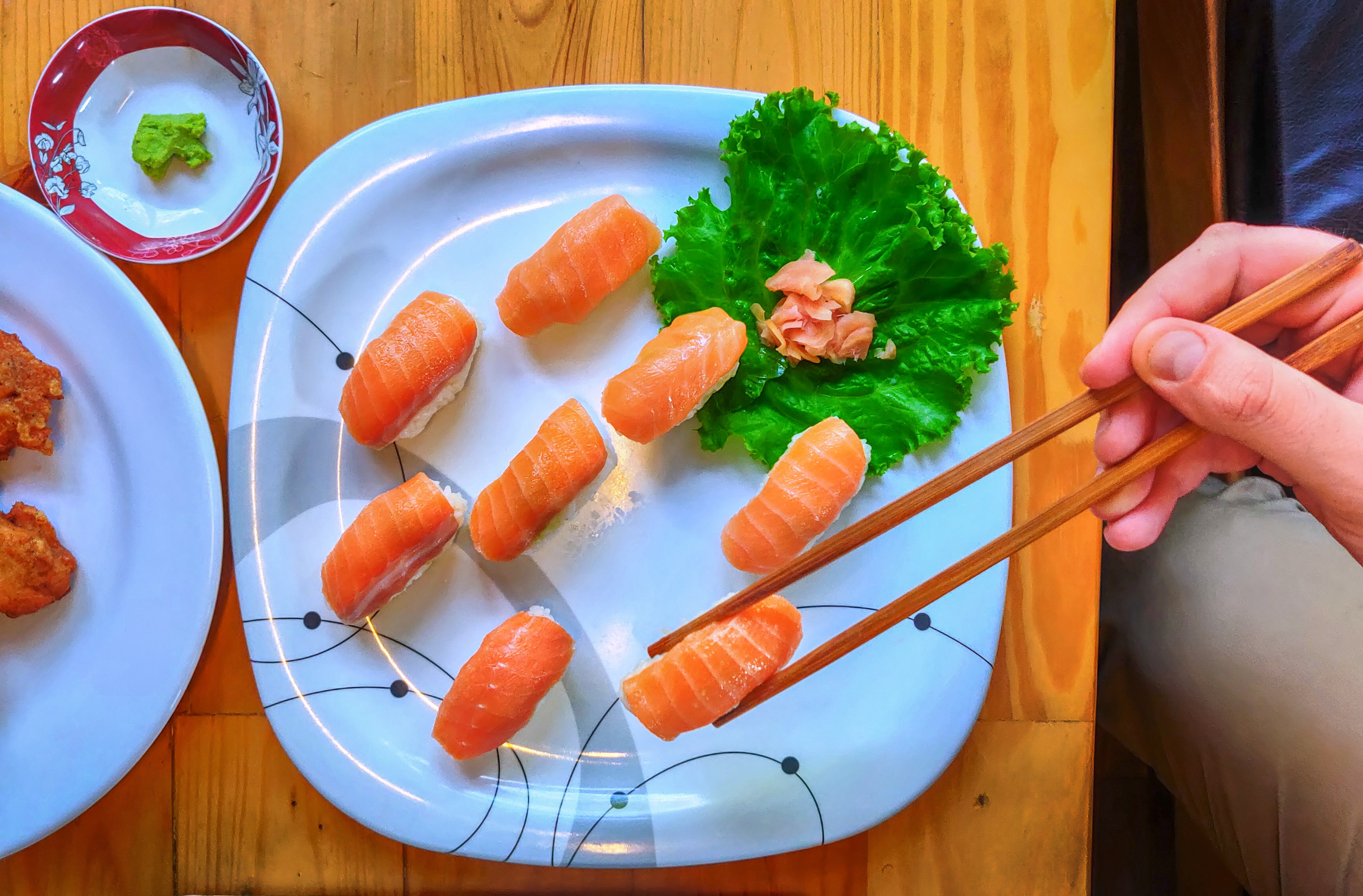 The food arrives sporadically. The first to the table is the ebi don, prawn cutlets in egg on rice. Accompanied by neon-pink pickled daikon and a small bowl of cloudy miso soup, the dish looks promising. The egg, roughly beaten into a consistency resembling orange marbled ivory, sits atop a large bowl of rice. Whole crumbed prawns—not cutlets—and sweaty sliced onions are enveloped by the egg, while a toss of scallions and small tumble of seaweed sits on top. The crustaceans might have been pre-fried (likely pre-bought) to a crisp, but the prawns lose their intended integrity in the amoeboid mass of mottled egg, leading the texture to become consistently slimy. The clammy sliced onions do nothing to help the cause, but they're rich with soy. The rice's flavour is deep from the collateral juices seeping in from above, with mouth-lining unctuousness coming in both sweet and fatty forms. The pink daikon does its job, sporadically cleansing the palate from excessively cloyingly mouthfuls of ebi don. With extra sips of miso somewhere in between, the entire event is an exercise in umami, which will necessitate some form of exercise after.
A tub of ramen arrives at the same time as the donburi, outshining and upstaging the latter with its muddy sheen, interesting accoutrements and generous meaty offering. A bisected egg, slices of pork, strips of nori and a dose of scallions appear as peripherals, and a rather bizarre addition of spinach lies there too. This iteration of ramen, chashu men, is the result of painstaking cooking. It's the opaque and oleaginous broth that necessitates the time and effort because this type of bouillon is supposed to be intense.
While tonkotsu is generally leached almost entirely from pig bones, flesh and fat over the course of hours, this particular mixture is based on miso, according to the menu. The broth invites waves of unnatural levels of umami, perhaps from a pinch of MSG, which is not inherently bad, but could be considered cheating.
The chashu pork, part of the dish's namesake, is cooked well, if a little overdone, but the bands of fat, light and dark meat are saliva-inducing. The egg is less inviting, boiled beyond measure, with the yolks fully clotted. Nor are they marinated, so they lack the injection of soy and mirin. The star of this dish, as it should be, is the fat, slippery, chewy noodles. They're slightly imperfect but texturally perfect. They speak to an alkaline-injected authenticity, just what one should look for when noshing on such noodles.
While troughs of rice and noodles loom over the table, thumbs of salmon nigiri and mangled chunks of chicken karaage sit to the side, waiting to be nibbled on. The chicken karaage had to be ordered, given its famed glassy crunch and succulency. The ingenious use of potato starch is what commonly makes karaage sing, but this iteration is a little muted. While there are plenty of regional variations—as there are for just about all Japanese food—it's fair to say that the chicken is world-famous for its addictive nature. The dark meat was tender enough, thanks to its proximity to the bone, but the chunks of breast meat suffered from spending just as much time in the babbling fat. Rather than spongy and succulent, they were leathery and dry.
Across these dishes, it's obvious that the chef knows Japanese cuisine well enough to get close to the real deal, but the problem is in the execution and the ingredients. While it's obvious Mount Sakura is going to struggle to find fresh salmon to add to the sushi, the use of frozen salmon means that the flesh is slightly grainy after suffering under cryogenic climes. It's also remarkably thin. It doesn't take a deft tongue to figure out this is the pre-sliced smoked stuff one finds in the freezers of fancy stores. The rice, however, is well seasoned, thanks to an appropriate amount of vinegar in the mix. The rice is homogenous and its pre-daubed with wasabi and so, despite the fish's lack of quality, the sushi is pretty good by the city's standards.
When it comes to Japanese food joints, things can often go one of two ways: sparse wooden spaces exuding serenity, akin to omakase joints where one is hand-fed by master chefs, or colourful, loud spaces where one can do anything but think. It's hard to know what Sakura is trying to achieve because it's sparse and wooden but it's not clean and tidy. It's not loud or brash either, perhaps plain boring, but the food is solid and somewhat generous enough for an easy and cheap lunch.
Mount Sakura Japanese Restaurant: Rs. 250-650
Food: ★★
Ambience: ★
Value: ★★★
What we ate:
Chashu men: Rs 390
Ebi don: Rs 400
Salmon sushi: Rs 650
Tori karaage: Rs 310
What do you think?

Dear reader, we'd like to hear from you. We regularly publish letters to the editor on contemporary issues or direct responses to something the Post has recently published. Please send your letters to tkpoped@kmg.com.np with "Letter to the Editor" in the subject line. Please include your name, location, and a contact address so one of our editors can reach out to you.
---
---