How two brothers are keeping 45 years of culture alive
The Pradhananga brothers in Bhaktapur are using their father's techniques to make yoghurt that is still winning hearts in the Valley.

All photos by Sanjog Manandhar
bookmark
Published at : July 12, 2019
Updated at : July 12, 2019 11:10
Kathmandu
Mrigendra Pradhananga rummages through his fridge, looking for his culture. Earthen bowls full of juju dhau, stacked atop each other using triangular bamboo dhauka, sit on the large fridge door. Carefully shifting each bowl, he finally finds his culture sitting safely in the bottom. With sweat on his brow from his morning work, he grabs a small pottle of already made juju dhau and spoons the mix into the pitcher of culture. He stirs quickly. This culture dates back 45 years and is the key to their sweet, effervescent juju dhau.
A curd widely associated with Bhaktapur and Newar culture, traditional clay pots of juju dhau are sold around Kathmandu Valley, it can seemingly be found in every supermarket and corner shop fridge. Its fame far surpasses the ancient city's limits.
Some of those fridges might contain these brothers' curd, which is the result of a tradition set by their father Chandra Bhakta. They are keeping his culture alive—which can be traced back to his first bowl of curd—to keep making it the natural way. The tincture is revitalised daily, like a sourdough starter, with the day before's yoghurt and fresh water. While Chandra Bhakta died 10 years ago, his curd lives on through this bacterial mix and his sons' shop Special Dahi Bhandar. It's this tincture, the brothers say, that makes their product truly juju dhau.
"There are other places that say they have the oldest shop, but it's actually this one," says 36-year-old Nabin, Mrigendra's younger brother.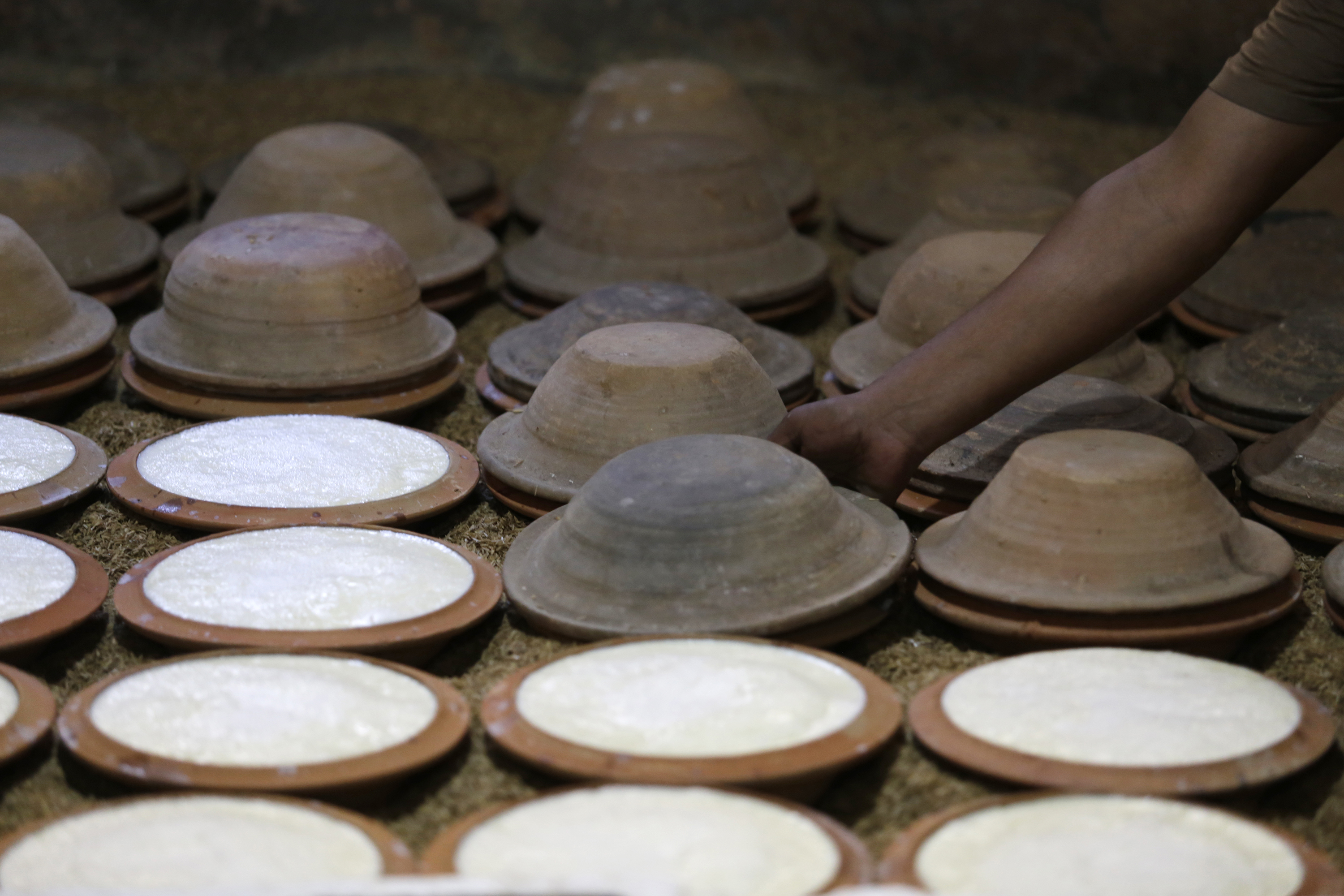 Every morning either Nabin or Mrigendra start the yoghurt making process at 7am. They take their daily tractor delivery of buffalo milk, sometimes a little cow's milk, and add it to their most modern piece of technology—a commercial milk boiler. That gets the milk up to the right temperature, about 100 degrees, before being transferred bucket by bucket into their massive kadai. Sugar is then added to the wok-like cast iron pan, and the mixture is simmered and stirred for about one hour. Under the few lightbulbs in the room, the heat and smell of hot milk and sugar permeate the small L-shaped space. Mrigendra, having laid out clay pots across a thick bed of rice husk, gets ready for the first pour. By some time between nine and 10am they begin ferrying hot milk across the basement-like room. Pouring the milk from a height, it froths and a skin forms quickly. The bowls of curdling milk need to cool down before they do anything else, however. So, with half an hour to kill, Nabin sits for a hot cup of sweet black coffee.
"Five years ago it was better money-wise," says Nabin. "But, after the earthquake, people became dispersed and had to move from the area."
The brothers used to live in the family home, a stone's throw away from their curd-making bunker, but have moved outside the ancient city's centre. While they continue making curd together, other people have split up.
People's homes in ruins, he explains, curd-making families split and started their own curd-making businesses which inadvertently multiplied the competition. There are now 200 outlets for curd in Bhaktapur alone, he says.
"It was profitable then, but now it's not as much. The materials are expensive and the market is saturated," he says, taking a sip of his coffee.
The other competitors are the likes of DDC and commercial dairy companies who offer curd at lower prices. Nabin is critical of their use of what he calls "chemical" cultures in their curd.
How can you tell if it's not a natural culture? Just look at the top of the curd, he says, if it is perfect it's not natural.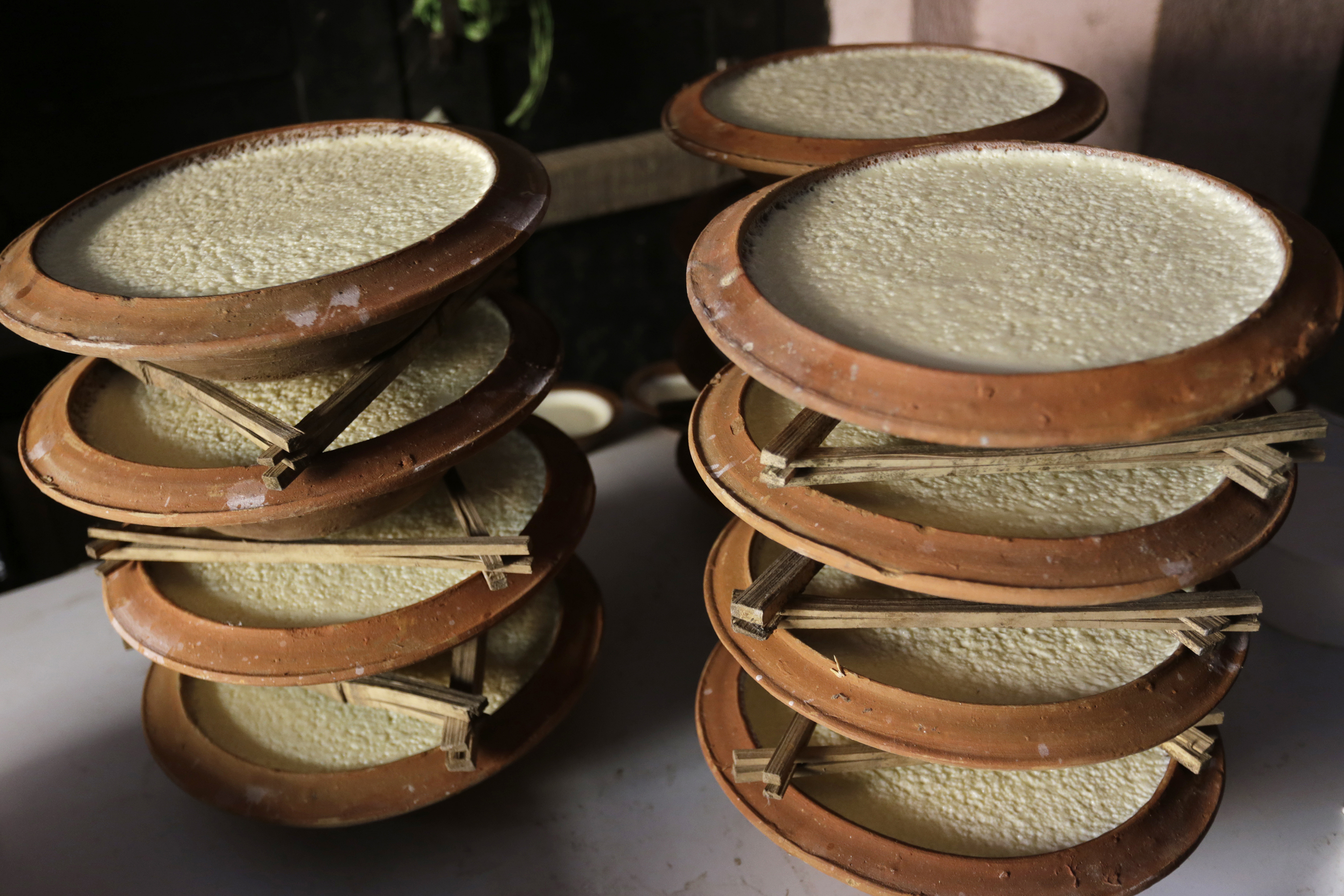 "They don't get the same flavour. They have a longer shelf life too. If food doesn't expire, it's not that good," he says.
They do have, and rely on, a loyal following in the Newar community, however. It is those sticklers who keep these makers in business, using their products across their many festivals and traditions.
Thirty minutes elapsed, he walks some 20 metres back to his curd bunker, to attend to his curding milk. Following a second pour, they wait again, this time until the mixture drops to between 45 and 50 degrees. Once cool enough, the live culture can be added and bowls can be topped up one last time to keep the froth and texture.
Older brother Mrigendra, 49, says things have changed drastically since their father started the business. Back then, only 10 curd makers existed in Bhaktapur. There are 60 now.
"It was only really consumed at festivals, but it started being used more and more," says Mrigendra.
The brothers have been part of Bhaktapur Juju Dhau Byabashai Sangh since 2005, a cooperative working at maintaining quality—which has plummeted as demand rose.
"The only reason to initiate this cooperative is to maintain quality because there were many who didn't care about juju dhau. This is one of Bhaktapur's points of pride."
Real juju dhau must use buffalo milk, which has more protein and about twice the fat of cow's milk. These brothers have a partner who brings milk from Chitwan especially, because the local product does not contain enough fat. They usually make about 40 litres a day, but reach up between 200 and 300 during festivals or for big orders. Depending on demand, they might add a little cow's milk.
The process almost complete, the pair add upturned bowls atop the bowls of hot milk before covering them with two layers of thick blankets. The blankets, combined with the bed of rice husks, help to retain the heat needed to form the yoghurt. And so the brothers wait once more, this time for three hours, so Nabin heads to their shop around the corner, south of Nyatapola temple, and Mrigendra heads home, outside the city centre. They both have people to see, and people to sell curd to. They have a culture to keep alive.
---
---