Stumbling on alliances
There has been no compelling rationale for the forging of pre-poll alliances.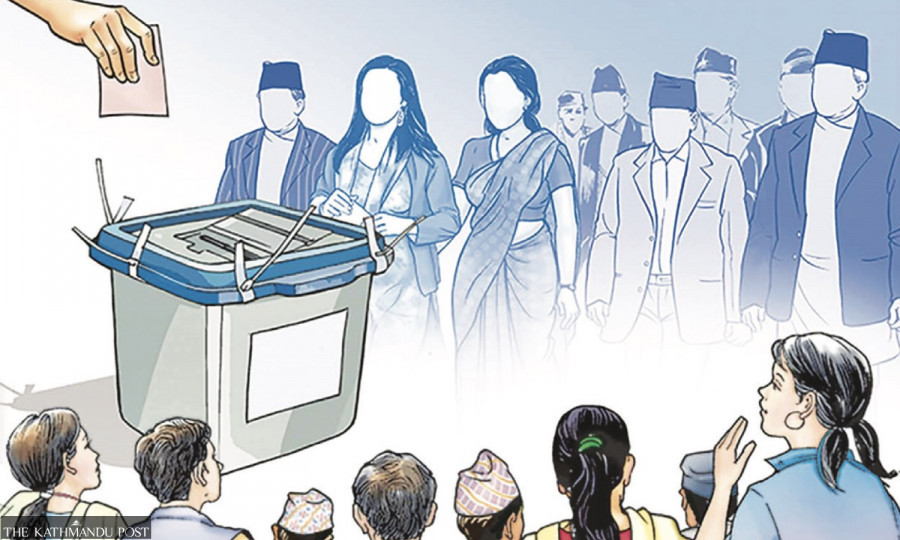 Post Illustration
bookmark
Published at : September 26, 2022
Updated at : September 27, 2022 07:25
As the country inches closer to the federal and provincial elections, more and more dissident leaders from the parties in the ruling coalition in Kathmandu have started expressing reservations against the electoral policies and strategies of their respective parties. In a way, in a multiparty democracy, such expressions of dissatisfaction ahead of the polls are natural: The competition is intense and it is only through elections that you can rise to power. This time, many leaders of major parties are speaking out against their top leaders' bids to forge electoral alliances. Some have been lobbying within their own parties while others have been protesting publicly. This is as true for the Nepali Congress as it is for the CPN (Maoist Centre), the latter of which recently witnessed a district-level revolt of its leaders and cadres in Dhankuta.
This trend has two components. Some of the protesting leaders are themselves aspirants and decided to stand against the coalition after realising that they weren't getting tickets. But many are not convinced about the very idea of a pre-poll alliance. They consider it immoral to join hands with a rival political force that champions a completely different ideology. Also, they ask, what does the party gain by giving up its core values?
Political parties go to the people seeking their votes. In our electoral system, voters cast two votes, one for a party and one for an individual candidate. The vote given to the party is based entirely on the outfit's policies and programmes. Political parties and candidates, therefore, take great pains to explain their policies and programmes to the voters. Based on that, voters make their choices. While forging political alliances, the leaders have failed to convince the rationale of the pre-poll alliances to their rank and file and to the public at large. This lack of knowledge and mistrust of the leadership largely explains the current phenomena of widespread intra-party revolt.
Top political leaders in our parties have a serious problem. They don't discuss important issues in their party committees, let alone consult people from various walks of life. Though all political forces claim to be democratic, seldom do they practice any internal democracy. The alliances would have been an easier sell had the leaders made an effort to get the buy-in from the rank and file.
Nor is this problem limited to the ruling alliance in Kathmandu. Even the CPN-UML, the main opposition, has been trying mighty hard to lock in a pre-poll alliance with the CPN (Maoist Centre), a member of the ruling alliance. As such, these alliances are less about forces with similar ideologies coming together to fight for a common cause and more about winning at any cost. Alliances are more natural post-election, especially when no single party gets an absolute majority and must enter into an alliance to form a government. There can also be an alliance when an undesirable government needs to be removed. In fact, this is why the five parties in the current ruling coalition first joined hands: To remove the KP Oli government that had unconstitutionally dissolved the federal lower house of Parliament.
But whatever the political calculus, it may also be argued that the alliances that limit the choices for prospective voters are inherently anti-democratic.
---