We reap what we sow
The country must come up with a comprehensive agriculture strategy.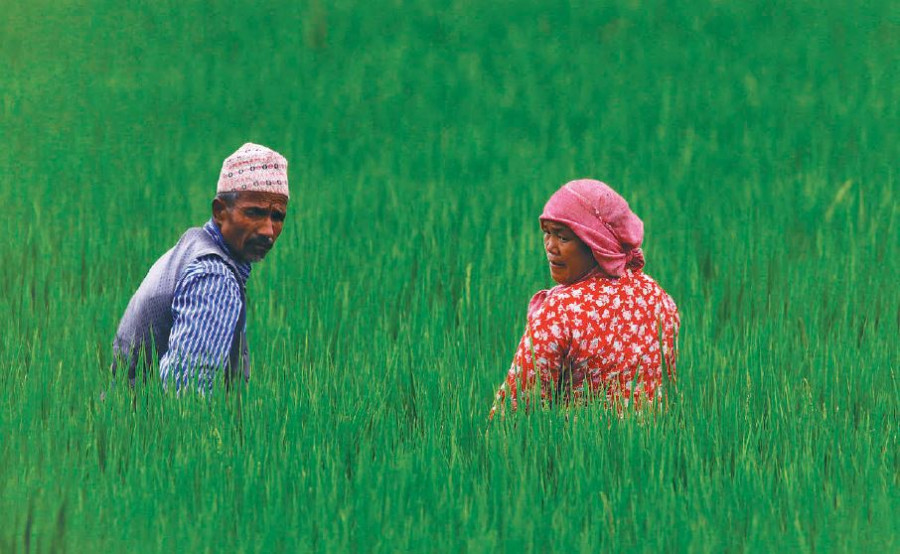 Post file photo: Hemanta Shrestha
bookmark
Published at : August 18, 2020
Updated at : August 18, 2020 15:13
Nepal relies heavily on food imports and agricultural inputs. Any shortage can lead to food insecurity, affect farmers and dampen economic growth. Economists say agricultural output in the country has always declined whenever there is a shortage of chemical fertiliser, a major agricultural input that determines output and productivity.
This year, Nepal is already reeling under a short supply in the wake of the pandemic. Lockdowns and trade restrictions both in Nepal and India have disrupted supply chains, and the available stock is running out. But across the country, half-submerged paddy plants have turned green after three weeks of transplantation and await top dressing. However, urea is not available for tens of thousands of farmers in the country.
Urea is an essential nutrient that prevents the yellowing of the leaves in paddy caused by a deficiency of nitrogen in the soil. While plants will stunt and even die, a delay in spreading urea on fields also affects production, translating into losses and a deficit in supply with far-reaching economic and social implications. Officials at the Ministry of Agriculture and Livestock Development blame the pandemic for the delay in announcing tenders and subsequent delays farmers are having to brave for the first top dressing. But for such a commonly used fertiliser, which costs Rs14 per kg at the government subsidised rate, the administration that always hopes for a bumper paddy production should sow what it intends to reap.
That Nepal would lose production due to shortages of agricultural inputs had been long warned as the pandemic unfolded. Both the World Food Programme and the World Bank had forecasted disruptions to domestic food supply chains and consequent shocks that could affect food production and lead to insecurity.
In 2009, Nepal and India had signed an agreement that allowed India to sell 100,000 tonnes of chemical fertiliser to Nepal annually at international parity prices to avoid a lengthy tender process, but the deal expired in December last year and has not been renewed. The government must not leave any stone unturned to renew the government-to-government deal and explore alternatives to ensure smooth supply because there is no inkling of how the Covid-19 situation will evolve given the exponential rise of cases in the country and the deteriorating situation in India.
According to the Agriculture Inputs Company, Nepal requires 120,000 tonnes of urea and 50,000 tonnes of diammonium phosphate for paddy cultivation, but the state-owned fertiliser supplier and Salt Trading Corporation have only issued tenders to import 71,000 tonnes of urea and 25,000 tonnes of diammonium phosphate for this year. While officials at the ministry say there will be some respite this week and within a month, ministry figures show that there has always been a deficit in state supply while the rest of the demand relies on informal imports and contraband fertiliser for which farmers pay a hefty price. A study conducted by the Finance Ministry in 2006 also shows that the share of informal fertiliser imports stands at 71 percent of total supplies.
On paper, the government increased the budget for the distribution of subsidised chemical fertilisers from Rs5 billion to Rs9 billion this fiscal year to ensure timely and adequate supply, but diversion of funds due to the pandemic has placed additional obstacles on the availability of fertilisers. Given the 'new normal', fertiliser supply will certainly be affected by factory closures, limited cargo handling, transport disruptions and border restrictions. It will consequently affect agricultural output and consumer prices.
To avert a looming food crisis, the country must come up with a comprehensive agriculture strategy and engage with Delhi to ensure a smooth supply of agricultural inputs. Otherwise, with more mouths to feed than ever before, the burden on agriculture will only increase.
---