Public sacrifice wasted
It's only a matter of time before pocket lockdowns turn national and push the country further into uncertainty.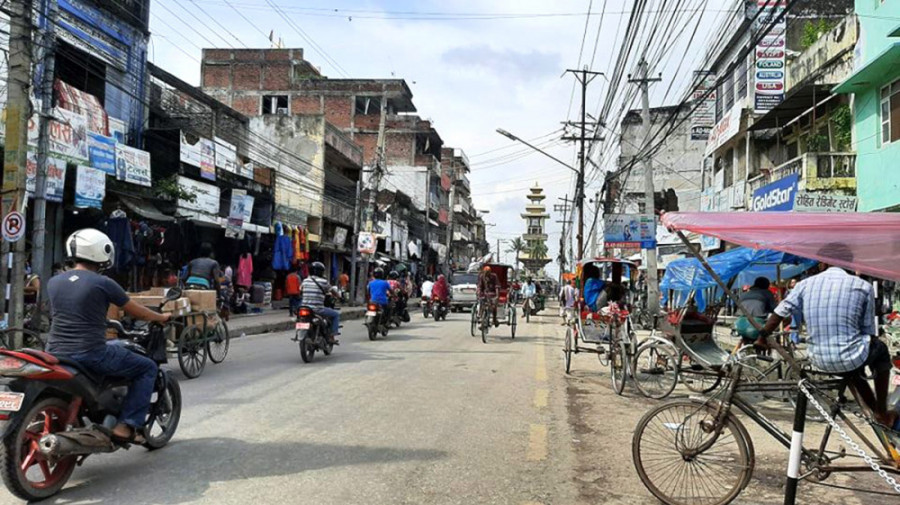 The Parsa District Administration Office has imposed a prohibitory order in Birgunj metropolis from Saturday following a rise in coronavirus cases in the city. Post file photo
bookmark
Published at : July 27, 2020
Updated at : July 28, 2020 15:40
Barely a week since the government lifted stay-at-home order after four months, it has reimposed lockdowns in Inaruwa and Rajbiraj. The government has also issued prohibitory orders in Saptari, Birgunj, Biratnagar and a local unit in Nuwakot, and shut all non-essential services until further notice. These decisions come in the wake of new Covid-19 cases with no travel history, spike in symptomatic cases and critical conditions of those in isolation and recent Covid-19 related deaths.
All this only points to the fact that the government handling of the pandemic has put public sacrifice to waste and the window of opportunity to bring the pandemic under control could be fast slipping. With a decline in the number of tests, ineffective contact tracing and monitoring of those who are quarantined at home or in holding centres or designated facilities, the warning that countries could return to lockdowns and see a spike in cases if the transition is not managed 'extremely carefully' could spell true for Nepal.
Following the government relaxation on the lockdown last month and the complete lifting last week, more and more people have come in contact with each other. The movement of people in and out of districts or through the porous southern border also remains unchecked. All this while, the general public and businesses have largely unheeded the mandatory precautionary measures or restrictions in place to limit public gathering. Given how things have quickly returned to the pre-lockdown days and the risks of Covid-19 loom large, the worst fears of public health experts could soon turn real.
In Biratnagar, where the health unit claims community transmission of coronavirus, 14 people with no travel history to coronavirus hotspots have tested positive for the virus in the last few days. An additional 20 police personnel based in Province 1 Police Office tested positive. In Parsa, which has recorded 103 new cases and three deaths since last Thursday, there is a rise in symptomatic cases and some patients under isolation are in critical conditions. In Rajbiraj, where the lockdown was imposed the very next day after it was lifted citing a spike in cases, local authorities also suspect the virus has spread in the community. Saptari recorded 23 new cases in the last 24 hours. And in Ilam, six security personnel deployed at a quarantine facility tested positive on Sunday. If the government needs a nudge, these areas share the porous border with India where cases continue to rise rapidly.
In the light of these new developments, the Epidemiology and Disease Control Division of the Ministry of Health and Population over the weekend issued a warning that the coronavirus cases could spread quickly in multiple places at once if safety measures are not enforced strictly. Public health experts, including senior officials from the ministry, say the current scenario is a lot different from what it was in the last four months since more people testing positive are symptomatic and are dying, and more cases are being reported from communities with no travel history. While this is no good news for Nepal's fragile and exhausted health care system, it is clear that the government made a decision to lift the lockdown without considering the gravity of the situation and consulting its experts.
Public mobility has gone back to normal sans any precautionary measures, and the economy has been declared open without conducting any risk assessments. To be precise, what we've got right now is a statutory warning of sorts: That infection risks remain, and people could die in large numbers. Without testing and tracing, it is only a matter of time before pocket lockdowns turn national and push the country further into uncertainty. Only this time, it could kill more people and completely kill public confidence in the government.
---