Essentials may run out, the government needs to ensure supply
In the long run, Nepal must prioritise growing more food domestically.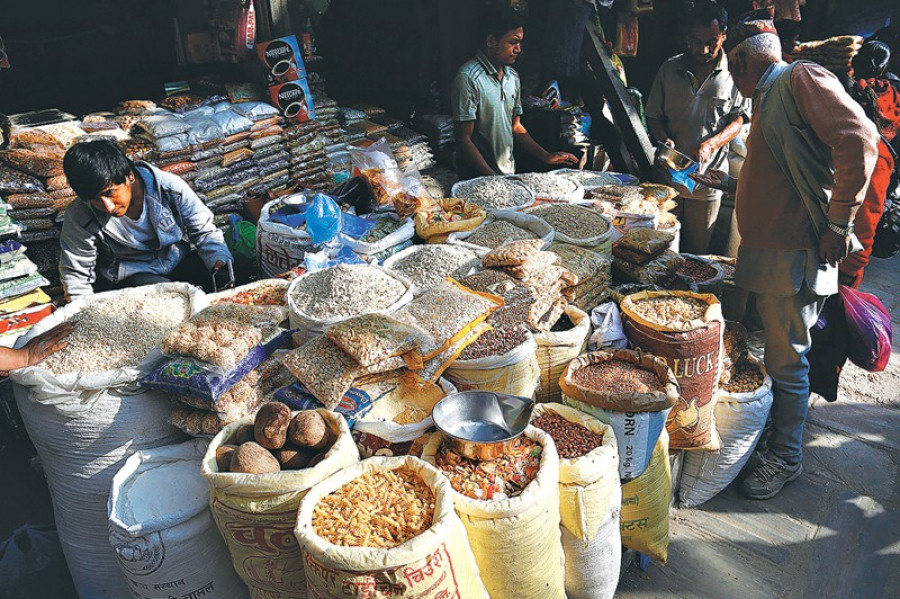 A file photo shows customers purchasing daily essential commodities at a shop in Ason, Kathmandu. Post file photo.
bookmark
Published at : March 25, 2020
Updated at : March 25, 2020 14:51
The Covid-19 pandemic has left all of humanity struggling to cope with it. Even as Nepal found its second case (a patient who had diligently gone into self-quarantine and self-reported the infection as per international guidelines) and went on a precautionary lockdown, other countries were struggling to contain the disease spread amidst many more serious cases being reported. As people in the United States, home to over 300 million, were scrambling to make sense of the conflicting messages relayed by the federal government and the states they reside in, the World Health Organisation announced that the US may play host to a resurgence of the disease—essentially a new epicentre.

What this means for the world is clear. While Wall Street and some Asian secondary markets have remained buoyant, showing optimism for the future at the announcement of a stimulus deal in the US, the world still seems to be moving towards an economic slowdown worse than the Great Recession of 2008. As with most crises, the most vulnerable and poor countries will face the brunt; countries like Nepal and Thailand are already feeling the effects of a collapsing tourism sector. But for Nepal, the crisis may hit faster and deeper if necessary counter-measures are not implemented in haste. This is because, over the past decade, the country has come to rely more and more on imports—even for food.
To begin with, the federal government should be lauded for implementing an effective lockdown. By Day 2, the KP Oli government was already allaying fears of shortages and inaccessibility of essential goods: Stores selling food and other essentials have been allowed to open, and the message has been spread effectively with few kinks. Now, as Nepal finds its third confirmed case, the lockdown will hopefully help stem the spread of Covid-19. However, with the Indian government announcing its own 21-day lockdown, and with Nepal and India both announcing a sealing of the border, it is difficult to say with certainty that essential supplies will not be disrupted. The need of the hour is for the Oli cabinet to negotiate a government-to-government deal that will ensure a fresh and continuous supply of fuel, food and other essentials throughout the crisis. Moreover, the public needs to be informed of the stability in supply, to reduce panic.
In the last fiscal year, Nepal's agricultural goods import bill was a staggering Rs220 billion. Of this, a diverse basket of cereals, vegetables and live animals and meat accounted for Rs51.80 billion, Rs28.66 billion and Rs8.11 billion respectively. Given geographical, political and cost factors, India is Nepal's main import partner, accounting for most of the aforementioned agro bill and 58 percent of total imports. To account for another essential, Nepal also imported Rs90 billion worth of oil from India last year. Added to this, India is the transit point for a majority of Nepal's third-country trade as well. Without a guarantee of the imports continuing, the country may face a massive shortage of even grains and vegetables, let alone higher value items like goat and buffalo.
For most close economic relationships, such a clarification might not have been necessary. However, in India's case, the southern neighbour has in the past shown a willingness to completely push aside Nepal's needs for its own interests. It has put up two major economic blockades to pressure the Nepali government, the most recent one in 2015. And, as recently as last November, India decided to stem rising onion prices domestically by completely shutting off Nepal's supply, transferring the price hike here. Without a reaffirmation of continuing trade, and allowing third-country trade to reach Nepal, the people's fears of a shortage will not be completely allayed.
Yet, this potential issue also brings back the conversation of self-reliance in food and energy. For too long, Nepal has been heavily exposed to external shocks—the current fears about shrinking remittance and foreign inbound tourism, and questions of food security, being prime examples. In the long run, Nepal must prioritise an expansion of the local economy with a renewed focus on agriculture as well.
***
What do you think?
Dear reader, we'd like to hear from you. We regularly publish letters to the editor on contemporary issues or direct responses to something the Post has recently published. Please send your letters to [email protected] with "Letter to the Editor" in the subject line. Please include your name, location, and a contact address so one of our editors can reach out to you.
Frequently asked questions about the coronavirus outbreak
UPDATED as of September 22, 2020
What is Covid-19?
Covid-19, short for coronavirus disease, is an illness caused by the coronavirus SARS-CoV-2, short for severe acute respiratory syndrome coronavirus 2. Common symptoms of the disease include fever, dry cough, fatigue, shortness of breath and breathing difficulties. In severe cases, the infection can cause pneumonia, severe acute respiratory syndrome, kidney failure and even death.
How contagious is Covid-19?
Covid-19 can spread easily from person to person, especially in enclosed spaces. The virus can travel through the air in respiratory droplets produced when a sick person breathes, talks, coughs or sneezes. As the virus can also survive on plastic and steel surfaces for up to 72 hours and on cardboard for up to 24 hours, any contact with such surfaces can also spread the virus. Symptoms take between two to 14 days to appear, during which time the carrier is believed to be contagious.
Where did the virus come from?
The virus was first identified in Wuhan, China in late December. The coronavirus is a large family of viruses that is responsible for everything from the common cold to Middle East Respiratory Syndrome (MERS) and Severe Acute Respiratory Syndrome (SARS). After an initial outbreak in Wuhan that spread across Hubei province, eventually infecting over 80,000 and killing more than 3,000, new infection rates in mainland China have dropped. However, the disease has since spread across the world at an alarming rate.
What is the current status of Covid-19?
The World Health Organisation has called the ongoing outbreak a "pandemic" and urged countries across the world to take precautionary measures. Covid-19 has spread to 213 countries and territories around the world and infected more than 31,405,983 people with 967,505 deaths and 22,990,260 recoveries. In South Asia, India has reported the highest number of infections at 5,557,573 with 88,943 deaths. While Pakistan has reported 306,304 confirmed cases with 6,420 deaths. Nepal has so far reported 65,276 cases with 427 deaths.
How dangerous is the disease?
The mortality rate for Covid-19 is estimated to be 3.6 percent, but new studies have put the rate slightly higher at 5.7 percent. Although Covid-19 is not too dangerous to young healthy people, older individuals and those with immune-compromised systems are at greater risk of death. People with chronic medical conditions like heart disease, diabetes and lung disease, or those who've recently undergone serious medical procedures, are also at risk.
How do I keep myself safe?
The WHO advises that the most important thing you can do is wash your hands frequently with soap and water for at least 20 seconds or use hand sanitizers with at least 60 percent alcohol content. Avoid touching your eyes, nose and mouth with unclean hands. Clean and disinfect frequently used surfaces like your computers and phones. Avoid large crowds of people. Seek medical attention if symptoms persist for longer than a few days.
Is it time to panic?
No. The government has imposed a lockdown to limit the spread of the virus. There is no need to begin stockpiling food, cooking gas or hand sanitizers. However, it is always prudent to take sensible precautions like the ones identified above.
---