Government to close down border with India and China for a week
With calls growing to close the border amid rising number of Covid-19 cases in India, a Cabinet meeting decided to shut down all borders with both neighbours.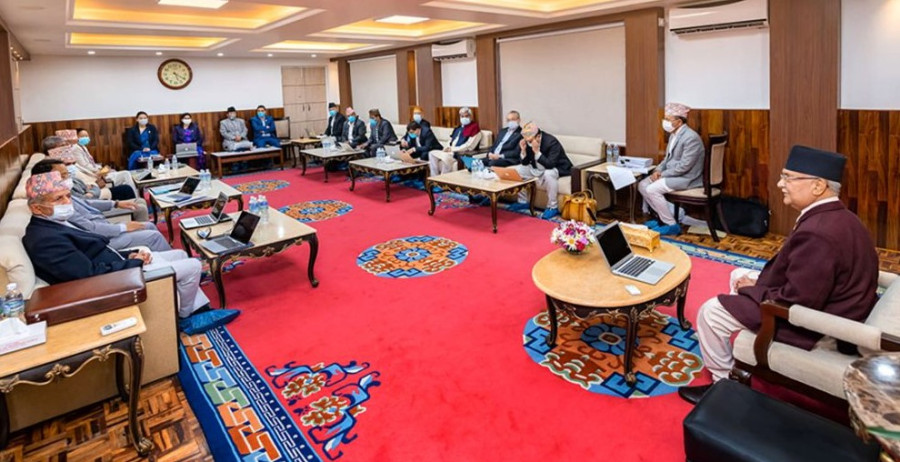 The Cabinet meeting on Sunday at Baluwatar decided to close down border with both India and China for a week. Photo Courtesy: PM Secretariat
bookmark
Published at : March 22, 2020
Updated at : March 22, 2020 21:37
Kathmandu
The government has decided to close down its borders with both India and China for a week, effective from 10am Monday, to deal with the ongoing Covid-19 outbreak.

A Cabinet meeting on Sunday took a decision to this effect.
"Today's Cabinet meeting decided to close all borders starting 10am Monday," said Foreign Minister Pradeep Gyawali. "We have also decided to develop a fund of Rs500 million, for which all ministers will donate a month's salary."
The fund will be utilised to purchase personal protective gear, masks, thermometers, ventilators and monitors, among other equipment required in the fight against the coronavirus pandemic.
The government has also decided to develop the Armed Police Force Hospital in Balambu as the primary hospital for the treatment of Covid-19.
Earlier, the governments of Nepal and India had decided to operate just four border points in the wake of the global Covid-19 pandemic. However, the movements of Nepalis and Indians were largely unrestricted, not only through the designated border points but also through other land crossings along the 1,800-km Nepal-India border which is largely unmanned.
As India continues to report a steady rise in the number of Covid-19 cases, Nepalis living and working in various Indian cities have started to return home, stoking concerns if they were properly screened before entering Nepal.
Calls had been growing to seal the border with India, but given the unique Nepal-India relations, cross-border movement had not been restricted.
With all flights to Nepal suspended, health experts had said that the only way the coronavirus could now enter Nepal, if it has not already, was via the open border with India.
Border points with China, however, had remained closed since the outbreak in China.
The Nepal government's decision to shut the border with India comes hours after New Delhi decided to suspend all passenger trains, bus services, metro and inter-state bus services until March 31, putting all 75 districts where coronavirus cases have been reported under lockdown.
According to the Economic Times, the districts where the lockdown was announced are from states that include Uttar Pradesh, Maharashtra, Punjab, Karnataka, Tamil Nadu and Kerala.
"State governments will issue orders allowing only essential services to operate in these 75 districts with confirmed Covid-19 cases or casualties," the Economic Times quoted a Union Home Ministry official as saying.
Nepal shares its border with two Indian states—Uttar Pradesh and Bihar. No travel restrictions have been imposed in Bihar as of yet.
According to the Indian Health Ministry, there have been 360 infections, including both foreigners and Indians, in the country. Uttar Pradesh has reported 27 cases while Bihar has had two cases. Seven people have died.
---
---