Mean streets
Make sure that the children enjoy their rights in practice.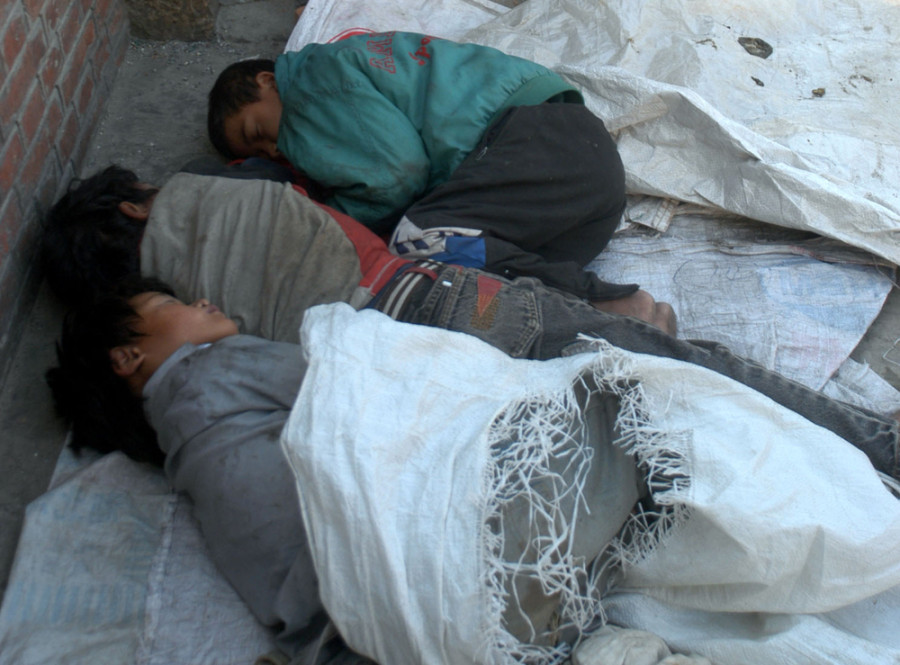 Street children in Kathmandu. Post File Photo
bookmark
Published at : February 5, 2020
Updated at : February 5, 2020 07:44
Oftentimes, street children are casualties of poverty, domestic violence, physical and mental abuse and so on. Most are thus pushed onto the street by desperation. The case in Kathmandu and most other places in the country is no different either. The Constitution of Nepal has clearly enshrined children's right to life, education, health and proper care and their rights against exploitation, but various media reports tell us that there are still many children deprived of basic care, love and affection.

According to a report jointly published by the Ministry of Women, Children and Social Welfare and the Central Child Welfare Board in 2015 on child protection mapping, around 469 children were living on the streets in the capital, mostly begging for money. The government and non-governmental organisations have initiated various intervention programmes where children are provided with a safe space for rehabilitation. Intervention programmes further include rescuing children, counselling, protecting and reintegrating street children into society. But while some efforts become successful, at other times these efforts go to waste as the rescued children end up back on the streets.
There is one thing most can agree on—that children resort to the streets owing to poverty. Once they take to the streets, their chances of getting an education are affected. This, in turn, leads them to earn less as adults. Over the years, their children too are more likely to grow up in poverty, holding families and children captive in poverty for generations. It is this negative cycle that is most concerning.
The emotional, social and physical development of young children has a direct effect on their overall development. This will define the kind of adult they will become. According to Demographic Changes of Nepal: Trends and Policy Implications, published in 2017, 40 percent of the country's population is under the age of 18 years. Thus, it is pertinent to invest in children to maximise their well-being as well as that of the country.
The 2015 government report found that sexual abuse was largely unreported among street children while a 2010 study conducted by CWIN showed that 75 percent of the boys living on the streets had been victims of sexual abuse. Drug peddling and addiction and involvement in crimes among street children are serious issues that are yet to be addressed. These are important issues that warrant attention from all quarters. On the legislative front, the government's The Act Relating to Children that came about in 2018 is a welcome move. Formulating that kind of law is the first step. Now the next step should be to make sure that the children enjoy their rights in practice.
Children taken off the streets are put in foster homes. These homes need to provide an environment where street children find it worth to call them their home. To attain this, the importance of creating trusting relationships and making each street child feel special, so as to enable a change in their lives, cannot be overstated.
***
What do you think?
Dear reader, we'd like to hear from you. We regularly publish letters to the editor on contemporary issues or direct responses to something the Post has recently published. Please send your letters to [email protected] with "Letter to the Editor" in the subject line. Please include your name, location, and a contact address so one of our editors can reach out to you.
---