Dalit politics: Identity or rights?
There is a lack of awareness among youths that the term Dalit is not the same as untouchable.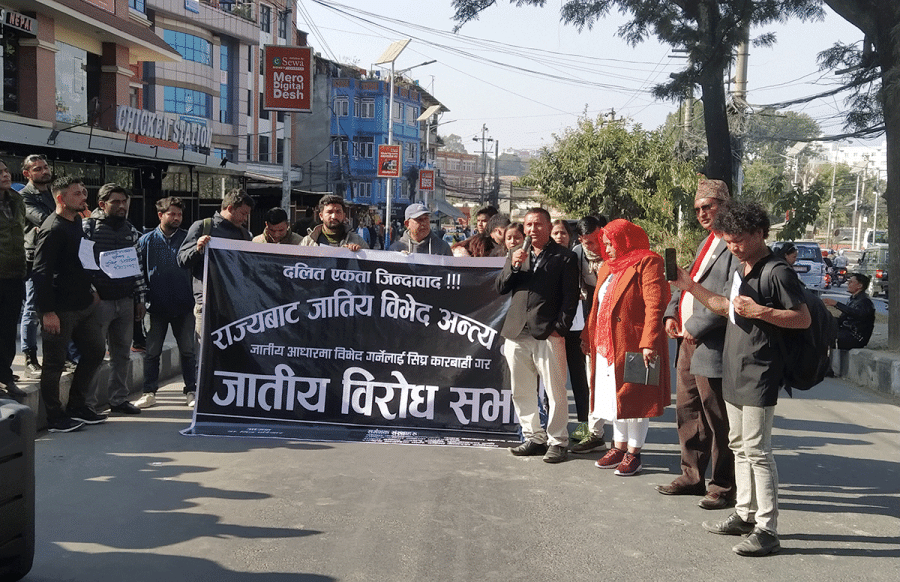 POST FILE PHOTO
bookmark
Published at : September 4, 2023
Updated at : September 5, 2023 07:20
I would not say that I am terribly ashamed to have been born into a Dalit family. Nor am I proud of my caste identity. Far from it: My social identity has been a curse all my life! In many towns and villages of Nepal—as well as amongst some casteist Nepalis abroad—I would have to conceal my surname just to rent accommodation, to find employment, or to socialise with everybody!
Dalit identity has always been a dilemma, a double-edged sword. Both individually and collectively. On the one hand, your identity is considered so impure, so inauspicious, so degraded and so disgusting that you are often forced to stay hidden. On the other hand, you are seeking to fight for your communal right as a Dalit community! How can you disown the common identity once you are determined to fight?
Individuals and families have used different strategies to protect themselves from caste oppression. Many Dalits use so-called upper-caste surnames, or tweak their actual surnames, in order to shield themselves from open discrimination.
But the concealment of caste becomes problematic when people attempt to win a place in government service or technical education under the quota system. The issue has become so widespread that the National Dalit Commission is working on a list of surnames used by Dalits in order to prevent others from benefiting from the quota allocated to Dalits.
Party politics
Dalit identity is difficult not just at the individual and familial level, but at the community level too. As in parts of India, growing numbers of Nepali Dalits have begun to hate their label as Dalit. There are multiple reasons for this disgust with the word.
First, there is lack of awareness among the youth, in particular, that the term Dalit is not the same as untouchable. The former is a political identity—and not the acceptance of a lower status, as many seem to think—used to fight caste oppression. Second, importantly, many ordinary Dalits are fed up with party politics—mostly as Dalit wings of mainstream parties—that purports to work for justice and equality for Dalits, but have actually been pawned by supposed upper caste leaders.
Third, many suffering Dalits are disgusted with Dalit non-governmental organisations (NGOs) and other organisations that run many projects for Dalit welfare. They do bring some change in the lives of some Dalits through, for example, the provision of scholarships, access to basic healthcare and drinking water, pigs and cows and such material support so that impoverished Dalit households might be able to make some income. These are good, but there is little change in society: No sign of the belief and practice of untouchability subsiding.
Even more frustratingly, the lives of some of these Dalit politicians and NGO people have changed significantly. They ride expensive cars and own fancy homes; they travel overseas, and some are permanently settled in advanced countries. All this, I believe, has increasingly angered ordinary Dalits, and much of that anger has been centred on the word Dalit.
Some purported low caste Newar communities in Kathmandu Valley have grown so fed up that they have officially withdrawn themselves from the list of Dalits. Newars have a separate caste hierarchy, and there is still a huge problem of casteism there. Some of those castes placed at the bottom of the Newar caste hierarchy, like Pode and Chyame, continue to suffer exclusion and humiliation. Still, they do not want to be part of the Dalit movement to better their place both within and without the Newar community.
So, the pressing issue is: What do Dalits do with their identity, as a collective? As a much-needed movement? Broadly speaking, do we engage in the form of pahichan ko rajniti (identity politics) or adhikar ko rajniti (right-based politics)? Or do we choose both at the same time?
Prof Steven Folmar of Wake Forest University in the US is one of the few Western scholars who has persistently researched Nepali Dalits and published significantly, and who is genuinely keen to see their status changed. In his 2007 article in the journal Himalaya, Folmar rightly observed that Dalit identity is extremely complex, and that not every Dalit would aspire to it. Importantly, including in his another article (a chapter in a book edited by Susan Hangen and Mahendra Lawoti), he pointed out that Dalit identity politics is very different from the identity politics of the indigenous and ethnic nationalities—which saw a big rise in the 1990s.
I think Dalit politicians, activists and intellectuals should take the above suggestion seriously. They should discuss and debate and arrive at a conclusion about whether Dalits should fight for their identity or for their right—or both.
Many established names in the Dalit movement claim that they have been fighting for Dalit identity. They seem to think that the common experience of ostracisation, humiliation, caste violence, poverty, landlessness and lack of access to power and privilege themselves are the fundamental bases of Dalit identity. They thus suggest that Dalits should take pride in their castes, and in their identity as the oppressed groups and fight.
In my humble opinion, Dalit identity politics is not going to go very far. We do not have sufficient grounds to claim a separate identity like ethnic and indigenous communities. We do not have a geographic concentration, nor do we have a separate language, nor do we have a distinct religion and culture; nor do we boast ethnic costumes, dances and songs. Ethnographically speaking, it is difficult to see where our identity stands!
One may think that the people suffering from the traditional practice of untouchability have the common identity of Dalit. This seems quite feasible, but again there are problems. Even though academic, policy and political discourses rarely mention this fact, a degree of caste-based exclusion and humiliation is experienced by virtually all castes and subcastes. Caste is a graded hierarchy where, for example, a conservative Bahun would not accept rice prepared by a Chhetri, even though both are said to be twice-born.
Most ordinary Dalits do not care much about their district caste identity, let alone the broad Dalit identity. Caste associations of the Damai, Kami and Sarki—or that of any other Dalit group for that matter—have not been successful. Nor have Dalit-only organisations flourished. This implies that they prefer assimilation to separation (through the ethnicisation of caste identity) from other groups.
Assimilate into society
Frankly, we are tired of social distancing: We want to eliminate any social barrier for good. We want to get closer to other communities, not go further away from them, albeit through mutual respect and dignity. This common interest of the Dalit masses to assimilate into society is also reflected in that, so much exclusion and humiliation notwithstanding, a vast majority of Dalits have not given up the Hindu religion and culture. One could argue that this is due to lack of awareness of the damaging impact of religion on their lives, which is also true. Whatever the cause, most Dalits desire greater acceptance in the wider society, including among the "upper castes". Culturally and racially, Dalits are similar to the Brahmins and Chhetris.
To conclude, the ethnicisation of Dalits may be inevitable, but that should not be our major concern. Our struggle should essentially focus on the restoration of rights. We fight the war of rights. We want our rights restored; we want to be able to live a life of equality and dignity, free from discrimination based on birth into a particular family, community. Once the traditional caste-based oppression ends, the word Dalit—the name of our collective identity—becomes obsolete.
---
---