Hydropower threatening biodiversity
Nepal needs to diversify into solar, wind and modern biomass to lessen its ecological impacts.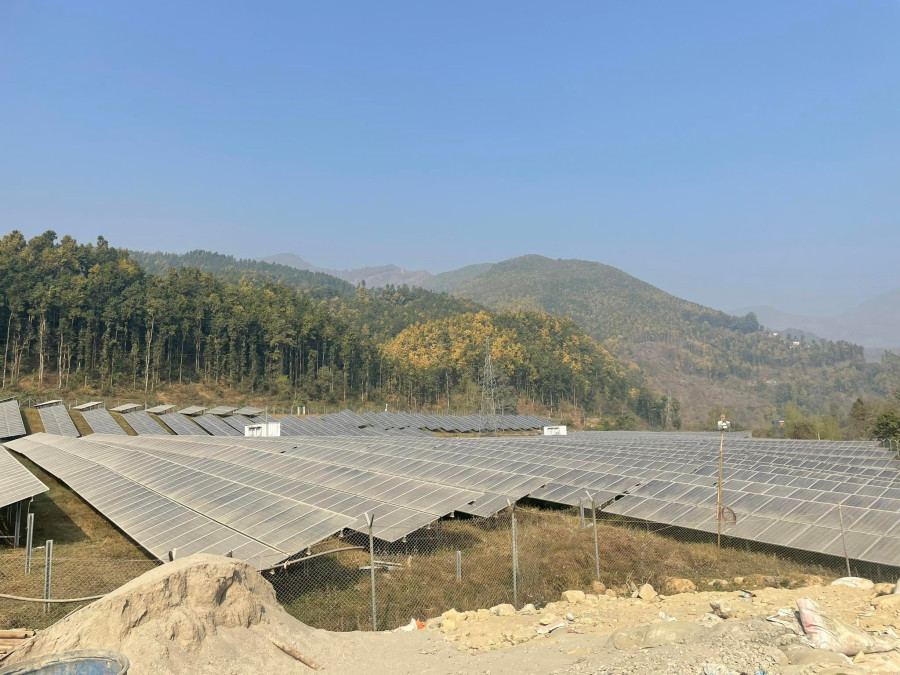 NEA developed a 25 megawatts solar project in Nuwakot, which is the largest and grid-connected. Photo: Courtesy of IUCN
bookmark
Published at : April 23, 2023
Updated at : April 23, 2023 20:18
A massive landslide in Jure of Sindhupalchok district on August 2, 2014 destroyed the towers of the Upper Bhotekoshi Hydropower Project and shut it down. Power supply resumed only after six months, but the April 25, 2015 earthquake ruptured the penstock pipes and flooded the power house. Around 80 percent of the reconstruction work had been completed when the disaster struck. Again in July 2016, a glacial lake outburst flood (GLOF) brought the project to a standstill. The 45-megawatt project that began commercial operations in 2001 has been running smoothly since December 2019 after a series of maintenance work.
This is just one example of how hydropower projects in Nepal are vulnerable to natural disasters. Energy experts insist that proper geological studies are carried out and major parts of the projects are built inside the mountains to make them secure, but natural disasters continue to wreck them. Besides, power generation varies according to the season, and Nepal depends on India to cover the shortfall during the dry season. If the Nepal Electricity Authority (NEA) can add a significant amount of electricity to the national grid as planned, Nepal will be able to fulfil the domestic requirement and even have enough surplus for export during the monsoon.
Regional energy trade
Nepal, Bangladesh and India have held several rounds of meetings to ease power trade among themselves. The three countries share the Ganges River Basin which is one of the main river basins in the Hindu Kush Himalayas, and is home to over 650 million people and provides more than 30 percent of the region's water resources. A growing population and high demand of electricity for use in the agricultural, industrial, and fishery sectors have made energy development and cooperation between the three countries more of a compulsion than choice. However, hydropower has dominated the overall energy scenario in the region in an unplanned manner without any regional outlook.
This domination of hydropower in energy development has not only led to unwarranted impacts on the river ecology and the livelihoods of millions of people, but also triggered many disasters in the past decades. Haphazard construction at the hydropower projects on the Trishuli and Bhotekoshi rivers in Nepal has not only impacted the river system but also caused unnatural disasters and displacement of villages.
During our field visits, the chief conservation officer of Langtang National Park told us that more than 30 hydropower projects were being built on the Trishuli River and its tributaries in Rasuwa, including two plants within Langtang National Park and the buffer zone, and that they had impacted the local biodiversity. The rampant construction of hydropower projects has impacted the river flow as water is being diverted through tunnels every few kilometres. Besides, residents of old Syaphrubesi have been displaced while villagers in Sindhupalchok fear displacement.
Six hydropower projects are already in operation on the Trishuli River and its tributaries alone, seven are under construction and almost two dozen projects are in the licensing process. Similarly, there are seven hydropower projects currently in operation on the Bhotekoshi River and its tributaries in Sindhupalchok, and 12 others are under construction. Survey licences have been issued for seven projects, and construction licences have been issued for 14 projects while four others have applied for construction licences, according to the Department of Electricity Development.
This concentration of hydropower projects in one river system is set to have an enormous impact on the overall river ecology. Rafting guides and companies at Sukute told us that the haphazard construction of hydropower projects had become a threat to their business as the water level has decreased alarmingly in the Bhotekoshi, which is regarded as one of the top rafting destinations in the world. Besides, local fishing communities in and around Dolalghat told us that the construction of hydro projects and the increasing number of crusher plants had badly affected the aquatic environment of the local rivers.
New renewable energy
In view of the enormous impact of hydropower projects on biodiversity, Nepal needs to consider diversifying into other renewable energy sources like solar, wind and modern biomass to lessen its ecological impacts. Nepal has abundant sunlight and wind due to its geographical location. It gets an average of 300 days of direct solar exposure with a fluctuation of not more than 33 percent, and it is abundant and cheap, according to the Alternative Energy Promotion Centre. The solar potential in Nepal is 50,000 terawatt-hours per year, which is 100 times larger than its hydro resource and 7,000 times larger than its current electricity consumption.
The Department of Electricity Development had issued construction licences to 21 solar projects with a combined capacity of 133.56 megawatts as of mid-February 2023. The NEA has built a 25-megawatt solar project in Nuwakot and the private sector has built a 8.5-megawatt solar project in Manigram, Rupandehi, which means the concept of sustainable energy transition has already begun.
As the countries in the Ganges River Basin have become increasingly vulnerable to energy supply shocks, the transition to new renewables has become important, according to a study entitled Sustainable Energy Transitions in the Ganges River Basin carried out by the International Union for Conservation of Nature (IUCN) in collaboration with the Stimson Centre. If there is sufficient investment in a diverse energy portfolio, if Bangladesh, India, and Nepal provide the policy support needed to expand alternative energy resources like solar and wind, and if the projected prices of these alternatives continue to fall, then the pathway for renewable energy transition may accelerate, as it would be comparatively more affordable than hydropower projects. And more importantly, the new renewables will have a much lesser ecological impact.
---
---