Improved but unstable
While there has been an increase in news media outlets, there has also been a surge in fake news.

Shutterstock
bookmark
Published at : January 5, 2023
Updated at : January 6, 2023 07:41
Nepal has experienced tumultuous press freedom in the last two decades due to its socio-political upheavals from a monarchial to a republican state. The country transformed from a very difficult country regarding press freedom to one of South Asia's leading free press countries in 2022. The year 2022 was not much different from previous ones because there was some degree of optimism while also substantial challenges to the free press with repeated violations such as arrests, obstructions, threats, harassment, attacks, job insecurity, gender violence and displacement. According to the Federation of Nepali Journalists (FNJ) 2022 record, there were 22 cases of harassment and threat, 11 job insecurity incidents, and seven obstructions to access information. The nature and volume of incidents in the past two years were almost identical.
Continuous challenges
The failure to implement the Working Journalists Act was among the most alarming problems facing Nepali media in the last year. More than 500 working journalists complained to FNJ about their salaries, perks and unfair treatment during the year. Most of these complaints were related to big media houses, including Annapurna Post Daily, Nagarik Daily, Image TV, Avenues TV, Kantipur TV and Mountain TV. Similarly, state-funded media, such as Gorkhapatra and National News Agency, sacked stringers when governments changed and appointed new journalists loyal to the ruling political parties.
The Constitution of Nepal 2015 aims to foster press freedom and freedom of expression, but various government agencies tighten their grip on the media and journalists by enacting press-unfriendly laws and regulations to silence government wrongdoings and promote self-censorship. For instance, the Embassy of Nepal in the UAE played a crucial role in arresting journalist Umakanta Pande on February 15, 2022. Pande was kept in police custody in Dubai for 45 days for his social media post criticising the Embassy's functioning regarding visit visas and other anomalies. According to Freedom Forum, a media advocacy organisation, the embassy officials acted against Pande instead of protecting him in a foreign land by mobilising the local administration for his arrest and punishment.
On November 5, 2022, the Election Commission Nepal (ECN), going beyond its jurisdiction, ordered Setopati to remove a news report within 24 hours about Agni Kharel's family member, arguing that it could defame him, a candidate of the House of Representatives. Amit Dhakal, the Editor-in-Chief of the news portal, vowed to file a case against the commission, arguing that no government agency, except the Press Council Nepal (PCN), could take action against media coverage. Then, the Commission admitted its mistake, retracted its order and published an apology. Meanwhile, PCN sent a similar clarification note to the news portal for the same news, citing the same reason. The council also issued a clarification on October 20 in response to a cartoon in Nagarik Daily about former prime minister KP Sharma Oli's unfulfilled promises. Rabin Sayami's cartoon was neither critical in itself nor did it violate any ethical code. The PCN officials repeatedly acted in an unconstitutional and coercive manner, eroding public trust in its ability to protect the freedom of the press and the self-regulation of media.
The constitution also forbids the government from revoking media licences, closing media outlets, or seizing material based on printed, published, or broadcast content. However, vague terminologies used in the constitution such as "harmonious relations among ethnic groups, contrary to public health, decency, morality, public law and order" were the ground upon which different government agencies arbitrarily formulated laws and regulations to discourage criticism and unfavourable reporting. PCN, for instance, issued request letters to Nepal Telecommunications Authority and blocked more than 102 news portals and websites for not registering with the council or publishing fake news. In the same vein, ECN formulated an election code of ethics for the general election of federal and provincial governments and incorporated punitive measures to control journalists and media houses. Several provincial and municipal bodies, including Province 1 and Madhes Province, drafted press-unfriendly laws and bylaws and violated constitutional guarantees.
The slogan for Press Freedom Day 2022 was "Journalism under digital siege". This was particularly relevant for Nepal, where digital data is vulnerable and hard to protect. The content management system of Ukeraa, an online news portal, was compromised on December 1, and five stories about Rabi Lamichhane and Nanda Bahadur Pun's son were replaced with irrelevant information. Several journalists, including senior journalist Kishor Nepal, reported that their social media accounts were hacked or suspended due to their critical posts.
Degree of optimism
Despite the challenges mentioned above, Nepal has received global praise for its significant improvement on the Press Freedom Index (PFI) of Reporters Sans Frontiers (RSF), a global media watchdog. For the first time since RSF started examining such things in 2002, Nepal ranked 76 out of 180 countries last year, leaving all South Asian countries, except Bhutan, far below the index. However, the PFI improvement wasn't because of Nepal's observable changes in upholding a free press but because RSF had adopted a new methodological framework to assess the press freedom situation of any country. Had this improved PFI framework been adopted earlier, Nepal's international image with respect to the press freedom situation could have been significantly improved.
The next beacon of hope for Nepal's press freedom was its continuously expanding and vibrant media landscape, which distinguished Nepal as one of the most media-savvy countries in the world. As of 2022, the country published 963 newspapers (including dailies, weeklies, and fortnightlies), issued more than 1300 broadcasting licences (1130 radios plus 210 televisions) and registered over 3500 online news portals, many of which were in operation. However, most media outlets and journalists could be questioned for their unprofessional performance, ethical compromises, and financial sustainability.
Way forward
The press freedom situation in Nepal has improved, but it remains unstable. The country has been gradually developing a culture of tolerance against critical voices expressed in the news or on social media. Government agencies and political parties of Nepal often responded to public criticism of their policies and performances, even if the responses were not timely and adequate. While there has been an increase in news media outlets, there has also been a surge in fake news and a decline in the credibility of journalists and the media. During the election, low-credibility news blogs used fake news as their major weapon to promote or demote any political candidate. More effective and efficient monitoring mechanisms must be realised and implemented as soon as possible.
Government agencies at federal, provincial and municipal levels that did not directly deal with media and communications also started formulating regulations against journalists and news media to prevent unfavourable media coverage. This is bad practice. All stakeholders must be vocal about stopping such public relations stunts and lapdog journalism.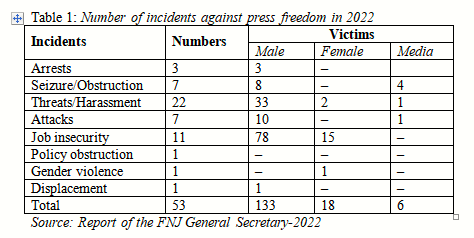 ---
---