Making fertilisers in Nepal
Producing mineral fertiliser by recycling waste is one way to address endless shortages.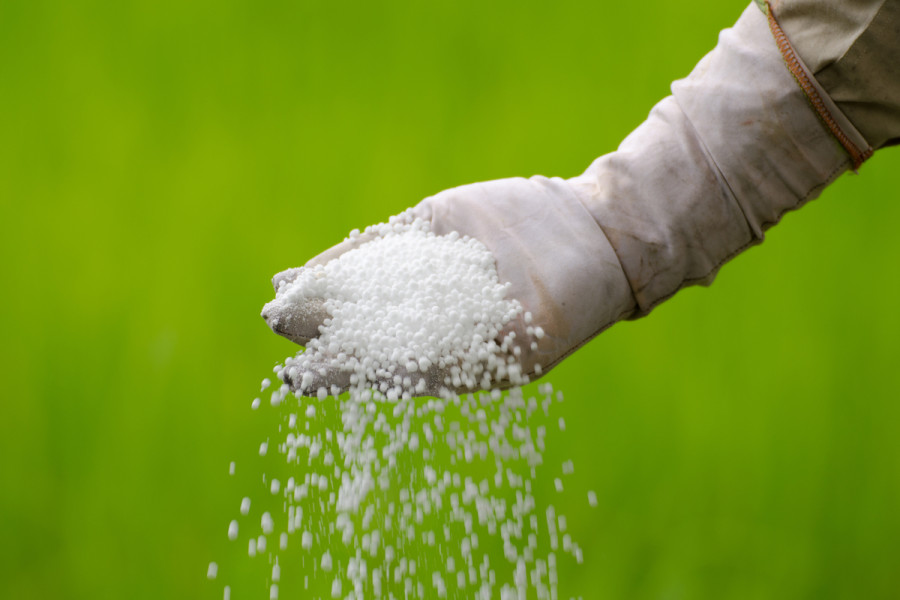 Shutterstock
bookmark
Published at : August 11, 2021
Updated at : August 12, 2021 07:21
Each year, the news about the lack of mineral fertiliser during the cultivation season makes headlines in Nepal. We don't have a mineral fertiliser manufacturing industry in the country yet, and almost every new government speaks about its priority and interest in building a fertiliser plant. In contrast to the government's interest, though, several studies, including one by the Japan International Cooperation Agency (JICA) have reported about the difficulties of operating a urea factory in Nepal. Thus, Nepal needs to look for alternative fertilisers to address perennial shortages.

Increasing human population, animal farming and poultry farming produce a significant amount of organic waste, which can be a good source for fertiliser production. Nepal produces about 154,000 tonnes of cattle manure every year, and its fertiliser value is similar to 669 tonnes of urea (nitrogen fertiliser) and 39 tonnes of DAP (diammonium phosphate) commonly known as phosphorus fertiliser. We produce a huge quantity of poultry manure every year with a fertiliser value equivalent to 95 tonnes of urea and 67 tonnes of DAP. Similarly, the fertiliser value of the organic waste produced all over Nepal annually is equivalent to 87,000 tonnes of urea and 21,000 tonnes of DAP.
Human waste is a good source of fertiliser. The fertiliser value of the septic waste produced in Nepal in a year is equivalent to 18,000 tonnes of urea and 4,100 tonnes of DAP. Similarly, we could produce 300,000 tonnes of ammonium sulphate fertiliser every year if urine is collected from the whole population. Only a negligible amount of human and household waste is recycled at a business level among these sources. Cattle and poultry manure production is growing in Nepal, but raw manure has a very small market.
Although we produce fertiliser in huge quantities, there are several constraints when it comes to using them. Some of the problems faced are: (1) Its bulk leading to high transportation cost, (2) Storage issues, (3) It is smelly to use (local people may complain of the smell), and (4) Untreated waste can pose a health risk. Due to these constraints, large-scale poultry and dairy farms are having a hard time managing their manure.
Production techniques
Composting is a good technique to convert organic waste into fertiliser. This technique is good from an environmental and agricultural perspective, but only composting is not economically sustainable. The most sustainable business model to recycle organic waste is using it in biogas plants. The plant produces biogas from organic waste, and it also produces slurry with a high nitrogen and phosphorus content. The biogas can be used for fuel and the slurry can be converted into high-value fertiliser. For example, the slurry from biogas plants can be dewatered, the solid portion can be dried, enriched with nitrogen and pelletised to make it a complete fertiliser. This process reduces the volume by 50-80 percent compared to traditional compost. Such pelletised organic fertiliser has a better market as it is cheaper to transport, easy to apply, and the farmer doesn't need additional plant nutrients. A similar process is being successfully implemented in Ghana. The dewatered liquid portion of the slurry can be treated to produce ammonium sulphate mineral fertiliser.
There are several techniques to produce fertiliser from liquid waste, but a liquid waste to mineral fertiliser production technique can be more beneficial for Nepal since we have high demand for mineral fertiliser. This technique captures nitrogen from the waste and produces ammonium sulphate fertiliser. This technique can produce 25 kg of ammonium sulphate fertiliser from 1,000 litres of urine or the liquid portion of biogas slurry.
Project implementation
Due to lack of subsidy guarantees, large business companies in Nepal are not engaged in the waste to fertiliser business. Small projects without a good business plan/business model, high investment cost and low-quality fertiliser production are the main reasons for the failure of waste recycling plants. For a successful waste to fertiliser business, a public-private partnership business model is important. For example, municipalities produce waste and they have funds for its management. The Department of Agriculture is responsible for managing fertiliser and they have the budget for this as well. So, they can work together in a waste to fertiliser project for mutual benefit. To implement this project, these agencies also need other resources which can be fulfilled by engaging the private sector such as biogas companies, compost companies, and urine to mineral fertiliser production companies.
To create a profitable waste recycle business, private companies need low-interest loans for investment and multiple streams of revenue. The waste recycling plant's investment cost and size depend on several factors, so it is important to do a feasibility study beforehand. A good biogas company can generate revenue amounting to Rs11,800 by selling biogas, Rs6,250 by selling pellet fertiliser and Rs2,670 by selling ammonium sulphate fertiliser by recycling 1,000 kg of organic waste.
For liquid waste management, a large amount of urine can be collected using portable toilets/urinals in crowded areas which is profitable. In Kathmandu, one portable toilet (urine collection) can make a profit of Rs25,000 per month (only from user fees). They can make more profit by producing mineral fertiliser from the urine. The mineral fertiliser produced from 1,000 litres of urine yields a profit of Rs665. The urine to fertiliser production business will increase when more urine is collected separately. This will happen when people realise that their urine is a resource used in the production of mineral fertilisers.
In conclusion, we have resources and good techniques developed by Nepali researchers to produce organic pellets and mineral fertiliser equivalent to 244,000 tonnes of urea and 33,000 tonnes of DAP. The successful implementation of this idea will help to make Nepal self-sufficient in fertilisers, which will contribute to a more robust agricultural sector and increased food security.
---
---