Dying to get home
Both Modi and Oli did not have the imagination and sensitivity to anticipate the hardships that migrant workers would face by the lockdown.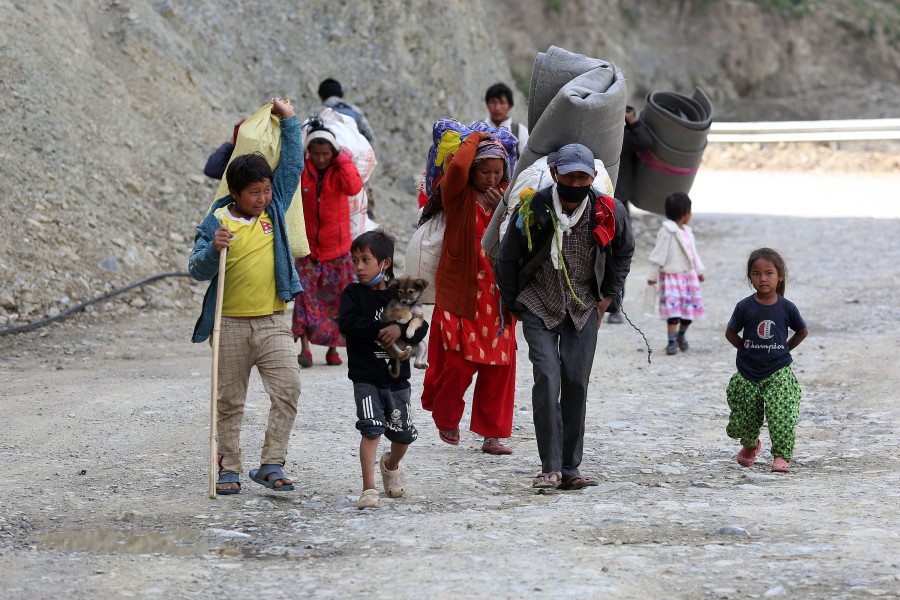 Post Photo: Kiran Panday
bookmark
Published at : April 22, 2020
Updated at : April 23, 2020 07:46
On April 15, a 12-year-old female migrant worker set out from the southern Indian state of Telangana to go home to her village in the neighbouring state of Chattisgarh. After three days and 150 kilometres of walking, she died one hour from her home village. On March 28, a 39-year-old migrant worker died in the Indian town of Agra, after walking 200 kilometres from Delhi. He was on his way to his village in the Indian state of Madhya Pradesh. When the India-Nepal open border was sealed, and Nepali migrant workers walked from Delhi to get to their home villages in Nepal, they were all herded and quarantined on the Indian side of the border. A man couldn't take it anymore and jumped into the fast-flowing Mahakali River that marks the India-Nepal border and swam across to the Nepali side only to be apprehended by Nepal security forces for violating the lockdown and border-sealing order by both Indian and Nepali governments.

These are, of course, extreme cases of day workers' daring and tragedy, but the exodus on foot of daily wage labourers from cities like Mumbai, Bengaluru, Delhi in India and Kathmandu in Nepal has become a daily feature in media reporting since both India and Nepal ordered a lockdown of their countries, within 4 hours of giving notice in India, on March 24. The lockdown has continued since.
No work, no food
Both governments asked everyone to stay where they were, and those who ventured out even by themselves for any reason were brutally beaten up by the police. When the crowd of workers swelled, they were let go to trudge hundreds of kilometres to their villages without food and water. In the cities, the government failed to make available food or pay rent, as they had promised. And in the absence of work, the daily wage workers had no means to stay in the cities and survive. And so, they left with bundles of clothes on their heads, young children on their shoulders, and at times, post-natal women in tow. A family from the hill state of Uttarakhand that stayed in Delhi had a baby born, but the mother survived under a tin shed on one meal a day, drinking water the rest of the time. Her breast milk dried up by the eighth day, and the tin shed had already become intolerably hot under the April Delhi sun.
India has a right-wing government of the Hindu nationalist Bharatiya Janata Party led by a self-proclaimed tea seller's son Narendra Modi. In his first parliamentary election in 2014, Modi made a big deal about selling tea as a boy to convince middle and lower caste and class voters to vote for him. And they did, and he became prime minister of the country despite his murky record as a provincial chief minister. He got re-elected in 2019 for a second term.
In Nepal, there is a communist government in Kathmandu led by KP Oli. The moderate and the Maoist communist parties merged right before the election and easily won a majority. Oli's communist group inspired by the Naxalites in India had begun their politics in the name of the working class by beheading whom they called exploitative feudal landlords in the 1970s. The Maoist faction of the Nepal Communist Party led by Pushpa Kamal Dahal (nom de guerre Prachanda the fierce) waged a 10-year insurgency (1996-2006) against what they called a feudal autocracy in the name of workers. In the conflict, 17,000 Nepalis died in the insurgency on both sides.
Yet, when both Mr Modi and Mr Oli imposed the lockdown within a few hours of their announcement, they had neither the imagination and sensitivity to anticipate the hardships that the migrant workers would face in the city nor the managerial acumen to prepare a supportive mechanism of the state to help the working poor of the cities with daily essentials and transportation. Like any Third World dictator, they proclaimed the lockdown and let the security forces do the rest of the job—arresting the poor, assaulting them with sticks, and killing a woman in the plains district of Saptari when she rushed to save her son from being beaten by the police.
Why have both Modi and Oli forgotten their roots, the former as a tea seller and the latter as top leaders of workers? While we can dismiss Modi's insensitivity as absorption by his right-wing party ideology, there is a more complex explanation of Oli and his comrades' blindness. If you look at the communist movement of South Asia where differences occur not just as a result of class but race, ethnicity, language, caste and region, you will notice that West Bengal had an electoral communist rule for 30 years; but the fundamental economic situation of the Adivasis and Dalits didn't improve much. Waging war and struggle in the name of the proletariat becomes another ladder for the high-status caste groups to reach state power.
In Nepal, the situation is worse. Much of the party leadership comes from the ranks of the upper castes, and despite many of their genuine secular and proletarian protestations, at heart they carry upper caste cultural values and practice ethnic chauvinism which disguises as Nepali nationalism. Even there Mr Oli has proven to be the worst for his acerbic tongue and Machiavellian tactics (as is clear from his recent ordinances to break parties and monopolise power in the constitutional bodies).
Sweet home village
Finally, why is it that the migrant wage labourers who leave their villages in Nepal and impoverished north Indian states and go to cities like Kathmandu, Delhi and Mumbai feel so desperate to come back to their homes when there is no work in the cities? In the cities, migrant workers lose their family, ethnic and kinship identities; they become just sources of manual labour for their employers. They live in slums and cramped surroundings. In their villages, despite the exploitation prevalent in agricultural work and humiliation in village caste structure, they have their families, huts, caste and kinship network, and therefore, social identities—and an open sky to breathe fresh air.
That's why we also scrambled to leave Kathmandu to go home whenever there was a long break from work. But these politicians who themselves have roots in impoverished surroundings and villages don't understand that because they have tasted state power, and they have come to enjoy the perks and privileges of power in the cities. And where there is privilege, there is home.
***
What do you think?
Dear reader, we'd like to hear from you. We regularly publish letters to the editor on contemporary issues or direct responses to something the Post has recently published. Please send your letters to [email protected] with "Letter to the Editor" in the subject line. Please include your name, location, and a contact address so one of our editors can reach out to you.
Frequently asked questions about the coronavirus outbreak
UPDATED as of September 22, 2020
What is Covid-19?
Covid-19, short for coronavirus disease, is an illness caused by the coronavirus SARS-CoV-2, short for severe acute respiratory syndrome coronavirus 2. Common symptoms of the disease include fever, dry cough, fatigue, shortness of breath and breathing difficulties. In severe cases, the infection can cause pneumonia, severe acute respiratory syndrome, kidney failure and even death.
How contagious is Covid-19?
Covid-19 can spread easily from person to person, especially in enclosed spaces. The virus can travel through the air in respiratory droplets produced when a sick person breathes, talks, coughs or sneezes. As the virus can also survive on plastic and steel surfaces for up to 72 hours and on cardboard for up to 24 hours, any contact with such surfaces can also spread the virus. Symptoms take between two to 14 days to appear, during which time the carrier is believed to be contagious.
Where did the virus come from?
The virus was first identified in Wuhan, China in late December. The coronavirus is a large family of viruses that is responsible for everything from the common cold to Middle East Respiratory Syndrome (MERS) and Severe Acute Respiratory Syndrome (SARS). After an initial outbreak in Wuhan that spread across Hubei province, eventually infecting over 80,000 and killing more than 3,000, new infection rates in mainland China have dropped. However, the disease has since spread across the world at an alarming rate.
What is the current status of Covid-19?
The World Health Organisation has called the ongoing outbreak a "pandemic" and urged countries across the world to take precautionary measures. Covid-19 has spread to 213 countries and territories around the world and infected more than 31,405,983 people with 967,505 deaths and 22,990,260 recoveries. In South Asia, India has reported the highest number of infections at 5,557,573 with 88,943 deaths. While Pakistan has reported 306,304 confirmed cases with 6,420 deaths. Nepal has so far reported 65,276 cases with 427 deaths.
How dangerous is the disease?
The mortality rate for Covid-19 is estimated to be 3.6 percent, but new studies have put the rate slightly higher at 5.7 percent. Although Covid-19 is not too dangerous to young healthy people, older individuals and those with immune-compromised systems are at greater risk of death. People with chronic medical conditions like heart disease, diabetes and lung disease, or those who've recently undergone serious medical procedures, are also at risk.
How do I keep myself safe?
The WHO advises that the most important thing you can do is wash your hands frequently with soap and water for at least 20 seconds or use hand sanitizers with at least 60 percent alcohol content. Avoid touching your eyes, nose and mouth with unclean hands. Clean and disinfect frequently used surfaces like your computers and phones. Avoid large crowds of people. Seek medical attention if symptoms persist for longer than a few days.
Is it time to panic?
No. The government has imposed a lockdown to limit the spread of the virus. There is no need to begin stockpiling food, cooking gas or hand sanitizers. However, it is always prudent to take sensible precautions like the ones identified above.
---
---