The cost of a pandemic
The real test for the government will be how it tackles the economic fallout of the pandemic.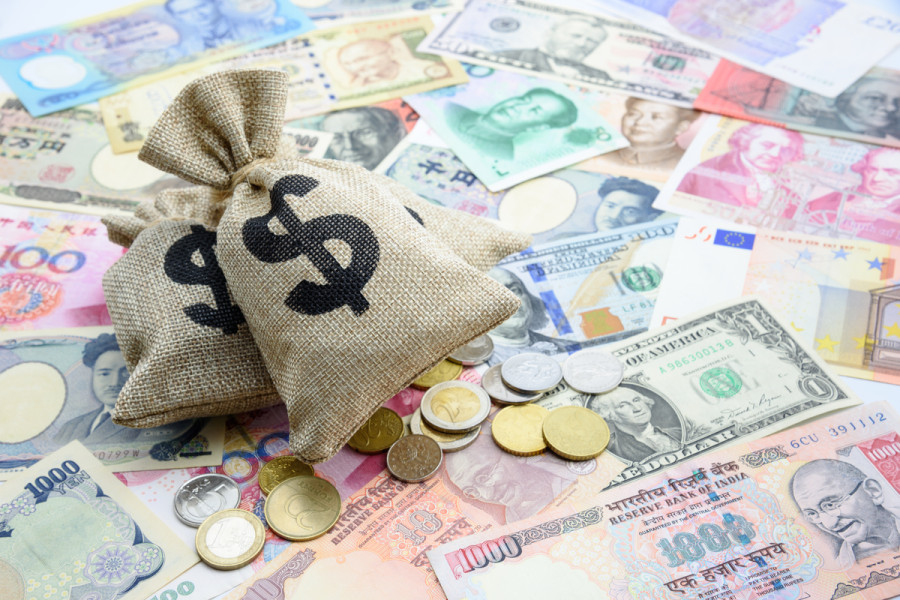 Shutterstock
bookmark
Published at : March 19, 2020
Updated at : March 20, 2020 08:19
The bar for the response to the Covid-19 coronavirus outbreak has been set so low by the world's richest and most powerful country, the United States, that almost anything is beginning to look better in comparison. That perhaps holds true for Nepal as well, with its incremental but decidedly slumbering steps towards containing the contagion. With only one confirmed case of infection more than two months ago and when even that sees a complete recovery, the only conclusion we can come to is we have been extremely lucky—so far at least.

First off, like many other countries, we, too, have to deal with rumours on what coronavirus is and how we can be safe from it. There are plenty of these floating around that people need to be disabused of. The World Health Organisation even has a webpage called 'Myth busters' dedicated to clearing the fog for people prone to being easily swayed by all kinds of theories that come their way. Of particular interest to us in Nepal who would have heard some variations are: i) 'From the evidence so far, the Covid-19 virus can be transmitted in ALL AREAS, including areas with hot and humid weather', and ii) 'Garlic is a healthy food that may have some antimicrobial properties. However, there is no evidence from the current outbreak that eating garlic has protected people from the new coronavirus'.
But the WHO would be no match for everything being passed around on social media, that most effective incubator of all kinds of unfounded stories and rumours. What is alarming though is that the WHO did not care to include among the 'myths' the supposedly magical properties of cow urine and dung that very influential people in India are peddling. It is a wonder that anyone pays heed to rants by charlatans that even promise to 'kill the novel coronavirus and end its effects on the world' through the performance of a yagya, as the current president of the Hindu Mahasabha announced more than a month ago (but has not got around to yet).
One does not know whether the WHO's silence is because it does not dare rile the current ruling party in India, among whom there are some who fervently believe in the therapeutic effects of bovine waste. But, for a UN body not to engage with an ill-founded belief that potentially has millions of takers in India, Nepal and beyond is incomprehensible. Hopefully, it is because the WHO considers the impact limited to a few fanatics and that most people do not take them seriously.
As India's neighbour and with a large proportion of the population who share that same faith in the sanctity of cow urine and would also readily like to believe in miracles associated with their own religion, these dangerous claims are something that our own government should work towards dispelling, especially when we have one that claims science as its very own. Admittedly, we do not as yet know everything about Covid-19 but there is no reason for the government not to have an official position on the dubious 'hypotheses' circulating such as Nepalis' supposed immunity towards such viruses because we have already 'digested' all sorts of virus and bacteria in our lifetime; the use of masalas in our food staves off the viral onslaught; inhaling dust has made our lungs stronger to be able to withstand any attack; etc. Only such certainty in our national invincibility can explain large social events still being hosted quite nonchalantly across the country.
This leads us to the recent plea by Deputy Prime Minister Ishwor Pokhrel, who heads the government response team against the coronavirus: 'In a situation of a pandemic of this kind, please let's limit our social and cultural activities for a few days'. Besides the refreshing clarity of his thoughts in the interview, Pokhrel appeared to rely more on the good sense of Nepalis to fight the virus and that included following social distancing on their own volition as well as putting an end to hoarding and black marketeering. Most tellingly, Pokhrel would not commit to using force to prevent the spread of the virus through measures such as lockdowns. One certainly hopes he was just being polite and that he would not back down when the time comes.
As to when that might be is still in the realm of speculation. But, sometimes even speculation can be undermined as in this somewhat misleading headline to an article by Dr Sher Bahadur Pun, a rising star in the field of epidemiology in Nepal: 'Corona Will Not Spread in Nepal!'. Dr Pun does assert that our testing methods are of international standards and that no new cases have been confirmed despite the continuous testing going on. For the rest, I can only imagine a zealous subeditor getting the gist of the article wrong but managing to contribute to the sense of Nepali bravado alluded to above.
The truth, however, is somewhat worrying. The update on coronavirus provided yesterday by the Ministry of Health and Population showed that a total of 512 people had been tested in Nepal so far and, apart from the one confirmation, all have been negative. The government initially had only 2000 PCR (polymerase chain reaction) testing kits, a number that has come down to less than 1500 now. What is also not well known is we are not in a situation of 'anybody who wants a test gets a test', as Donald Trump infamously and incorrectly claimed. In fact, there is a protocol to be followed for who gets the test based on WHO guidelines, which goes as follows: 'The decision to test should be based on clinical and epidemiological factors and linked to an assessment of the likelihood of infection. PCR testing of asymptomatic or mildly symptomatic contacts can be considered in the assessment of individuals who have had contact with a Covid-19 case'.
The number of daily tests being conducted is now up to 25 from the earlier eight, with 52 samples collected this past Tuesday. And, even at the rate the cases are growing, experts say the testing supplies will last a month. Apparently, new kits have been ordered and are expected to arrive within a week. We can only hope that they are right about the timing since any rapid jump in the number of cases is going to find the country quite flat-footed without any testing available.
Even without all these possibilities, the country as a whole is in for some tough times ahead, and there is a huge proportion of the vulnerable who may require more than a token help in withstanding the financial shocks likely soon. Large sections of the working population cannot work remotely, even wash hands as repeatedly as required, or avoid intermingling with others. The impact on the hospitality industry is beginning to be felt as will the inability of thousands who hoped to send remittances back home. The real test of the government will be in how it tackles the economic fallout of the pandemic. One can only hope against hope that the leaders in charge have some kind of plan in hand.
Frequently asked questions about the coronavirus outbreak
UPDATED as of September 22, 2020
What is Covid-19?
Covid-19, short for coronavirus disease, is an illness caused by the coronavirus SARS-CoV-2, short for severe acute respiratory syndrome coronavirus 2. Common symptoms of the disease include fever, dry cough, fatigue, shortness of breath and breathing difficulties. In severe cases, the infection can cause pneumonia, severe acute respiratory syndrome, kidney failure and even death.
How contagious is Covid-19?
Covid-19 can spread easily from person to person, especially in enclosed spaces. The virus can travel through the air in respiratory droplets produced when a sick person breathes, talks, coughs or sneezes. As the virus can also survive on plastic and steel surfaces for up to 72 hours and on cardboard for up to 24 hours, any contact with such surfaces can also spread the virus. Symptoms take between two to 14 days to appear, during which time the carrier is believed to be contagious.
Where did the virus come from?
The virus was first identified in Wuhan, China in late December. The coronavirus is a large family of viruses that is responsible for everything from the common cold to Middle East Respiratory Syndrome (MERS) and Severe Acute Respiratory Syndrome (SARS). After an initial outbreak in Wuhan that spread across Hubei province, eventually infecting over 80,000 and killing more than 3,000, new infection rates in mainland China have dropped. However, the disease has since spread across the world at an alarming rate.
What is the current status of Covid-19?
The World Health Organisation has called the ongoing outbreak a "pandemic" and urged countries across the world to take precautionary measures. Covid-19 has spread to 213 countries and territories around the world and infected more than 31,405,983 people with 967,505 deaths and 22,990,260 recoveries. In South Asia, India has reported the highest number of infections at 5,557,573 with 88,943 deaths. While Pakistan has reported 306,304 confirmed cases with 6,420 deaths. Nepal has so far reported 65,276 cases with 427 deaths.
How dangerous is the disease?
The mortality rate for Covid-19 is estimated to be 3.6 percent, but new studies have put the rate slightly higher at 5.7 percent. Although Covid-19 is not too dangerous to young healthy people, older individuals and those with immune-compromised systems are at greater risk of death. People with chronic medical conditions like heart disease, diabetes and lung disease, or those who've recently undergone serious medical procedures, are also at risk.
How do I keep myself safe?
The WHO advises that the most important thing you can do is wash your hands frequently with soap and water for at least 20 seconds or use hand sanitizers with at least 60 percent alcohol content. Avoid touching your eyes, nose and mouth with unclean hands. Clean and disinfect frequently used surfaces like your computers and phones. Avoid large crowds of people. Seek medical attention if symptoms persist for longer than a few days.
Is it time to panic?
No. The government has imposed a lockdown to limit the spread of the virus. There is no need to begin stockpiling food, cooking gas or hand sanitizers. However, it is always prudent to take sensible precautions like the ones identified above.
***
What do you think?
Dear reader, we'd like to hear from you. We regularly publish letters to the editor on contemporary issues or direct responses to something the Post has recently published. Please send your letters to [email protected] with "Letter to the Editor" in the subject line. Please include your name, location, and a contact address so one of our editors can reach out to you.
---
---