What can a mere prayer to Saraswati do?
Dalits and people from other castes must organise and ask for their right to an equitable education.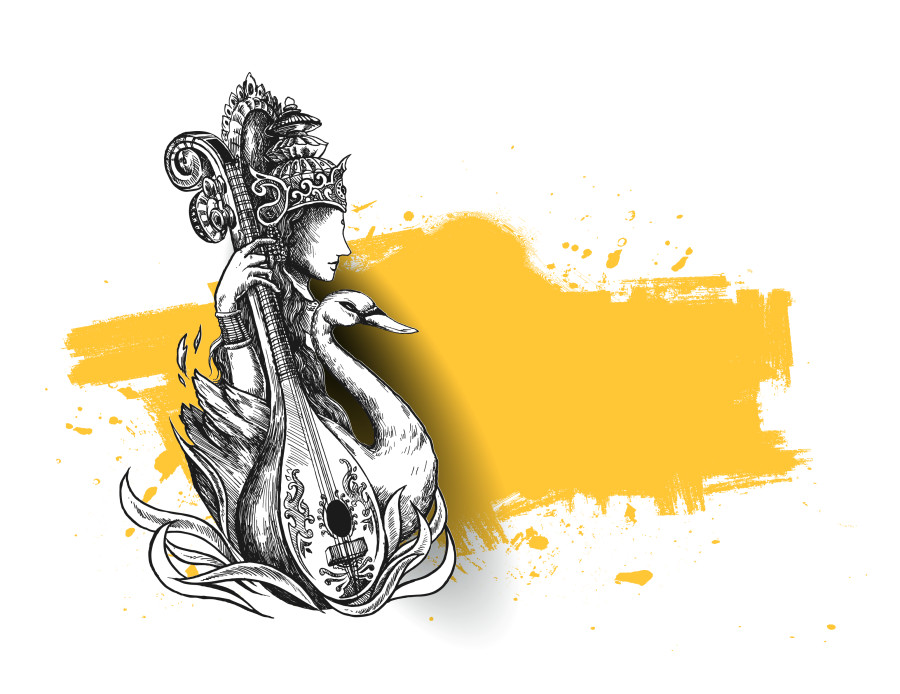 Shutterstock
bookmark
Published at : January 30, 2020
Updated at : January 30, 2020 10:35
Today is Basant Panchami, the advent of spring in South Asia. The season is said to mature in early March, in the form of the colour festival of Holi or Fagu. But more importantly, Basant Panchami is popularly celebrated as Saraswati Puja, the worship of the Goddess of Learning. Students in schools, colleges and universities all over Hindu South Asia build or buy painted and decorated clay idols of the goddess, invite friends and colleagues, share and distribute sweets and ask the goddess collectively or individually to bless them with learning. There are many Sanskrit prayers chanted on this occasion by both teachers and students that invoke the goddess's many virtues and praiseworthy traits, all ending with a prayer to the goddess to remove the devotee's ignorance and bless them with learning. You can thus call today the day of students, a day to pray for learning, for knowledge, and for higher intellectual pursuits.

Ever since my first day of school, I, like others, also placed a token book at the feet of the goddess and prayed for learning, and hopefully for some wisdom. I preferred this day than the day in October devoted to Laxmi. The recent attack on JNU students in Delhi by hoodlums reminded me of my college days. Even back then, in a provincial town, obtaining knowledge was not easy. Sloth, ignorance, and a surge of adolescent hormones were still a distraction, but they were inner disturbances for which we could pray to the goddess Saraswati for help.
But who could remove the external hurdles? The lack of finances, an entrenched caste system, the presence and control of hoodlums over the campus student union and college activities, and the college principal's lack of courage were powerful impediments. More so was the vision, or lack thereof, of the political leaders who ran the educational system to the ground. How would a mere annual prayer get rid of these external obstructions?
During my college days in India, on the banks of the Ganges, I had organised—as the General Secretary of the West Block Hostel—a grand celebration of Saraswati worship as a finale to the two years of struggle we had to endure to clear the hostel of hoodlums. On that day, on a tip-off, I had to have Central Reserve Police Force personnel stationed at the hostel so no miscreants could disrupt our otherwise peaceful, prayerful occasion.
I recall visiting the West Block Hostel many years later. The student who had in all likelihood occupied Room 100 (my old room) by foul means told me that the culture of the hostel that we had built had deteriorated. Then, a few years later, after hearing much praise from the Chief Minister of Bihar, I visited the hostel I had lived in for two years for my first graduate study programme. We had to wade through knee-deep garbage before I could climb up to the second floor whose ceilings had cracked and chipped off in many places, exposing the iron rods. How can a mere prayer to the goddess fix it?
And the male occupants of the rooms themselves? Well, they had come out like zoo animals, hooting and whistling, curious and excited to see me and a few female companions wading through the garbage. They seemed to have never had any visitors coming to visit, let alone male and female visitors together. How can a mere prayer fix the sexist, gender-segregated culture of the youth of Hindu India by a mere prayer to the female goddess?
After all these years, I have come to know a bit more the caste dimension of education in Hindu South Asia. Even though the worship of the goddess is open to all, the so-called upper castes, especially Brahmins, monopolised formal learning, especially learning of the books. The goddess has been a little too kind to them and listened only to their prayers. That control continues even today. The middle castes, those who were themselves derided not long ago in my hostel in India by the upper castes, have begun to copy their superiors.
Last December, in our travel through the plains of Nepal, Tula Narayan Shah and I visited a Dalit (Musahar) village in Province 2, where the stories I heard made it difficult for me to control my emotions. In the government primary school, near the village, the teachers (who came from the middle castes) discriminated against the Dalit children by saying all kinds of derogatory things about them and told them to play outside rather than teaching them lessons inside the school. The Dalit elders of the village felt utterly helpless, confronted as they were with such humiliating treatment by the middle caste teachers. Poverty brought about by millennia of social ostracism and discrimination itself was backbreaking, but this humiliating treatment on top of it all pushed the young and the old to despair. The village elder said, 'The kids do nothing but play at school; they play at home as well. At least, in the village, they are not being humiliated by their teachers.' Even the middle caste young woman from an NGO who used to visit the village to tutor the children allegedly questioned the purpose of educating these Musahar children. What can a mere prayer do to instil learning into the heads of these school teachers and tutors? And, more importantly, how can the goddess help these Dalit children overcome millennia-old deprivation and humiliation so they, too, can be blessed with learning?
A mere prayer can't do much. In the same village, as we were leaving, we saw in the morning chill three little boys with paper and pencil, concentrated on their task of deciphering the English alphabet—A, B, C, D. They were so focused, they didn't even notice us. Like these focused children, instead of praying, the Dalits must raise their voice and work hard to gain knowledge. They have to organise and demand justice. The young men and women of other castes can't just pray to the goddess for themselves. They need to pay attention to what their policymakers have been doing and demand accountability, creativity and innovation. Above all, they need to tell their politicians to stop making education a political affair. So, with prayer, some action and consciousness-raising would also help on this blessed day of Saraswati Puja.
***
What do you think?
Dear reader, we'd like to hear from you. We regularly publish letters to the editor on contemporary issues or direct responses to something the Post has recently published. Please send your letters to [email protected] with "Letter to the Editor" in the subject line. Please include your name, location, and a contact address so one of our editors can reach out to you.
---
---