Truck literature must survive—and thrive
The government wants to scuttle voices that puncture its narrative of 'Prosperous Nepal, Happy Nepalis'.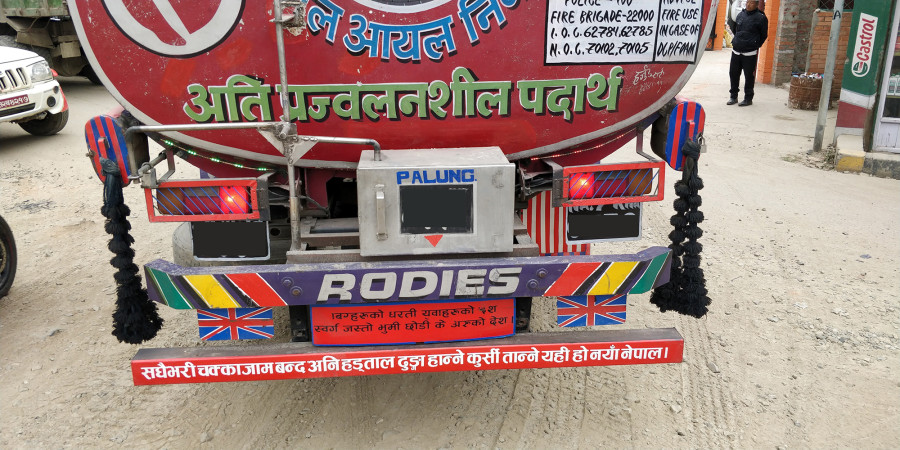 bookmark
Published at : January 6, 2020
Updated at : January 6, 2020 15:28
Late last week, Nepali Twitter was suddenly inundated with posts on truck literature. Those of us who have long relished this quirky genre of literature were instantly joyed to see Twitter being bombed by the hashtag #truckliterature. But it soon became clear that the twitter bombing was thanks to the Department of Transport Management's (DOTM) directive to transport professionals to get their vehicles cleared of 'slogans and quotations', which essentially means the removal of truck literature, with immediate effect.

DOTM director-general Gogan Bahadur Hamal was quoted by Setopati as saying that the move was to reduce the risk of accidents. He claimed that drivers had been distracted by truck literature, leading to accidents. Hamal's statement comes a few months after traffic police authorities asked their personnel to apprehend vehicles that carried truck literature as it was allegedly derogatory towards women.
In the first instance, the intention of both DOTM and traffic police authorities sounds indubitable. After all, no sane person wants to see accidents happen and women become a matter of ridicule. But in a country where accidents consistently occur due to road conditions and a lack of awareness of traffic rules among drivers, and civilian police fail to bring to justice the culprits of heinous crimes against women, blaming truck literature for road accidents and crimes is simply ludicrous.
Truck literature
For starters, trucks, while being means of freight transportation, are also sites for artistic and literary expression in Nepal and much of South Asia. Whereas Pakistani trucks are heavily decorated with psychedelic art characteristic of the Hippie age, Indian and Nepali trucks serve as sites of poetic expression. Mostly comprised of one- to four-line shayaris or muktaks, these expressions are often meant for humour, but they also document the contemporary dynamics of our society. Such poetic expressions, which originally formed a staple on the posterior of trucks and later spread to other forms of transport such as public buses, are generally identified as truck literature.
Truck literature reflects the truck driver's—and in some cases the owner's—struggle with notions of home, belonging, identity, loneliness, travel, faith, romance and life in general. It reflects the general aphorisms that people live by, often the sayings of great philosophers. Importantly, it provides truck professionals, especially drivers, with the agency to express themselves in a way that mainstream media and literary platforms cannot.
As a popular form of literary expression, it challenges canonical genres of literature and inspires writers to deal with the issues of contemporary concern, including migration, identity, unemployment and political economy. The thinking that writings inscribed on the back of a truck or a bus can't be literature is, thus, a result of the poverty of imaginative and interpretive skills among our bureaucrats.
This brings us to the fundamental 'lit-crit' question: What is the function of literature? Unlike the authorities who seem to be guided by a fallacy that literature is a didactic enterprise, literary critics would say that literature's function is mimetic. If literature is a clichéd mirror to the society, its mimetic function, then, is to merely reflect the mood of the society rather than tell how it should function.
The allegation by bureaucrats that truck literature is flourishing misogyny is thus based on a myopic idea of interpretation. If misogyny is to be discouraged—as it should be—the focus should be on its root causes and not its imitation. In any case, such 'misogynistic' writings have in the past few years been discouraged in mainstream media, and we can expect a milder version of truck literature—in regards with its representation with class, caste and gender—as the public discourse on the issue gains momentum. Meanwhile, bureaucrats may stop poking their noses into anything they consider subversive.
Shooting the messenger
Having said that, the general public might want to ponder why bureaucrats are going after something as seemingly inconsequential as truck literature. The bureaucrats are not the simpleton we may consider them to be when it comes to understanding what truck literature really entails.
It is, after all, not the distractive inscription or the misogynism of truck literature they are after. It is, rather, the content they are nervous about. And the reasons are in plenty.
Truck literature has in the past decade consistently punctured the narrative of a 'new' Nepal, with statements such as 'Nepal ta puranai theek thiyo' (Old Nepal was better than the 'new' one). It has challenged the grand narratives of nation, development and prosperity the current dispensation is feeding us with. It allows those from the lower strata of society to ask uncomfortable questions to the authorities. For a government that is obsessively concerned about projecting a positive image of itself among the masses, truck literature, with expressions such as 'Don't honk please, for my country is in deep sleep' are simply unacceptable. And with expressions puncturing the samriddhi narrative coming to the fray, the government is getting restive about any subversive ideas that puncture the government's image.
For a government that takes pride in exporting the country's youth to the labour camps of the Gulf, it is unacceptable that truck literature is showing what migrant work is really like: hardship, separation from home, loss of youth, and fractious relationships. It is this fear of the truth being exposed to a large public across the country on a daily basis that the government finds itself shooting the messenger rather than heeding the message.
Clearing out truck literature from the bumpers of public vehicles might just be the first step, though. Its next step could be to ask vehicle owners to paint the samriddha Nepal, sukhi Nepali slogan on the vehicles in place of truck literature, just as trucks in India's Haryana, for instance, are asked to get the state government's flagship slogan Beti Bachao, Beti Padhao painted, failing which they are often denied road permits.
It is not clear whether it is just the poetic expressions that are to be done away with or even the ubiquitous calls for safe driving such as 'Horn Ok Please' and 'Keep Distance'. The extent to which the recent directive is implemented could depend on the whim of the individual traffic police personnel that happens to apprehend the 'delinquent' driver. The DOTM's directive, which is in contravention with the truck professionals' right to free expression, needs to be rejected in toto. Importantly, as an alternative site of literary production, truck literature deserves serious literary-critical intervention rather than discontinuation, and deserves a special mention in the history of Nepali literature.
***
What do you think?
Dear reader, we'd like to hear from you. We regularly publish letters to the editor on contemporary issues or direct responses to something the Post has recently published. Please send your letters to [email protected] with "Letter to the Editor" in the subject line. Please include your name, location, and a contact address so one of our editors can reach out to you.
---
---