The current government is breathing down our necks
The Information Technology Bill will asphyxiate freedom of speech and expression.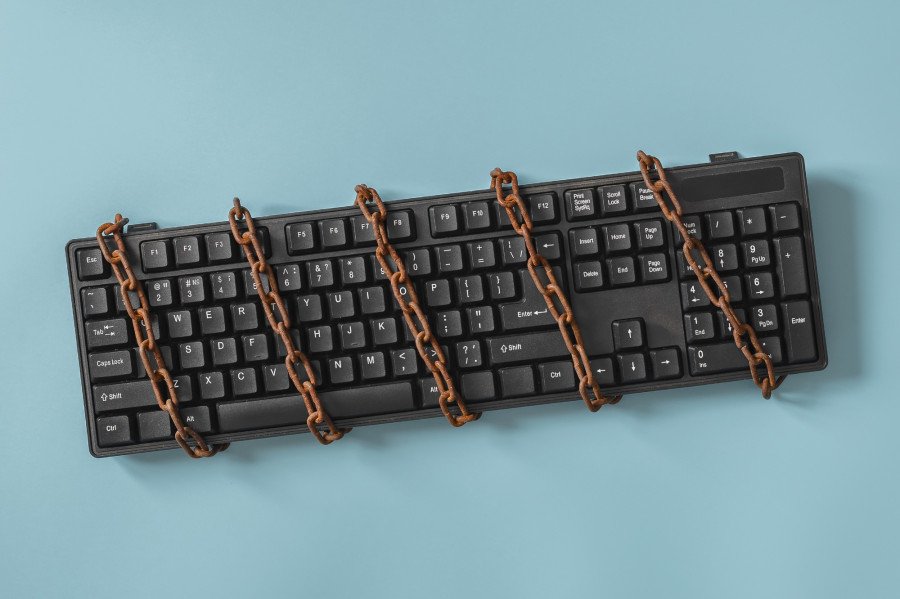 Shutterstock
bookmark
Published at : January 3, 2020
Updated at : January 3, 2020 08:57
We have been ruled by dynasts, monarchs, people from all across the political spectrum, and now by communists. And throughout these different regimes presiding over our country, the norm in Nepal has perpetually been of scrutiny, and openness has always been a mere exception.

In what is probably a watershed moment for online free speech in the nation, the Development and Technology Committee of Parliament passed the much controversial Information Technology Bill, only to add another toxic layer of durability to this custom of state policing.
With this, the government now has comprehensive authority to control one's behaviour on the internet, and what one even updates on his social media handle can subject him to five years in prison along with a fine of Rs1.5 million rupees. This prescribes for a far more draconian punishment than even for arguably graver crimes recognised by the General Offence (Code) Act 2017 (Muluki Ain). For example, even offences with the degree of causing destruction to a religious place, disrupting public peace, and acting against the public interest, safety and morality, and so forth entail a lesser degree of punishment. The chances are that you will be prosecuted for a lesser number of years in prison if you commit the same act in person than over the internet.
The joke's on you

To begin with, the definition of social media has been made broad to embrace all systems based on the internet and information technology used by a person or institution to interact, share or broadcast contents with each other. This includes all online platforms, from Facebook and Twitter to even private messaging applications such as WhatsApp and Messenger. Now, even a personal message sent by you to your friend sarcastically joking about the administration, or perhaps constructively criticising the leadership, could land you in jail because a particular someone from the government or bureaucracy was remotely offended by it.
These are not just a few decorative combinations of words, it's a piece of legislation that will be used by the establishment to persecute individuals it chooses to neutralise, which surely will have dire consequences. To put it in context, you will straightaway land in police custody for sharing something as harmless as a meme. You will be incriminated for something that would, in fact, have been laughed at.
Moreover, the bill holds strong ground that all social media platforms must be registered in Nepal, and will be stopped from operating in the event they are not registered. The government wants giants like Google and Facebook to register in Nepal, seemingly to bring these titans within the tax bracket. But with the absence of a detailed plan on its implementation, lack of homework and bureaucratic hassles, the government's ambition only seems like a farfetched dream.
The arbitrariness of the state is furthered by other provisions of the Information Technology Bill. The government has the authority to dictate any software, electronic instrument and system as being illegal. While the provision does not define what 'illegal' is, this is a lethal weapon in the hands of the government; and it can release this guillotine discretionarily on anyone it likes under the garb of their software or platform being unlawful.
The government can direct a social network operator to take down a certain content from the platform without requiring approval from the court. Our constitution entrusts the judiciary to make a final decision regarding the legality of a particular act. But the government has taken it on itself to perform judicial functions as well. This means that the government could snoop and conduct surveillance on anyone's personal data, and a citizen's right to privacy and freedom of speech in this supposedly democratic country will become a fictitious set of ideas.
Abstract term

The government has formulated this Information Technology Bill under the garb of maintaining public order and decency. But this term 'public order' is abstract. One can say that law and order are supreme, and public order is narrow. Mere disobedience of an unfair law does not account for disruption of public order. First, it is a miserable attempt by the government to unfunnily perceive public decency and morality through such a narrow lens. Our public order is not so fragile that it can collapse due to a meagre post on the internet. And at no times should a citizen's fundamental rights be curtailed by frivolously advocating for breaching public decency or morality. If the government deems our public order to be so delicate, it is the government that needs to be reminded of our constitutional and societal values, not the citizens.
This Information Technology Bill is a loud declaration by the government that it is coming for its citizens, and we cannot hide behind the shield of our right to privacy and freedom of speech. If a state is willing to incriminate its citizens for an internet post, one can only imagine what else it is hiding in its shadow. While Nepal passes this draconian law, it also becomes necessary, at the same time, to remember that our history—it bears testimony to the fact that this is also the very country where regimes have been toppled for viciously curtailing people's right to freedom of speech and expression; be it in 1951, 1990 or 2006. So, it is the government that needs to be careful with what it writes, not us.
***
What do you think?
Dear reader, we'd like to hear from you. We regularly publish letters to the editor on contemporary issues or direct responses to something the Post has recently published. Please send your letters to tkpoped@kmg.com.np with "Letter to the Editor" in the subject line. Please include your name, location, and a contact address so one of our editors can reach out to you.
---
---