Pollution from India unlikely to reach Kathmandu, but Nepal needs to deal with its own toxic air
With New Delhi and parts of northern India suffering under hazardous pollution levels, Nepal needs to take heed and prepare accordingly, environmental activists say.

Brick kilns are key polluters of Kathmandu. Post File Photo
bookmark
Published at : November 8, 2019
Updated at : November 8, 2019 08:38
Kathmandu
Basudev Paudel is in his late fifties and at his age, he believes that regular morning walks are important for keeping healthy. From his home in Kathmandu's Chabahil, Basudev's walks take him around Pashupatinath Temple and the Guheshwori area. Three members of the Paudel family followed suit, but they never gave much thought to the quality of the air they were breathing in.

Sunil Paudel, Basudev's son, stopped going on morning walks last year after learning that Kathmandu's air quality was reaching unsafe levels. Rather than benefits, morning walks could have serious health impacts, Sunil said.
The air in Kathmandu, already dubbed one of the most polluted cities in the world, gets worse once the winter sets in. And with reports of India's north and its capital New Delhi struggling with extreme air pollution, Sunil wonders how much worse the air will get this winter.
"This year, I have already started feeling different. At times, it feels like my eyes are burning," said 34-year-old Sunil. "I have started wearing a mask whenever I'm outdoors."
Since the festival of Diwali ended last week, the air quality in New Delhi has drastically deteriorated, resulting in air pollution levels reaching nearly 10 times healthy limits. The government has declared a public health emergency, asking schools to shut down and residents to avoid outdoor physical activities, especially during morning and late evening.
There is now growing fear that the toxic air of India, which had 22 of the world's most polluted cities in 2018, will reach Nepal and cause a similar health panic, especially as the country itself has been struggling to check its air pollution levels.
Barun Poudel, a senior meteorologist at the Meteorological Forecasting Division, says that the chances of pollution travelling as far north as Kathmandu from Indian cities are slim, but that Nepali cities bordering India have already seen some impacts.
"Southwesterly winds have carried in some clouds with dust particles, mainly in the western parts of Tarai districts like Kanchanpur, Banke and Bardiya," Poudel told the Post. "Such particles will not reach Kathmandu because it is surrounded by hills. Air pollution on the Nepali side is mostly locally generated."
According to Poudel, the pollution level in the border towns of Uttar Pradesh and Bihar can slightly influence pollution along the border area.
"Local pollution in Nepali border towns with high vehicular emissions and industrial pollution could increase due to pollution coming from across the border," he said.
According to the World Air Quality Report, Kathmandu is the seventh most polluted capital city in the world, based on its average yearly PM2.5 level. The same report ranked Nepal the eighth most polluted country in the world.
According to AQ AirVisual, a Swiss group that collects air-quality data from around the world, the annual average PM2.5 level for Kathmandu in 2018 was 54.4 micrograms per cubic meter (μg/m3), an increase from 45.9 μg/m3 in 2017.
AQ AirVisual, on Thursday, also ranked Kathmandu the ninth most polluted city in the world, with PM2.5 levels reaching 139 μg/m3—the level at which the air becomes unhealthy for sensitive groups, as per the United States Environmental Protection Agency (EPA) Air Quality Index.
PM2.5, or Particulate Matter less than 2.5 microns thick, are among the most dangerous of air particles as they can get past the nose and throat to enter the lungs and even the bloodstream. Since PM2.5 are so small, they are also likely to hang in the air for longer, increasing the chances that they will be inhaled.
"Air qualities in cities like Birgunj, Nepalgunj and Bhairahawa get worse due to local air pollution, supported by stagnation of air in this season where there is an inversion of temperature, a reversal of the normal behaviour of temperature in the troposphere," said Poudel, the meteorologist. "We see fog in the morning and haze in the afternoon due to local dust pollution in the winter season."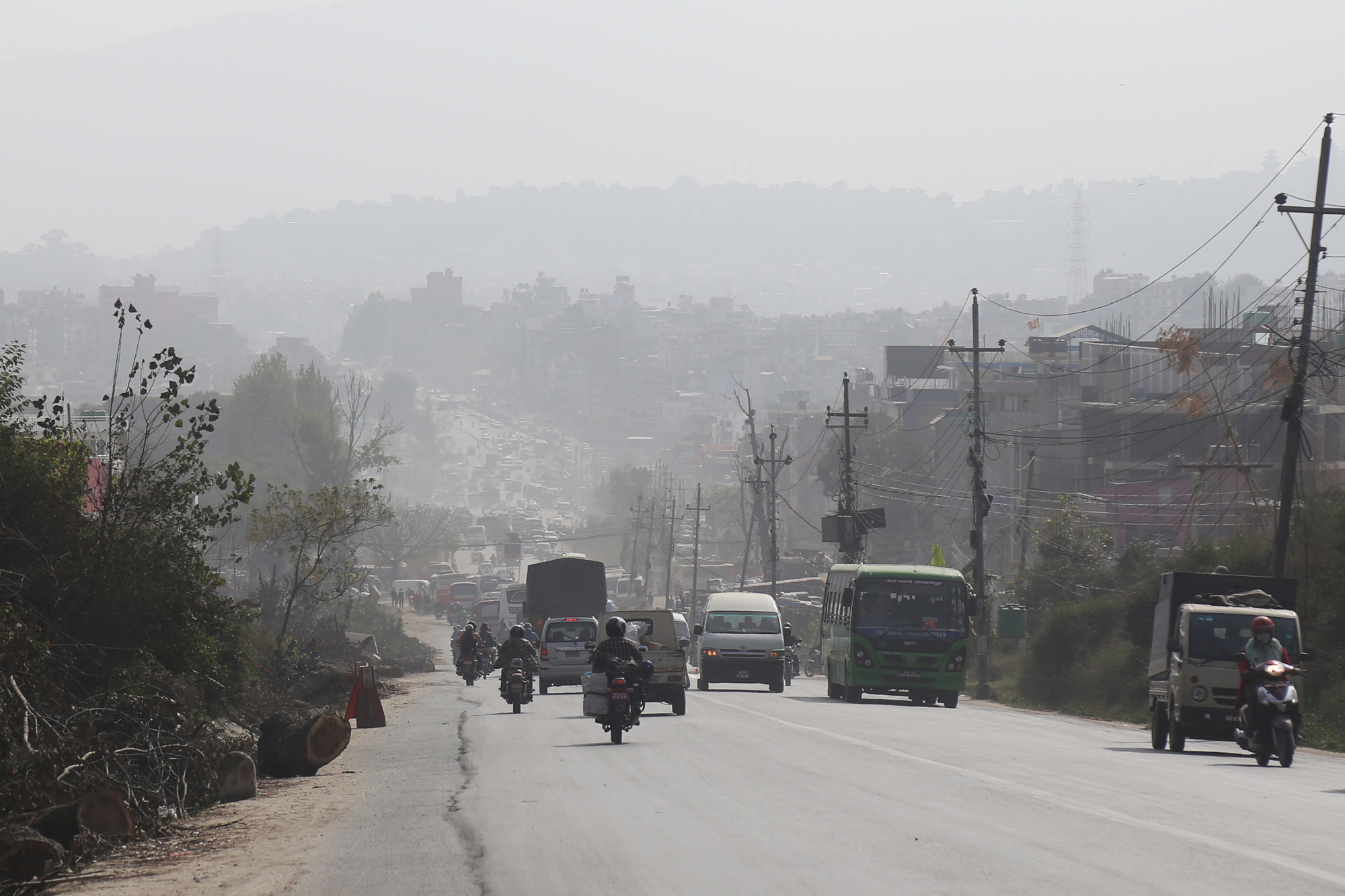 A blanket of smog hangs over Sitapaila area in Kathmandu on Wednesday. Kabin Adhikari/TKP
Bhushan Tuladhar, an environmentalist who closely watches levels of air pollution in the country, agrees that there is a minimal chance of pollution from Delhi and northern India reaching Kathmandu, although cities in the Tarai are already dealing with poor air quality coming from across the border.
"But there is a difference between the nature of air pollution in New Delhi and Kathmandu," said Tuladhar. "New Delhi has seen a sudden spike whereas Kathmandu witnesses a gradual increase in pollution level starting from November and reaching peak levels in January."
As AQ AirVisual data shows, PM2.5 levels in Kathmandu saw a continuous rise last year—from 65.6 μg/m3 in November, followed by 91.9 μg/m3 in December, 92.5μg/m3 in January and peaking at 96.3 μg/m3 in February.
In recent years, cities in the Tarai have become infamous for the poor quality of their air, mostly because of the heavy presence of industries, dust from construction, and also trans-boundary pollution. However, the vast portion of pollution is generated locally.
PM2.5 levels of 403.72 μg/m3 were recorded at 7pm on November 4 in Nepalgunj, the highest for the country in the past week. This level is considered hazardous, and can lead to "serious aggravation of heart or lung disease and premature mortality in persons with cardiopulmonary disease and the elderly, [along with] serious risk of respiratory effects in general population", according to the United States Environment Protection Agency. On Wednesday, the daily average PM 2.5 level for the western city clocked around 200, which is deemed "unhealthy".
According to the 2017 Air Quality Management Action Plan for Kathmandu Valley, the transport sector contributes over 30 percent of total suspended particles (TSP), or 20,072 tonnes, into the air. The transport sector further contributes 30 percent of PM10 particles, which are smaller than a grain of sand and can easily pass through the hairs in our nose, second only to the construction sector, which emits 53 percent of the total PM10.
"Every year, we witness a surge in air pollution during the winter season. Factors contributing to this level of pollution are local," said Shankar Prasad Paudel, information officer with the Department of Environment. "Trans-boundary pollution can affect our air quality too as Uttar Pradesh and Bihar, connected to Nepal, are also polluted. But poor air quality from as far as New Delhi cannot penetrate deep into Nepal."
UNICEF, on Wednesday, issued a statement calling for urgent action to address this air quality crisis in South Asia. And even though the nature of pollution in New Delhi and Kathmandu is varied, Nepal needs to learn to deal with its own toxic air. According to Tuladhar, New Delhi was able to immediately swing into action because it had an action plan to deal with the crisis.
"We need to be extra careful because by the time we reach peak pollution levels, we will be gearing up to launch Visit Nepal 2020," said Tuladhar. "We can develop our own action plan to combat air pollution and also introduce other measures like enforcing green stickers for vehicles, among many others."
In 2017, the Department of Environment had drafted an action plan to tackle the deteriorating quality of air in Kathmandu Valley. However, two years later, the action plan has neither been finalised nor enforced.
In Chabahil, Sunil remains concerned for his father's health, who continues to take his walk despite the morning haze.
"If there is any health advisory from the government, our family will stop going on regular morning walks," said Sunil. "But so far, the government has done almost nothing to control air pollution."
---
---