Thin polyethene bags are illegal in Nepal, but they are still everywhere
In Nepal, one is restricted to consume, import, store, sell and distribute polythene bags, but there are no bans on manufacturers. They are still making more plastic.

Polythene bags whose thickness is less than 40 microns and size is smaller than 20 by 35 inches are illegal yet ubiquitous. Beeju Maharjan/TKP
bookmark
Published at : September 4, 2019
Updated at : September 4, 2019 07:44
Kathmandu
In Ason, pedestrians openly carry plastic bags. These bags—thin, translucent and mostly blue—are used to carry daily essentials, and have always been ubiquitous in Kathmandu. They're waterproof, light, cheap, and versatile.
But Nepal banned polythene bags in 2015. Due to the excess usage of plastic in Kathmandu Valley, one is restricted to consume, import, store, sell and distribute polythene bags whose thickness is less than 40 microns and size is smaller than 20 by 35 inches. Outside the Valley, the ban is applicable to plastic that is thinner than 30 microns. And despite the 2017 budget speech reinforcing the ban and fining people anywhere between Rs 500 to 50,000 for using the bags, polythene bags continue to litter Kathmandu Valley.
"It felt as if the ban was no longer in operation for a while," says bookstore owner Geeta Shrestha, who had stopped providing polythene bags for nearly seven months following the ban. But around then customers started asking Shrestha for a plastic bag and many shops in her neighbourhood started offering them. Following the demand, shop owners like Shrestha had to resort to using plastic bags. Now, Shrestha has a stock of 30 micron bags at her store.
"I only give plastic bags to people who specifically ask for them, otherwise some have started carrying their own bags," says Shrestha.
However, as long as plastic bags are freely available in the market, people will still use them, say consumers. Even people who are aware about the negative consequences of plastic consumption don't think twice before grabbing a bag they're handed for free at shops.
"It's easier to use plastic bags over other alternatives," says Pradeep Baishnav, who is seen carrying packs of plastic bags inside a nylon bag. "But maybe if the government had been strict like it was a few years back, we could have eliminated it from daily use."
To curb the use of plastic bags, the Department of Environment says it has come up with television and radio advertising campaigns.
"We want to make people aware of the negative consequences of plastics and provide alternatives as much as we can," says Indu Bikram Joshi, deputy director of the Department of Environment. "Once we have done our job of providing adequate alternatives and information, we plan to strictly enforce the law."
Back in 2015, immediately after the government's ban was enforced, proper monitoring of plastics was done in and out of the Valley, especially at the factories. According to Rajeshwor Poudel, an environment inspector with the Department of Environment, 20 factories, retailers, and wholesalers within the Valley were fined for breaking the law. Four-thousand kilograms of plastic was confiscated.
In terms of regulation and enforcement, however, the department puts the onus on local governments. For that, the department expects local governments to collaborate with them.
"The ban was implemented but there wasn't proper discussion about alternatives," says Ishworman Dangol, spokesperson of Kathmandu Metropolitan City.
Regarding proper monitoring, KMC realises and takes full responsibility for its weakness. "We do lack consistent monitoring. So we intend to concentrate on it as well," adds Dangol.
This flies in the face of recent social media outrage surrounding the proliferation of plastic bottles from Coca-Cola, with many criticising the beverage company for introducing a product that's hazardous for the environment. Efforts have also been put in place for the enforcement of the recently declared single-use plastics ban in the Everest region, which is to take effect from January 2020, but not much effort is seen when it comes to enforcing a ban on plastic bags in the Valley.
According to spokesperson Dangol, a new law is being formulated and the local government is awaiting for those laws to be passed. Dangol says there are plans to discuss how laws can be implemented and that the KMC is looking for viable plastic alternatives.
Plastic, which originally meant "pliable and easily shaped", is one of the most widely used synthetic polymers globally. By 1979, polythene bags were widely consumed in Europe and were being shipped to the United States. In Nepal, by the early 1990s, plastic bags were beginning to replace their older alternatives, such as paper and jute bags.
However, after decades of its ubiquity, in 1997, concerns about polyethene being hazardous for the environment and health surfaced, because they fall under the 'number 2' recycling system—meaning the polymer structure won't break down even under extreme exposure of sunlight, heating or freezing. Polyethene bags take 10-100 years to photodegrade.
Bangladesh was the first nation to restrict single-use plastic bags in 2002, after polythenes clogged the nation's drainage systems during heavy flooding. Following the country's decision, other countries took similar decisions. Today, many nations have forbidden the consumption of single-use plastics—even neighbouring country China implemented a ban on thin plastic bags to battle "white pollution" in 2007 and India aims to eliminate all single-use plastics by 2022.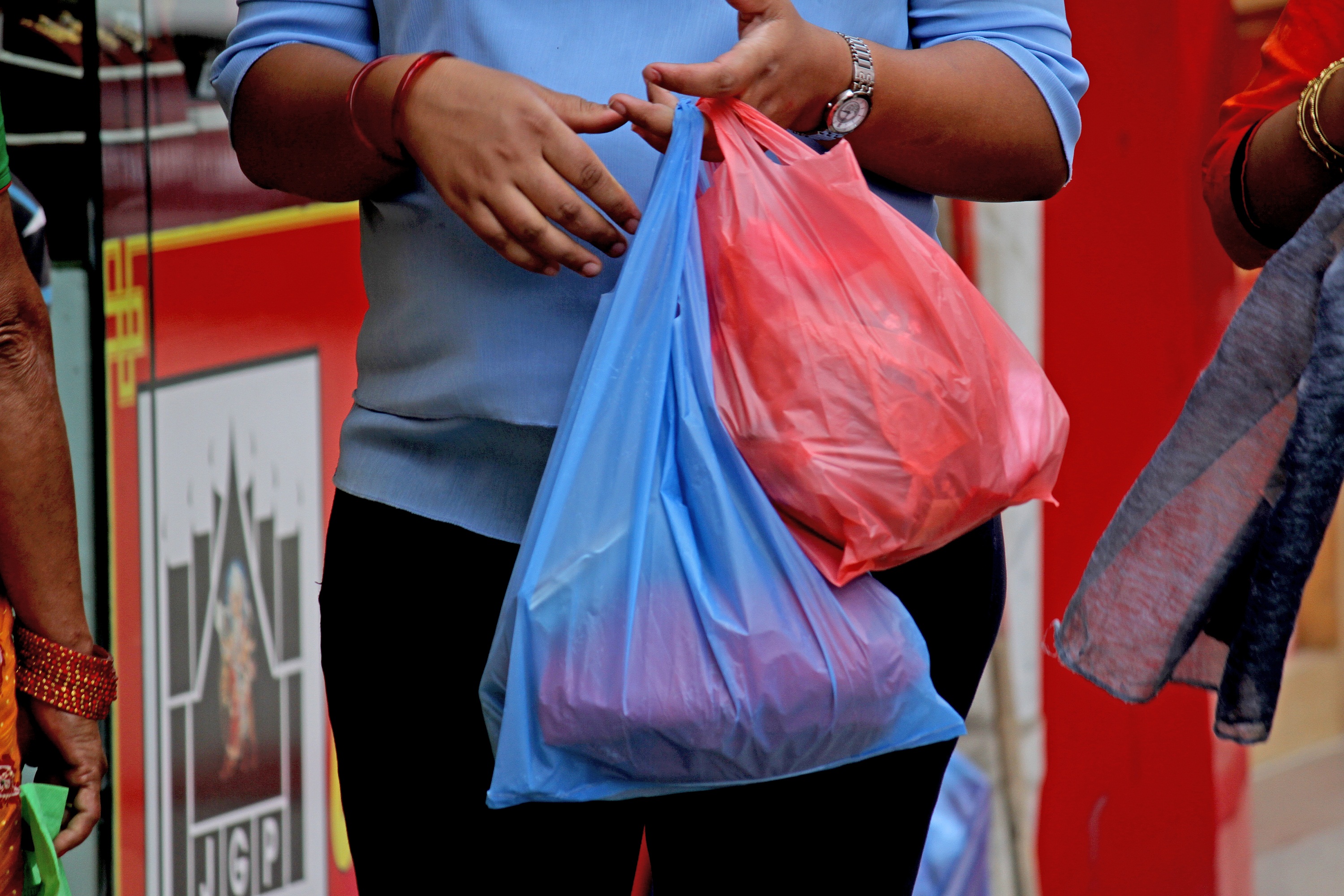 Beeju Maharjan/TKP
Nepal too has made several attempts to ban plastic bags, besides its Kathmandu ban in 2015. Hetauda took the lead, in 1998, followed by Pokhara in 2010. Kathmandu Metropolitan City had made its first effort to reduce plastic use in 2013, but it was forcefully withdrawn when the Supreme Court's buckled under Nepal Plastic Manufacturers' Association lobbying.

But with the 2015 ban being quite tricky, plastic retailers and wholesalers are often left confused: they don't know whether the plastic they purchase is legal to use or not, as many plastic bags don't come with proper labels.
"When we buy the plastic, suppliers sell it to us saying they're 40 microns," says plastic retailer Raj Kumar Shrestha. "We don't check the products properly when we're buying them and it is only later that we realise that they're 20 microns thick. I haven't seen an actual 40 microns plastic bag being supplied."
Why thickness matters is because: plastic bags with higher thickness could be recycled in the future; however, the thinner the plastic becomes, the slimmer its chances of being recycled. According to the Department of Environment, in the Valley there are plenty of plastic bags that breach the law. In some places, even bags under 10-20 microns are seen in use.
Nepal Plastic Manufacturers' Association President Sharad Sharma claims the association's plastic companies have been producing bags over 30 microns thick.
"Since June 5, 2018, as amended in the law, we have been manufacturing polyethene bags thicker than 30 microns," says Sharma. "We haven't been making plastics lower than that."
Sharma says the government has allowed the sales of plastics thicker than 30 microns, but the Department of Environment is still adamant to the initial law that clearly states that those bags can only be used outside of the Valley.
According to Sharma, illegal plastic import comes from China and India—where they have apparently been banned. "But even in Nepal, there are factories that are still creating plastic less than 30 microns for their profit," says Sharma. "Many are not even registered as legal companies and there are also some illegal import from our neighbouring countries."
Department of Customs' data only contains a total value of plastic imports, rather than a comprehensive data of all plastic goods—especially when plastics with certain measurements are banned. But with a law that has forbidden almost all the activities related to plastic bags, having the root of the issue still in action has made it difficult to contain the use of plastic, says the Department of Environment.
"We have a strange law: everything is banned but the production is still ongoing," says Poudel. "Without the production issue being resolved, we can't solve the problem efficiently."
Plastic bag retailers, wholesalers, and consumers echo the same voice. According to vendors, polythene bags only constitute 10 percent of their profit from some plastic shops. Even when they had stopped selling the bags, it didn't create much of an impact in their economy.
"I only started selling again due to the demand in the market," says Manika Sthapit, who sells plastic goods. "But it doesn't add much to my business, I don't mind if it's banned."
The price of plastic bags depends upon weight and quality. One hundred 30 micron plastic bags equates to one kilogram, which goes for Rs 250. For thicker plastics, the quantity decreases for the same price. If a thinner plastic is made up of pure HM grains, it can be more expensive than a thicker looking plastic made by alteration.
According to Sharma, many plastic bags manufacturers have closed since 2015. But for large manufacturers, even if plastic bags are their secondary priority, it is not easy to stop production. Many have taken loans to pay for their investment in the business.
"It's also hard for us to shift into another business right away," says Sharma. "If the government ensures to compensate all of us for our investment, we can also head to other alternatives."
But even after the government of Nepal's strict law was implemented nationwide, it seems to be failing or has only been able to make only a little impact that gets overshadowed by the widespread use.
According to Sharma, plastic manufacturers have asked the government to lease open land for a recycling junction. Although Sharma says officials sounded interested, the association has not heard from them since. Sharma says he plans to push affiliated companies to include proper labelling on their plastic bags to provide accurate physical measurements.
In terms of creating ideological change, everyone is interested and supportive of abandoning the use of plastics, says 22-year-old activist Hardik Subedi. But when it comes to implementation, there are few who have made concerted efforts—plastic bags still litter the country and people still want to use them. And while some seek large scale changes, the situation seems to remain the same—plastic bags reign supreme.
---
---