Books paint an accurate picture of society
Writer Mahesh Karki Kshitiz discusses his preference for literature that addresses social issues and his passion for using poetry to express concerns about societal challenges.

Keshav Thapa/TKP
bookmark
Published at : September 6, 2023
Updated at : September 7, 2023 10:51
Writer Mahesh Karki Kshitiz recently came out with the second edition of his book, 'Eklo Maharathi', which is a compilation of poems released in 2015. Karki, who is a Bhojpur resident, holds a master's degree in Nepali and is nearing the completion of his PhD programme on Nepali Upanyas of Body Politics. He is an educator at Himalayan White House College and Urbana School of Science and has been teaching Nepali and social studies to high school and bachelor level students for almost a decade. Karki is also set to release his new novel and a volume of 'Byawarik (critical) criticism' in the near future.

In this interview with Post's Rukusha Giri, Karki discusses his preference for literature that addresses social issues and his passion for using poetry to express concerns about societal challenges.
Did you grow up in an environment that encouraged reading?
Throughout my childhood, I had a strong affinity for media, particularly FM radio, newspapers and books. Fortunately, I grew up in an environment that encouraged me to cultivate my passion for consuming media—especially reading. Both my parents and teachers at my school pushed me to read a lot of books.
My father was an excellent storyteller, often reciting poems and narratives that captivated my attention. An example I still remember vividly is the story of 'Shishir-Basanta'. Teachers at school were also instrumental in fueling my passion for writing and poetry. Their support and encouragement inspired me to participate in writing competitions, where I often placed first or second. Thanks to the positive reinforcement and nurturing environment I experienced during my formative years, I developed a strong foundation in reading and writing.
How did you decide on this profession?
I grew up in Bhojpur, where opportunities to explore my passion for writing were limited. While I received praise for my writing skills there, I felt they needed improvement. When I moved to Kathmandu for further studies, I realised that I needed hone my writing more. So, I embarked on a journey of self-discovery and improvement, understanding that reading is the key to becoming a better writer. During this time, I discovered that one could choose to become a professional writer, a realisation that changed my perspective.
Over the years, I have transitioned from being a reader to facilitating reading for others. I also accomplished my dream of becoming a full-time educator and writer of creative literature.
Which genres do you enjoy reading and which ones do you tend to avoid?
I'm more inclined toward reading poetry than novels and other books. I find that the brevity of poetry can convey a wealth of knowledge in just a few paragraphs. However, I do occasionally delve into novels and books that combine practicality and intrigue. When it comes to choosing a genre, I prioritise those that address social issues over fictional love stories, poems, and novels. Our society faces various challenges related to issues like rape, violence, and gender discrimination, and I believe that poetry and novels are effective mediums for understanding and addressing these concerns.
I use poetry to express my concerns about social issues because I like its concise format. However, I lack experience in writing fiction and poetry, mainly because my exposure to these genres through reading has been limited.
What do you explore in your work?
My written works reflect my personal experiences, particularly those pertaining to the era of great change. During this time, we faced significant discrimination, as well as a period of monarchic rule. Whether writing poetry or prose, my goal is to use my experiences to educate readers about historical events. My poetry focuses on the centralisation of cities and how this has impacted our original existence. I also delve into the lives of real individuals and their hometowns. Overall, my works cover a diverse range of topics, making them a valuable resource for those seeking knowledge on various subjects. Through my works, readers can learn about the present social issues about family, society and country.
What is a book that you wish your younger self had read?
Like I said, access to books and newspapers was scarce in Bhojpur. However, when I traveled to Kathmandu for work, I would bring back a stack of books to read. One book I was particularly eager to read was 'Radha', which wasn't available in my hometown. It wasn't until I came to Kathmandu for my education that I finally had the chance to read 'Radha', offering me a unique perspective on the character. I feel like I understood the 'Mahabharat' more after reading the novel. I feel like younger me would have enjoyed reading this even more.
Mahesh Karki Kshitiz's book recommendations
Madhabi
Author: Madan Mani Dixit
Publisher: Sajha Publications
Year: 1983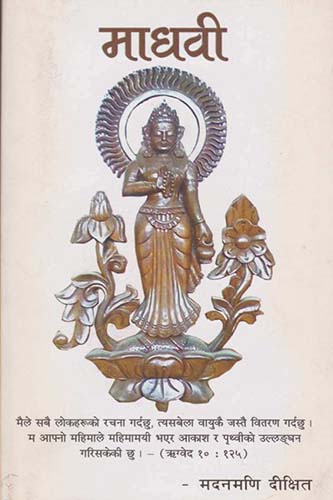 Madhabi was honoured with the Madan Puraskar for its authentic portrayal of women. Some may find its language difficult. I think it is something everyone should read to understand Nepali society better.

Paribhasit Aankha Haru
Author: Parijat
Publisher: Phoenix Books
Year: 2017/18 (revised)
Parijat's best work tells the story of a young girl's determination and perseverance. The novel also portrays the strong bond between a father and daughter. I highly recommend reading this particular novel by not just for its plot but also for Parijat's beautiful writing.
Radha
Author: Krishna Dharabasi
Publisher: Pairavi Book House
Year: 2005
This is probably one of my favourite books to read. It comprehensively covers the essence of Radha and Krishna's story narrating it from Radha's perspective. It is an insightful exploration of her character, offering a fresh perspective on the story.
Ular
Author: Nayan Raj Pandey
Publisher: FinePrint Publication
Year: 1996
The book Ular is a short but powerful read, as it chronicles the political journey of a individual from Madesh. While it can be finished in one reading due to its brevity, the story holds great significance and is very impactful.
Sumnima
Author: Bishweshwar Prasad Koirala
Publisher: Sajha Publications
Year: 1969
Sumnima is a literary masterpiece that amalgamates the Brahmin and Rai cultures, highlighting both their differences and shared values. The novel offers a well rounded portrayal of Nepali society.
Lato Pahad
Author: Upendra Subba
Publisher: Phoenix Books
Year: 2015
For those seeking comprehensive knowledge of eastern Nepal, Lato Pahad is a must-read. This book details the region's culture, history, and other aspects in-depth.
---
---