'Agni' was a turning point in my life
Naba Raj Lamsal, a radio journalist-turned-poet, is one of the few authors who write 'kavya', a genre previously honed by literary legends like Laxmi Prasad Devkota and Madhav Ghimire.

Keshav Thapa/TKP
bookmark
Published at : June 1, 2023
Updated at : June 1, 2023 10:18
Kathmandu
Naba Raj Lamsal has had an interesting life. He's worked as a teacher, a radio host and a culture and arts reporter at BBC. And now, he's a writer and poet. Once you start talking to him, you quickly realise that his true passion lies in prose–with a penchant for mahakavyas (epics). Three months ago, Lamsal left his 30-year-long stint as Radio Nepal's programme director and news chief to pursue his literary ambitions. His third epic, 'Agni' received the prestigious 'Madan Puraskar' in 2021, rejuvenating his zeal for writing his next best book.

As I entered Lamsal's house, I was greeted with an elaborate library filled with books of all kinds. He sat by the window, reciting the Bhagavad Gita. Lamsal has authored books like 'Pailai Pichhe Sagarmatha' in 2004, 'Aago Chhopera Katinjel' in 2005, 'Kramasa Eklai Eklai' in 2010, 'Karna' in 2009, and 'Dhara' in 2016. In an interview with the Post, Lamsal discusses his motivations for reading and writing.
Did you grow up in an environment that encouraged reading?
Since childhood, I have always had a passion for reading. I particularly enjoyed listening to my school seniors reciting poems in a conversational and rhythmic tone. This, in turn, sparked my interest in Nepali literature and culture. Unfortunately, my village did not offer a higher level of education beyond eighth grade, which left me with the difficult decision of leaving my family to pursue my studies in Kathmandu. My journey led to getting a PhD in Nepali Literature. Even in school, I participated in debate competitions and wrote poems. I was so engrossed in Nepali literature that I read 'Gauri' and 'Muna Madan' three times when young.
Which genres do you especially enjoy reading?
I enjoy reading historical, educational, and cultural books. I believe that a good book should give out a positive message. You should learn from it. I prefer books that motivate and give me energy after reading them. So, spiritual books from authors like Khaptad Baba and Swami Pranavananda are what I enjoy reading the most.
It might sound ironic, considering that I've written fiction, but I try to avoid fiction. When reading a book, I want to learn from it actively.
How do you approach writing? How do you choose the subjects and issues?
Living in Nepal is a blessing. As a country rich in culture and language, with countless traditions and customs, there are so many books and topics worth exploring. When one writes a book, it's essential to recognise that culture is the face of a country and represents its people. Therefore, experiencing and immersing oneself in the local culture is necessary before attempting to write about it. I make it a point to visit different places and fully embrace the culture, lifestyle, and everything else that comes with it. You can only understand a culture once you have experienced it firsthand.
Additionally, a writer should delve into the history, geography, and society of the place they are writing about to capture its essence. I am passionate about researching a place's geospatial importance, essence, and people. It's not enough to simply describe the clothes or appearance of the people, but rather one should delve deeper into their experiences and struggles. Doing so can create more meaningful and impactful portrayals.
Your third epic 'Agni' received the Madan Puraskar in 2021. What prompted you to write it?
Agni holds a special place in my heart and has been a turning point in my life. I was profoundly affected by the love that 'Agni' received. It was also good to see that many young people enjoyed reading it. The book sheds light on society's pervasive bias against certain cultures, castes, and labour. In the book, I imagine life during feudal times–when kings ruled Nepal–from the point of view of the so-called lower caste individuals. When a battle ends, people usually cheer for the hero but forget the names of those involved behind the scenes. Agni is dedicated to those unsung heroes, like folks from the Kaami caste, who crafted the swords during the unification of Nepal yet remain unacknowledged. My book asks one simple question–where is the recognition for their contributions?
What should young people be reading?
Young people must find books that inspire and uplift them while providing insight into their country's culture. They should also opt for books that teach them valuable skills. Because of new media, youth today are incredibly knowledgeable and have immense potential, but they may need help harnessing it. Reading books that foster mental strength and positivity can be a great way to help them navigate these challenges.
What is one book that you wish your younger self had read?
I have so many books on my reading list. Though I've already read many books on Nepali culture as well as religion, I'd like to continue my research. Additionally, books I wish I'd read sooner were: anything by Swami Vivekananda, Homer, the Bible, as well as books on the aftereffects of war. Still, I intend to catch up in the future.
Book Recommendations
1. Shirishko Phool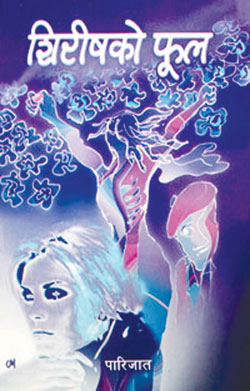 Author: Parijat
Year: 1964
Publisher: Sajha Prakashan
2. Madhavi
Author: Madan Mani Dixit
Year: 1983
Publisher: Sajha Prakashan
3. Shakuntala
Author: Laxmi Prasad Devkota
Year: 1945
Publisher: Sajha Prakashan
4. Prometheus
Author: Laxmi Prasad Devkota
Year: 1971
Publisher: Sajha Prakashan
5. Narsingh Avatar
Author: Jagadish Shamsher Rana
Year: 1981
Publisher: Sajha Prakashan
6. Sumnima
Author: Bishweshwar Prasad Koirala
Year: 1969
Publisher: Sajha Prakashan
---
---