Resetting Nepal-India ties
Former Indian ambassador to Nepal Ranjit Rae explores the two countries' bilateral relations in his new book.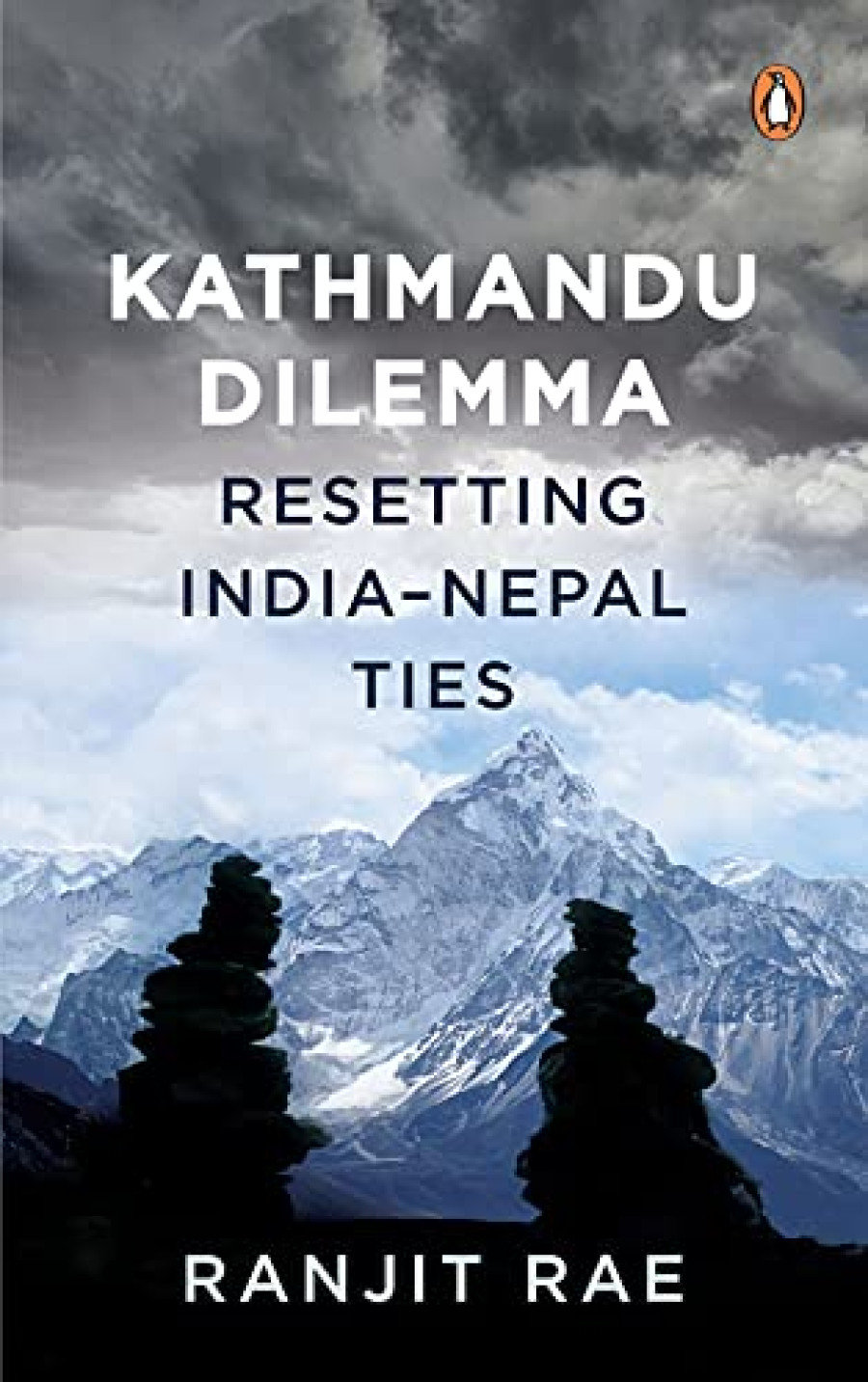 bookmark
Published at : October 9, 2021
Updated at : October 9, 2021 08:01
A few Indian ambassadors posted to Nepal have written books based on their experiences. Some of them are Sriman Narayan and Deb Mukherjee, who have written books on Nepal-India relations, and many other former ambassadors, including MK Rasgotra, Shyam Saran, and KV Rajan have written about Nepal in their books.

Rakesh Sood continues to write articles on Nepal and Afghanistan in daily newspapers. The latest former Indian ambassador to Nepal to write a book on Nepal-India relations is Ranjit Rae, an unassuming diplomat and perceptive observer of the developments in Nepal. Rae's recently published book 'Kathmandu Dilemma: Resetting India-Nepal Ties' is a rare addition to the literature on the bilateral relationship of Nepal and India. The book analyses Kathmandu-based elites' perceptions that, to a great extent, help continue the same style and behaviour of policymakers.
Perceptions are often treated as realities by Nepali elites who see bilateral relations through their own lenses and draw inferences. However, ground realities and Nepal's limitations do not always justify such perceptions or make-believe realities.
The book's first chapter has a good narrative of Kathmandu elites whose orientation does not entirely represent the narrative of those from outside the Valley.
Nepal and India's physical proximity, multifarious contacts, and multi-dimensional relationship will always continue to generate some kinds of misperceptions and distrust in bilateral relations. Nepal's familiarity with India and the latter's lackadaisical approach in settling minor irritants make relations problematic. On the Indian side, the lack of recognition of Nepal's hypersensitivity to certain issues and its studied silence on them seem to fester mistrust and unnecessary reactions in Nepal.
With China actively attempting to exert more influence in the country, Nepal is likely to become an important arena for India and extra-regional powers to cancel each others' influence and domination.
Throughout Nepal's history, political perceptions have been manufactured by the country's power elites. And today's political elites, who are without policy direction and ideology, are inclined to stick to the only mobilising ideology, i.e., 'resentful nationalism' or what is known today as 'anti- Indianism'. However, whenever the Indian side responds positively to Nepal, the anti-Indian sentiment in the country seems to abate.
Addressing Nepal's Constituent Assembly in 2014, Prime Minister Narendra Modi did exactly that, suddenly transforming the atmosphere. The temper lowered for some time, and people expected the new prime minister to initiate a new trend.
But the optimism died down after the Modi government pursued major parties of Nepal to be accommodative in making the constitution favourable to all sections of society, especially Nepal's Madhesi community.
In today's international relations, especially countries with close ties, such suggestions through subtle diplomatic or informal channels won't be considered interference. But the kind of open diplomacy that India displayed on the eve of Nepal's proclamation of its constitution did not produce the desired result. Instead, the Nepali elites went ahead with their plan to proclaim the constitution, and India only 'noted' the constitution and did not accept it. Rae has dealt with this episode in Nepal-India relations in detail with moderation and offered clarifications of some stories circulated during the then Indian foreign secretary S Jaishankar's visit as the special envoy of Prime Minister Modi.
The book also puts in proper perspective the inside story of Maoist insurgency and India's role, if at all, in it. Rae authoritatively maintains that in no circumstances did India nurture the Maoists. He writes, "the prevailing view in the Government of India was that the Maoists needed to be degraded and destroyed" as they were believed to have established links with such groups in India. Hence, the Maoist's decision to join the mainstream multiparty democracy came as a sigh of relief to India and Nepal.
If the leaders of political parties, in general, want to improve bilateral relations, they need to be both objective and prudent. Indian elites cannot also be absolved of such phenomenon as they too need to free themselves from the baggage of history and the inherited mindset. In India, the bureaucratic elites, who play a significant role in shaping foreign policy, seem to be guided by an inherited psyche that Nepal should perennially stick to the strong dose of bilateral relationship as the British did during their rule. Given Nepal's dynamics, connectivity with the outside world, and domestic compulsion, Rae's suggestion to follow the Bhutanese model (2007) would not meet Nepali elites' expectations.
Nepal-China relations and India's adherence to the traditional relationship with Nepal do not fit into the Bhutanese template because Nepal wants a more nuanced bilateral relationship with India.
Both Nepal and India should first try to find a way of developing cooperative and coordinated approaches to each other's sensitivities.
The leadership of both countries should not resort to the kind of brinkmanship demonstrated by the Modi government in 2015 when Nepal promulgated its constitution and in 2020 when Nepal introduced a revised map that claimed some territories (disputed) as its own.
From a strategic point of view, Nepal could have pursued its policy diplomatically and firmly without making it political. I also share Rae's view that the scope for a negotiated settlement is now more complicated after both sides published maps. Rae has done much homework to narrate the Limpiyadhura, Lipulekh, and Kalapani dispute, digging out as many sources as possible to prove his argument. It is one of the best chapters of the book, despite points of agreement and disagreement between the elites of both countries. In Rae's view, the politics of map-making has created a negative public perception in India about Nepal. The Indian public perceives that Nepali elites are acting at the behest of China. "Even if this is not the case, public perception in India, also created by the media, has turned against Nepal. For the first time in living memory, the Indian sentiment has turned negative vis-à-vis Nepal." In Rae's view, the way the Nepali Congress (NC) also used anti-India nationalism to "bolster its own popularity", thereby embarrassing the Oli government on this issue, meant that it could no longer play a mediatory role to resolve the border dispute. The book indicates that the NC did not stand up to steer the course of developments to open up the scope of negotiations in the future.
The author has admitted that it is not an academic work, meeting all the requirements of a thesis, or a well-researched book. It is a book in which Rae shares his experiences and feelings in lucid and communicative language. This is why the book is a treasure for all those interested in foreign policy and diplomacy. The book has a few factual errors such as mentioning Tulsi Giri as a Brahmin (p.136) among others. Written in simple and less combative language, 'Kathmandu Dilemma' deserves to be credited as one of the good books on Nepal-India relations.
Kathmandu Dilemma: Resetting India-Nepal Ties
Author: Ranjit Rae
Publication: Vintage Books
Price: Rs 800
Baral is a professor of political science and former ambassador of Nepal to India.
---
---