How Pokhara became the 'school of watercolours'
When visual art started gaining momentum in Pokhara, watercolour stood out as the most stable and affordable medium for artists.

Gurung showcasing his artworks. Deepak Pariyar/TKP
bookmark
Published at : August 23, 2023
Updated at : August 24, 2023 08:07
Pokhara
In 1982, the now-renowned artist Chandraman Singh Maskey came to Pokhara from Kathmandu for a family gathering. During the visit, he created watercolour paintings of some popular spots—namely, Bindabasini and Tal Barahi. Impressed by his skills, some local merchants and their relatives commissioned portraits by him. Later, finding the business lucrative, Maksey opened a shop in Pokhara, showcasing his landscapes and portraits. There, a budding artist named Krishna Prasad Shrestha, after seeing Maskey's work, was influenced to make his own artwork. So, he painted in a similar style.

Even now, the influence of scenic watercolours among the artists from Pokhara is substantial. The Himalayas, green forests, and lakes, all painted in watercolour hues, are still the most favourable subjects, as they highlight the natural aesthetics that the valley is known for.
Arts finally came into the institutional limelight in 1965 when the Nepal Academy of Fine Arts (NAFA) was established. Moreover, in 1971, the Gandaki (regional) branch of the Academy was formed, with Shankar Raj Pathak as the founding president and cartoonist Durga Baral (Vatsyayan) as secretary. Artistic development within Pokhara is acknowledged to have taken place under the institution's umbrella.
The Gandaki branch was instrumental in advancing artistic endeavours. They planned painting contests and offered inexpensive art supplies to the artists. Workshops were offered to help seasoned artists improve their abilities. Because of this, a new generation of professional artists arose in Pokhara, including Yadav Chandra Bhurtel, Khem Kayastha, Kshetralal Kayastha, Alok Gurung, and Bishwa Shrestha.
Another vital organisation in Pokhara's artistic growth is the Pokhara Youth Culture Family. Established in 1977, this organisation began their popular rural art trips in 1985. Artists including Kayastha, Bhurtel, Buddhi Gurung, Mahendra Rajbhandari, Hareram Jojiju, and Baral travelled to Manakamana in Gorkha to create art. The Nagabeli Youth Family from Nagdhunga later organised the 'Visual Art Creation Journey' programme in 1981. Artists were taken on a two-day walk to Ghandruk, after which they were encouraged to capture the village's scape.
The uniqueness in the works of Pokhara's artists is apparent. Their creations have an earthy tone. Their watercolour artworks depict scenes of mustard fields, mud houses, barns, courtyard imprints, as well as the grandeur of the snow-covered mountains.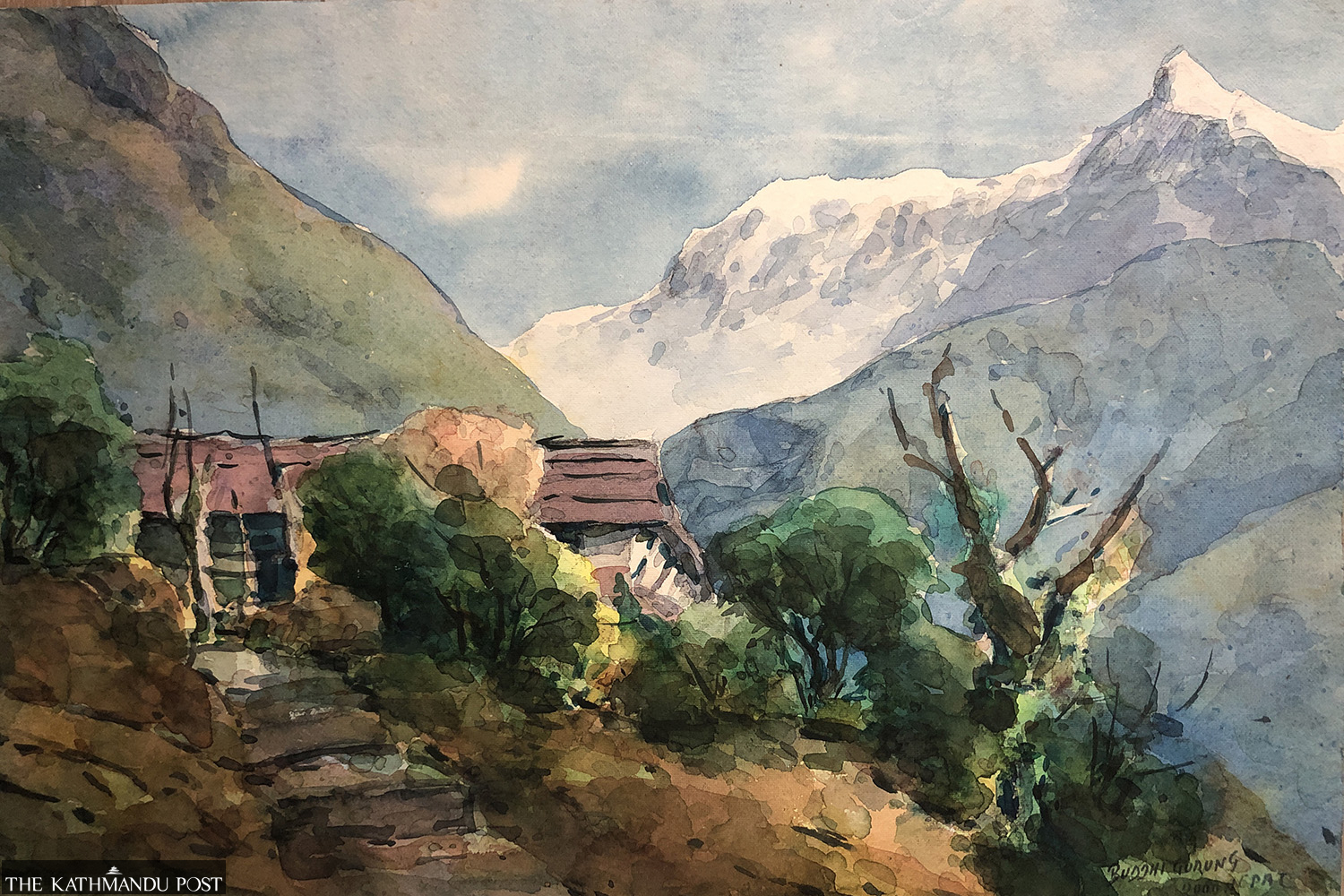 Gurung's landscape. Deepak Pariyar/TKP
Baral reveals that due to the lack of acrylic paints during the 90s, all professional artists in Pokhara began their artistic careers with watercolours. "Watercolour supplies were widely available and easy to use," he says. Turpentine oil, which was also expensive, was used to clean brushes and plates that contained oil colours. Oil paint tubes were expensive, and oil paintings needed eight to ten days to dry. In addition, oil paintings were susceptible to dust, and one had to wait a few days before adding colour. But since watercolours dried rapidly, the addition of colours was easy.
"Many foreign tourists used to buy watercolour paintings, which gained popularity because they could be easily rolled and carried," says Baral. However, it wouldn't be fair to deem watercolours as just a cheap medium. Even though it might be less expensive, this art form is challenging to produce. "Watercolours are distinctive in comparison to other mediums," he adds, "The impact seen in paintings created using watercolours is more pronounced," he says.
Eventually, watercolour became the norm in Pokhara, and its influence expanded all the way to Kathmandu. Shops in Bhaktapur, Patan, and Thamel began selling large watercolour paintings by Pokhareli artists. In 1991, UNICEF and Yak Art Institute organised a painting competition titled 'The Child Girl' in Kathmandu. Nine artists from Pokhara participated in the competition, where Baral and Ujjwala Kundan Jyapu won awards. Esteemed artists like Uttam Nepali Shashi Bikram Shah and other art critics and scholars recognised Pokhara's distinct identity in watercolours. This led to Pokhara being called the 'school of watercolours.'
However, as the 2000s neared, Baral expressed that attraction towards watercolour paintings decreased. Despite the delicacy of watercolour paintings, buyers were more interested in acrylics. "Pokhara's distinctiveness in watercolours has somewhat faded. The influence of international artists has increased," he says.
Artist Buddhi Gurung opines that just because one uses watercolour to paint the landscape of Pokhara, it doesn't mean the distinctness of the city has been accurately portrayed. "Foreign influence has eroded the uniqueness of Pokhara," he says. Contemporary artist Hareram Jojiju does not entirely agree with this argument. He believes that over time, artists need to utilise various mediums—new or old. "Artists need to be dynamic. They shouldn't confine themselves to just one medium," he explains.
---
---
Most Read from Arts
E-PAPER | December 06, 2023