Into the inner world of thoughts and dreams with Samridh Mukhiya
Born to an artist father, Mukhiya grew up uninterested in art. Now his black and white pen and ink drawings lay bare the interiors of human minds.

Artist Samridh Mukhiya has won many art competitions in the US for his pen and ink artworks that explore the human psyche. Sanjog Manandhar/TKP
bookmark
Published at : May 18, 2022
Updated at : May 19, 2022 07:59
Kathmandu
Even as a young boy, Samridh Mukhiya exhibited all the skills required to become a great artist. But his lack of interest in art was something that frustrated the people around him. He was more interested in finding ways that would let him escape situations that would require him to draw. When he did draw, it was mostly to pass time and impress his friends.
Fast forward to the present, art has now become an indispensable tool for Mukhiya to express his deepest thoughts. Most of his artworks are pen and ink works drawn in an atypical style, and they delve into the depths of the obscure human mind and pull viewers to realise their social conditionings.
"I look at art as a medium to communicate the things I ponder about persistently. It is a way to provide a visual narrative of thoughts and ideas that I go over and over in my head," says Mukhiya, whose solo exhibition titled 'Sapana' is currently being exhibited at Siddhartha Art Gallery.
"My works are conceptual; I try to explore myself through art and use art to stress the importance of mental well-being and health," he states.
Mukhiya says that his life experiences in the last few years have made him more comfortable with the idea of becoming an artist.
At the gallery, Mukhiya's 'Sapana' feels profound and isolating at the same time. Many of his works are imbued with the complications our human minds constantly battle with. His meticulous strokes are designed to imitate the spiralling world inside our minds, and they instantly consume our attention.
His artwork titled 'Melancholia' serves as a window into understanding what it feels like to battle depression. The artwork has a withering face shell of a person, and there are minute human figures (representing the person in the picture) falling under the weight of their realities and trying hard to find their way back into life. In 2020, 'Melancholia' won first place in the Introspective Art Contest, organised by Art Gallery Inc, US. The artwork also secured third place in the Texas Mental Health Awareness Creative Arts Contest that same year.
In the current exhibition, Mukhiya immerses viewers in great details of our life's pursuit for love, happiness, and material things. What makes his artworks unique is that none of them features colours. He evokes the most profound emotions using just black ink. He also uses many imageries such as wells for how we define the way to success and happiness in life, stairways to doors as opportunities, trees as roots, and threads as interlinks for life's events.
The despair in his works is piercing, and we easily gravitate towards the vast philosophies enwrapped in his works. There's much to unfold inside his works, and they are not as straightforward as they might look. 'Sapana' can also be read as a case study of how we are conditioned to believe that we have to make something out of our lives.
Mukhiya's artwork 'Melancholia' serves as a window into understanding what it feels like to battle depression. Sanjog Manandhar/TKP
For Mukhiya, the issues he explores in his work are things he has dealt with in his personal life. He is all too familiar with what it feels like to chase material gains and focus on making a name for himself.
After finishing his undergraduate studies in the US, Mukhiya started working in the country. He started putting in hours at work as a graphic designer to be financially independent and gain material comfort in life.
"I felt like I had to fulfil everything and be my family's provider. I think I felt that responsibility partly because that was what society conditions men to think. We are constantly told we are the providers and protectors of our families. Living as an immigrant in the US was really tough. I don't think I would have gained the life experience I got there had I stayed back in Nepal," says Mukhiya, slowly stripping off his spirited and confident persona.
In 2015, those long hours at work started taking a toll on Mukhiya's mental health, and he began battling depression. "By then, it had been more than two years since I made an artwork. I was finding it difficult to sleep and get up every day and get ready for the daily grind. I just didn't have the energy to do anything at all. I felt hopeless," says Mukhiya.
But one day, when he was finally able to sleep properly, he got up with an impulse to make an artwork of the boy that he was once, the boy that was unburdened by life's expectations and responsibilities and could sleep without worries. "It took me nine days and nights to complete the artwork. I felt an urgency from within to draw the image, and when I was done, I named it 'Sapana'. If you see the drawing, you will see that boy in the picture looks calm and unperturbed in his sleep. The opposite of how I was sleeping at the time," says Mukhiya.
The artwork also restored his instinct for art, he says. "I was able to come back to art again because I discovered that I could use art to deconstruct my thoughts and ideas and maintain a distance from them that allows me to observe them. This ultimately also helped my mental well-being," says Mukhiya.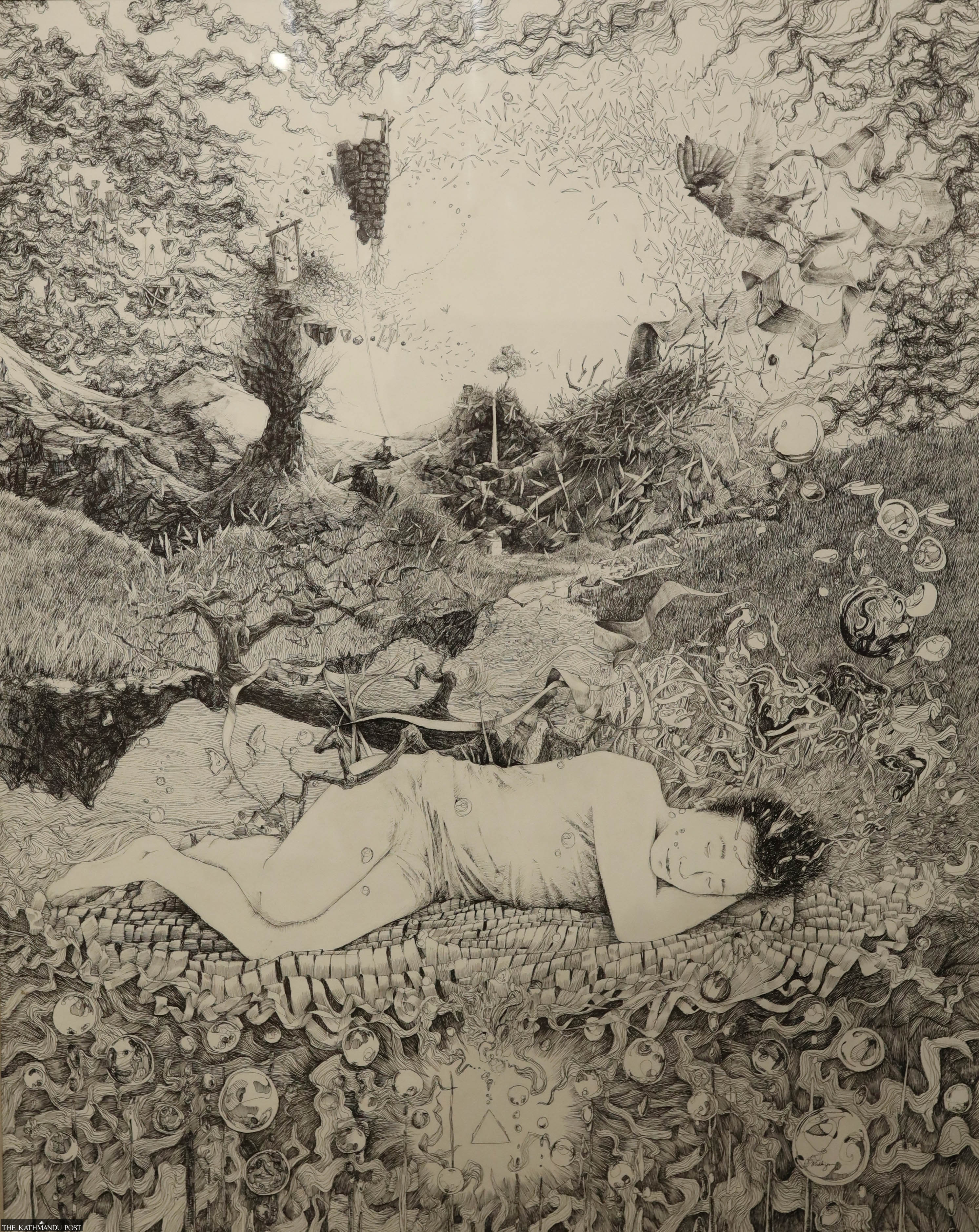 Titled 'Sapana', this artwork by Mukhiya is a younger and carefree version of himself. Sanjog Manandhar/TKP
In 2017, Mukhiya quit his day job as a graphic designer to focus on art. And to support himself, he started freelancing as a graphic designer and working part-time as Uber and Lyft driver. He also started participating in art competitions and turning his wildest imaginations into art.
As an artist, Mukhiya says he prefers to spend days and months thinking about the artwork he wants to create before finally transferring them to paper.
"When I am making something, about 70 percent of my drawing is already in my head. And that is why I think I take a lot of time with my ideas and thoughts. They have a very long incubation period. And I am not usually thinking of making art to please people. Instead, my works are meant to make people think and start a conversation. I also don't think people will like to hang my works on their walls because my works are really heavy and dark. They are not colourful," says Mukhiya, looking at his works in the gallery. "I deliberately use only black ink to invite people to my work by guiding them through my thoughts rather than inviting them with emotions that colours usually imbue in artworks to make meaning out of them."

As one of the most significant art pieces in the exhibition, 'The old man with young hands iii' explores human consciousness. Sanjog Manandhar/TKP
Born and raised in Kathmandu, Mukhiya thinks his lack of interest in art as a young boy was because of his father, Tek Bir Mukhiya. The senior Mukhiya is one of the finest artists in the country and is widely recognised for his art cover for Laxmi Prasad Devkota's 'Muna Madan'.
"I was a defiant and dreamy teenager. Since I grew up in an environment filled with artworks, I never really thought of them as anything special. And in my teenage years, I wasn't that respectful of my father's work. As a child, I thought that the art from the Western world was only worthy of being considered art," says Mukhiya. "But with age, a lot of how I look at things has changed. I now understand what my father was trying to do. He is a great artist. I should not discount the fact that he was a man who came to Kathmandu to establish himself as an artist and went on to raise a whole family by making art. And making a living out of art wasn't that easy in his time."
But having seen his father make artistic compromises to be able to provide for his family, Mukhiya decided just as he started his art career to not work only as an artist.
"Before my father got married, his works were so different and were creative on another level. But once he got married and became a father, he started making artworks that the market demanded. I respect him for never being resentful of the compromises he has had to make," says Mukhiya, carefully choosing his words. "Art is my calling, but I don't want to make it my only source of livelihood. I am clear on the idea that I should have a job to support my artistic pursuit. This is why I have continued to freelance as a graphic designer."
By exhibiting his works under the umbrella title 'Sapana' at the Siddhartha Art Gallery, Mukhiya says he has taken a significant step to the next phase of his artistic journey.
He says he now looks forward to translating his charcoal series, 'Baksha', as art installations for his next project. The series plays with the idea that our truths are subjective to our unique experiences and are also the reason we bear 'polarising sentiments'.
Ever since his exhibition started, Mukhiya says he particularly enjoys observing visitors at the gallery and conversing with people interested in delving deeper into the meanings of his works.
It is evident that Mukhiya will not be done with the idea of unveiling the dealings of our internal minds anytime soon. For him, the mind is just as vast as the world and understanding its experiences is a way to take charge of one's life.
"What I will do next and where I will go are still up in the air, but I am sure that I want to make more works that I can bring to the public and engage them," says 34-year-old Mukhiya. "I think I am more determined as an artist than ever right now."
'Sapana' will be on display until May 24 at Siddhartha Art Gallery, Baber Mahal Revisited.
---
---