Achieving peace through meditation
Reeta Manandhar's 'Self Reflection' is a visual treat that depicts a peaceful state of mind—one that can only be achieved through meditation.

Beeju Maharjan/TKP
bookmark
Published at : March 20, 2021
Updated at : March 20, 2021 08:10
Kathmandu
Next to the hustling street of Jhamiskhel, Lalitpur, inside the premises of GG Machaan restaurant, there's a painting that transports viewers to a different world.

On the canvas, we see the face of a woman. She's closing her eyes and it feels like she is deep in a state of meditation. Different colours flow around her face, like water in a gentle river. Likewise, a whirlpool of waves is rotating around her upper body. The painting on its own can have multiple interpretations. But when one knows the theme of the artwork, the painting becomes more clear.

Titled as 'Intensity,' the painting is one of the striking artworks of Reeta Manandhar, who currently has her solo exhibition up at the premises of the restaurant.
As her exhibition is titled 'Self Reflection,' we see many artworks that reflect deeply the thoughts that are on the artist's mind. However, these thoughts aren't ordinary and mundane. Rather, they reflect the state of her mind when she is meditating, in peace.
The exhibition is divided into two segments: In the first part, we see paintings that are filled with self-portraits as well as various images through which she tries to depict the tranquillity and peace of mind she receives through meditation. Whereas the second part is dedicated to colourful paintings, where she depicts the power that is harnessed in the chakras of her body when she meditates.
As brilliant as her works are in the second segment, there are a few paintings in the first segment that are deeply poignant. For instance, her painting 'Compassion' is a brilliant way through which she depicts the internal changes that could have appeared in her soul after she started meditating. In the painting, we see her self-portrait. She's opening her arms wide and her face and upper half body are covered in various strokes of colours, juxtaposed to a green background. Similarly, at the lower part of the painting, there are images of money floating around.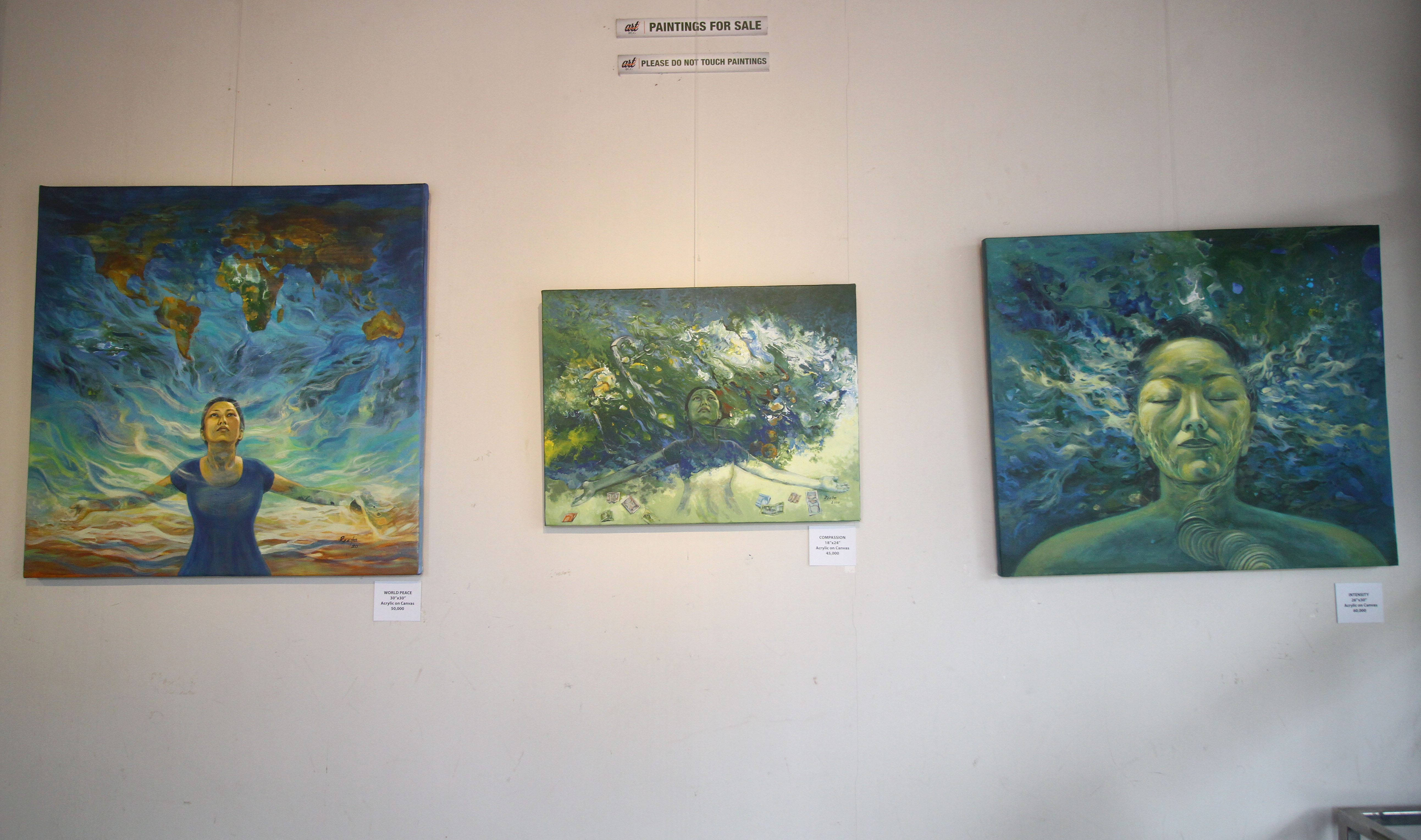 Beeju Maharjan/TKP
Although it might not be an exact interpretation, as the artist hasn't provided details of every painting, it can be assumed that through the artwork, Manandhar is depicting how she as a person has become free from worldly and materialistic pleasures because of meditation.
The motifs of money represent the materialistic pleasure all human beings chase after. However, a world filled with such pleasure, even if we are able to achieve it, can be dull. And hence the second part, where she has placed the motifs, is painted in a light colour to depict the dullness and emptiness of a materialistic life.
Meanwhile, on the upper part, we see her holding her head high while various strokes of colour surround her. This represents how if one practises compassion over worldly pleasure, a state of such tranquillity can be achieved through meditation.
One of the common underlying motifs in her paintings is fish. In many of her paintings, she has used fish as a way of reflecting her emotions. For instance in 'Coexistence I' and 'Coexistence II,' she has painted two pairs of swimming fish. Likewise, in 'Finding the Way,' we see a painting of a fish that is in motion.

As fish are considered as an auspicious symbol among the eight symbols of Asthmanagala in Hindu and Buddhist philosophy, through these motifs, Manandhar is not only successful in depicting her cultural heritage but she also cleverly uses the motifs to reflect her emotions as well.

Since fish swim freely deep inside the water, they are considered to be fearless beings. Likewise, since they move around wherever they feel like, it is often believed in Hindu and Buddhist philosophy that we should also exhibit such behaviour of utter freedom of movement if we want to attain peace.
And hence the use of fish in her artworks becomes symbolic, as it can be assumed that she's comparing her present state of mind and soul to a fish's. As when she is deep in meditation, she reaches a fearless stage where she isn't scared of anything. Like the fish, she swims deep into the ocean of life, freely moving from one place to another, a mental state she was able to achieve only through meditation.
Meanwhile, there are also a few artworks in the exhibition, through which she reflects the changes happening around the seven chakras, the energy centres of her body because of meditation, which she can feel but can't see. However, making it the central theme of her painting, she uses her skills to depict the flowing of energy in the seven chakras, which in fact becomes the highlight of the exhibition.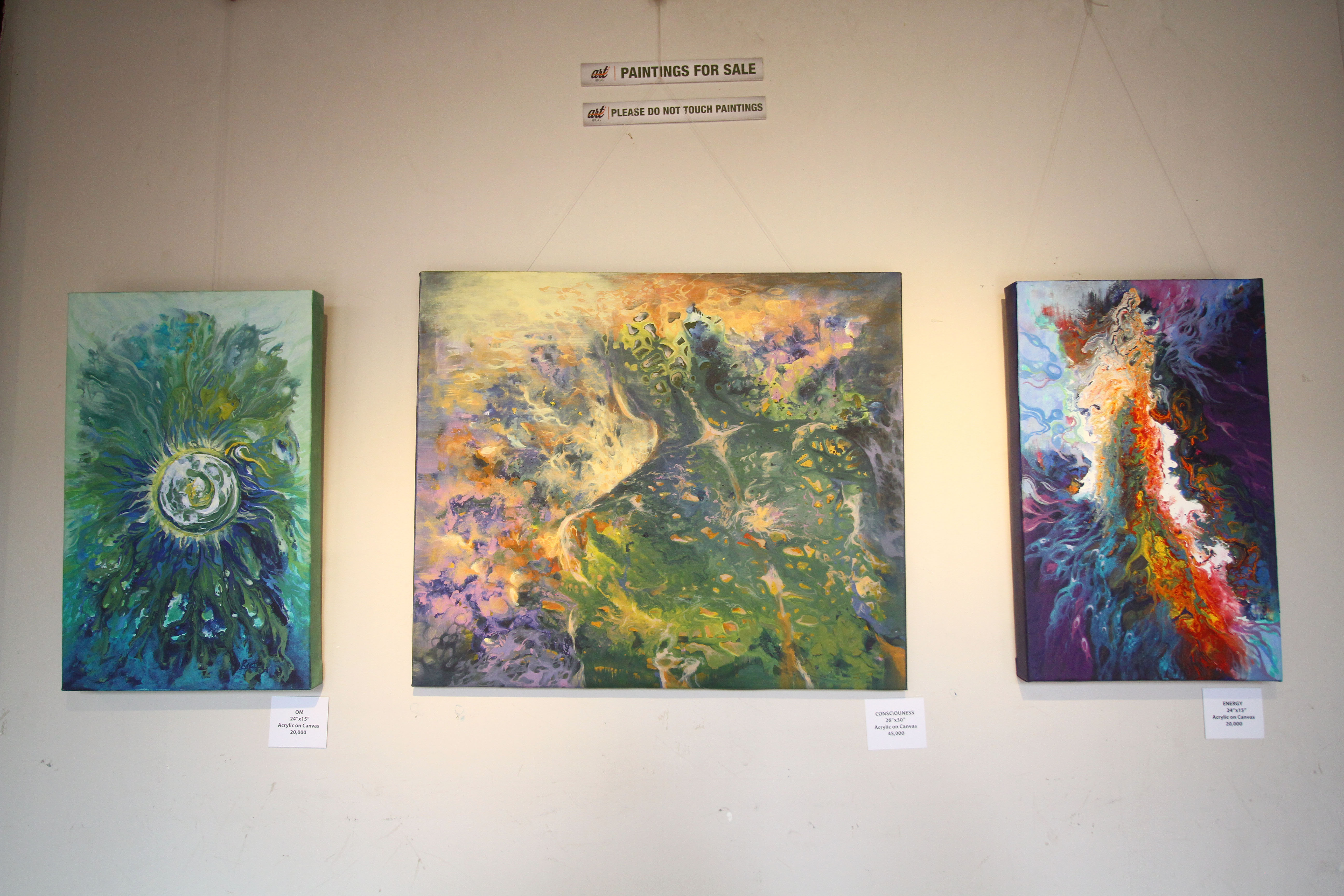 Beeju Maharjan/TKP
For instance, in 'Positive Energy' she simply depicts the process of harnessing the energy through meditation in the chakras. In the painting, we see an image of a human being who's meditating. As the person has started meditating, the chakras which are placed in the different parts of their body open up and the seven chakras are denoted by seven colours—red, orange, yellow, green, blue, indigo and violet.
On the other hand, a bright white luminous light is entering the head of the person. And with the help of these motifs, Manandhar depicts the whirling energy produced in the chakras through meditation.
As it is believed that if any of these chakras get blocked, the body may experience physical and emotional pain, it can be safely assumed that the artist is depicting the process of how peace and tranquillity can be achieved if one is involved in meditation, as it can be a medium through which one can balance the harmonious flow of energy in the chakras.
And that's why the motif of the bright, white, luminous light in the artwork is used, and it becomes symbolic as it is a way through which she shows the peace and the state of consciousness one can receive if they meditate.
Similarly, in another series of hers, titled 'Seven Chakras,' Manandhar depicts the very process of energy harvesting in the chakras. However, the paintings differ and honestly stand out the most from the rest of her artworks.
Through the painting, Manandhar tries to portray the flow of energy in the chakras, and for that, she resorts to using the seven colours, a representation of the seven chakras to depict the energy centres. The vibrancy and the confident strokes are what makes this series stand out, as it's a visual treat to watch this series.
As an artist, Manandhar's artworks are brilliant as they exactly mirror the emotions she is trying to communicate through her skills. For her, meditation has most likely been a life-changing experience and she succeeds in depicting its value in her life through the medium of her art.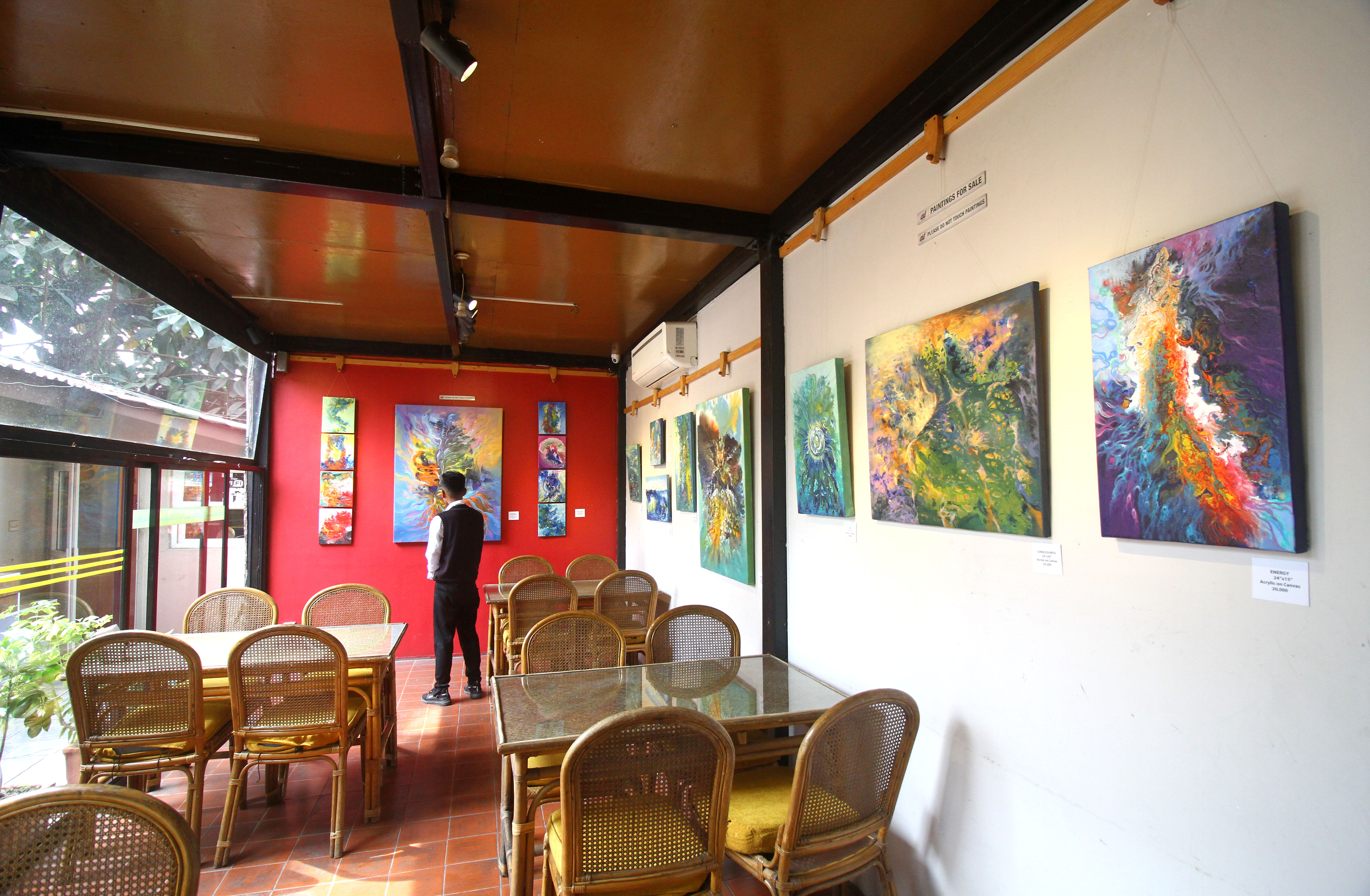 Beeju Maharjan/TKP
However, her choice of selecting a restaurant to exhibit her work can sadly minimise the impact of the exhibition as it contradicts the message she is trying to convey. The artworks are not placed in a designated space in the restaurant; they are kept where diners sit and eat. And this placement can impact her artworks, as those who are interested to observe the artwork peacefully might not get the opportunity to do so.
Maybe a peaceful environment or an art gallery would have done more justice to her artworks, as it would have been more apt for the theme of the exhibition.
Regardless of her choice of location, there's no doubt that her artworks are brilliant and are a reflection of her talent and calibre as an artist. For all those who are interested in arts and meditation, if you are in the area, surely do give a visit. You never know, you might also start meditating or think about going for Vipassana after getting inspired by her works.
The exhibition will be held for a month at GG Machaan restaurant, Jhamsikhel.
---
---