Cultivating a green paradise, indoors
Mamta Khatri, founder of the nursery 'The Green Owl', shares a comprehensive guide to maintaining indoor plants.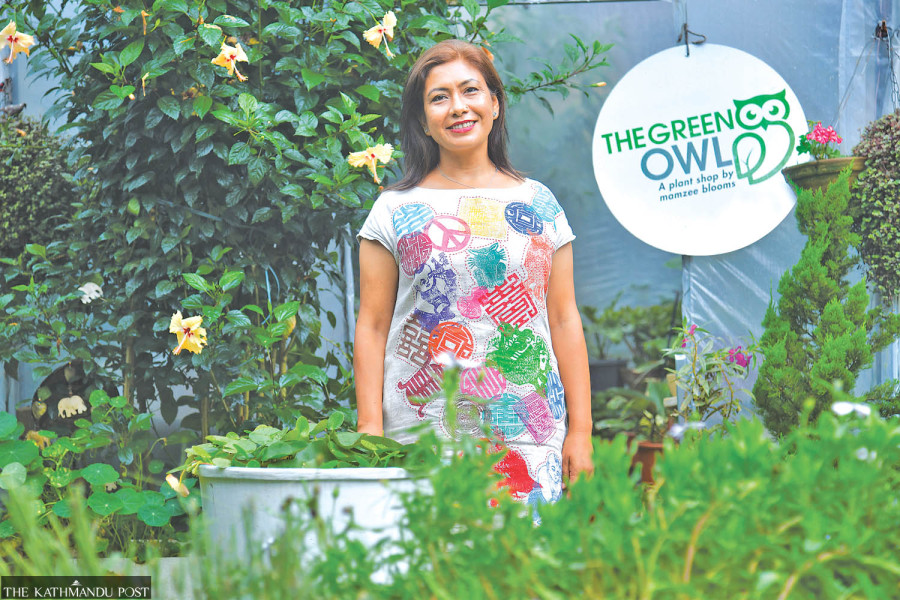 Deepak KC/TKP
bookmark
Published at : August 1, 2023
Updated at : August 1, 2023 08:06
Kathmandu
Mamta Khatri, a devoted plant enthusiast, has a deep-rooted fascination with night owls. She views plants as a representation of the warmth and comfort of nature, while owls embody grace, vision, freedom, and independence. Hence, she named her nursery The Green Owl.

Khatri initiated her home-based indoor plant business, The Green Owl, in Lalitpur in 2020 to advocate for preserving natural equilibrium in everyone's life by introducing greenery into their living spaces.
She believes that integrating greens into one's environment is essential. Upon stepping into her nursery, I was greeted by an impressive showcase of lush foliage that covered the entire space, creating an immersive experience reminiscent of a tropical rainforest. The innate splendour of the greenery is genuinely awe-inspiring, imbuing the surroundings with a sense of peace and calmness.
Khatri shares a comprehensive manual outlining the proper techniques for caring for indoor plants.
What to begin with?
If you are new to the world of plant care, then consider starting with a Spider Plant. This plant can withstand medium to bright light throughout the year and does well in areas with average humidity and cooler temperatures. However, it can also tolerate warmer temperatures, so owners don't need to worry too much about the climate. When it comes to soil, the spider plant prefers a soilless medium or general-purpose potting soil. It is worth noting that the plant's growth is most robust when it's slightly pot-bound and producing plantlets (a young plant produced on the leaf margins or the aerial stems of another plant).
Another low-maintenance option is the Snake Plant, also known as Sansevieria. This plant is known for thriving in areas with indirect sunlight, making it an excellent choice for homes with limited access to direct sunlight. However, overwatering is the quickest way to kill it, so water this plant only when the soil is dry. Similarly, Aloe, Jade Plant, Hoya and the Rubber Plant are the easiest to grow and require minimal effort.
Repotting your indoor plants in late winter or early spring is best. Doing this will give your plants enough time to grow, look healthy, and get bigger as summer comes around.
How to maintain these plants?
Proper care of indoor plants is crucial for their survival. Adequate sunlight and water are vital for indoor plants. While indoor plants do not thrive in direct sunlight, they require 12 to 14 hours of indirect/filtered sunlight daily. So, owners should place their indoor plants near a window. Finding the ideal location for your plants may require trial and error.
The weather in Kathmandu is favourable for indoor plants, all year long. However, indoor plants face challenges during the winter due to reduced humidity levels. To counteract this, owners should use a humidifier to restore the moisture balance in the room. Additionally, relocating the plants to a sunlit room with slightly higher temperatures can help them survive the winter. It is recommended to limit watering since the plants are in a dormant state during this period.
Indoor plants that can thrive in low light are plenty, but it is important to note that soft light does not equate to no light. Like the Snake Plant, which is renowned for surviving in such conditions, the ZZ (Zamioculcas) plant, Monstera Deliciosa, Golden Pothos, and Cast Iron Plant also possess the same capability.
The process of watering indoor plants is highly specialised, as each plant has unique requirements. Incorrect watering methods have led to the untimely death of numerous plants. Proper watering involves a comprehensive understanding of the plant's needs, which is widely considered the most challenging aspect of indoor plant care. A reliable method of determining the plant's moisture level involves using one's thumb to gauge the moisture content in the soil every five-six days. This helps determine whether the plant requires immediate watering or can afford to wait for a day or two.
Proper sunlight and water are not the only requirements for a plant's growth; fertilisation is equally essential. If you can buy or make them, natural and organic fertilisers are best as they are both safe and cost-effective.
To maintain good health, you must ensure your plants get nutrients like magnesium, phosphorus, potassium, sulphur and calcium through things like crushed eggshells, banana peels, used coffee grounds, used tea leaves, wood ash, Epsom salt and aquarium water. Give your indoor plants a dose of organic fertilisers once every four-five weeks, stir it with love and see the magic.
Why indoor plants?
While the benefits of indoor plants are widely recognised, the extent to which they can effectively purify indoor air quality is a topic of ongoing research and debate. Plants like the Spider Plant, Peace Lily, English Ivy, Aloe Vera, Snake Plant, Bamboo Plant and Gerbera Daisy are especially noted for their perceived air-purifying abilities.
The fragrance of certain plants, such as Jasmine, Lavender, Mint, Orchids and Peppermint, have therapeutic properties and can be used for natural aromatherapy. Jasmine, in particular, is a popular indoor plant choice because of its many health benefits, which include enhancing blood circulation, optimising hormonal levels, alleviating stress, and mitigating diabetes.
Other advantages of indoor plants include improving moods, productivity, concentration, creativity, and reducing stress and fatigue. They also help clean indoor air by absorbing toxins, increasing humidity, and producing oxygen, while bringing vitality to otherwise sterile spaces. Caring for indoor plants can be a therapeutic experience.
Flowering indoor plants
Several indoor flowering plants—namely, Peace Lily, Anthuriums, Bromeliads, Cyclamen, Kalanchoe, African Violet, Orchids, Begonias, and Christmas Cactus, bloom beautifully when provided with soil rich in organic matter and compost and a minimum of three-four hours of indirect sunlight. To promote new growth, it is advisable to remove spent flowers. During the flowering season, feed your plants phosphorus-rich nutrients once a week, as this is known to increase the flower buds.
Five indoor plants to begin with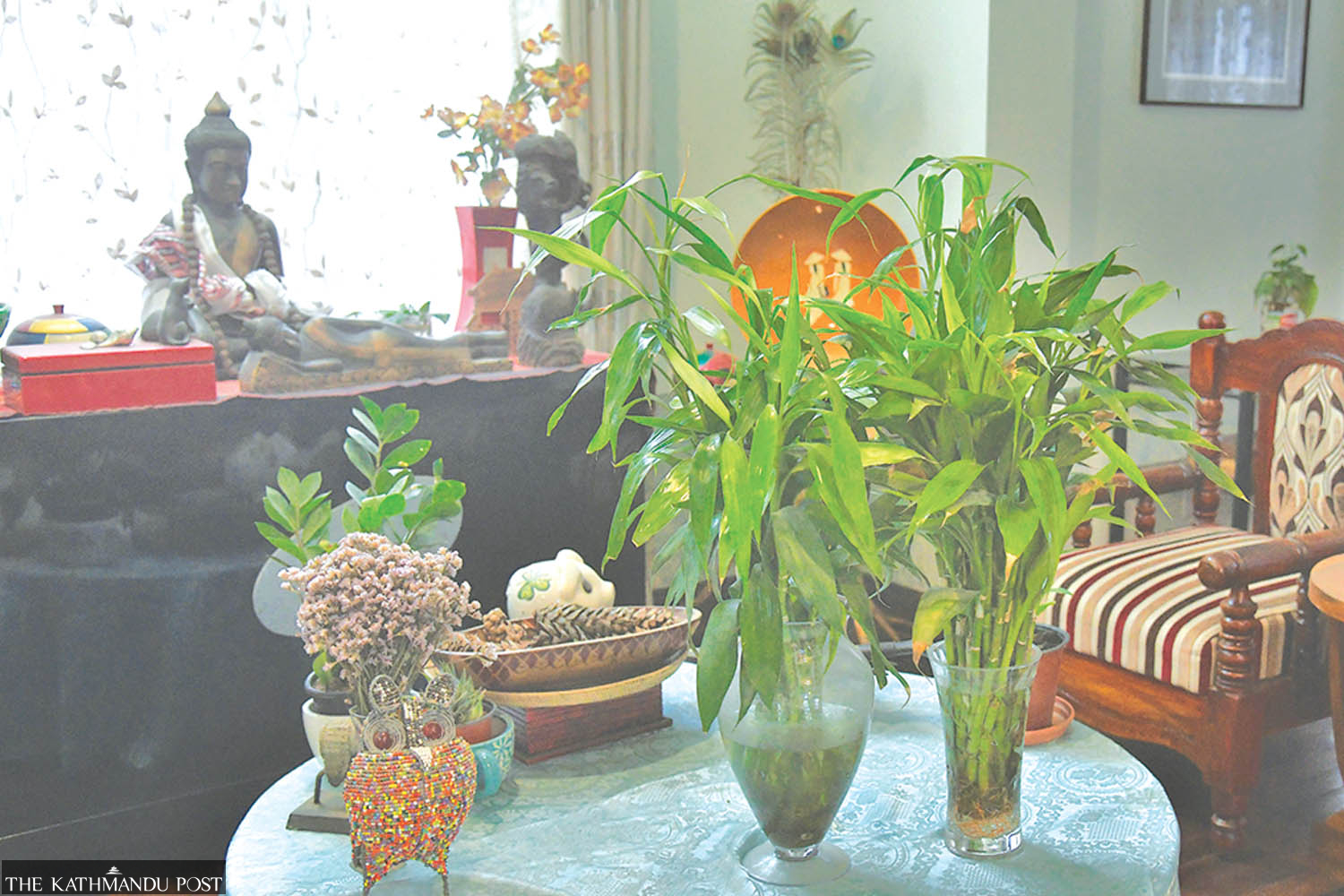 Deepak KC/TKP
Lucky Bamboo
Lucky Bamboo has been a popular indoor plant choice for some time, and Khatri reveals she likes it because she, too, believes it brings in luck.
Snake Plant
Snake Plant, also known as Sansevieria, purifies the air, according to one study by NASA. It is also low-maintenance, so taking care of this plant is easy.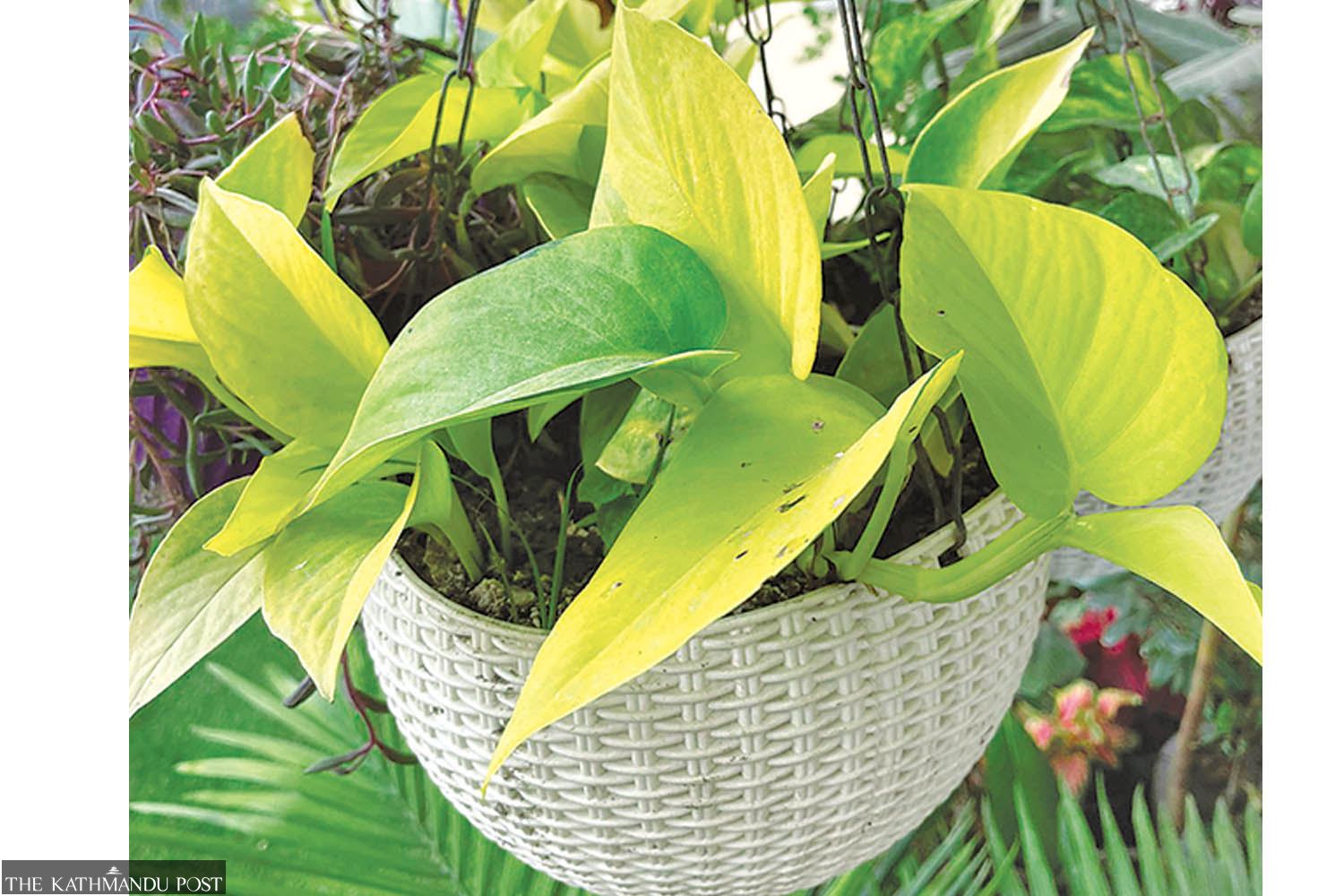 Deepak KC/TKP
Pothos
Known for being hard-to-kill, Pothos also purifies the air of the room it is kept in. Khatri calls it one of her favourites as she loves looking at its vines and trails.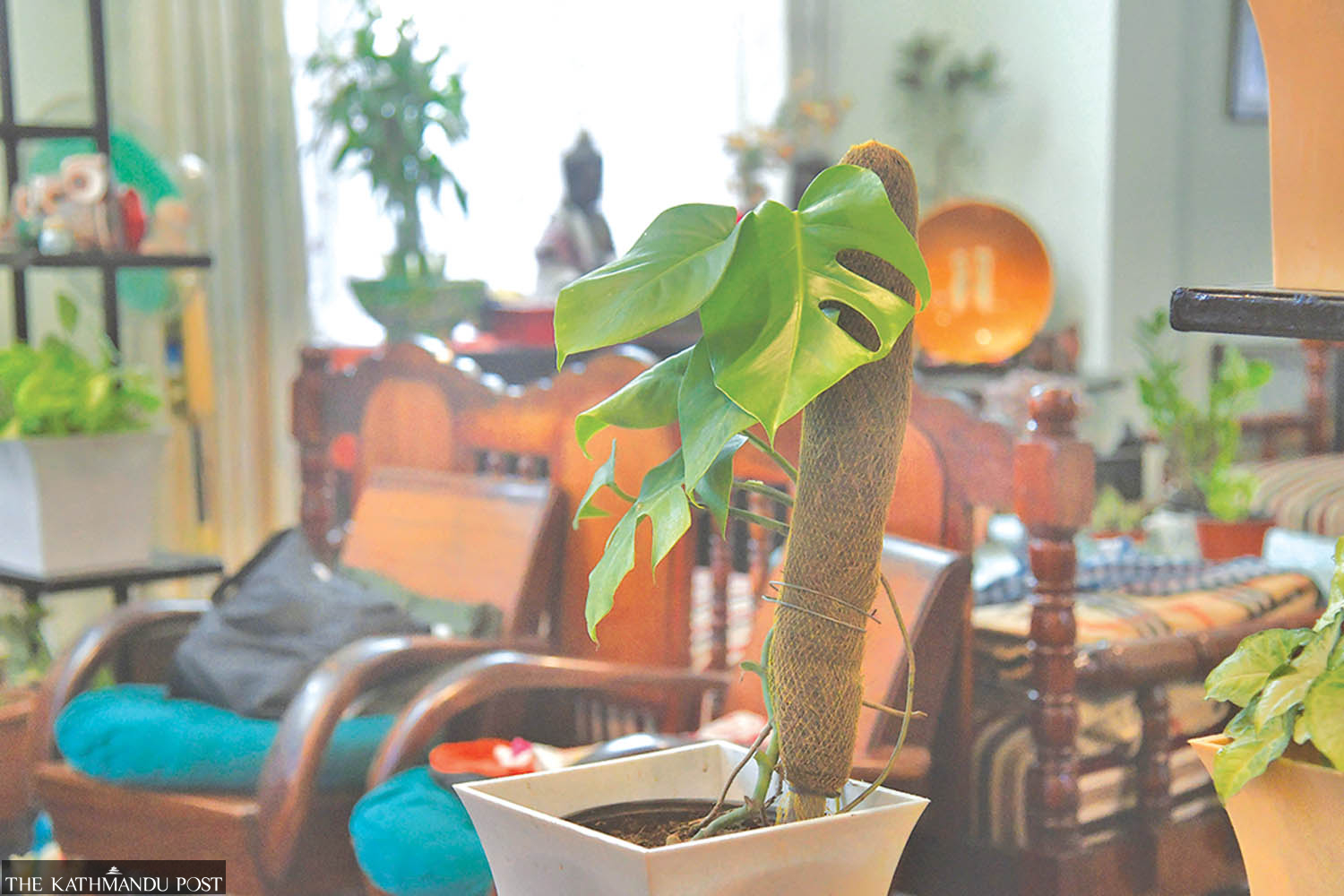 Deepak KC/TKP
Monstera Deliciosa
Many plant enthusiasts love Monstera Deliciosa for its big and beautiful leaves and how it helps regulate humidity. It is expensive, but it is easy to propagate.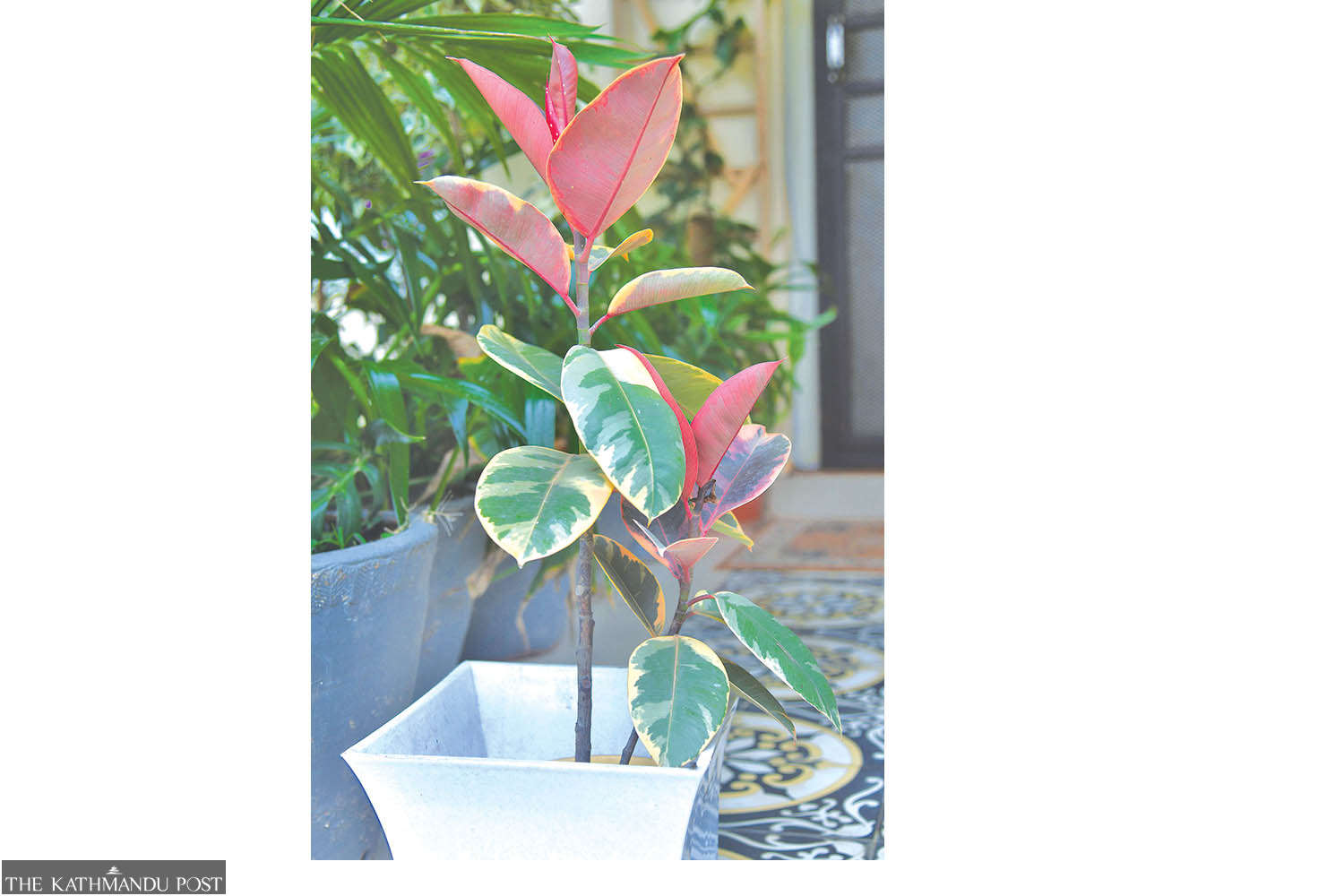 Deepak KC/TKP
Rubber Plant
Rubber Plant is known for its unique glossy thick leaves. It is also pretty low maintenance, and its leaves have natural anti-inflammatory properties.
---
---