Navigating life through music
'It's strange to realise that someone else is going through the same thing I am. But it's the riveting honesty in people's stories that inspires me.'

Photo Courtesy: Bekcha
bookmark
Published at : March 20, 2023
Updated at : March 20, 2023 08:04
Kathmandu
A unique name in the Nepali music scene, Bekcha, is well-known for making songs that have touched many Nepali music fanatics. With songs like 'Apthero Awastha,' 'Nabola Masanga,', 'Ghaam Joon,' and 'Arko Juni' amassing millions of views and streams on YouTube and Spotify, it's difficult to overlook this artist raising his flag.

Bekcha believes music is essential for an escape or a break from the conundrum and cacophony of everyday life. In the middle of all the stress and overthinking the mind does, music aids in healing and provides a sense of calm and placidness. "Genres or linguistic boundaries need not be used to confine music to a specific space. Simply go to a park and enjoy the tranquil sounds of the wind, river, and birds. Just play instrumental music," he says.
For him, the mind is a library of ongoing thoughts. You may occasionally require a change of pace or a break from the routine. And music does exactly that for Bekcha.
Bekcha hasn't undergone formal training in music. He gathers inspiration from everything around him. "I love to learn music from everything that happens around me–experiences, anecdotes, interactions," he says. As an introverted person, Bekcha was not very interactive. It was his brother who used to write poems which inspired him to write while he was still in school. Songwriting became a way for him to express himself and take up space. And music became an outlet to make himself heard–what he said, what he cared about and what he experienced. It became a profound source of comfort for him as a person.
Bekcha says that he makes music for comfort. It is how he feels better or how he tries to make others feel better. When it comes to getting inspiration for his songs, Bekcha thinks that stories on the internet are a tremendous help. Occasionally, it involves conversations and personal experiences. His popular song, 'Afthero Awastha', was inspired by a close friend who was going through a financial and mental crisis. This inspired him to curate the song, which capitalised on people struggling from different walks of life and how it is normal to ask for help. "The song is about internalising the different difficulties of life and overcoming them," says Bekcha adding that exploring the difficulties of his friend through this song helped him delve deeper into his own problems and life situations.
Reminiscing the olden days, Bekcha remembers how his elder brother, who read a lot, inspired him to read and write. Bekcha would randomly read any books he could find, transitioning from fiction to non-fiction. He believes that what you read influences the way you feel, think and write.
Books are free travelling for Bekcha–sometimes into the mind, sometimes into the wild. As a songwriter, books have given him diverse perspectives that open up new horizons. "The situations in my songs are not imaginary, they come from real-life stories. I take inspiration from realistic books on various ways to design a song," he says.
Bekcha's songs are also inspired by society and the status quo. For instance, his song, 'Maaya Haryo, Samaaj Jityo' was an ode to Nawaraj Bika and Angira Pasi, who were victims of Dalit killings. Bekcha considers this to be one of the most difficult songs he has ever written as it is grounded in reality and is the reflection of the society we live in. He was inspired by the tale of Bika and Pasi to write a song about how someone's right to live and fall in love was taken away from them only because of their alleged lower caste.
Social contexts like these inspire Bekcha to write realistic songs. "I want my music to have an impact. The social situations in which I create my songs give them a lot of vitality," he says. He tries not to write exclusively about love because it might get boring at times. He thinks, these days, the subject of love is rather prevalent, making it less enjoyable to write about it constantly.
When he first started out as a musician, Bekcha did not receive the same adoration and support as he does now. Like most people, there was little to no response to the music he created. During the lockdown, he listened to a song by Yabesh Thapa titled 'Mayako katha', which was about relationships. The song tells the story from a guy's point of view after a breakup when the girl is happily moving on while he is stuck.
Bekcha felt the story to be one-sided, so he wrote a reply song to Thapa's original titled, 'Reply to Mayako Katha', written from the female perspective. Thapa himself shared the song and propelled Bekcha to popularity. The song kicked off very well, and Bekcha started getting noticed. "That song got people listening to me. The fame has been on and off ever since," he says.
Bekcha doesn't let fame get to him. He tries to stay as lowkey as possible. "The moment you start acting like a celebrity or a popular guy, you lose your genuine self. That doesn't feel quite right to me." Bekcha says. He tries his best to reply to the messages he receives, which is not possible every single time. However, he believes that it is important to acknowledge his fans. "I am here because of them. I atleast owe them a reply when I get a chance," he says.
It is not always easy to be a musical artist in Nepal, Bekcha admits. "Elizabeth Gilbert has written a book called, 'Big magic'. I think every creative person should read that book," he says. "Whether it is music or anything you create, if you add financial pressure to it, the work is never honest," he says. As an artist in Nepal, if you do music only for money or fame, it gets difficult to sustain without a side gig. He adds that unless you are huge and have many followers, it gets a little difficult.
Bekcha believes it is critical to remain authentic because many aspiring musicians look up to established ones. He exclaims that if you feel something by singing a song you've written, you should continue to write and stay genuine. He suggests aspiring musicians avoid being another Samir Shrestha or Sajjan Raj Vaidya, or even himself.
According to Bekcha, Nepali music still has a long way to go in terms of international exposure. "We have a significant disadvantage because Nepali is not widely spoken around the world. There are singers like Salil Maharjan who write English songs but do not receive the credit they deserve," he says, adding that there is a need for more creativity and appreciation.
When an artist attempts to create English songs in front of a Nepali audience, many comments are made about their accent or pronunciation. Every non-native singer, according to Bekcha, will have a distinct accent. "The negative criticism levelled at artists by the Nepali audience is disheartening. To break into the international market, artists must recognise the X-factor that makes songs popular, and audiences must appreciate and share Nepali music in the same way they do international music," Bekcha says.
When asked about future aspirations, the musician says he wants to write songs about different things. The audience can listen to Bekcha's upcoming singles and collaborations with well-known artists like Samir Shrestha, Trishala Gurung, and Saswot, among others.
"I want to keep making music because the comment section of my videos is full of stories about people who resonate with my songs," Bekcha says. He finds it strange that someone else is going through the same thing that he is and states it is the riveting honesty in people's stories that inspires him.
The inspiration to do music doesn't lie in views or shares for Bekcha. It is the empathy that is generated through his songs and the bond he shares with his audience through the songs he creates.
Bekcha's song recommendations:
Wait for me
Artist: Motopony
Album: Motopony
Metaphors
Artist: Keaton Henson
Album: Metaphors
Timi ra ma
Artist: PushpaSangam
Ek Arka
Artist: Hrittal Niraula
Mad World
Artist: Gary Jules
Album: Trading Snakeoil for Wolftickets
Laijau Malai
Artist: SAGEnomore (Nabin Shrestha Tamang)
Album: Laijau Malai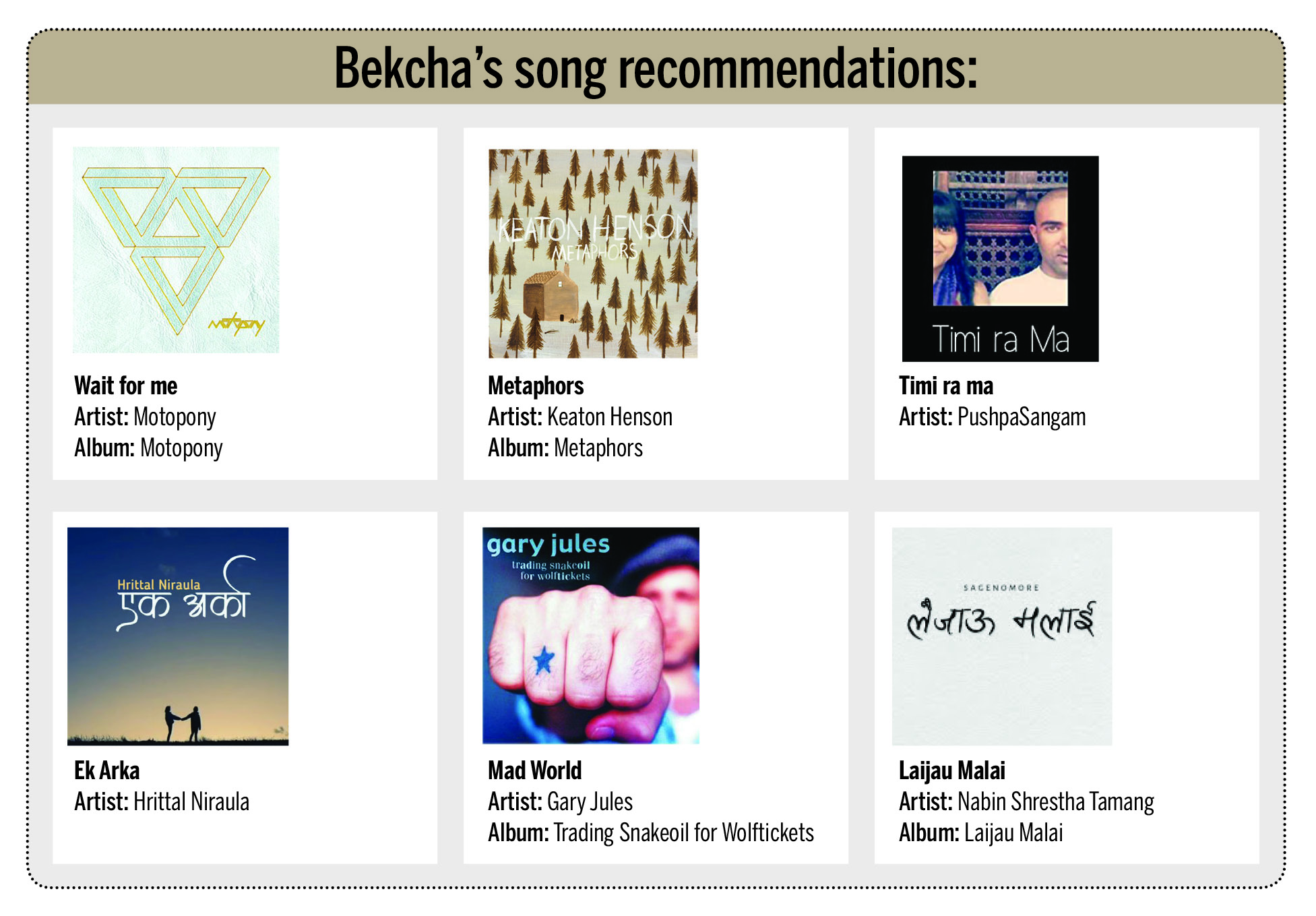 ---
---