The folk dances enriching Nepali culture
Nepal has unprecedented diversity in terms of folk and cultural dances that represent our multiethnic backgrounds.

Raghubanshi in traditional attire for the Kartik Naach. Photo Courtesy: Swojan Raghubanshi
bookmark
Published at : March 12, 2023
Updated at : March 12, 2023 11:54
Kathmandu
"Each culture has its own distinct history, story, and speciality, which is reflected in its dance. Nepal has unprecedented diversity in terms of folk and cultural dances that represent our multiethnic and multicultural background," says Swojan Raghubanshi, who has a Master's degree in Dance from Banaras Hindu University. Raghubanshi is currently pursuing his PhD at Indira Kala Sangeet University in Khairagarh, India, in Indian classical dance forms Kathak and Bharatnatyam, as well as Nepal's Kartik Naach. Raghubanshi is also the proprietor of Classic Culture Centre, Sundhara, Patan.

"I have taught, performed, or researched many of the Nepali dances," he says, adding that the dances are, in essence, living history as they have been handed down through time as a cultural and artistic heritage. Raghubanshi discusses some of Nepal's most intriguing dance forms with The Post.
Kartik Naach
King Siddhinarsingh Malla initiated this dance during the Malla period. The dance is known as Kachhala Pyakhan in Newari and is performed every year in the month of Kartik (October/November). This dance form is nearly 380 years old and is a dance musical shown in various iterations over 2 to 27 days. This musical dance-drama has stories inspired by the Bishnu Purana. During Kartik Naach, dancers are dressed in vibrant costumes roleplaying as Hindu Gods and Goddesses such as Ganesh, Shiva, Barahi and Krishna. The dancers are adorned with festoons around their necks. The dance depicts scenes from stories about Sudama, Surdasa, Madhukaitava, Baraha, and other mythological characters. Lord Krishna and his many forms are also elaborately portrayed throughout the performances. "I performed Kartik Naach from when I was seven years old till I turned 30. I'd play Prahlad, Apsara, and all the other major characters," explains Raghubanshi. "Women do not participate in Kartik Naach. Men cross-dress and transform into nymphs and deities."
Sakela Naach
This dance is popular among the Rai and Kirat communities. The dance is performed by these communities during Sakela Ubhauli and Sakela Udhauli, twice a year during Baisakh Purnima (full moon) and Dhanya Purnima. "The people from these communities worship nature," he says. During festivals, this dance is performed as an ode to Mother Nature and as an offering for healthy crops.
A girl dances while holding a Chamara. Post File Photo
The Sakela dance is performed in an open field dressed in traditional attire. Sili refers to the dance steps of the dance. The Silis mimic animal movements, natural phenomena, and depict the intricacies of human relationships with nature. The dancers carry crops and jhyamtas (hand-held cymbals). They even carry a yak-tail wisk known as Chamara, which is an ancient royal insignia.
Samachakewa Naach
This is a popular dance in the Mithila region. This dance honours the love and bond that exists between siblings. "It weaves a beautiful embroidery of folk songs merged with the legends from the Puranas," says Raghubanshi. During the Chhath festival, Sama Chakewa is celebrated in districts from Tarai such as Mahottari, Sarlahi, Siraha, Dhanusha, and others. The dance tells the story of Sama, Krishna's daughter who was falsely accused of wrongdoing. According to legend, Sama was turned away by her father due to a misunderstanding, which in turn, transformed her into a bird. Nonetheless, her brother Chakewa's sacrifice brought her back to human form. The Sama Chakewa dance also heralds the arrival of colourful birds that migrate from the mountains to the plains during the winter.
Dhime Naach
This dance is popular in the Kathmandu Valley and the surrounding areas among the Newar community. "Dhime is a rhythm-centric dance where the 'tal' matters the most," says Raghubanshi. People dance to the music of the 'Dhime baja' (a type of drum) which sets a very energetic vibe during the festival.
Women performing the Dhime dance dressed up in traditional Newari attire.
This dance is performed during festivals and after the farmers reap a good harvest. "Watching the fusion of Dhime music and dance come together is a treat to the eye," he adds.
Ghatu Naach
This is a popular form of dance among the Gurung community of western Nepal. Ghatu dance tells the story of King Pashramu and Queen Yambawati (also known as Champawati) and is peformed by Ghatusaris—the two main Ghatu dancers. The songs in Ghatu allude to various folklore. The dance is mainly performed during Baisakh Purnima.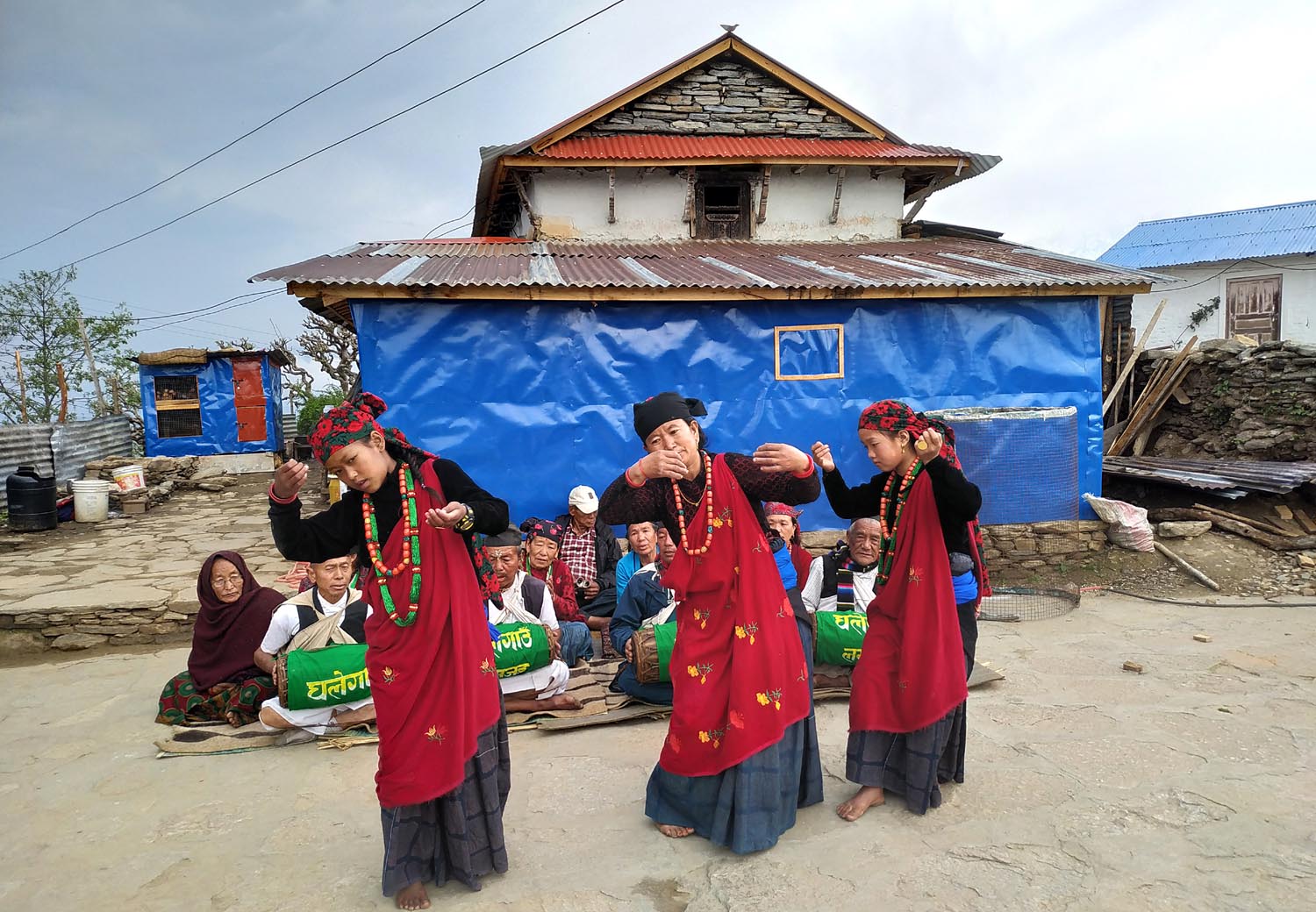 Women from the Gurung community perform the Ghatu dance in Ghalegaun, Lamjung.
There are numerous types of Ghatu dances like Bahramase Ghatu which can be performed at any time of year. This dance depicts daily activities such as domestic chores and farming. The Sati Ghatu, on the other hand, is performed only on Shree Panchami in December/January or Baisakh Purnima in April/May. Jhoda, another indigenous dance form, is performed alongside Ghatu. "For me, Jhoda is more fun compared to Ghatu, since it's faster in rhythm," he says. The Kauda dance is also popular among the Gurung and Magar communities. Only women perform the Ghatu and Jhoda dances.
Lathi Naach
This dance is performed on the beat of the Madal (a bass instrument made of wood and leather). Sticks are used by the dancers to create a meritorious blend of music and dance. Lathi dance is popular among the Tharu community. "The Tharu community also has many other dances.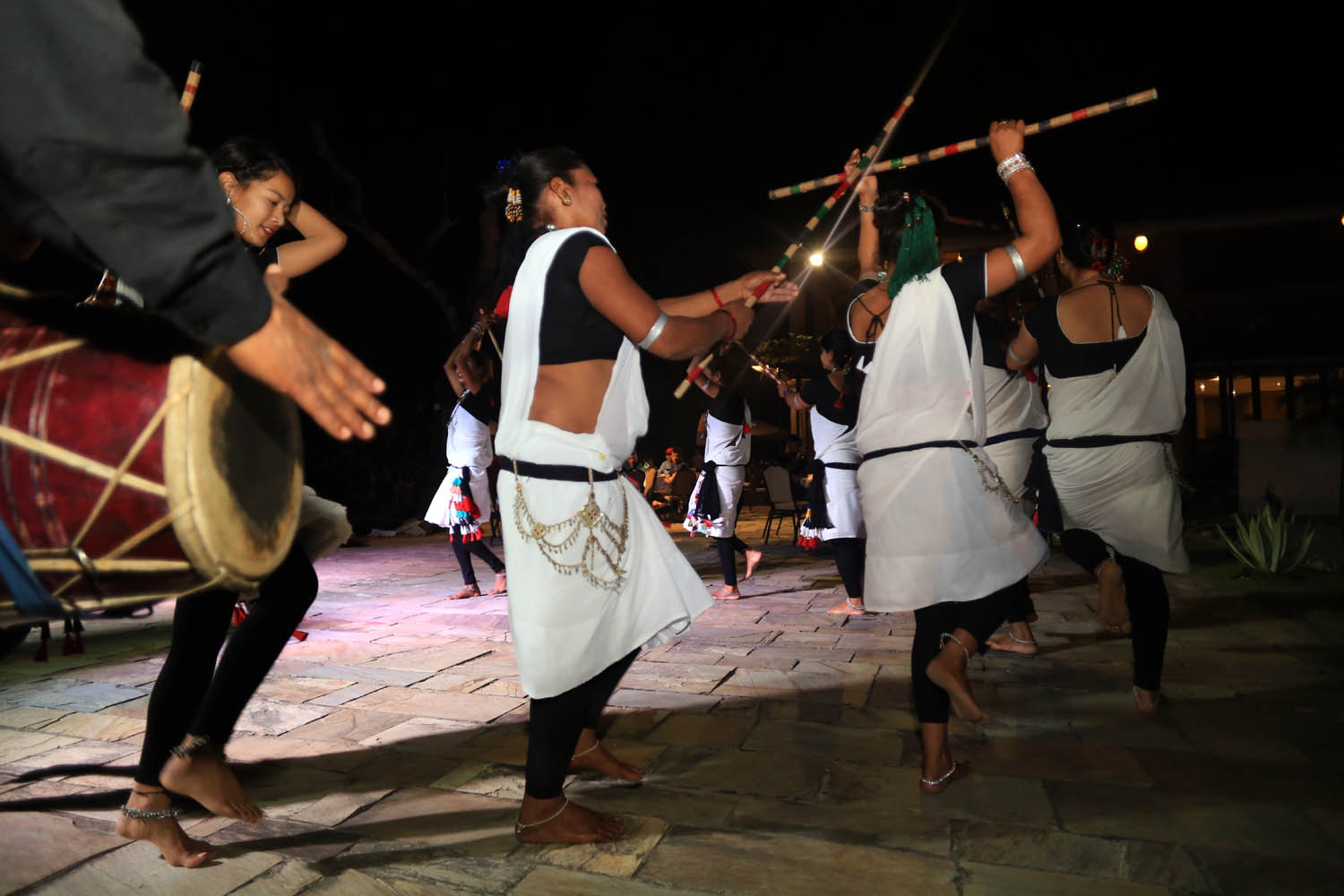 Performers dance to the rhythm of Madal during a Lathi dance.
They have interesting costumes and bewitching dance forms such as Sakhiyapaiya, Magauta, Damaura, Jhumra, etc," says Raghubanshi. These dances are usually performed during the Maghi festival.
Balan Naach
This is a popular dance, especially among Brahmins and Chhetris. People perform this dance with musical instruments such as khaijadi (a type of traditional drum) during pujas such as Satyanarayan Puja and Bhagwat Puran. During the Balan Naach, various bhajans and songs dedicated to Lord Krishna, Ram, Vishnu, and others are sung. Theatrical performances are also shown in Balan dance.
Deuda Naach
This dance is renowned in the regions of Karnali and the far west of Nepal. During Deuda, participants clasp their hands with one another, forming a circle. Deuda is performed during the Gaura Parva in the month of September.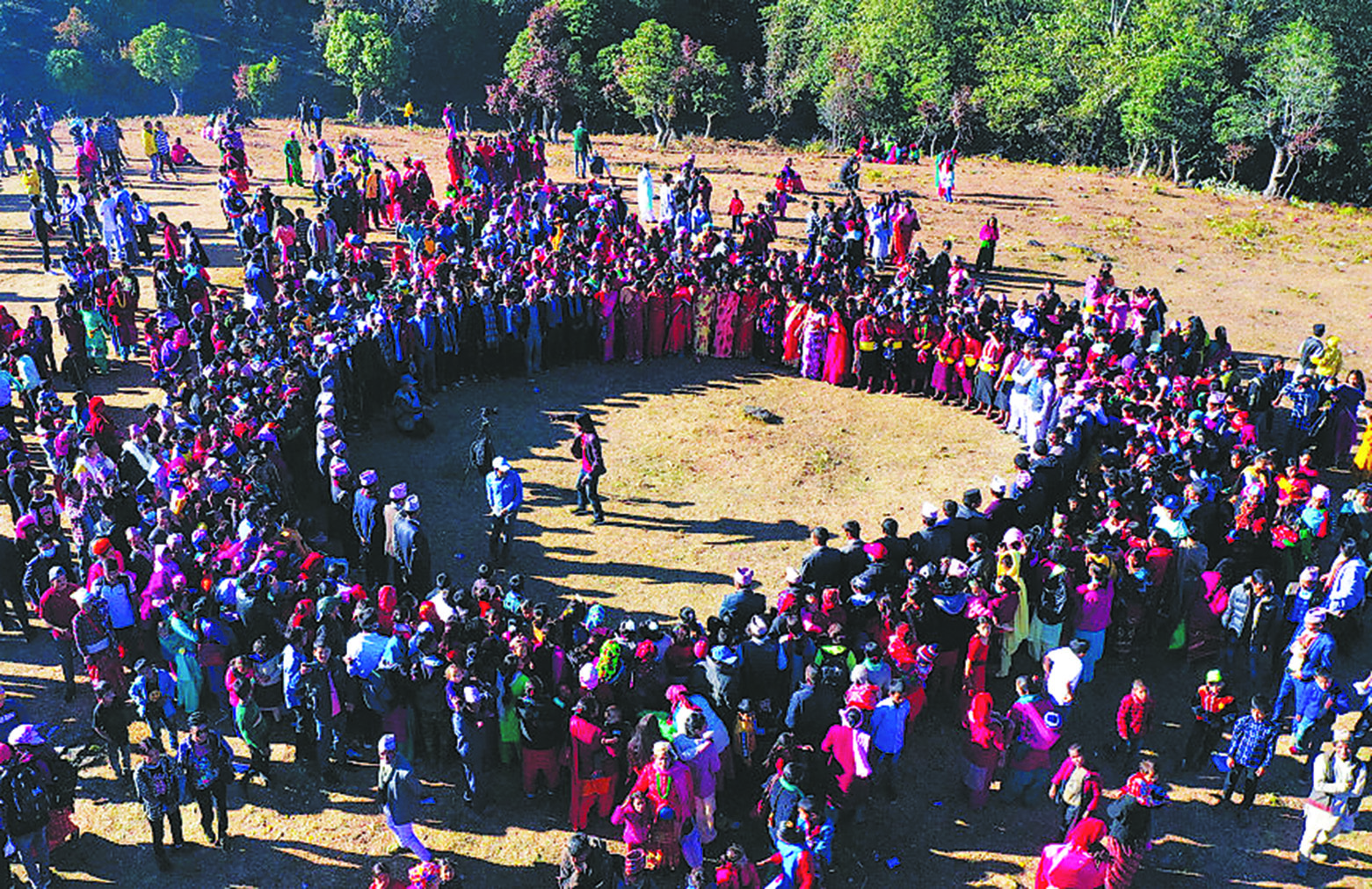 People gather in a circle for Deuda Naach.
The Deuda dance is accompanied with the well-known game Deuda Khel. Deuda is a dance cum game event where participants sing dohori—a type of musical back-and-forth that happens mostly between men and women. Songs honouring mythology, gods, and deities are also sung while playing Deuda.




The story has been updated.
---
---