A Tibetan refugee leads a Mustang village towards accessible education
Tenzin Chomphel first came to the village of Ghiling in upper Mustang in 1959. Little did he know then that decades later, his life's work would be to see the village prosper.

Maitri Ratna Nepal, an organisation Tenzin Chomphel helped establish, has transformed Ghiling's only school from a two-room decrepit facility to one with a hostel, a science lab, a library, a volleyball court, and a basketball court. Marissa Taylor
bookmark
Published at : September 3, 2022
Updated at : September 3, 2022 07:39
Mustang
Standing on the edge of a cliff, Tenzin Chomphel looks out into an expanse of peaks, plateaus, and gorges so vast it looks endless. Despite the shade of his fedora hat, his milky eyes squint because of the hard sun but his gaze is sharp. He is 72, but he doesn't look like one.
We're on the road that links the almost-mystical upper Mustang to the rest of Nepal. There's not a person or house in sight from where we stand—just a staggering zigzag of the most bizarre rock formations, a spotless blue sky, and a steady wind for company.
Chomphel suddenly breaks the silence as he points towards the pasture land just below the rim and says. "That is where I would come with the goats during the summer and monsoons," he says. "It would just be me and hundreds of goats for days on end. In many ways, life was quite peaceful. But then, I didn't know life could be anything beyond what I had at the time."
When he was a young boy of ten, Chomphel worked as a shepherd in Ghiling, a village in upper Mustang. But he is not from the village. He and his family—his parents and five siblings—came to this little, sleepy village in 1959 during the failed Tibetan uprising.
"Tibet was a beautiful dream," says Chomphel. "We were nomads who lived freely. It was a very pleasant life. My parents had sheep and yaks, even horses. But we had to abandon everything when we left."
In Ghiling, the family found shelter and a new start. While he earned Rs50 a year for shepherding, his parents and siblings did other odd jobs to make a living—weaving blankets, roasting barley, and working the fields. Life was tough.
Every day, as Chomphel would round up the goats to take them out to graze, he would longingly look at other children who would go to the village's newly established government school called Shree Jana Jyoti School. "I wanted to study, just like the rest of those my age. But we needed food on our plate, so I had to work," he says.
After six years in Ghiling, the family managed to put together enough money to head down to Pokhara where there was a Tibetan refugee camp being managed by the International Red Cross. "My parents wanted us to live with the Tibetan community, so we would not forget our culture and language," says Chomphel. In around 1965, the family left the Mustang village, with young Chomphel never thinking he would one day be back.
In Pokhara's Tashi Ling Tibetan Settlement Camp, he went to school for two years where he learned how to read and write. In the camp, he also did other small jobs to make some money for the family, such as working as a labourer for Siddhartha Highway construction project, for which he says he was paid Rs2.50 per day.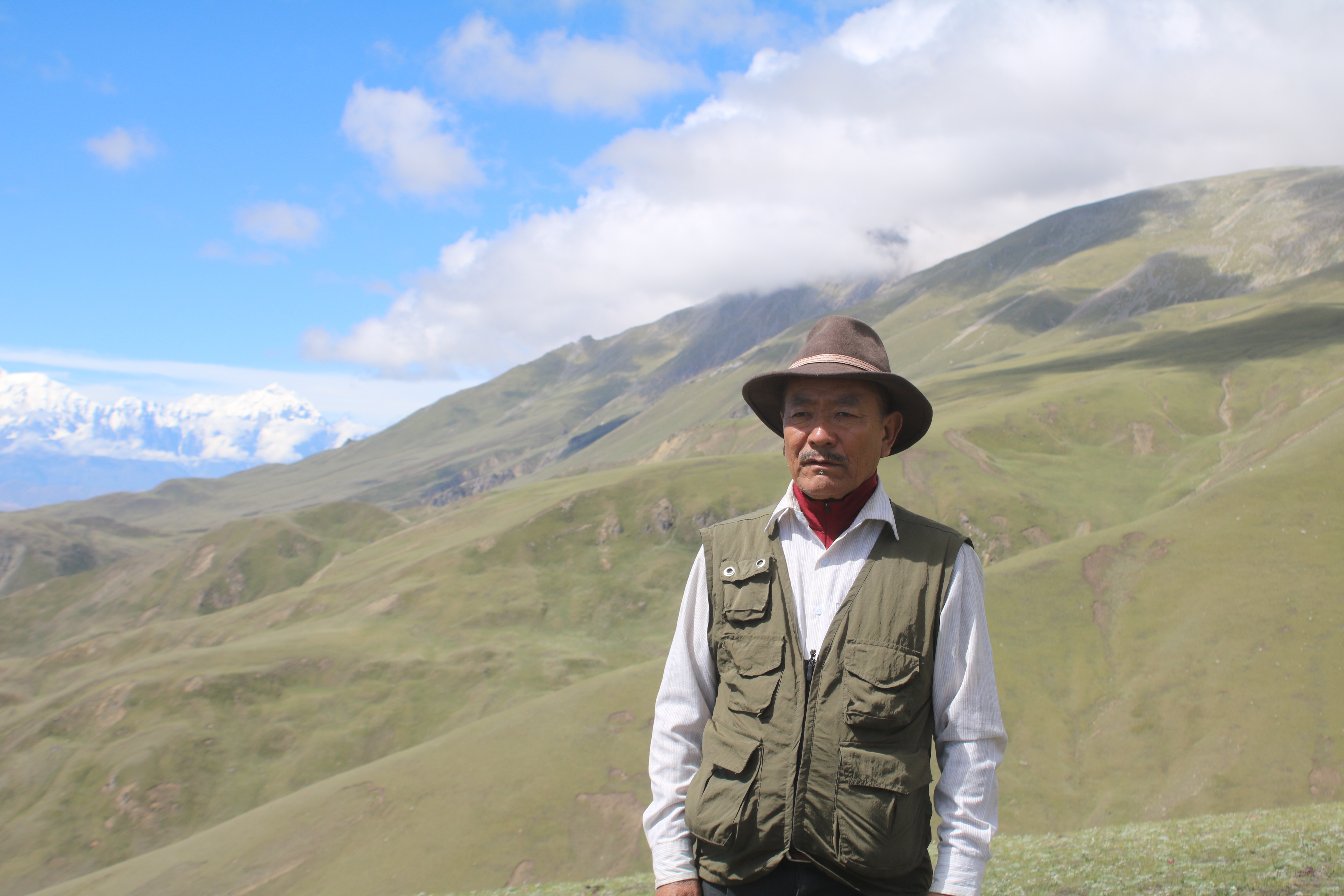 Tenzin Chomphel first came to the village of Ghiling when he was only 10. Marissa Taylor
Then at 19, Chomphel went to the Butwal Technical Institute for a vocational training programme in construction. In the next five years, he completed his course and came out as a trained construction site overseer. As part of the training, he worked at the construction site of Bhairahawa Airport, but he soon realised that this was not what he wanted to do.
"So I came back to Pokhara and took up a job in a restaurant instead where I tried my hand at everything—waiting tables, cooking, handling the reception. Five years went by," says Chomphel.
Then came the turning point.
He decided to open his own restaurant—'Pool-of-Peace'—with whatever money he had saved up.
Call it luck or Chomphel's sharp business acumen, his restaurant, which served all-day breakfast, was a big hit at Lakeside, Pokhara.
He quickly made quite some money. And for the first time in his life, Chomphel felt financially secure.
"My life until then was all work, work, work. I never had time to even think about anything. It was during that time I had time to ask myself deeper questions. I wanted to add meaning to my life," says Chomphel.
As a devout Buddhist deeply connected with his cultural roots, Chomphel then headed on a pilgrimage of sorts on his own.
First he went to India, travelling around Ladakh, Manali, Mussoorie, Bodhgaya, Varanasi, Kushinagar, all home to important Buddhist sites. "I then headed West, to Europe, spending almost a year and a half travelling—Italy, Holland, Sweden, France, Germany, and Switzerland," says Chomphel.
During this time, he also got into the textile business, which he ran for a good 10-15 years.
Now, life was comfortable.
But Chomphel hadn't yet found the answers he was looking for. He found them soon though, in the unlikeliest of places: back in Ghiling.
It was 1998. An architect, John Sanday, was working on a project to renovate two of Lo Manthang's biggest monasteries and he was looking for some hands. Chomphel was an obvious choice: he had a technical background, had lived in the area before and could speak English, Nepali and Tibetan, a language that shares many similarities with the dialect spoken in upper Mustang.
For the restoration work, Chomphel went back to upper Mustang, and to Ghiling, as it is on the way to Lo Manthang.
"Seeing Ghiling after 34 years, I was truly disheartened. Things had hardly changed. There was no development: no running water, not even electricity. The villagers needed and wanted help," says Chomphel. "The only way I thought I could help them was through education. Because education was what had helped me."
Through the help of his friends, and the nonprofit American Himalayan Foundation (AHF), he started his journey to provide better education to the children of Ghiling. By the end of 2000, he had helped build Ghiling's first kindergarten. AHF has been funding the kindergarten's operational costs.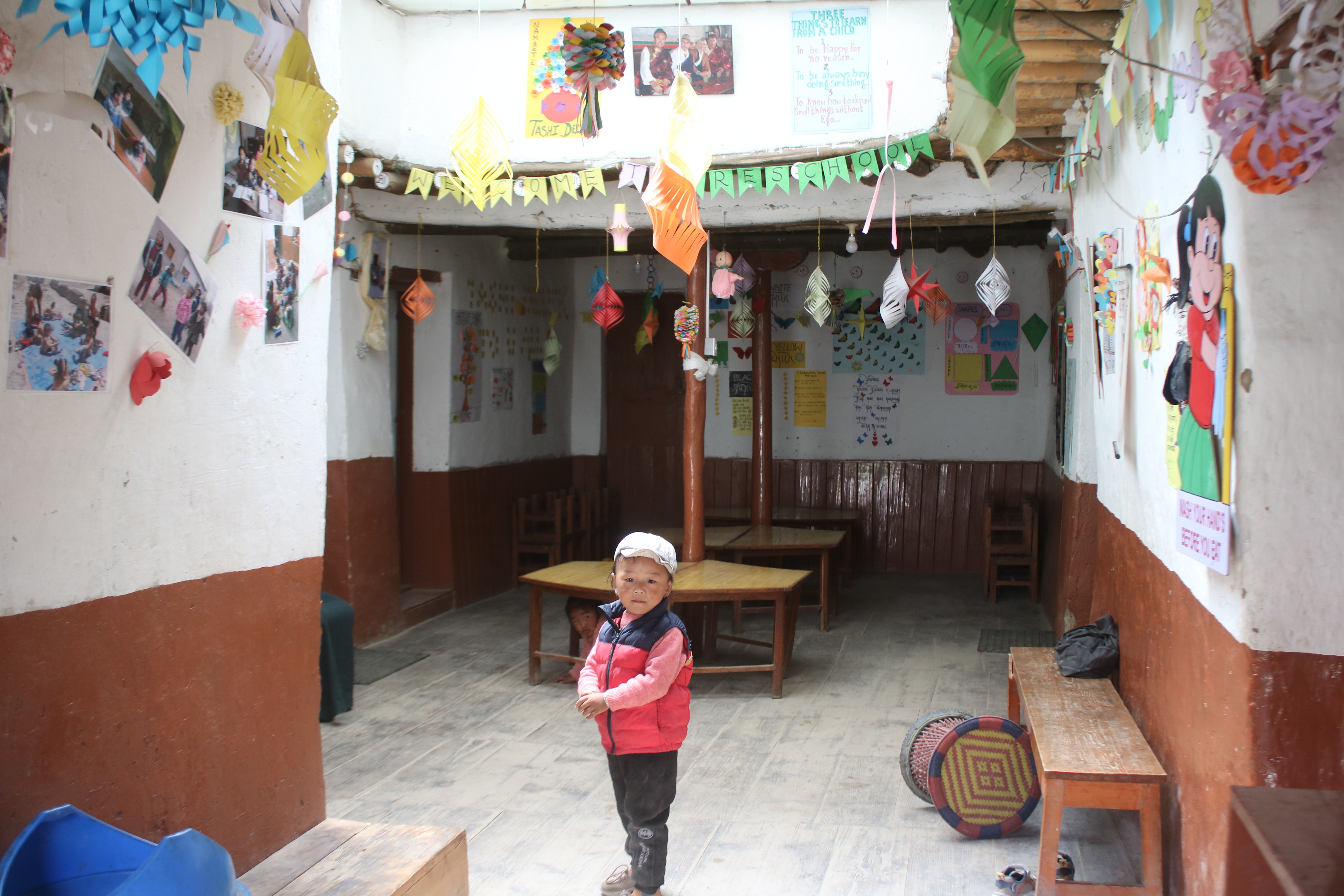 Chomphel's first project was to build Ghiling's first kindergarten, which he built back in 2000. It currently has 20 children. Marissa Taylor
Children were ecstatic for being fed and taken care of, and the parents were happy. This was because while the kids were at the centre, the parents could focus on their work. This encouraged more parents to enrol their children.
Then in 2002, Chomphel with his friends founded Maitri Ratna Nepal, a nonprofit organisation through which he would carry out developmental works in Ghiling.
Their main focus then was on remodelling Shree Jana Jyoti School, the only school in Ghiling and the very school Chomphel wanted to go to when he was a child. In the decades that the school had run, it had failed to provide quality education to the children of Ghiling, leaving the majority of village's parents with no option but not to send their children to school. The few families that had the financial means sent their children to schools in distant towns. The school was established in 1966, but for decades, until Maitri Ratna Nepal took over the administration, the school only had five students who had passed class five.
With Maitri Ratna Nepal's intervention, the two-room school has today transformed into a proper educational institution with a hostel, a science lab, a library, a volleyball court, and a basketball court. A new hostel building is under construction with financial assistance from the government to accommodate more students. The school currently runs under the community school model with the joint support and coordination from the government and Maitri Ratna Nepal.
"It was not easy building a school with this kind of infrastructure in upper Mustang, especially considering the fact that motorable roads had not made their way to the village until recently," says Kunsang Dorjee Lama, chairperson of Maitri Ratna Nepal. "On the backs of donkeys, amidst knee-deep snow, Tenzin and the team of Maitra Ratna have delivered construction materials to the school, to ensure the work does not stop."
Owing to Maitri Ratna Nepal's efforts, till date, 190 students have studied at the school. Currently, the school's kindergarten has 20 children and a total of 76 students are enrolled in grades 1 to 8. Once students finish grade 8, they will have to go to Jomsom, the biggest city in the Mustang district, for their higher education before heading to bigger cities like Pokhara or Kathmandu.
Besides children from Ghiling, the school also has students from 12 other villages across upper Mustang. There are even students from the neighbouring district of Manang.
"A lot of parents have difficulty sending their children to school in remote areas like Mustang because they're not in close proximity. But Shree Jana Jyoti has hostel services, which are free, and it has established itself as a good school in the region, so parents feel at ease when they send their children to study," says Karma Gurung, a former student who is currently a science teacher at the school.
Gurung is among the first batch of students to graduate from the school after Maitri Ratna got involved. She later went to more developed places like Jomsom, the district headquarters, and then to Lalitpur to finish her high school. She finished her Bachelor's in Education from Pokhara University, with financial aid from the nonprofit.
"Tenzin has supported me throughout my life and it is because of him that I am an educated woman," says Gurung, adding that she came back to her village to teach at the school solely because of Chomphel. "All my life I have seen Tenzin give to Ghiling and I think it is my duty to do something for the village too."
On Chomphel's insistence, the school also places a lot of emphasis on local language and culture, with various cultural functions happening year round.
"One of the core ideas behind the school is to preserve and promote our cultural values and traditions," says Jamyang Tenzin Gurung, the ward chairperson of Ghiling. "Because of Tenzin, our school has become a model school across upper Mustang. What he has done for Ghiling in the past two decades, people take generations to do. Seeing his work, the government has also been positive towards helping the school and we hope we can now upgrade the school into a high school."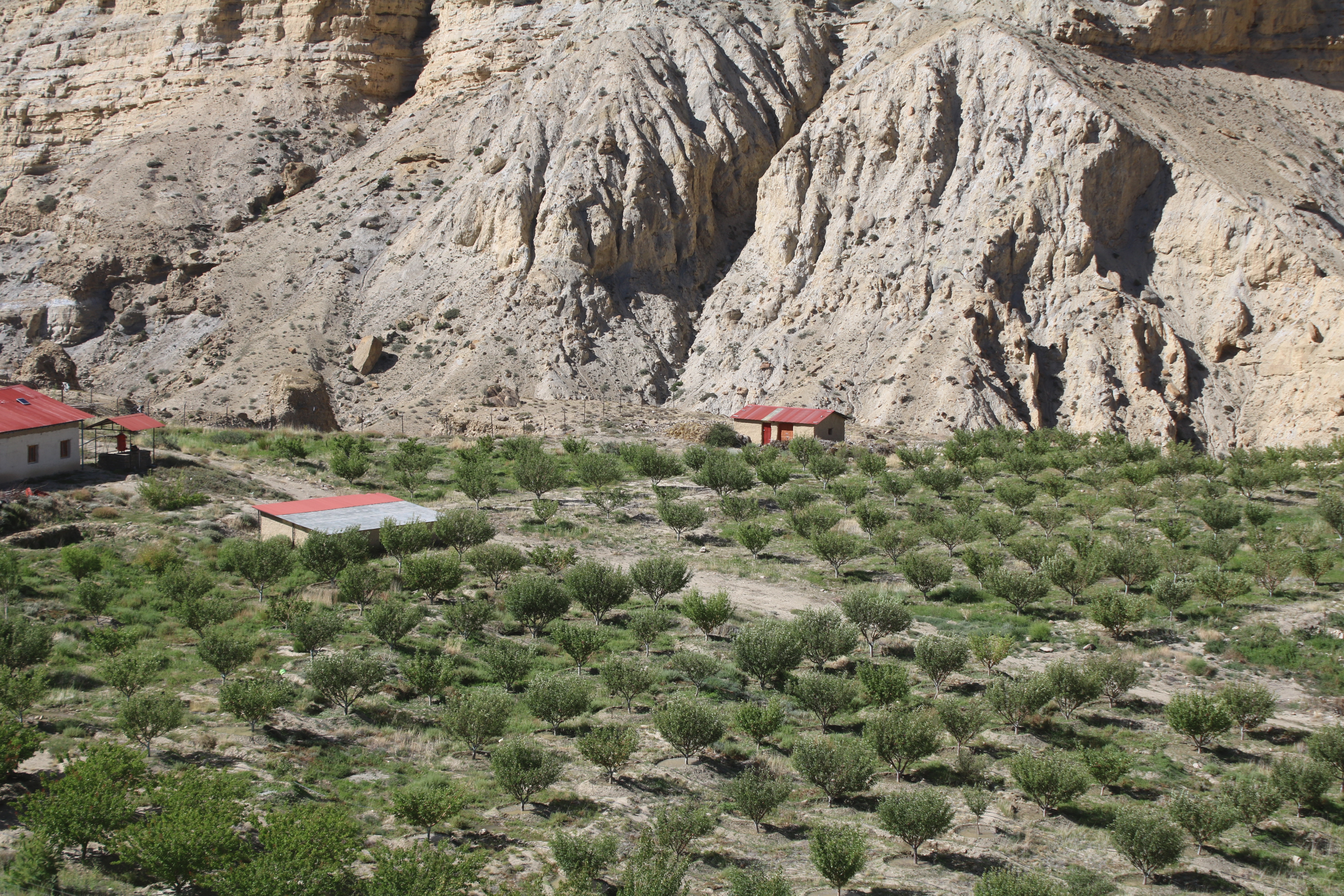 Under Maitri Ratna Nepal, Chomphel has also set up an apple and apricot farm in Ghiling in the hopes to use the income generated from it for the development of the school and village. Marissa Taylor
And Chomphel's contribution to the village goes beyond the school. Under Maitri Ratna Nepal, he leased land from the villagers and set up an apple and apricot farm in Ghiling with over 1,500 trees. The farm has been six years in the making and all the profits from it will go directly to the development of the school and the village.
For all he's done for Ghiling, the people in the village take him as their own, and he, them. It matters little to him and to them that on paper, Chomphel is still a Tibetan refugee.
"It doesn't matter what nationality a person is, what is more important is what you feel for each other and how clean your heart is," says Chomphel.
Living and working for Ghiling has given Chomphel something valuable too: the answers he'd been searching for all these years.
"I have realised that what gives life true meaning is to serve others. To feel responsible for your people, to help, love, and give without any expectations," he says. "That's what gives life true meaning."
---
---