The first step towards a gender-inclusive political system
The 2017 local elections saw over 14,000 women elected as local representatives, but for many of them, their tenure has been mostly about navigating social challenges.

A woman casts her ballot in the local elections of 2017 which saw 14,352 women elected as local represetatives all over Nepal. Post File Photo
bookmark
Published at : March 9, 2022
Updated at : May 27, 2022 17:29
Lalitpur
Before 2017, Bimala Mijar was a shy and timid person who couldn't properly express her needs or concerns. As a cook for a foreign education consultancy in Kumaripati, she spent her days enclosed within the four walls of her work kitchen.
"Never had I thought I would venture out of my comfort zone," says Mijar. But 2017 was a watershed moment for Nepali politics. Local elections were being held after a gap of 20 years.
The same year, Mijar was elected as a ward member of Ward 13 of Lalitpur Metropolitan City. For someone who didn't have any political aspirations or experience whatsoever, Mijar's foray into politics was something unexpected yet fortunate.
"Entering politics was the last thing I would have expected from myself," says Mijar. "But once I was given a chance, I slowly discovered my potential ."
Mijar was encouraged by other women at Women Awareness Centre Nepal (WACN), which she had joined in 2016, to stand up for the election of ward members in her ward. But she believes that simply gaining support from her peers wasn't enough —a fortuitous family situation also contributed to her entry into politics.
"Just as I got elected to be a ward member, my husband also went overseas for work. I also lived away from my in-laws so there wasn't any familial constraint for me back home," she says. "My two daughters were also highly supportive of my political endeavour."
Women's representation rose to newer heights in all levels of the state from 2017 onwards. But the women representatives that the Post spoke to say that there were and still remain constraints—systemic, social, and financial, among others—that prevented them from bringing about more positive changes in their communities. While the women representatives believe that gender-inclusive reforms have ushered in more numbers of women in politics, they point out that it is simply the first step to a gender-inclusive political system in Nepal.
Before 2015, the Interim Constitution of 2007 limited women's rights to a narrow scope—right to reproductive health, right against violence, and right to ancestral property. But the promulgation of the Constitution of Nepal 2015 heralded a new era of women's rights in Nepal. Most importantly, the Constitution marked women's right to "participate in all bodies of the State on the basis of the principle of proportional inclusion."
The direct implications of the expanded political rights of women became apparent after local level elections were announced in 2017. The Election Commission mandated that at least 40.4 percent of total nominees be female and that the mayor and deputy mayor nominations put forth by each political party in each local unit be gender-even. The result was that a staggering number of women—14,352 or 40.96 percent—were elected in 2017 as local representatives among a total of 35,041 elected representatives. While issues of tokenism were immediately raised after the result of the elections, gender equality experts were nevertheless hopeful.
"The segregation in Nepal is obvious. But gender inclusion was a step forward, and we must acknowledge the effort," says Kanchan Lama, gender equality and social inclusion specialist. "Opportunities for representation in political mechanisms of the state must come first to set a precedent. Capacity becomes secondary as these qualities can be built through various capacity building training programmes."
Another issue that became apparent was that most women were confined to secondary leading positions or barred from decision-making levels. According to a 2018 report by Nepal in Data, out of six metropolitan cities, 11 sub-metropolitan cities and 276 municipalities, there are only seven women mayors, and out of the 460 rural municipalities, there are only 11 women chairs. The power discrepancy showed that there was still a lot more ground to tread for a gender-inclusive political sphere in Nepal.

While it took some years for the local representatives around the nation including Mijar to adjust into their new roles, Mijar was hopeful that soon her new-found role as a local representative would allow her to initiate positive changes in her society. However, in Nepal's local level of governance, a ward member has limited power, and most of the administrative power resides in the ward chairperson and above.
"As a ward member, I, along with my fellow ward members, tried to include caste-based and women empowerment activities but the ward chairperson, who is a male, mainly focuses on infrastructure development," says Mijar.
Mijar's experiences echo that of Suprabha Shakya, ward member of the Ward 16 of Lalitpur Metropolitan City. Shakya also has significant experience in social works and community activities, working as a social mobiliser for Ward 16 from 2015 to 2017.
"In the first few years after being elected, everyone was adjusting to their new roles as local representatives so there was an environment of cooperation," says Shakya. "However, after a few years when the power difference between ward members and chairperson became apparent, my suggestions and inputs started being disregarded."
Shakya is now planning to vie for the coveted position of ward chairperson herself if her party—CPN(UML)—provides a ticket of candidacy. With a wealth of experience in different community activities and a supportive home environment, she believes that she can enact positive changes in her community.
"Since I worked as a social mobiliser, I got to know the ins and outs of our community," says Shakya. "I was the only person from my party who won in the local elections of our ward in 2017, and in the upcoming election, I believe that the locals will appreciate my contributions to the community."
But while ward members like Mijar and Shakya strive to reach the upper echelons of the local level of the state to better enact their visions, their expectations may fall short of reality. The constraints to women representatives aren't just limited to systemic power limitations but also social and financial.
Apsara Devi Neupane, the deputy mayor of Chandannanth Municipality, Jumla, was into politics from the early age of fourteen.
However, she feels that her tenure as a deputy mayor hasn't been as fruitful as it could have been because her skills and expertise weren't acknowledged. "There were times when a decision would be made, but I would not know about it, as people thought it was unnecessary to notify me thinking that I don't know much or that I was not educated enough. At such times, my very existence felt neglected," she says.
While women have been elected into positions of power, their duties towards their families haven't changed. According to the Gender Needs Assessment Framework, the triple role of women—reproductive, productive, and community role—must be acknowledged for gender mainstreaming. While women were elected as representatives and given political power, they were still pigeonholed as the bearer of all domestic duties in their homes.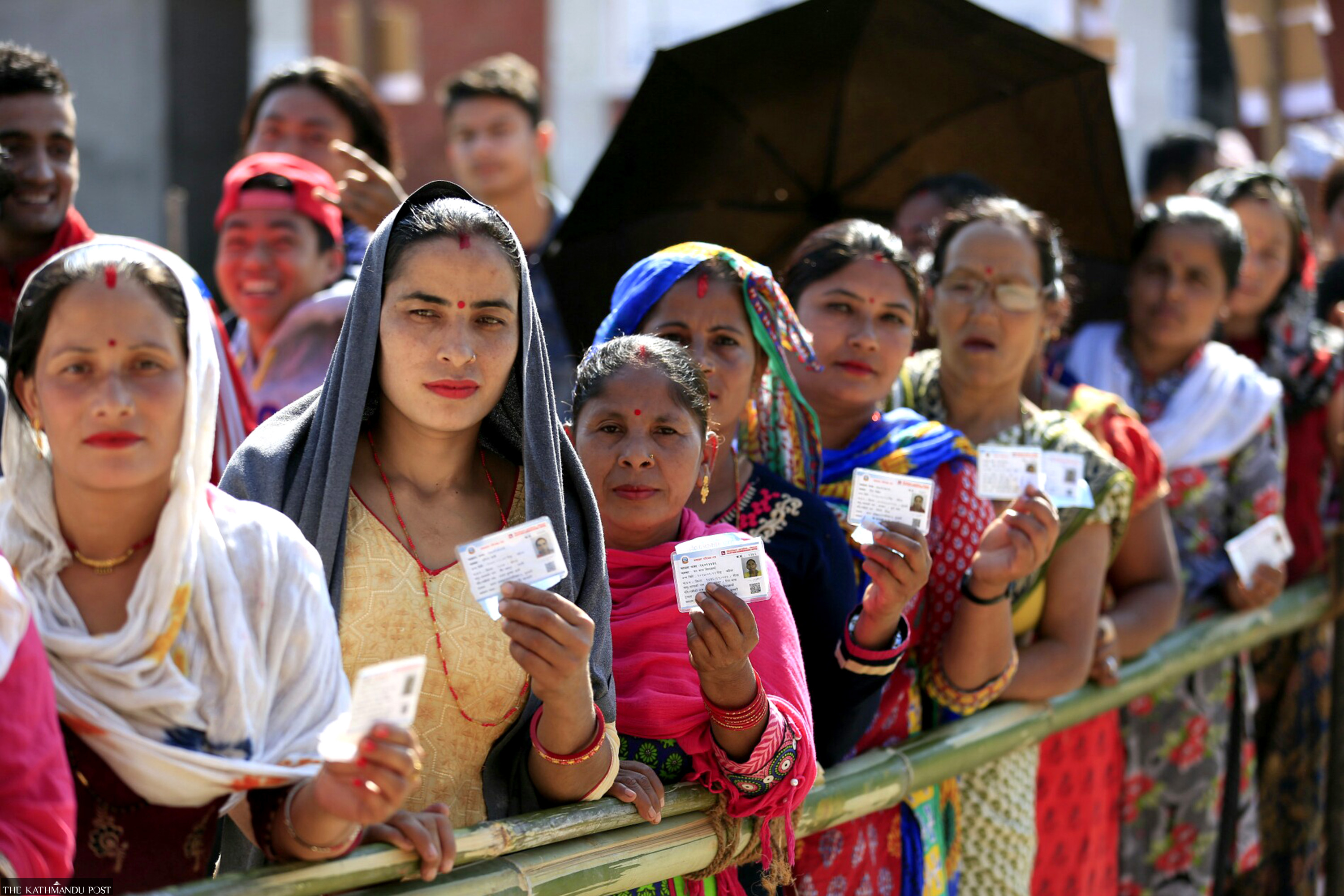 Post File Photo
A study focused on the triple role of rural mountain women quotes that three of the International Fund for Agricultural Development (IFAD) funded projects in India and Nepal revealed, "that poor rural women were overburdened with work in the subsistence and domestic spheres. Thus, any additional involvement in income-earning activities on their part could be possible only if they sacrifice some other work."
"My family is supportive of my political career, but I still have to manage my time between my home and office," says Neupane. "If I have a meeting early in the morning, like 8 am, then I have to wake up two to three hours earlier to complete the household chores so that I can attend the meeting in time."
For women in positions of power at the local level, their tales are more-or-less the same. Either they have to take additional burdens and struggle to manage their commitments to their home and communities or they have to sacrifice one for the other. Fifty-year-old Laxmi Pandey, one of the few women mayors in the local level of our country, has been involved in politics for the past two decades and has a supportive husband who understands her as he himself is politically affiliated.
"Even before I got elected as the mayor of Hupsekot Rural Municipality, Nawalpur, I was working as a teacher shouldering the weight of dual responsibilities, but in my case, I have had to choose my official obligations over family," says Pandey.
But the challenges women representatives in politics face are not just limited to the obstacles created by the patriarchal social structure; there are financial challenges too.
"While distributing the tickets to the candidates across the country, one of the factors that majorly decides the candidacy is the financial capability," says Neema Giri, deputy secretary-general of Lumbini Province of Nepali Congress. "For provincial and federal elections, one candidate must be prepared to spend anywhere between Rs five million to Rs 10 million for campaigning. In the case of local level elections, it depends largely upon the location. An election in the rural municipality may cost less campaigning costs, but even in local elections, the costs usually doesn't dip below Rs 500,000. Where do the women candidates even bring that money from?"
The financial aspect of politics is why the women leaders in politics are usually from well-off families having the right network and the money, says Lama. "I have witnessed many women who have lost their candidacy despite their capabilities and leadership qualities– the sole reason being money."
To solve this problem, Lama says, women in politics should form their own networks by forming a sisterhood advisory group of female representatives from the community involving health workers, ward members, and such. But they must be able to see beyond the parties they are affiliated to, emphasises Lama.
Canopied by the systemic, social and financial constraints, the women representatives face constant scrutiny for their capabilities and skills. A report by The Asia Foundation (TAF) revealed that FGDs (Focus Group Discussions) with men underscored "the prevailing mindset among most men elected representatives (and that of the community) that subscribes to deeply entrenched gendered expectations and biases… Many men representatives that participated in the FGDs were not reluctant to express that the 'quota system' was the only reason for the successful election of so many women representatives in the recent local elections."
Under such stringent scrutinies, women representatives find it difficult to build connections pivotal for political growth. "Women have to be reserved and cannot make networks or bond freely because of the societal construct. We are very conscious of who we talk to and in what way, as we are constantly judged upon by society," says Giri.
"Even when the male and female candidate have the same roles and responsibilities, society becomes critical with the female candidate asking about the outcome from her and questioning the legitimacy of her leadership," says Lama.
But the challenges aren't insurmountable. The first step has been taken, and the path ahead lies brimming with the potential for a gender-inclusive political system. "The obstacles in our path are a way of distracting us from what we can achieve, something we must not pay attention to," says Pandey.
---
---