Stuck in the pandemic's endless loop
In order to stay safe in the midst of the pandemic, many elderlies have had to curtail their freedom and that has come with its own set of challenges.

To keep herself safe from Covid-19, seventy-seven-year-old Kamala Bajracharya hasn't met many of her relatives for more than two years. Srizu Bajracharya/TKP
bookmark
Published at : January 20, 2022
Updated at : January 22, 2022 11:28
Kathmandu
On a recent afternoon, the old neighbourhoods of Jhochhen and Basantapur were bustling. Despite an exponential rise in Covid-19 cases in the last few days, restaurants and eateries in the two neighbourhoods were filled with diners.
But inside Kamala Bajracharya's house, which is located above a small grocery store in Basantapur, there was an eerie quiet. The neighbourhood's hubbub seemed so far away. In her room, Bajracharya, a retired health and science teacher, had wrapped herself in a blanket. Beside her was a pile of spiritual books, an old telephone, her mobile phone, and a TV remote—everything she needed was within her hand's reach.
The blanket, said Bajracharya, who has osteoarthritis, is to warm herself.
"I look quite old like this, don't I? I will be 78 next year. I have been plagued by ill health in this old age, and this never-ending Covid-19 pandemic has made my life lonelier than ever," she said.
Bajracharya said she does not allow visitors in her room.
"Ever since the pandemic gripped this country, I haven't been able to go out like I used to, and I cannot even have people visit me like before," said Bajracharya. "So many people I know have lost their lives to Covid. These are bleak times."
In the 22 months since the pandemic began, elderlies like Bajracharya have been disproportionately impacted. Globally, the majority of those who have succumbed to Covid-19 are people aged 65 and above. In Nepal, according to Health Ministry's data, the coronavirus has taken the lives of 11,632 people, and out of them, 6,316 people were aged 60 and above. The risks that Covid-19 pose to older people have led elderlies to take extra health and safety precautions to keep themselves safe, and for many, this has meant withdrawing from the world and severely reducing social interactions. But this has come at the cost of emotional and psychological wellbeing. Elderlies like Bajrachrya say that the last 22 months in some degree of isolation have been the hardest times of their lives. While many have been able to stay away from contracting Covid-19, they have been grappling with stress, anxiety and loneliness.
Ritu Adhikari, executive director of Asraya Nepal, an old age home in Bagdol, clearly remembers the day an elderly woman at her nursing home started wailing in despair.
"This incident happened last year at the peak of the devastating second wave of Covid-19. Ever since the pandemic hit, we have been taking extra precautions to keep our residents safe," said Adhikari. "We have completely stopped our regular outings for the elderlies and have not allowed visitors. One aama broke down and said she felt confined and she wanted to go out. It took us a while to calm her down."
And while a lot of the residents of Asraya Nepal, says Adhikari, are coping well with the extreme measures the institution has taken, she admits that they have taken a toll on residents.
"Because most of the people in our home don't have a family, the only visitors we get are donors and outsiders. And when that interaction stopped, they felt left behind, emotionally," said Adhikari.
In Tamsipakha, Dallu, 76-year-old Chini Hera Shakya has been diligently following health and safety protocols. She strictly follows the mask mandate and never goes out unless extremely necessary.
"A lot of people I know have lost their loved ones to Covid-19. I am aware of the severity of the situation we are in and do not mind doing my utmost best to keep myself and my family safe," said Shakya with a blue surgical mask on during a video call with the Post.
But Shakya says that the strict health and safety protocols have taken a toll on her husband, a writer.
"He has cardiovascular issues, so he needs to be more careful than others. He was quite physically active during the first lockdown and was okay with following safety protocols, but as the pandemic prolonged, he became irritated with all the restrictions," she said. "He says he is tired of everything and doesn't talk to people as much as he used to."
Shakya said that she started noticing changes in her husband when the second wave of Covid-19 gripped the country in early 2021.
"My father has always been an outgoing person. He loved being around people. But I think constantly asking him not to go out and follow safety protocols has made him feel miserable," said Hisilina Shakya, Shakya's daughter. "He understands why we need the restrictions, but he also feels it's unfair that his freedom has been drastically curtailed while the younger generation is free to go out and do their things."
Hisilina admits she has been strict with her parents.
"I have seen many people lose their parents and loved ones. I know that all these restrictions are harming their mental wellbeing, but I don't want this virus to take them away from us," she said. "We need them in our lives more than they do."
Jug Maya Chaudhary, a clinical psychologist with the Grande International Hospital, believes that families must also take into consideration the mental and emotional wellbeing of the elderlies in the midst of this pandemic.
"If there's one age group whose lives have been most disrupted by the pandemic, it's those aged 60 and above. Many in these age groups have lost friends and family members of the same age group," said Chaudhary. "Someone who may look completely fine on the outside could be dealing with a lot of emotions internally."
Chaudhary says that some of the common physical side effects of stress and anxiety are gastritis and body pain.
"In the last two years, I have seen some cases of elderlies suffering from gastritis and body pain being diagnosed with stress and anxiety," said Chaudhary.
Many elderlies the Post spoke to shared that they have felt needlessly tired and lost interest in following the most ordinary routines of their lives in the current time.
A year ago, 68-year-old Mandira Poudel was looking forward to spending time together with her husband, who was preparing to retire from his work.
"He was 75 years old, and since he was nearing retirement and busy handing over his responsibilities, we didn't stop him much from going out. He loved his work, and he was quite healthy for his age," said Poudel, who retired from the Ministry of Women, Children and Social Welfare about 10 years ago. Poudel's husband was the chairman of Nabil Bank.
"Then one day, my husband tested positive for Covid-19, and after spending 11 days in a hospital, he passed away. Even though it's been more than a year, I am yet to process the loss," said Poudel.
For Poudel, the never-ending pandemic now has her worried about losing more loved ones.
"I just want Covid to stop tormenting people's lives like this. I don't know anyone who hasn't lost their family members to Covid-19. And it's not just that. So many have lost their jobs, and many have had their normal lives upended by this virus," said a stressed-out Poudel. "I don't feel like doing anything. It has been really hard, but I try to put on a brave face for my loved ones."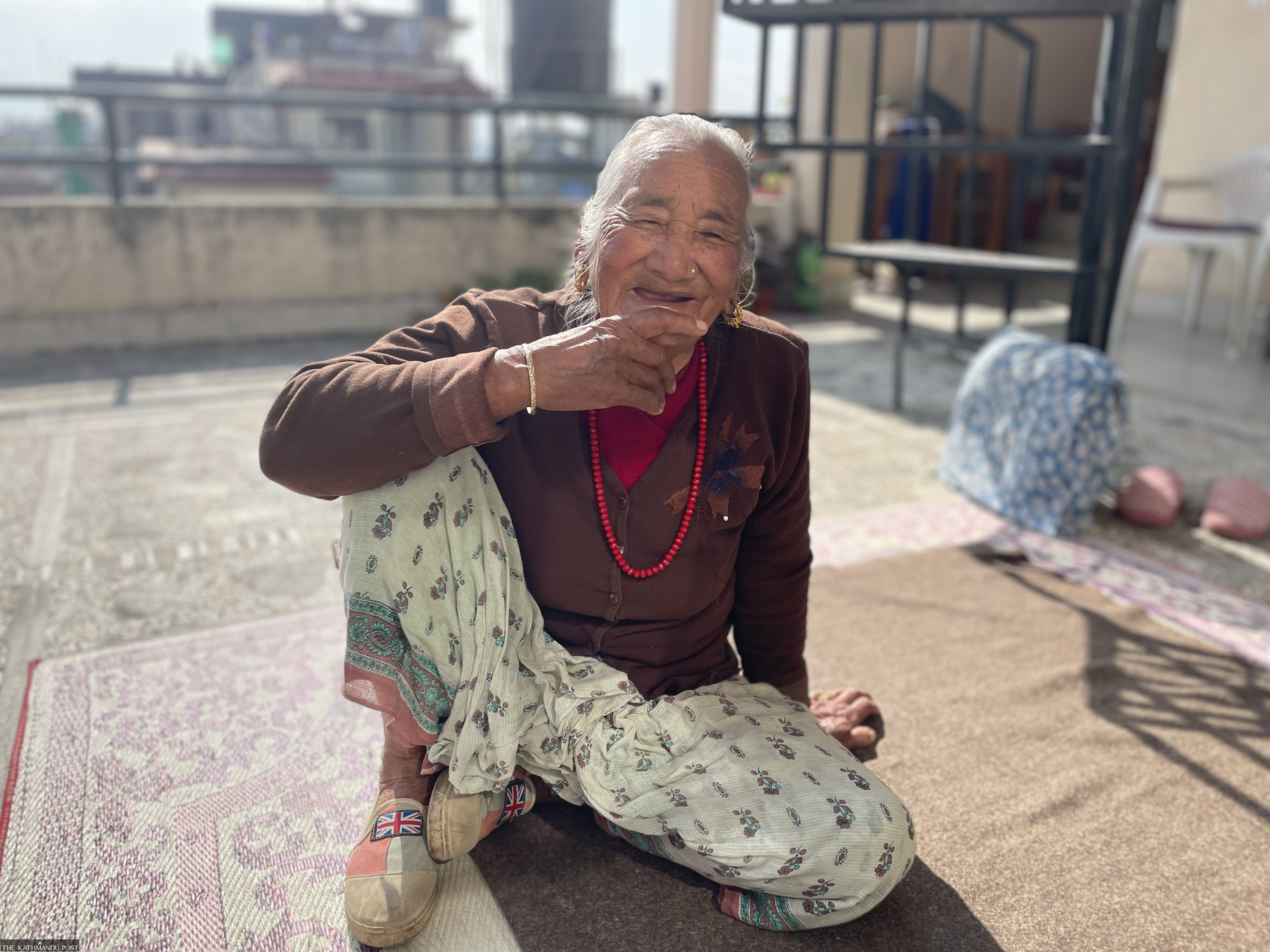 For eighty-five-year-old Padma Devi Shrees, her biggest concern is her children and grandchildren contracting Covid-19. Srizu Bajracharya/TKP
For eighty-five-year-old Padma Devi Shrees, contracting Covid-19 isn't something she is worried about.
"I am a very old woman. My parents, siblings and husband all passed away a long time ago. I am alone now. I do have my sons, daughters and grandchildren, but all are busy with their own lives, and in the afternoons when I am all alone in the house, I sometimes wonder why death has come for everyone but not me," said Shrees.
In the presence of her three grandchildren, Shrees looked calm and unperturbed from the upheavals the coronavirus has caused all around the country.
But not long ago, when her granddaughter tested positive for Covid-19, Shrees said that she was quite worried.
"My granddaughter became so pale and frail, and seeing her in such a state made me very anxious," said Shrees. "These are hard times and I worry about my family all the time when they are not around me. I don't want to lose them. But for now, I just wish to be with my family peacefully."
As Covid-19 cases continue to surge in the country, many elderlies are once again living in fear and isolation.
"It does not look like the pandemic is going to be over anytime soon. To ensure that the elderly stay physically and mentally healthy, we need to engage them in activities to keep their bodies active and their minds off the news," said Chaudhary, the clinical psychologist. "We should see that they are being entertained; help them make video and phone calls to their friends and loved ones. We should also persuade them to make their own new routines."
According to Chaudhary, the elderly need attention and someone to talk to.
"So family members should try to spend more time with them, make them feel they are heard," said Chaudhary. "Engaging in some forms of physical activity is better than staying idle. We shouldn't be too strict with them when it comes to moving around."
In Basantapur, for the lonely Bajracharya, passing the day in isolation from the social life she once knew has come to make her feel more and more hopeless and lonely.
Bajracharya lives with her two sisters, both of whom are unmarried.
As someone who suffers from cataract, Bajracharya cannot expose her eyes to bright lights so she spends her days listening to the TV, and waiting for her younger sister, who works at a financial institution, to come home.
It has been almost two years since the three, all in their 60s, have not met many of their relatives.
"I am tired now. Perhaps it is the stress and the anxiety, I can't even bring myself to focus on my prayers these days," said Bajracharya, a devout Buddhist. "I keep worrying about life, my family, and my younger sister, who survived cancer. I feel lonely and burdened. I feel caged."
---
---