Going eco-friendly, very religiously
Ang Dolma Sherpa, an entrepreneur with two eco-friendly products—biodegradable prayer flags and khadas—aims to foster environmental sensitivity in communal traditions.

In 2019, Dolma pitched biodegradable khadas to Idea Studio and her idea won the WWF Nepal's 'Greenovation' title. Elite Joshi/TKP
bookmark
Published at : December 18, 2021
Updated at : December 18, 2021 07:18
Kathmandu
Growing up, Ang Dolma Sherpa would see her mother upcycling everything in their home—from jars, bottles to plastic bags. Seeing her refusing to throw away things, young Ang Dolma Sherpa would call her mother frugal. The daughter and mother would even argue over the latter's refusal to discard old household items, says Sherpa.
But as she got older, Sherpa, now 40, realised that her mother's habit of upcycling household items was her own way of reducing waste, and soon she started adopting the same philosophy. Little did she know then that being conscious of waste would go on to become the guiding principle behind her own company, Utpala Crafts, which makes biodegradable Tibetan Buddhist prayer flags (lungtas) and ceremonial scarves (khadas).
Sherpa started Utpala Crafts in 2020 with her business partner and friend Shreeshma Shakya, and Muna Shrestha, the company's production manager.
"The idea of Utpala Crafts is very close to my heart and the issue of encouraging eco-friendly practices in communities that follow Tibetan Buddhism is something that I strongly believe in and am passionate about," says Sherpa.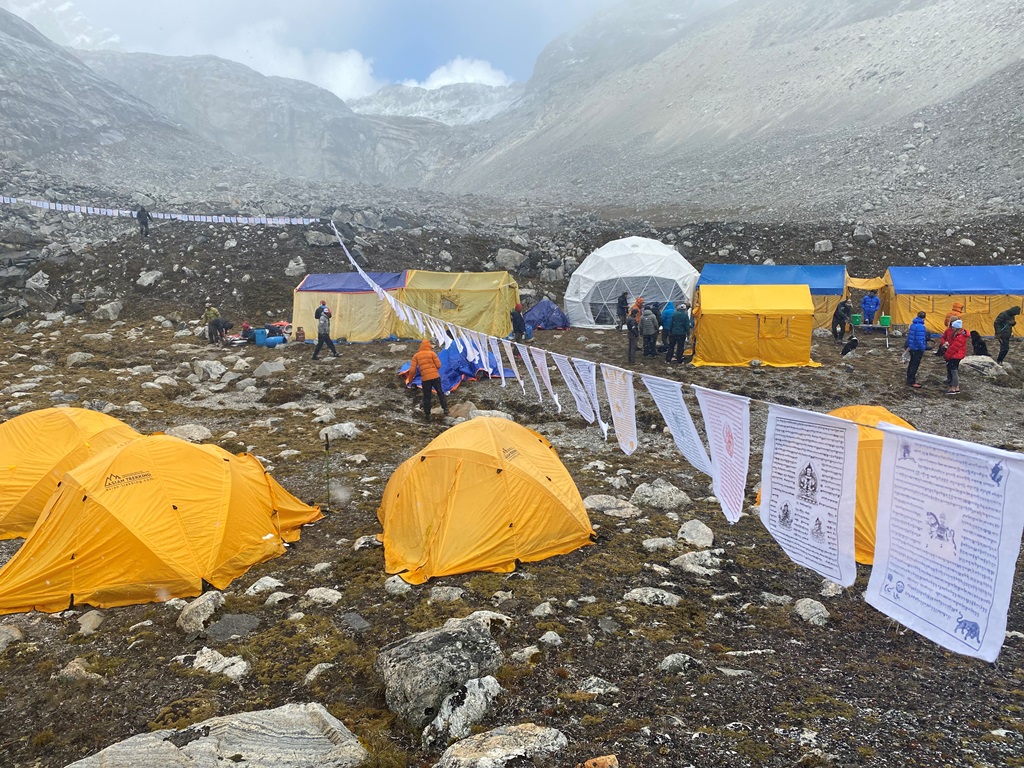 Utpala Crafts' biodegradable prayer flags at the Everest Base Camp. Photo courtesy: Ramila Nemkul
While it was only 2020 that Sherpa started going commercial with her biodegradable lungtas and khadas, she was already making such khadas back in 2016, although for her personal use.
What led her to focus on lungtas and khadas was her own Tibetan Buddhist background. The two items play a very integral role in the everyday lives of Tibetan Buddhists, who believe that placing lungtas bring good fortune and long life. On the other hand, khadas are presented to arriving and departing guests and during every major occasion from birth to death. In the last few years, khadas have also been increasingly used by communities that didn't necessarily follow Tibetan Buddhism.
In order to fulfil Nepal's huge demand for khadas and lungtas, huge quantities of the two products are imported every year from India and China. The majority of the imported khadas and lungtas are made using synthetic materials like nylon and polyester, both of which take decades to decompose. It's a common practice in the community to burn old khadas and lungtas, resulting in greenhouse gas.
"Given how widely used both khadas and lungtas are, I have always been concerned about our religion's carbon footprint and used to think about more eco-friendly alternatives," says Sherpa. "When I started making my own cotton khadas for personal use back in 2016, I started sharing with people my experience and how it could help us lessen our dependence on khadas made using synthetic materials. But in those days, I never really thought I would start a company and commercially produce eco-friendly khadas. In 2014, after years of working 9 to 5 jobs, I decided to take a break and think through how I could do something more meaningful in my life. After I started making my own cotton khadas in 2016 and sharing with people from our community about eco-friendly religious and cultural practices, I felt like I was doing something useful and worthwhile with my life."
In 2019, Dolma pitched biodegradable khadas to Idea Studio and her idea won the WWF Nepal's 'Greenovation' title. This, says Sherpa, gave her more confidence in what she was doing.
But it was only in 2020 in the midst of the nationwide lockdown that Sherpa decided to commercially produce eco-friendly khadas and lungtas.
"I was discussing with Navin Singh Khadka, an environment correspondent for the BBC World Service, on how cultural traditions have their own carbon footprint, and that was when it struck me that making eco-friendly khadas and lungtas available to people is one of the most effective ways to get people to stop using synthetic ones and thus reduce our community's carbon footprint," says Sherpa. "I am thankful to my friends Shreeshma and Muna who have been by my side on this journey."
Sherpa insists that she started by focusing on her community's carbon footprint because that's what she was most familiar with.
"It is not to say that other cultural activities don't beget environmental problems, but as someone who grew up in a Tibetan Buddhist family, I was very well aware of the environmental damage our certain activities cause," she says.
However, it wasn't always the case. According to Buddhist heritage activist Tashi Hyolmo, traditionally, lungtas and khadas were made using biodegradable materials like cotton and silk.
"Before modern materials like polyester and nylon became widely available, lungtas were made using cotton and khadas were made using either cotton or silk. But as demand for the two started increasing, khadas and lungtas started getting mass produced using polyester and nylon," says Hyolmo. "By using traditional raw materials like cotton to manufacture lungta and khada, Ang Dolma is not just addressing a very important environmental issue but also reminding those communities that follow Tibetan Buddhism of our age-old practises that were actually eco-friendly."
Hyolmo, who is also the chair of Mountain Spirit, a non-profit organisation that works to protect the environment and culture of the mountain people and improve their livelihood, says that his organisation has already started using cotton khadas in their organisation's functions.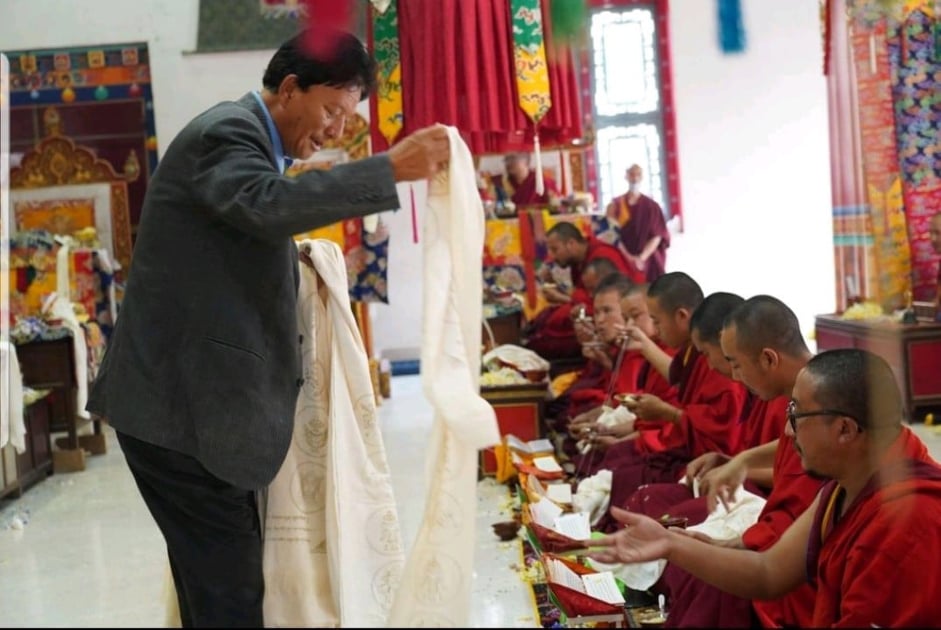 A devotee offers biodegradable khadas to Tibetan monks at the Shechen Monastery in Bauddha. Photo courtesy: Sushil Manandhar
Utpala Crafts' khadas, which come in the ceremonial size, are available only in one colour—off-white. Each khada comes decorated with the Tashi Tagye, the eight auspicious Buddhist symbols, and costs Rs 290. Each bundle of lungta comes with 25 flags and measures nine metres long. The thread that binds the flags are made using sisal.
"I have tried to keep prices as low as possible so that as many people can afford our products," she adds. But given that commonly available lungtas and khadas in the market are much cheaper than Sherpa's, many will find her product expensive and out of reach.
Utpala Crafts' products are available at Koru Handmade Gifts at Bauddha Fulbari, and soon, they'll also be available for purchase at Karma Coffee's outlets.
In order to get people from her community to come together and show the world how the community is serious about addressing environmental concerns, Sherpa organised a crowdfunding campaign to replace the existing synthetic prayer flags that are put up on Bauddha Stupa with biodegradable ones.
"During the months of crowdfunding we received support from Buddhist communities in Nepal and abroad, and on December 18, we are organising an event in Bauddha to replace the stupa's prayer flags," she says. "I believe this event will advocate the use of eco-friendly lungtas and khadas in my community."
For those interested in learning how to make cotton khadas and lungtas, Sherpa says she is open to sharing her knowledge.
"The more people make eco-friendly khadas and lungtas, the better it is for our community and the environment," says Sherpa.
---
---