A day in the life of an executive chef
Growing up, Yuba Raj Pokhrel had his eyes set on becoming an architectural engineer until he experienced the joys of cooking. Today, he is the executive chef at The Soaltee Kathmandu, a 5-star hotel in the city.

Yuba Raj Pokhrel supervises the daily meetings between heads of departments to brief and prepare the kitchen staff for any contingencies. Keshav Thapa/TKP
bookmark
Published at : November 24, 2021
Updated at : November 25, 2021 01:27
Kathmandu
When Yuba Raj Pokhrel returned to his home in Sankhuwasabha in the 1980s, he had newfound vigour and spring in his steps. He was in his early 20s and his foray into the culinary profession had started only a few years ago. But he was yet to tell his family about his new career choice.
"In those days, the culinary profession wasn't a lucrative job in Nepal. The concept of fine dining wasn't common knowledge," Pokhrel says. "And on top of that, I came from a conservative Brahmin family. I grew up in an environment where we didn't consume buff or pork."
After completing his schooling at a local school, he went to India to pursue further studies. He had a knack for mathematics, and his initial plan was to study engineering and become an architectural engineer.
"But when I returned from India, my grandmother pulled me aside and cautioned me if I had been led astray," he says. To earn money for his studies and living, he had started working part-time in restaurants and hotels around Hyderabad. In the kitchen, he had to handle meat, sometimes buff and pork, among other ingredients.
It took some time to convince his family about his then-unconventional career choice, but he had, in fact, discovered his passion. He also had earned a decent amount of money and was successful in convincing his family that the culinary profession was a decent career path.
Since then, Pokhrel has spent more than 30 years working in the culinary field. He has held the position of executive chef at The Soaltee Kathmandu for over seven years and has been involved with the hotel for over 14 years. Before joining the Kathmandu-based 5-star property, Pokhrel worked at reputed hotels in Malaysia and India as well as received training from hotels in Thailand and Sri Lanka.
For Pokharel, cooking is a combination of three things—technology, ingredients, and expertise. "Sometimes, people forget how important technology is in cooking. It not only helps make cooking more efficient but also allows us to create dishes that may not have been possible before," says Pokhrel.
Ingredients are another important aspect of cooking—where you get your ingredients from and how you store them is crucial. Pokhrel shows an example of the type of chicken used in the kitchen: A whole chicken comes packaged in its own bag with all the details of when it was processed, where, and till when is it safe to consume. "Almost all of the ingredients we procure are from high-quality brands. This is to ensure consistency when it comes to quality," says Pokhrel.
And as for expertise, Pokhrel says that he is constantly learning and upgrading himself, even now. "People's eating habits and patterns are constantly changing. For chefs to stay relevant, they have to stay informed and updated about the latest trends."
A typical day for Pokhrel starts with a HOD(Head of Department) meeting at around 9 am. He usually leaves his residence at Balkot, Bhaktapur, at 7:30 am and arrives at work at around 8 am. During the HOD meeting, usually attended by the different kitchen heads, discussion about the costs and sales of previous days, upcoming special events and VIP events, and suggestions and feedback from the guests are held.
"In our meetings, we discuss events and issues in a three-day format—yesterday, today, and tomorrow; what went wrong or right yesterday, how we can improve or continue today, and what events are planned for tomorrow. This system allows us to be prepared for most contingencies," confides Pokhrel before the meeting starts.
The meeting is held in a dark banquet-like hall inside the busy kitchen area of the Garden Terrace at the lobby level of The Kathmandu Soaltee. As new trainees and veteran chefs outside the hall start to prepare for the day ahead, the meeting inside the hall goes underway. Pokhrel is in charge of ten different kitchens of The Soaltee Kathmandu and manages more than 150 staff members.
During the meeting, Pokhrel assumes the role of a leader. He starts the meeting and immediately goes into details about yesterday's reports. At one point, Pokhrel's tone turns a bit grave as he says, "Yesterday's costs of the bakery products far exceeded the sales. We need to be more mindful of that and control accordingly from today."
Being a chef, and an executive chef at that is a multifaceted profession. The food not only has to taste good but it also has to look aesthetically pleasing, and be healthy and nutritious. And, as an executive chef, Pokhrel needs to coordinate between different departments like the Food and Beverage Service Department, Engineering and Maintenance Department, Purchase Department and so on. "I need to wear different hats, not only my chef's hat," jokes Pokhrel. "As a chef, I have to make sure our dishes are exquisite, delicious, healthy, nutritious, and design our food menus accordingly. As a manager, I need to be attentive to my staff's needs. As an accountant, I need to be fiscally responsible and control excessive costs."
Soon after the meeting with the department heads, Pokhrel usually grabs breakfast at the breakfast buffet of the Garden Terrace restaurant itself. The timing is usually 10:30 am, and the breakfast buffet—which starts from 6:30am to 10:45am—nears its end.
While he has his breakfast, he also reviews the quality of the breakfast menu items. Checking the consistency of the food that the hotel serves its guests is an important part of the job, says Pokhrel. "Someone who comes in for breakfast during the start of our buffet from 6am and someone who comes in during the end of our buffet at 10:30am should receive the same high quality of food," shares Pokhrel.
In between our talks, Pokhrel's phone makes its presence known relentlessly. Sometimes, the call is about confirming the menu design for an upcoming event. "Yes, I have already emailed the designed menu," says Pokhrel. Sometimes, it's about confirming the product invoice for the purchase department. "No, I have corrected the amounts since a new event has been confirmed for tomorrow," says Pokhrel. Other times, it's about an urgent meeting regarding the logistics of a company's launch event. "Yes, we can meet in person to discuss the menu," says Pokhrel.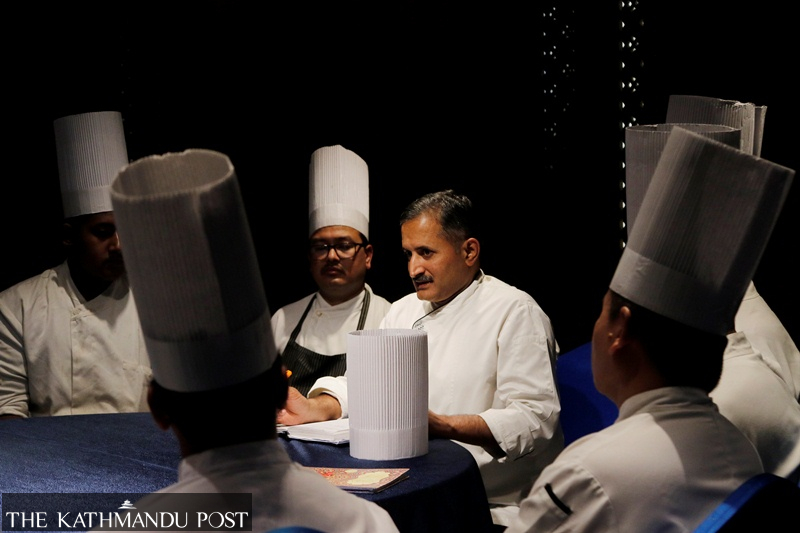 With more than 30 years of experience in the culinary field, Yuba Raj Pokhrel has been the executive chef at The Soaltee Kathmandu for around seven years. Keshav Thapa/TKP
Since there has been an intake of fresh interns recently, Pokhrel's schedule has been even more hectic than usual. "We have to organise different training and workshop programmes for our new members," he says. "Everything from sanitation protocols to machinery and technology handling to kitchen etiquettes needs to be taught and I handle many training sessions myself."
Lunchtime for Pokhrel is usually at 2 pm but rarely does his day follow the schedule. There is always one person or other that wants to sit down and chat with Pokhrel regarding an upcoming event. Today, an executive officer of a power company wants to discuss the menu design for an upcoming formal event for his company. Aside from the discussions during the planning phase of an event, Pokhrel also has an active role during events.
"In many events, guests want to express their gratitude to the chef in person so I need to converse with them," says Pokhrel. "Conversing with the guests also allows me to get personal and sincere feedback about the quality of the food."
Between the ceaseless meetings and discussions, Pokhrel seldom gets the chance to do what he loves most—cooking. "Passion over everything else," he reflects upon his culinary journey.
"I have sacrificed many aspects of my life for my passion for cooking, and I have reached where I am today due to relentless struggle," says Pokhrel. His journey has now led him a bit farther away from the flames of the kitchen, but he is still deeply engrossed in the culinary world—the joy of watching customers relishing their meal still fuels his passion.
The last instance when he cooked for the guests was some weeks ago when a flight got cancelled late into the night, and the passengers were brought to The Soaltee Kathmandu for an overnight stay. "During that time, most of the kitchen staff had already gone home, and there were only a handful of us in the kitchen," says Pokhrel. Nevertheless, the few staff worked tirelessly to feed the hungry guests, and Pokhrel reached home early into the morning.
But aside from the professional kitchen, Pokhrel indulges in his passion for cooking in his home. "My kids coax me to cook whenever we make any non-vegetarian items, especially chicken," says Pokhrel. "However, they aren't fond of my mutton gravies. I make a restaurant version which has a bit too much spice for them."
Pokhrel has two daughters and one son. His younger daughter is also interested in the culinary arts and he has two minds about it. "On the one hand, I am ecstatic that my daughter is also interested in the culinary field and wants to follow in my footsteps. On the other hand, I have seen behind the glamour and glitter of this industry. It's a really ruthless and taxing job," he shares. As he ponders upon his dilemma a bit, he adds, "You can't get involved in this industry and leave it halfway. Either you commit to it fully, or you don't start at all."
The culinary world is hectic; the food orders need to have consistent quality and be prepared within an acceptable wait time. Inside the kitchen, the environment is chaotic as chefs scramble to complete their tasks and finish the dishes. In his job schedule, the working hours end at 6 pm, but in reality, he has never gone home at that time in his entire career, he says.
"There is always one thing or the other to do—ingredient orders to be approved, menus to be designed, preparations to be managed and organised. Most of the time, my work ends at 9 pm, but it's not unusual to return home at 12 pm or 1 am when there are special events," says Pokhrel.
The erratic and long working hours are typical for a profession in the hospitality sector such as that of a chef. While diners and customers enjoy their meals, the chefs miss out on their own family dinners.
"I don't have a family life," grumbles Pokhrel with eyes that look into the distance, his voice tinged with a hint of melancholy. "Sometimes, when there is less work, I call home and tell my wife that I will be returning early. But right after that, something urgent comes up and then I am delayed again."
Nowadays, Pokhrel's wife, Rama Pokhrel, doesn't even believe him when he says that he will arrive early and just sets his dinner in an insulated tiffin box.
---
---