The balancing act of preservation of deities
When objects of prayers and worship need to be protected for heritage, the issue of preservation becomes more complicated than one can imagine.

Uttam Bajracharya, a priest at Kaal Bhairav, Hanumandhoka, offers prayers on behalf of devotees. Srizu Bajracharya/TKP
bookmark
Published at : September 11, 2021
Updated at : September 11, 2021 15:32
Kathmandu
Every morning when Sudin Manandhar heads to the temples in his neighbourhood, he bows down to the deities and touches their feet. He then sweeps the thick layer of red tika powders on the deities with his finger and applies the powder to his forehead.
He then tears a small petal from one of the flowers offered to the deities and slips it inside his hair.
"Apart from touching the deities with hands and heads, many also bathe them in water, coat them with tika, adorn them with flowers, toss grains, break coconuts and eggs on them on holy days," says 48-year-old Manandhar, a local of Swan Chhapu Ganesh Marg, Chettrapati. "This is how we have always paid our respects to our deities and gods."
And that was the main reason Manandhar was so agitated when a group of heritage activists decided to encase Mahankaa dyo, a protector deity in his neighbourhood, inside a glass shield cover in March last year. According to the heritage conservationists, the step was taken to preserve the deity from corrosion caused by human activities. At the time of putting the glass shield cover, the 800-year-old Mahankaa dyo was covered in a thick layer of grease, dust, and coloured powders, which were used to worship the deity.
While the glass shield offered protection, it also barred devotees from touching the deity and worshipping it.
When Manandhar, a heritage enthusiast, attempted to dissuade the conservationists from putting up a glass shield, they asked him how he would otherwise protect the deity from further corrosion.
"I didn't have a reasonable answer to give them. I understand that it's important to conserve our historical deities and sculptures for the future generation, but doing so also means that we can no longer continue with our traditional way of paying respects and worshipping them," says Manandhar uneasily.
Mahankaa dyo isn't the only object of historical and religious significance to be enclosed to keep out people from physically touching it. Across Kathmandu and in the country, glass shields, bars, and even priests as mediators have barred people's tactile relationship with their gods. At temples in Dakshinkali, Pashupati, Indra Chowk, Swayambhu, and Hiranya Varna Mahavihar, priests perform the rituals for the devotees. And although the step to limit human interaction with deities has infuriated many, archaeologists, historians, and heritage activists say that the move will help conserve the revered and valuable deities.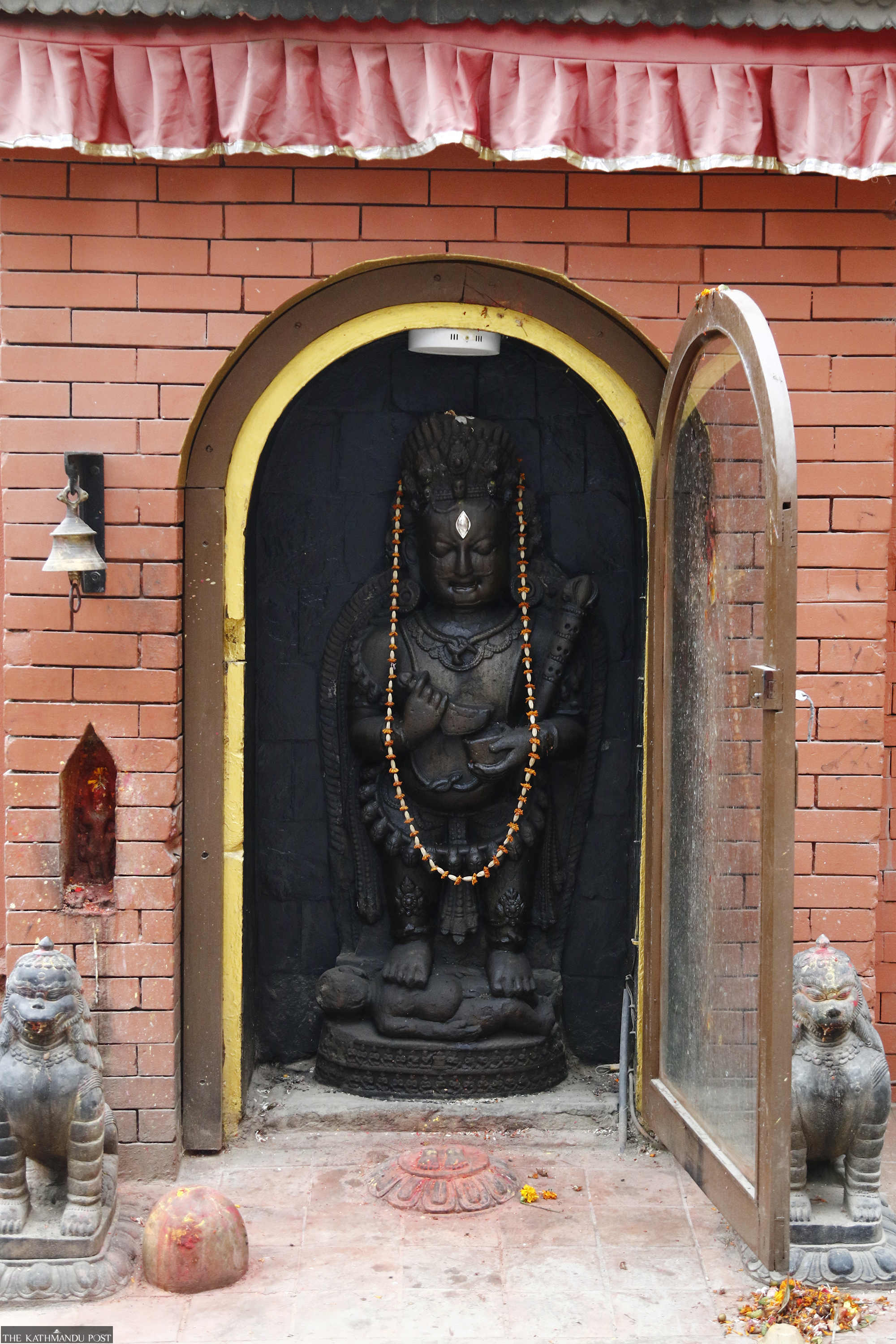 Last year an 800-year-old Mahankaa dyo in Swan Chhapu Ganesh Marg, Chettrapati was encased to protect it from corrosion. Keshav Thapa/TKP
"In the old days, the coloured powders people used while worshipping deities were made of organic materials. But these days, the powders have a lot of chemicals in them, and they end up corroding the physical structure of the deities, which are mostly made up of metal, stone, wood, and clay," says Professor Beena Poudyal, the head of Nepalese History, Culture and Archeology at Tribhuvan University. "Apart from the powders, devotees also use sweets, milk, honey, and butter lamps when worshipping and all of them contribute to corrosion."
Even natural elements like moisture, dust, heat, and wind play their part in corroding deities.
"That is why deities need to be covered with cloaks or put under roofs. They also require regular careful cleaning. It is our responsibility to upkeep the heritage we have today for the future generation. Even if that means we have to bar people from doing things the way they have been doing, we have to do it. We need to make people aware of how their ways are threatening the future of our heritage," says Poudyal.
At Hanumandhoka's Kaal Bhairav, Uttam Bajracharya, one of the priests and caretakers of the deity, points at the water dripping from the open roof.
He says the water droplets, which land on the deity's nose and hands, have eroded those features of the deity. But the more pressing matter, says Bajracharya, was the tradition of devotees cracking open coconut shells on the deity's body. "This dented the sculpture, and we now ask people to break coconut shells on the ground. We have also been asking people not to put sweets in the deity's mouth, which creates a sticky surface, inviting dust and ants. But not everyone follows our instructions," says Bajracharya.
Last year, Kaal Bhairav's management committee erected bars around the deity to stop people from getting too close to the sculpture. The move, says Bajracharya, infuriated the locals and some of them dismantled the bars.
At Bangemuda, however, the Wasya Dyo (god of relieving toothache) had to be covered up with a plastic shield for a whole different reason. The wooden sculpture lies on the side of a busy road. There, for centuries, devotees have pinned coins to the wooden sculpture in the hopes of relieving their toothache. But when cases of people stealing the coins and pulling out chunks of wood in the process increased, the local ward officials decided to cover the sculpture with a plastic shield.
"Wasya Dyo has a lot of historical significance, and given the increased incidents of vandalism, the only option we had to protect it was by covering it up. We have placed a wooden structure just beside the enclosed Wasya Dyo so people can still pay their respects to the deity," says Ward-25 chairperson Nilkaji Shakya.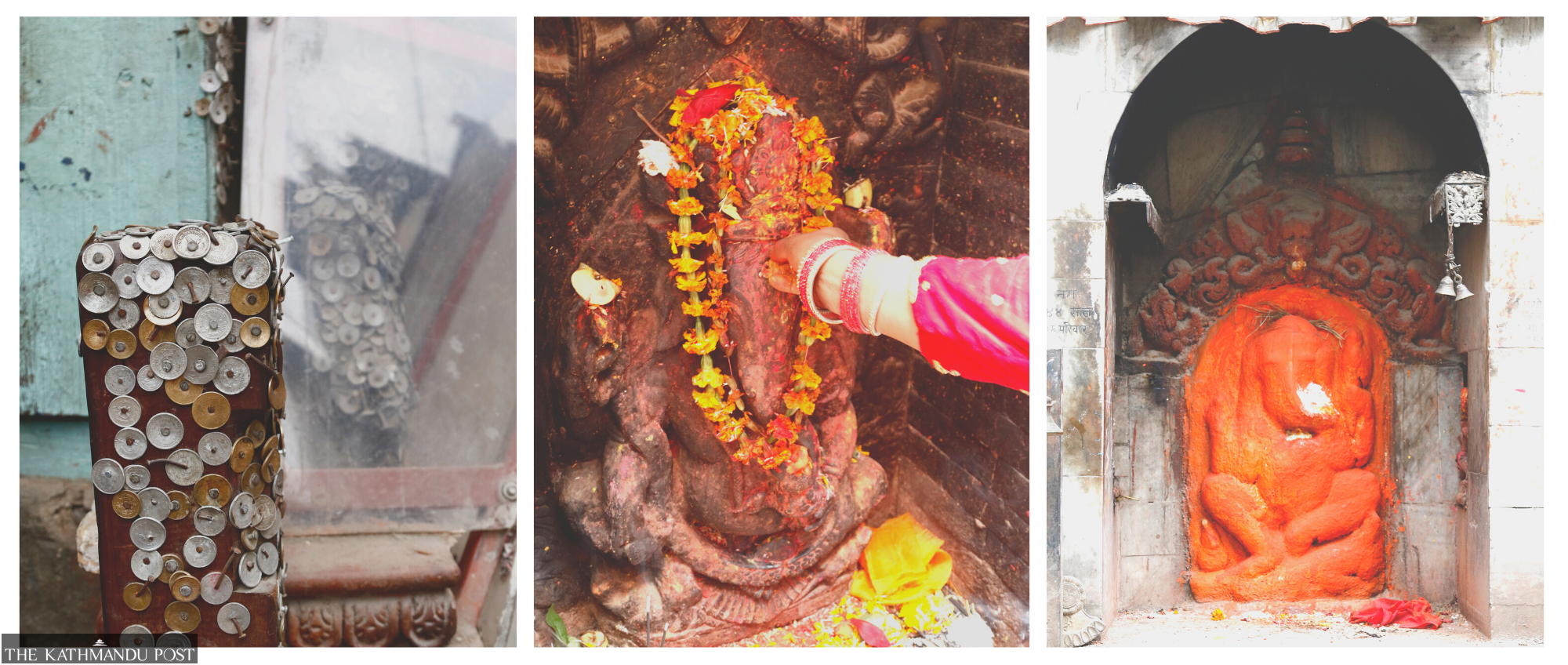 Across Kathmandu and in the country, glass shields and metal bars have been put in place to conserve deities and sculptures of religious significance. But many devotees are unhappy and claim that such moves have barred them from worshipping deities in a traditional way. Keshav Thapa/TKP
However, deities and sculptures are cleaned regularly in many temples and monasteries, and many people even oil the stone sculptures to preserve them.
Many communities also bring out the main deities once a year and parade them in the locality, letting devotees pay homage to the deities.
But deities and historical sculptures that are located on roadsides do not get the same attention and are more prone to corrosion.
"In many of the temples, 'nitya puja', a daily ritual, is conducted, which involves cleaning and maintaining deities," says Tri Ratna Manandhar, a retired history professor. "However, the trend of cleaning the temples and deities has been declining, which has accelerated the degradation of sculptures."
Manandhar believes that the preservation of deities is essential, but in doing so, he says, conservationists should not hurt the sentiment of the devotees.
"It's important that we find a middle way that allows for the preservation and at the same time does not significantly disrupt people's traditional way of worshipping," says Manandhar.
But that is easier said than done.
Some people also believe that preservation is in itself an imported concept.
Anthropologist Ulrik Høj Johnsen, who did his PhD on Nepal's heritage issues, is one of the many who believe the idea of heritage is derived from the West. Over the years, he says, communities in Nepal have accepted the concept as a way to connect to their roots. But something people have not realised, he says, is that the idea also "rigidly freezes culture and traditions".
"I see a clash of two value systems. First, you have the traditional one, in which devotional objects are there to be 'used'. When worshipped, material objects naturally decompose. And when partly or totally decomposed—and this is crucial—the material object is simply replaced by another material object, which of course, is consecrated properly. This makes me reflect upon the multiple shades of devotional objects," he says in an email interview with the Post. "Fundamentally, I see two aspects—a material and a non-material—which exist in a relationship of complementarity. For people to be able to worship a particular god, they need both aspects to be present."
According to Johnsen, in a cultural setup like Nepal, the problem then arises when the concept of conservation lends the object's materiality more value.
Adding to the discussion, a few experts also say that the danger of placing too much emphasis on the conservation of religious sculptures and deities impacts the age-old role of craftspeople and artisans.
"When a divine image gets deformed or destroyed, we do not worship it any longer [in our culture]. It is replaced with a new one, which undergoes an elaborate consecration ceremony before it is deemed worthy of worship," says Alok Tuladhar, a heritage conservationist. "For generations, this practice has helped keep alive the skill and craft required to create these images, and that is the meaning of heritage."
Heritage activist Yadav Lal Kayastha says that while those who support conserving devotional objects clash with those against the measures adopted by conservationists, time is running out to save Nepal's important deities from degradation.
Kayastha was the one who spearheaded the movement that led to the building of an enclosure of the 800-year-old Mahankaa dyo in Swan Chhapu Ganesh Marg, Chhetrapati. For his actions, many elders in the locality, says Kayastha, have called him a devil.
"I agree that what I have done isn't hundred percent right, but if somebody can show me another way to conserve our deities, I would be happy to comply. Yes, people tell me all the time the Mahankaa dyo now looks like it is in a museum. But the truth is, if we let it erode any further, we do not have the artisans and craftspeople who can recreate the deity," he says.
"Believe me, before we decided to enclose Mahankaa, we explored every other alternative there is to preserve the deity. We asked conservationists, activists, and even people from the Department of Archaeology, but nobody had any practical suggestions for us to adopt," he adds.
Kayastha and his group even put a mandala right in front of the now-enclosed deity so people could pay respects to the deity by touching the mandala.
"Our gods, the monuments, and the traditions are our identity. If we lose this, we lose everything," he says. "It's important to discuss the best approach to conservation. The intangible comes after the tangible—and that is what we need to work towards for now."
---
---