'The only way to be a writer is to write and write'
While Sulochana Manandhar Dhital today is known more as a writer and poet, in her younger days, she was a revolutionary who spent years trying to change society.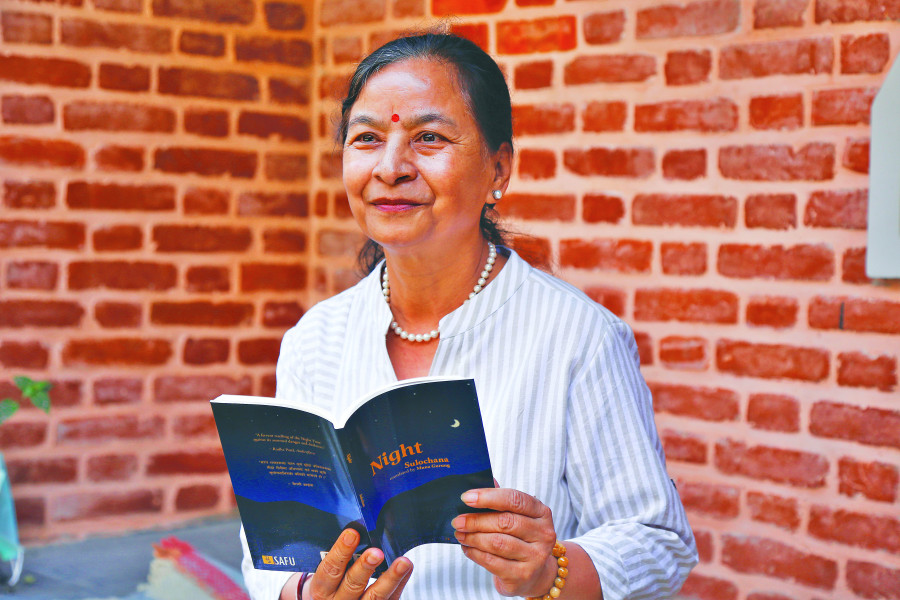 Sulochana Manandhar Dhital reads from her new chapbook 'Night'. Kabin Adhikari/TKP
bookmark
Published at : August 21, 2021
Updated at : August 21, 2021 00:09
Kathmandu
In her younger days, Sulochana Manandhar Dhital had a wayward spirit. In the late '60s, it was customary for girls to be married off in their teens. Manandhar, who was born in 1955, had already turned down an arranged marriage proposal by the age of 18 and had made it clear to everyone that she was going to forge her own path.
She was ambitious with her dreams and goals and was determined to make society a better and fairer place.
After finishing her schooling, Manandhar started teaching at a school in Lagan, Kathmandu.
"The majority of the students in the school were from the Pode community [considered so-called 'backward caste'] and the teachers wouldn't take classes regularly. It was this fact that led me to start teaching at the school," she says.
During her free time in the afternoons, Manandhar taught the community's men and women reading and writing. She also spent a year teaching children of a farming community in Balambu where she remembers getting a lot of love from the local people for her efforts to educate the children and her determination to bring positive changes in the community.
"I felt free and brave when I was teaching in these communities," says Manandhar. "I felt like I was doing my part in making the world a better place."
Manandhar says she knew from very early on that empowering women and the economically marginalised was the key to bring about real changes in society. In order to make labourers of Nebico Biscuit Factory aware of their rights, she joined the factory as a labourer and eventually led a women-only protest demanding labour rights. She also played an active role in the 1979 student protests to address why the country needs a multi-party governance system.
In those years, she also wrote poems and essays advocating for equality of the sexes and women to speak up. She also wrote about revolution and resistance, and her literary works were then distributed to the public. Then in 1980, when a few political parties organised another labour movement, Manandhar once again took to the frontlines to address labour issues. The state in its attempt to quell protests started clamping down on reformists and revolutionaries, and Manandhar had to go underground for years. She then stopped writing.
It was only years after Manandhar got married to Dr Saroj Dhital that she resumed writing poems and essays. Her literary works, which were translated into several languages, portrayed the hues of life and some of them even raised questions on what the country perceived as development. As her works reached far and wide, Manandhar started witnessing the power of literature to transcend borders and move people.
At her home in Lazimpat now, Manandhar, who is lately popular for her radio show 'Jivanbata Jivan Sikau' on Radio Sagarmatha, smiles back at the untamed journey she has had through the years.
Away from the burdens of changing the world, Manandhar at 65 says she is focused on spending her energy on contributing to making small changes. She says she is calmer and less restless now than when she was younger.
And as a reprint of her poetry collection, 'Raat', translated in English by writer and translator Muna Gurung into 'Night' makes way for its official launch on Saturday, Manandhar is excited about finding new readers for her poetry. The chapbook also includes Manandhar's original verses. Night's poetry collection feels like just the right kind of poetry we can take solace from for our heavy nights as we navigate our lives in the pandemic. The collection feels personal and liberating.
In this interview with the Post's Srizu Bajracharya, Manandhar talks about her motivation behind her versatile journey and her love for night and poetry.
Excerpts:
What has been your motivation throughout your journey?
Whenever I think about my childhood, I think of the many difficulties and the pain we had to endure. I grew up in a family that knew sadness better than happiness.
At a very young age, my mother became a widow with three daughters, and society looked at our family differently. A family without a man was never considered good enough, and daughters were never as good as sons. When my father passed away just eight months after I was born, darkness became a part of our home. I grew up seeing my mother always grieving and restless. I never saw her happy in those days. As children, we never dared to cry in front of our mother because we didn't want to add to her challenges and we always tried to face our difficulties with courage.
I always thought of how I need to be a good daughter, and how I need to make her laugh in whatever ways I know. I don't remember demanding much from my mother. I just wanted to make her happy. Our home was barren of books and copies, and our childhood was devoid of quality materials. But I was lucky to enrol in a school. Perhaps it was my challenging childhood that instilled in me the drive to do something significant with my life.
In the early '80s you took a break from writing. Why and what made you begin writing again?
In those days, more than a writer, I was running around to change our society. Writing was something I used to do on the side. We were living in dangerous times and people who raised their voices against the government had to stay low. As the government started intensifying its clampdown on dissenters, I sent my books and writings to my friend Astalaxmi Shakya's house for safekeeping. She came from a wealthy family and I thought the government wouldn't raid her home. But unfortunately, they did and I couldn't recover my collection of poems. I was too attached to my poems because they had inspired people towards our political cause and I had spent many hours reading them to women and youths of the time. It took me a long time to overcome that sense of loss. I resumed writing poems only after returning from China where I lived for a few years with my husband as he pursued his medical residency programme. In China, a few people started to critically discuss my work and that made me realise the impact of writing.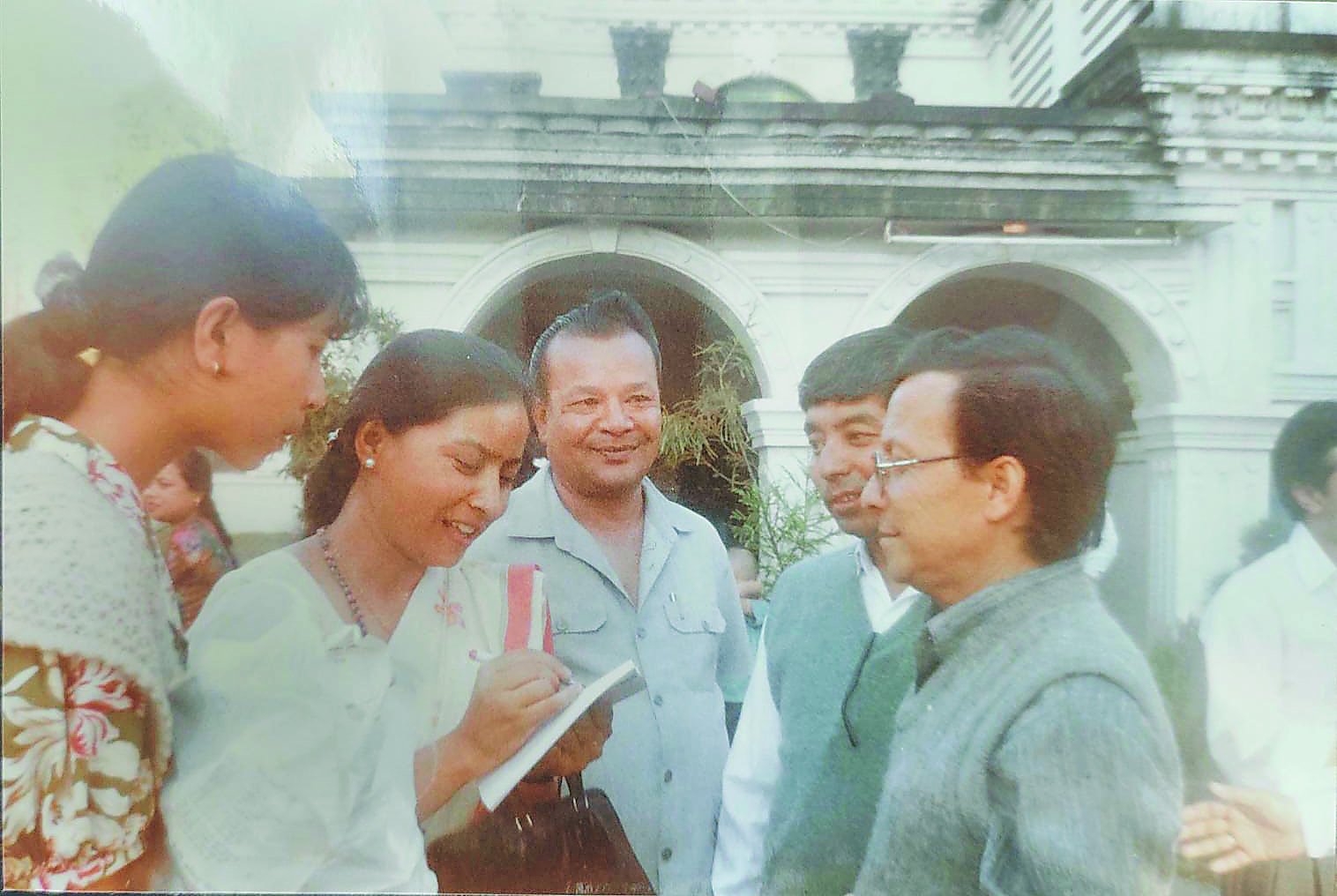 Manandhar interacts with guests at the launch of her book 'Jhyaarkhana' circa 1996. Photo courtesy: Sulochana Manandhar Dhital
Why writing? Can we also talk a little about why poetry is powerful?
I believe I am a free writer. I don't associate and bind myself to any particular genre of writing. I write because I love to pen down my feelings. I write stories because they are a great medium to reflect on the world and times we are living in. And I like writing essays because it's quite open with its approach. I also love writing travelogues as life itself is a journey. In many ways, writers live many stories in their lifetime, and if they wish to, they can write about anything.
And I love poems because they capture emotions. But I believe poetry is less about making people understand it and more about expressing feelings and emotions, which have the power to influence people. In 'Saathi', which is one of the poems in my 'Raat' collection, I try to say that night can be your friend. And I think the poem works because many feel the same way too and the people reading the poem can relate to the emotion I am talking about. And when one can relate to a poem's emotions, poetry becomes more comprehensible and accessible. In that way, poems light the path ahead.
Let's talk about 'Night'. This is the second time it's getting reprinted. What does the poetry collection mean to you, and how and when did you begin writing poems about the night?
I published 'Raat' (Night) in 2014. It was a poetry collection that I wrote over seventeen years. It was Meghraj Sharma Nepal (a singer, writer, and poet) or Manjul who pushed me to write more poems about night when he read a poem that I had written about night and said he felt like he was reading his story in my poem. After that, I started to write whenever words came to me. And I have continued writing about night even to this day. But I don't know if I will publish what I have in my diaries now. I have always had trouble sleeping at night and that's why I started writing at night about night.
In a way, my inability to sleep at night has also meant that it has given me more time to live my life than people who actually have no trouble sleeping at night. I write at night because when everyone's sleeping, it's difficult to keep your overwhelming thoughts at bay. I have often found that in the darkness of the night, thoughts about life crawl into your mind. Instead of running away from these thoughts, I started hosting, entertaining, and communicating with them as friends. That is how 'Night' happened.
The collection is very dear to me and to have it translated and printed twice in a row means a lot to me as translations like these help me reach more readers. And Muna has done a great job with the translation. She has aptly captured the emotions behind my poems as if she is me—my other self. I have seen bad translations, and I know what it can do. But Muna's translation is more than a good translation.
How do the translations of Nepali and Nepalbhasa writings help in our language movement? What do you think about translation's role in making cultures stronger?
Translations help transcend cultural and language barriers. It helps make literature more accessible. It also makes people curious about the original work. As a writer, translations of my works have helped me boost my career. When I started writing again, it was translations that gave more life to my writings. My works have been translated into Chinese, Japanese, and English.
One name I should not forget for all the recognition my poetry has received is Manjushree Thapa. In 2003, she translated ten of my poems from 'Anubhuti ka Thopaharu' into English for the Nepali Times. It was after the translated poems were published that people came to know me as a poet. Even my husband has also translated many of my works into English.
So be it literary works in the Nepali language or Nepalbhasa, when they get translated into different languages, the works and the values of the cultures reach more people. And with indigenous languages such as Nepalbhasa, translations are particularly important because the younger generations are slowly not using the language. We need more translation works because more and more young people are not aware of the literary heritage they have.
What are some of your suggestions for young writers?
The only way to be a writer is to write and write. It is the only commitment you need to keep to better your craft. Writing needs dedication, time, and space. If you are not able to invest time in writing, you will never be able to write well. Persistence is also another important quality to have. You need to keep at this process even if it is tiring. The moment you let go, the momentum breaks. A lot of my writing projects remain unfinished because I failed with my dedication. But I will get back to it again. I am still a keen writer.
Night, a translation of 32 of Sulochana Manandhar Dhital's poems by Muna Gurung will be launched virtually on August 21, 2021.
---
---