All set to make a year in music: Echoes in the Valley festival is back
After three years of bringing folk, traditional and fusion music to the fore, this year, Echoes in the Valley is expanding its horizon beyond the Valley, from a focused genre to an open world of music.

Breaking away from the identity they had built for themselves through the years, the fourth edition of the festival is doing things differently and going online this year. Photo Courtesy: Echoes in the Valley
bookmark
Published at : April 10, 2021
Updated at : April 10, 2021 09:18
Kathmandu
Echoes in the Valley since its inception in 2017 has surprised people. And every year they are growing bigger and more ambitious.
What has made the festival unique each time is the way the festival has repurposed small neighbourhoods, dabalis and bahals and brought to people the local music they have known and heard. It made folk and traditional music alluring and engaging to listeners. It was a local music festival, which wasn't commercial or mainstream. It was free and it was open to everyone.
It was one enthralling festival, recalls Abhishek Bhadra. "It was surprising and engaging. Who would have thought a music festival could happen in the bustling Ason, but they did it," said Bhadra, the academic director of Kathmandu Jazz Conservatory. "I remember feeling gratified as our Kathmandu Jazz Conservatory group performed their folk choir in 2019; it felt so good. It's opportunities like these that matter to musicians and Echoes was different and exciting," he said.
Beyond the festival, as a registered not for profit initiative, it has also amplified important discourses about musical pursuit and education; it engaged the youth in understanding music, mainly folk and traditional. And as it persevered to bring people closer to music, it also pushed for professionalism in music.
"We wanted to bring musical festivals like in other countries, where the experience is immersive and is about learning and engaging—where everything went according to plan you know," said Bhushan Shilpakar, the festival director.
The festival has been initiated by Kanta Dab-Dab, in collaboration with Kutumba, Night and Phatcowlee. And to a certain extent, the festival was able to succeed on the idea of engaging and enlivening a space with music. Their first festival was in Ason, and it was a massive success. Then they took the festival to Banepa and returned to Ason for their third. For their fourth, that was in 2020, they were taking their festival to Kirtipur.
"We had almost everything going for our festival in Kirtipur and our plans had started before the hint of the pandemic. But as the threat of the virus became imminent, we dropped the event and I think it was a good decision because soon after the lockdown was announced," said Shilpakar.
Like all things that came to a halt during the lockdown, Echoes' plans and ideas for 2020 fell apart just like that. And there was no hope for things to get better. But for Shilpakar and his team, what was becoming a pertinent question with passing time was whether they should wait for things to get better or continue with their festival virtually as many other festivals had.
Consistency is everything and many in the Echoes' team believed that despite the pandemic, it would be wise to continue. "Many of us are still divided on the idea if this will really work. But when you stop, the momentum, the spirit, quickly dwindles. So we want to keep building on what we have done so far," said Shilpakar, who is hopeful about their festival going virtual.
Today, Echoes in the Valley, with their fourth edition, 'A letter home', is all set to take 2021 in strides. Breaking away from the identity they had built for themselves through the years, in taking their festival online, they are doing things differently. They have changed their format from a one-day event to a year-long celebration of Nepali music from Nepalis living all around the world.
For the organisers, bringing the festival virtually amid the pandemic has been important and at the same time, it has become an opportunity to learn and break the norms they had anchored themselves in. There was a lot of refiguring to do, says Shilpakar, particularly with how they would take the festival online, make it relevant, palatable, engaging, and different.
"We were forced to think differently, brainstorm in ways we wouldn't have if the pandemic had not happened," says Shilpakar.
"There was so much to think about when it came to the technicalities of bringing a virtual show, like checking which artists will be available and how do we make it interesting for people. A physical show gives you an experience but in a virtual one, you have to create an experience, design and build it. Arranging a virtual show is more difficult than one can imagine!" he added.
That's when they thought of the theme 'A letter home', with the idea of acknowledging Nepali artists living abroad because then it would make sense to do a virtual festival here, says Shilpakar. "If we were doing it physically, this wouldn't have been impossible, to fly Nepali artists around the world for the festival, but taking the festival virtual has opened us to encompass more artists," he said.
Bhadra who has become one of the well-wishers of the festival today too is excited about their virtual festival. "Certainly, the virtual festival will be challenging. But it's good to see the organisers forging forward with this opportunity," he said. "Echoes has always stood out because it has been engaging and has provided opportunities to musicians, it will be interesting to see their virtual festival pan out, at least for me as I have been an admirer of their festival," he said.
A line up of programmes awaits as the festival begins. Artists like AMAZUMI, Bartika Eam Rai, Dheeraj Shrestha, Diwas Gurung, Sanskriti Shrestha, Shreya Rai, Shristi, Shyam Nepali, Shubha Giri and bands like Chepang, Cloverleaves, Kathmansinki, The Heart of Nepal, Topi and Wayam are ready to make this a memorable musical year.
And because live sessions face disturbances, Echoes will be running pre-recorded sessions on their page and website, said Shilpakar. "It will be like broadcasting programmes on online platforms. That's how we are looking at this venture," he said.
Shyam Nepali, who is currently in the US, is thrilled about his performance for the festival, which will also be the first performance of the festival this year. Nepali has been playing the sarangi for over 30 years and his music has serenaded music lovers of different genres from blues, jazz, pop to rock.
"Although I live away from Nepal right now, my music has always been rooted to Nepal. And for me, playing my music for home is everything, it makes me feel proud of myself. Everything I am today is because of my family and the people who love my work there," said Nepali to the Post over a video call.
Nepali will be performing a mix of melodies that represent home for Nepalis living all around, themes that will evoke a passion for being a Nepali, he promises. He will also be in conversation with Anna Stirr, an author, researcher and musician, as part of the festival's efforts to make the festival interactive and engaging.
Besides arrangements of performances and conversations, Echoes in the Valley will also be putting together a conference to discuss music rights as part of their confluence programme.
"In 2019, we had discussed music education by bringing different musical institutions and stakeholders together to understand what students of music were learning and how, and what they were aiming towards. This year, we hope to draw attention to music rights, as you know there are far too many vague and grey lines. What are the copyright issues, what's royalty, what is artistic freedom, we want to discuss it all," said Shilpakar.
A few days back, Echoes had also opened their festival featuring nine young artists and bands as festival openers. On YouTube, the performances have garnered hundreds and hundreds of views already.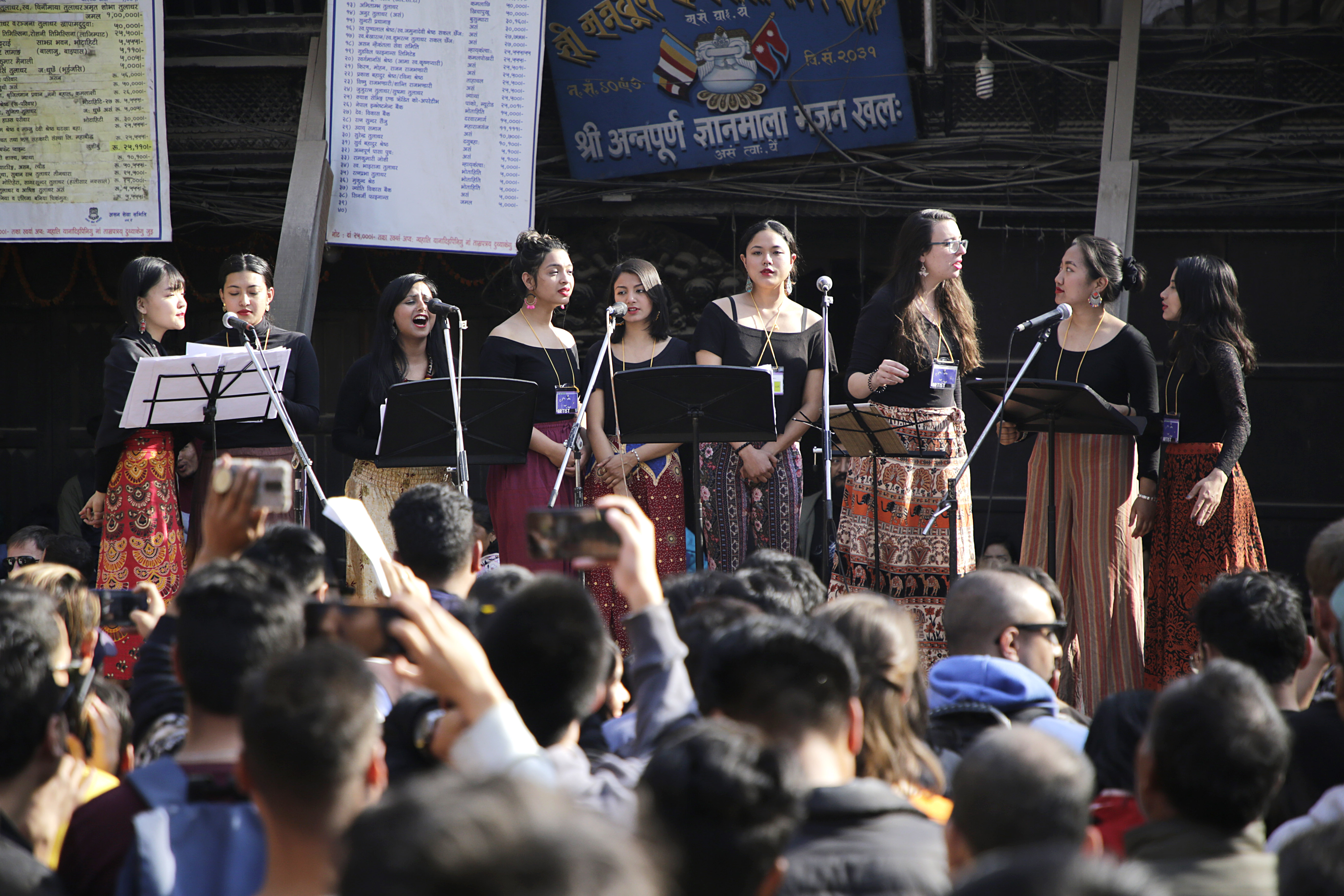 The festival has always repurposed small neighbourhoods, dabalis and bahals and brought to people local music. Sanjog Manandhar/TKP
For Jhuma Limbu, a singer and researcher, Echoes has managed to do something different altogether in the music scene of Nepal. "What they have been able to do is quite admirable, and I look forward to their event," she said. "When they started, they broke a trend in music festivals. It repurposed local places and brought to people music in a way that was unforgettable to them."
Limbu believes the festival has left an imprint in people's mind because it was able to bring people together and engage them, and for artists, the festival stood out because it allowed room for artists to explore themselves. "Music needs to be explored and Echoes has been different because of its practical approach. It has been open to everyone and has always engaged youth and communities," said Limbu.
"And it's uplifting to see that they are not stopping their endeavours between the pandemic," she added. "I believe with their festival going virtual there will be more to explore."
And there's much more Echoes has planned for the year. They will also soon announce a six-month-long fellowship programme, 'Kaleidoscope,' for emerging musicians. "We have found a place in Banepa, where we are planning to take the musicians to where they will get mentorship and involve themselves in research. The idea is to find people who really will take advantage of this opportunity," said Shilpakar.
They are also introducing EchoesMusicFund to support two aspiring musicians for their music education at Kathmandu University Department of Music and Kathmandu Jazz Conservatory.
A year in the pandemic has made Echoes think more about their work and how they want to contribute to the growth of the country's music scene. And as their festival begins this Saturday, they are hoping they will be able to move closer to their goal of taking Nepali music to the global world. Especially as they make a virtual presence.
"This is all new to us as well. But we want to do it. We don't know what the response will be like—but we are hopeful, let's see what happens," said Shilpakar.
---
---